(Last Updated On: December 21, 2017)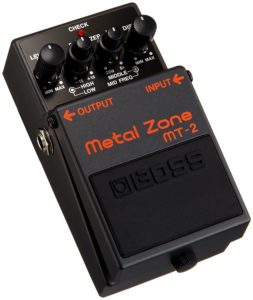 Distortion. Metal's big D for guitar tone. Amplified music needs the thickest tones around to create that wall of powerful, unrelenting sound.
Pedals these days are adept at packing brutal distorted power into any metal guitarist's tone. They are a quick one-stop purchase for high-gain, high-power effects.
Top 4 Best Distortion Pedals for Metal: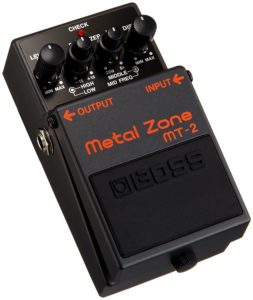 A classic and simple design, the Boss MT-2 Metal Zone receives glowing reports about how high it can crank up the harmonic heat in your tone.
The original was created in '91 and its extreme design prompted a storm of discussion, with some likening it to a 'can of bees' – a very dissonant and unmusical pedal. Such arguments over 20 years later are futile. It remains one of Boss's best selling pedals.
Its controls feature a level knob for output control, low and high-frequency EQ settings, as well as a 2 part middle frequency EQ knob where you can select the middle-freq with the mid-freq setting on the outer dial from 200Hz to 5kHz and cut or boost it with the inner dial named 'middle'.
This means you have a good level of control of the mids. They are the most important frequencies in distortion as they govern whether your tone will be thicker and fuzzier, or sharper with more presence.
The pedal suits extreme tones with its dual gain staging which allows a brickwall-y layer of distortion to really crunch out of your amp.
It's got all the high gains needed to brutalize your sound, has a mute switch, and an output buffer which helps protect against shorts from plugging into the wrong input/output and helps filter out mains electricity hum and noise.
The MT-2 is rugged, cheap. It is also easy to modify. It's considered to be engineered with mastery from Boss. It's reported to be far more sophisticated than it's often viewed due to its semi-parametric EQ.
For its price tag, it'll either satisfy you to no end…
Or you'll be divided into the other side of opinion who view this pedal as too simple, too deliberate and too extreme. But that's the point, right?
Pros
Sophisticated EQ
Rugged design
Ideal for extreme metal tones
Mute switch and output buffer
Cons
May not be to everyone's taste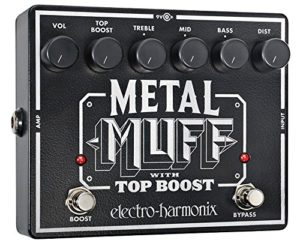 In its old-school, rugged looking box with throw-back graphics and defined metal knobs, the Metal Muff pedal offers a wonderful diversity of distorted tones ranging from sweeter, subtle overdrives to squealing or crunching tones suitable for the most extreme metallers.
It features low, middle and high-frequency Eqs with a top boost control that boosts the top frequencies beyond many pedals capabilities so it can sear through dense mixes of rhythm guitar, drums, and bass in a live situation.
This sets it apart from other pedals. It's great for lead guitar distortion and can provide a level of bite which really sets your tone on the edge of a razor-blade.
Without top boost, you get more characterful fuzz effects. They make the pedal feel more retro and reminiscent of 60's Electro-Harmonix products.
It's a future classic pedal with a good blend of older style distortion and saturation for full, warmed up sounds which you can bake and bake until they become de-natured, grizzled and down-right brutal.
Extreme EQ settings can create original sonic-scapes full of burning harmonics that will accompany your shredding perfectly, engage the top boost and your solos will be ready to take off, out of the thick of it.
Pros
Reminiscent of retro Electro-Harmonix products
Easy to use 3 knob EQ
Top boost provides an original effect
Cons
Battery cover tricky to remove
Dials set above the level of the pedal so are a tad exposed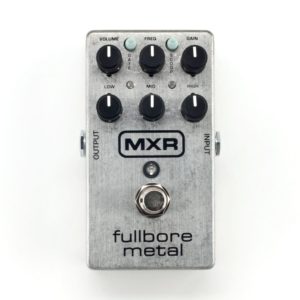 The MXR is deceptively sized, a small unassuming portal to another dimension of distortion. Forget the Sardine-can looks, this is full of Piranhas that are ready to bite!
Equipped with a 3 band EQ, a volume knob, a frequency knob and a gain knob, as well as a noise-gate and a mid frequency scoop, the no-frills design has all the functions you need to customize your distortion.
The noise-gate is a great addition, eliminating any hum, or any quiet harmonics that just aren't needed in your tone. Its sensitivity is controllable in the battery compartment via a small Phillips screwю. It even glows in the dark so it can be changed on stage.
The 'Scoop' setting is another novel addition, bypassing your EQ settings to get an instantly satisfying mid-scoop sound a la Dimebag.
This pedal isn't for faint-hearted metal genres and really is best suited to contemporary heavy and death metal guitarists. You can quickly dial in a satisfying tone, from a full bodied, brick-walled fat low growl to a burning high-end whoosh that is sure to punch itself through the mix.
Famed for its bomb-proof construction, this pedal would survive war, never mind the road!
Pros
Rugged, compact, power in abundance
Full EQ and other useful settings that cover all distortion's bases
Cons
Probably not best suited to any sort of vintage, or classic distortion
Battery life reportedly less than other pedals so use a 9V power supply when you can!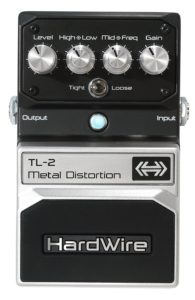 The DigiTech TL-2, in its classic metal chassis, is a rugged, gig-proof device. It's designed to take the toughest tones to the stage or studio. It has 2 dual dial pots which allow EQ control as well as mid frequency selection. So you can dial in your tone easily and efficiently.
This new range of DigiTech pedals that includes the metal distortion model feature true bypass. That means your tone is absolutely un-effected when the pedal is disengaged, as well as a dual gain staging much like the Boss Metal Zone for maximum metal power.
A great feature of this pedal is that if the power is cut, it automatically switches to true bypass until the power is restored. They operate at high, steady voltages. Tone is consistent throughout battery use and doesn't drop suddenly when the battery begins to tire.
The pedals unique offering is the tight/loose switch. This changes the character of the distortion, with 'tight' creating a more percussive, penetrating tone for punching through mixes in solos or during shredded riffage.
With 'tight' enabled, you get a great gloss and clarity to higher frequency playing, whilst retaining a tight, percussive low-end. 'Loose' fits chugging, detuned guitar tones and styles better, with an EQ setting that cranks that gutsy low-end out of your guitar.
It's great for rhythmic sections of songs, or for chugging, crunching breakdowns. The DigiTech is one of the cheaper pedals in the line-up but it's just as bullet-proof as the rest. It won't disappoint at that extreme end of the spectrum, with helpful features to boot.
Pros
All metal with sturdy knobs and pedal.
First class tone control
Tight/Loose setting may be exactly what some want
Cons
Contemporary distortion doesn't suit classic styles so well
Shortish battery life
A Brief History of Distortion Pedals
Like all things in music, distortion has a colorful history with its origins in the 1950's. In 1951 Ike Turner and the Kings of Rhythm song "Rocket 88" was recorded with a slightly broken amplifier. Thus distortion as an artistic choice was accidentally birthed!
The same year, Howlin' Wolfs' 'How Many More Years' used the same crunch to create that dirty blues sound that quickly caught on like wild-fire.
Before hardware units came about that were specifically built for distortion, guitarists used their artistic license to create distorted effects, like in The Kink's '65 'You really got me now' where Dave Davies cut holes in his amplifier's speaker to create an iconic mid-range distortion.
Tube amps were pushed as hard as they'd go, speakers stressed and controls pushed to the max to gain volume, saturation, distortion and attitude.
At the time it was a funny trend that radio station's considered absurd. Some songs were even banned like Link Ray's 'Rumble' in '58, which people thought may sound so aggressive that it could incite gang fights and riots!
Modern Era
For years engineers had worked so hard to achieve that perfectly clean tone which could be amped up or recorded. Now guitarists were trying so hard to add harmonics rather than take them away.
Just like the rough and dirty blues of the 50's, metal these days has a need to evoke a similar character – as music it is inherently unclean.
It embodies that side of life, the side that isn't all sugar, spice, and everything nice. It's all about that attitude. And with great big attitudes come great big sounds…
…And that's what it's all about – pushing boundaries. Today, we can push our boundaries as guitarists with all sorts of outboard gear to saturate and distort our tones to complete destruction or simply to add smooth and juicy harmonics.
Think of the impact of some of Dimebag Darrell's shredded trebley chops, Rob Flynns wall of sound, Dave Mustaine's mid-range shred or Zakk Wyldes' distorted beast of a tone. It's just not possible without a healthy dose of distortion.
Buyer's Guide: How to Choose the Best Distortion Pedal for Metal
Throughout the ages, metal guitarists have proved that distortion is a great artistic tone to convey emotion in their music.
Dimebag's epic solo in 'Floods' by Pantera sears through the dark mix with its hard-edge and legendary articulation, Zakk Wylde in Black Label Society's epic 'In This River' exercises that cathartic saturated tone beautifully.
Such variety in tone wouldn't be possible without such historical diversity in equipment.
These days we have a vast selection of distinctively characterful pedals to choose from for all manner of distorted effects.
They're mostly affordable, simple, reliable, and add flavor to any guitar and amp outfit. In this article, we will be discussing 4 of the best pedals for metal guitarists.
Pedals can help fill the void between equipment and desired tone, adding that little extra in the form of a single unit. There's only so much you can crank your gear without it being very loud, or without damaging it.
In a nutshell, pedals allow you to control distortion at any volume level, by essentially simulating very loud amps and pushed circuits in an easy to control, solid state box that you can control with your foot.
Types of Pedal
Distortion pedals commonly use diodes and transistors in series to gain up the signal in small amounts repeatedly to add harmonics and clip and compress the signal. Different materials used in these components impart different harmonic nuances.
They frequently come with a few knobs which help you control the level of distortion, the tone of the distortion, as well as EQ knobs so you can control which parts of the frequency spectrum to distort.
There are 3 main things happening in most distortion pedals:
Overdrive
It simulates the effect of pushing an amp beyond its normal output level, providing subtler harmonics than a distortion pedal.
Overdrive is less linear than distortion, it depends on the level from your guitar. Quietly played parts will drive the signal less than louder parts.
Distortion
Distortion is more aggressive, less dependent on signal dynamics. It is more linear, imparting a more consistent set of harmonics upon the signal.
Distortion clips the signal much more than overdrive and uses a series of components to jack up the harmonics and clip the signal.
Compression
Compression decreases the dynamic range of a sound without actually clipping it. Decreasing the dynamic range means there is less of a gap in volume between quiet parts and loud parts in a signal.
In metal, we generally want a compressed sound. So quiet parts don't get lost in the mix and translate as loudly as the loudest parts.
Other pedals use real analog tubes which provide a less digital sounding distortion more akin to driven tube amps and the sounds created by pushing analog circuitry.
Over the years, the best choice distortion pedals have narrowed down to a select few which tick all the boxes.
Conclusion: What's the Best Distortion Pedal for Metal?
Well, we've established that any of these 4 pedals will blow your socks off or get your next-door neighbor knocking on the wall.
However, what is the best metal distortion pedal? The jury is out for sure! The Boss is sophisticated, rock solid, and pouring with power.
The Metal Muff offers the most applicable distortion to older styles of metal, the Fullbore is full power. The DigiTech Hardwire Metal pedal provides profound switches in tone at the touch of a switch.
They all have their unique controls and whichever these is to your taste may hold the answer as to which pedal is best for you!