(Last Updated On: December 21, 2017)
If you love recording live straight from your home studio, then you're going to need the best USB microphone for streaming.
There are so many factors to consider from sound quality to sensitivity issues, but one constant remains: it better get the job done!
So here is a list of features and some of the best mics for streaming in the business.

Top 5 Best USB Microphones for Streaming and Gaming:


Equipped with a USB output, the Audio-Technica AT2020USB+ is designed for digitally capturing music or any acoustic audio source.
The microphone offers studio-quality articulation for singer/songwriters, podcasters, voice-over artists, field recorders, and home studio recorders.
The AT2020USB+ features a built-in headphone jack with volume control that allows you to directly monitor your microphone signal with no delay. It also offers mix controls that blend microphone and pre-recorded audio.
Sound Quality
This mic is a solid choice for gamers or content creators that want to be heard as if they were in person. The pickup is clear and the quality is excellent for a USB plug-in. It even allows for a nice level sound when recording instruments and singing vocals
The headphone input is indeed lagless, and there is a dial for the mix if you want to hear your background track while you are recording. There is also another dial to ramp the volume up or down for the mic.
However, sometimes near the lower volume levels, it will emit a very loud static.
Size
The size is not too big. This mic has better audio in a much smaller footprint. Not the most easily transportable, but not the bulkiest piece of hardware either.
Sensitivity
This microphone is quite sensitive, so make sure that you record away from other noises. It will pick up a lot more than you are used to, so you will have to get used to that and dampen your recording space or find a space that is quiet.
Durability and Accessibility
The USB plug-in feature on this microphone is perfect and convenient. It is immediately detected by Windows and recording within minutes after minor adjustments in the sound menu.
The Audio Technica also has a headphone jack built directly into the mic so you get absolutely no delay when recording. This is definitely a user-friendly product.
Mic Stand
Some have said that the stand that accompanies this microphone is not very sturdy at all. It has a tendency to tip over all little too easily, and it is not a shock mount.
Pros
Clear pick-up
Moderate size
Cons
Weak mic stand
Very sensitive
Check Current Prices
The Blue Yeti Microphone allows you to create recordings directly on your computer.
It features four different pattern settings so you can record vocals, instrumental music, podcasts, or interviews in ways that would normally require multiple microphones.
With simple controls for headphone volume, pattern selection, instant mute, and microphone gain, you can create studio quality recordings right out of the box.
Sound Quality
The sound quality is robust and crisp, making this microphone magnificent for amateur users.
The pick-up is exceptional, even comparable to some low-end professional microphones. And there are a number of options you can select to control or blend the sound of the environment.
The Blue Yeti is also great for budding professionals, because of its range of control over many different recording options. Both the sound quality and the availability of helpful features make this mic worthwhile.
At low volumes, though, there may be a noticeable hum.
Size
One of the biggest setbacks with this model is that it is huge and heavy. For those that want something easily transportable, this is not the mic you want.However, if you're only working from home, this would be a good option. It does take up a lot of space, and it might be a challenge to keep this mic straight with a mic boom.
However, if you're only working from home, this would be a good option. It does take up a lot of space, and it might be a challenge to keep this mic straight with a mic boom.
Sensitivity
It picks up a little bit more than you'd like, but the sound is crystal clear.
Make sure you get a boom arm or stand otherwise it will pick up everything that's happening on the table or desk. This includes keyboard typing, chair movement, computer fans, and even sirens from the outside.
Durability and Accessibility
The Blue Yeti's durability and easy to use accessibility make it a must have if you're starting out for anything requiring professional recording equipment. It is simple to just plug and play, and having a headphone jack on the microphone makes it very easy to use.
The USB port on this mic is a little weak, and it does not come with a quality USB mini cable because sometimes it just starts feeding static. If you get a gold-plated mini cable though it should be fine.
Mic Stand
The mic stand that comes with this model works very well. Especially because the Blue Yeti is so large and heavy!
Pros
Crystal clear sound
4 different pattern settings
Easy to use
Cons
Highly sensitive
Big and bulky
Check Current Prices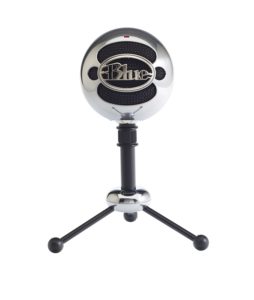 The Blue Snowball USB Microphone creates studio quality recordings with sound capture capabilities. The recordings are crisp, clean, and free of feedback and distortion.
It offers a pattern switch that allows you to toggle between three different settings, giving you the flexibility to record vocals, instrumental music, podcasts, interviews, and more.
With a plug-and-play design that is both Mac and PC compatible, the Snowball requires no additional drivers to start recording.
Sound Quality
This is one of the best microphones out there for amateur recordings. This is because it gives a good quality sound for the price.
Plus, if you wanted to upgrade down the road it wouldn't be too much of a loss.
It can sound a bit thin or be lacking through the mid and the high ranges, though. However, its three different recording options help with this factor.
It has low distortion which is great for YouTube and works well to reduce ambient noise.
Size
It is incredibly small and easy to pack. Definitely beneficial to anyone who travels frequently or takes their work with them on the road.
Sensitivity
This microphone is quite sensitive on its own. It absolutely will catch everything around it.
Durability and Accessibility
Simply plug into your computer's USB port and start recording. But be aware that you cannot use two identical models on the same computer because Blue cannot distinguish the software and individual models.
If you ship it back to Blue, they'll perform any firmware updates to correct the problem, inconvenient though it may be.
This model is plastic, and the height positioning of the ball mic is not very solid. It is durable, but it may eventually crack.
Mic Stand
It comes with a decent stand and is ready to use straight out of the box. Nothing too fancy here, though.
Pros
Quality sound
Incredibly small and easy to pack
Cons
Very sensitive
Thinner sound at higher ranges
Cannot use two identical models at once
Check Current Prices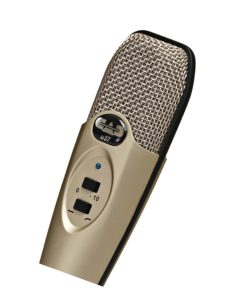 The Samson Meteor Mic is meant for a home studio and is also ideal for Skype, iChat, or voice recognition software.
It is a large USB studio condenser microphone that produces smooth, flat frequency responses of 20Hz-20kHz.
It is complete with a 1/8″ headphone jack for no latency monitoring.
Sound
It's really well built and seems like it'll last a long time. It produces great sound quality even when relatively far from your mouth, and even better when it's closer up.
Definitely, recommend for gamers or casual video makers as it is capable of producing very clean and clear sound.
Size
This model is easily mobile, great for travels, and even has a connection for headphones. It is really small and doesn't require nearly as much space as any of the other models. Truly great to take on the road.
Sensitivity
Moderate sensitivity, which is a huge plus.
Durability and Accessibility
This is a smart looking model that connects via USB and doesn't require any drivers. It also comes with a really long cable which helps with the ease of using it. The physical mute switch is a bonus as well.
Mic Stand
The mic stand for the Samson meteor is not the best. The legs are a little too tight and there is no way to attach it to a shock mount.
Pros
Clean and clear sound
Excellent for traveling
Moderate sensitivity
Cons
Check Current Prices
CAD U37 USB Microphone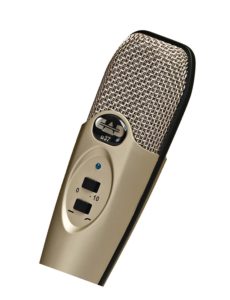 The CAD U37 USB Microphone brings studio quality audio to social media, gaming, or home studio sessions. Its creative control allows your limitless innovation to be recorded directly to your computer.
Additionally, it has an extended frequency response, transient response, and a smooth interpretation making it great for singing, speech, and recording instruments.
Sound Quality
The sound is exceptional for the price. The unit is calibrated kind of high which leads to clipping if you like to sit close to the mic, but the addition of -10db overload protection switch fixes this.
The CAD U37 will also actually reduce bass and filter distant noises. It is a good start for people just beginning to stream on social media.
There are a few latency issues with this microphone, however. The timecode sync is slightly off, and this can become incredibly frustrating.
Size
The size of this model is moderate. Not too big, not too small. No complaints, but nothing noteworthy either.
Sensitivity
This microphone is so sensitive that it can capture whispers from across a room. Make sure you find out how to turn off the automatic gain control so you get the best sound.
Durability and Accessibility
This is an excellent mic for things like voice narration or a blog, but it is too easy to overload it with instruments or louder sounds.
While the -10dB overload-protection switch does minimize distortion from loud sound sources, there are still some overpowering sounds that it can't quite handle.
Pros
Reduces bass and filters distant noises
Moderate size
Cons
Latency issues
Highly sensitive
Easily overloaded
Check Current Prices
How to Pick the Best Mic for Streaming on Twitch or Youtube
Sound Quality
The sound quality is the most important thing to consider in a microphone meant for streaming. How well does it pick up your voice? Does it cut in and out often?
Most importantly, will others be able to hear and understand you no matter how you are recording, and where you are recording from? If you get a microphone that has bad pick up, the point is almost moot.
Size
Size does matter! Many people use streaming microphones for different reasons. Some have a home studio, so a bigger, sturdier microphone will be perfect for everything that they are looking for.
No need to transport equipment or fiddle with levels. Just plug in and record. Yet others travel and take their work on the road. So a smaller, less weighty mic would be a much better option for them.
Sensitivity
The sensitivity of a microphone is key for most situations. Often times it doesn't come down to what your microphone can pick up, but what your microphone won't pick up.
Is it so powerful that it will pick up the sirens and the traffic from outside? Or how about just the strokes of your keyboard and the click of the mouse?
Durability and Accessibility
You're spending your hard earned cash on a product that's going to help you create content to send out into the world. You definitely want your microphone to be worth the money.
What kind of material is the microphone made out of? Is it easy to break? Or will it last much longer and allow you to really use it to its full potential.
Additionally, is it easy to use? What kind of features does it have? Depending on what you need your microphone for, you will definitely want to pay attention to what your microphone is capable of… Or what it isn't.
Mic Stand
A good quality microphone is a wonderful thing. However, you're going to need to have something to hold on to it so that you can use it properly. That is where an effective mic stand comes in.
How easy is it to connect to a mic stand? Will the mic stand actually hold it, or will it be more of a pain in the neck? It might not seem like such a big deal at first, but a quality mic stand can make your job of simply recording a heck of a lot easier!
So, What's the Best USB Microphone for Streaming?
Everything considered, the Blue Yeti USB Microphone is the best microphone for streaming.
Sure it's big and bulky, but with all of its features and the sheer power that it can command, you simply can't go wrong.
The four different pattern settings will allow you to record any medium, and the sound will be crystal clear.
So clear off some desk space and plunk that Yeti down, because it is the best streaming mic in the business!