(Last Updated On: December 21, 2017)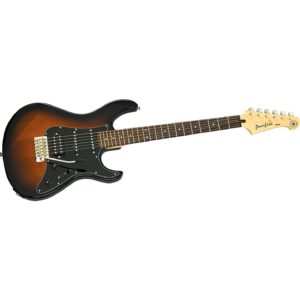 Do you need a good guitar to make learning fun? We put together some of the best guitars for Rocksmith.
Those with great features and design, capable of switching between keys faster and producing thrilling sounds.
You need to understand there are some important features you have to consider when buying a guitar for Rocksmith.
Let's take a look at some products.

Top 4 Best Guitars for Rocksmith: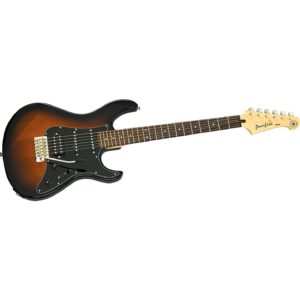 The Yamaha Pacific is one of the best electric guitars, very versatile, with good tone and an outstanding playability.
It has various pickup configurations which provide a wide range of sound character from heavy distortion to a clean sound.
Description
It is a vintage style Tremolo guitar with chrome hardware and it is beautifully constructed. The Yamaha pacific comes with an Agathis body and a Maple bolt-on neck. It has a pretty fingerboard with 5 position switch.
Configuration
Yamaha's amp bundle consist of PAC012 old violin sunburst and a 15W inbuilt amplifier. Among others, it has a quick start DVD, picks, straps, strings, and tuner. Basically, it has two channels and plenty of knobs to play with (gain, dirty volume and clean volume, treble, middle and bass). It also has a headphone jack. It seems pretty interesting for a 15W as you can turn the gain up, keep the volume down and produce great sound.
An amazing thing about this guitar is its dimension (18 x 43 x 5) it is very affordable and portable.
Pros
The DVD is a nice additional attribute.
It has a nice little electric tuner that will make you enjoy it.
This model goes beyond the basics and teaches several chords.
It comes with extra strings.
Cons
The amplifier is just too small at 15 watts.
The headphone jack is ¼ inch. You might need to get an adapter for most people that use a 3.5mm standard headphone.
Yamaha Pacific looks pretty interesting and might as well be a top guitar for Rocksmith.


The Epiphone is beautifully designed for pop, jazz, R&B and rock n' roll music.
It is an acoustic/electric guitar. Its light weight gives a comfortable feeling. This guitar promises to give a great classic LP tone from two open-coil humbucker pickups.
Description
Epiphone features chrome hardware with locking Tune-o-matic (TOM) Bridge and stop-bar tailpiece for increased sustains. It has a mahogany body and with a Rosewood fingerboard. It has 700T and 650R humbucker pickups.
Configuration
It has a 10W Marshall MG amp and Hosa cable. It also has 2 channels and an MP3 input. This product has a snark SN-5 tuner for guitar, bass, and violin. Among its features, it has a guitar strap and picks. The volume/tone knobs are very responsive and it has a great vintage sunburst.
It is a 1 x 6.5 combo, gorgeous looking guitar. It is a great piece you might want to get.
Pros
It has good tone controls and a nice pick-up selector.
With proper adjustment of the truss rod and fret, you get a nice tune.
This guitar gives a delightful sound and is very durable.
It starts well when combined with good equipment.
Cons
This guitar has very small amplifier power you will have to get an amp for it.
Its turner last for a just couple of months.
The tuning pegs or stock tuner might not hold D or C tunings for long.
You might just find pleasure in this guitar as it offers durability, versatility and it plays beautifully.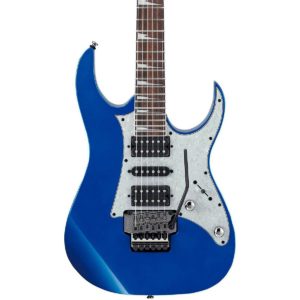 Based on research made, Ibanez is famous for the development of the fastest, highest high-speed, low-drag shredding system for Guitar.
It is made for player comfort to enhance player's performance. It is an electric guitar with a nice sound and smooth playing experience.
Description
Ibanez is a metallic guitar with a Wizard III Maple type neck shape. It has dual humbucking pickups plus a single-coil that gives a wide tonal range to play with. RG is covered in a mahogany body, and has a rosewood fingerboard, for a clean and clear throwback vibe.
You can limit the power so that you can play comfortably before moving on to the most powerful guitar playing experience
Configuration
RG is said to have an INF (H) neck pickup, INFS (S) mid pickup and INF (H) bridge pickup for a thick and distorted tone. It is 6 x 20 x 45 in dimension with locking tremolo, 24 frets, fast neck and 5-way pickup selector.
Pros
Ibanez has a beautiful design and metallic flecks.
It dials quickly.
The pickup sounds great and diverse through the 5 options.
The tuning is nice and it is versatile in playing different genres of music.
Ibanez neck shape makes playing super smooth and quick.
Cons
Some users noticed low output in the middle pickup and the single coil. The middle three positions are much quieter than the neck or bridge pickups alone.
Some users experienced a sharp drop-off in volume instead of increase.
It does not come with a strap.
However, most customers find this electric guitar amazing while some find it wack. It should be noted that no guitar is 100% perfect. Ibanez is a top manufacturer in the guitar industry.


The classic vibe Stratocaster provides a remarkable '50s-era Fender® vibe and tone. It is glossy and thinner than the C-Shaped Mexican Strat Neck or the US Strat Neck.
Classic Vibe has a nice combination of vintage stylings and modern specs. It looks definite to be one of the top quality guitars for Rocksmith.
Description
Squier has an alder body with Two-color Sunburst, Lake Placid Blue or Polemic White finish. The vintage-tint gloss-maple neck has a maple fingerboard with 21 medium-jumbo frets and a modern 9.5" radius.
Configuration
The long-familiar tone comes from a custom set of alnico III single-coil pickups—clear and bright, with terrific sustain even in crunch mode. Custom staggered pole pieces provide improved string-to-string balance.
It has 1-Piece Maple, Modern C Shape neck, 9.5 in radius maple fingerboard and 21 medium jumbo frets.
This guitar has 3 Custom Vintage Style Single-Coil Strat® Pickups with Staggered, Alnico 3 Magnet Pole Piece and Aged White cover. It also has a Vintage Style Synchronized Tremolo. Moreover, it has a master volume with 2 tone controls with 5 position pickup selector switch.
Pros
The tuner stays in tune perfectly well.
The Pickups are Alnico and sound great.
Playing through several amps, this guitar sounded high quality through all of them as observed by some users.
The thin neck of this guitar makes playing enjoyable.
As a Chinese Strat, this guitar sustains way better than some USA Strat or Mexican strat.
Cons
Some users find the strings not as they expected.
The trem has a zinc block that seems less than the expected quality.
Steps to Buying the Best Guitar for Rocksmith
There are several simple rules:
As a beginner, there is no point in buying something expensive. 200-300$ is enough.
Think about the type of guitar you want – acoustic or electric. If it's your first guitar, then better pick an acoustic.
Choose your style. For example, if you want to play metal Ibanez is pretty popular, but Fender Stratocaster is not a very good choice because it has a single coil pickup. Instead of that, it is actually awesome for rock, funk or jazz.
When you find a guitar that fits the look and features you need, try it out. Make some taping, thrilling, try some tremolo picking. Listen carefully to the sound and watch out for buzzing and unclean sound.
If the grip is too thick for your hand, or too thin, it might be hard playing fast on it, or simply not fitting you. The most important thing is if you don't feel comfortable to play it, then better don't buy the guitar.
Try to decide how heavy the guitar is, if it's too light, then the wood is not good, and this is a very important factor, especially for acoustics. If it's too heavy, then it's not a good idea buying that one too. It has to be the right weight for you.
Conclusion
Yamaha Pacifica series PAC012DLX is very good for rock and jazz players. It is very affordable for less than $200 and it delivers good sound.
Epiphone Les Paul-100 is meant for a wide range of players, from pop to jazz to R&B and rock n' roll. You can as well switch easily between these genres.
Ibanez is a top quality guitar for metal with a good feel and control. The price might be a little setback for a beginner, but if you are set for a thrilling metallic experience, this is for you.
Squier Classic Vibe Stratocaster '50s is a highly rated Chinese Strat guitar, which has convinced many guitar lovers in terms of quality of sound and play.
You should be able to select the best guitar for Rocksmith after following this guide. The above-mentioned guitars are quality ones fit for various genres of music individually. I believe you will be able to make the right decision henceforth.