(Last Updated On: December 21, 2017)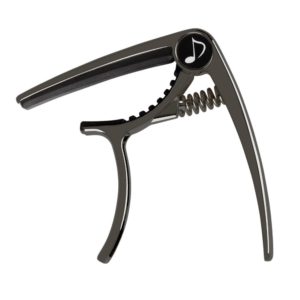 The humble guitar capo can be the difference between sounding good as a guitar player and sounding great.
Additionally, a guitar capo can help an amateur, hobbyist guitar player plays chords and songs that would otherwise be inaccessible to them.
Top 9 Best Guitar Capos: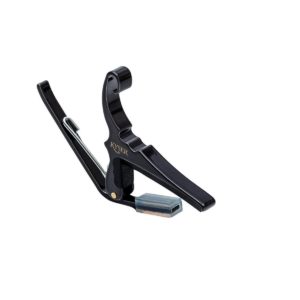 The Kyser 6-string guitar capo is perhaps the best standard capo on the list. It is not anything special as far as innovation goes, but it will hold your strings down for years without fail.
The action of moving the capo is smooth and it does not require very much pressure to move but will stay in place on the guitar.
Everything you need a capo to do and not much more. It also, for some, comes in a number of different colors.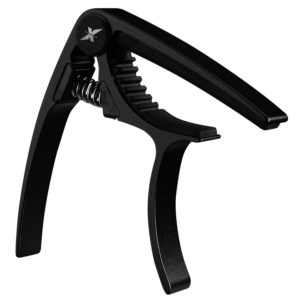 Much like the KG6B, this capo is a simple black design. According to many Amazon reviewers, this capo is very reliable. But, I would be leery of purchasing this model because the brand is relatively unknown and the branding does not seem too professional.
All things considered, the x3 is a fine capo made out of a slightly cheaper aluminum alloy. There is not really a price difference between this and the KG6B.
If you have this amount of money I would go with the well-known brands over one of these.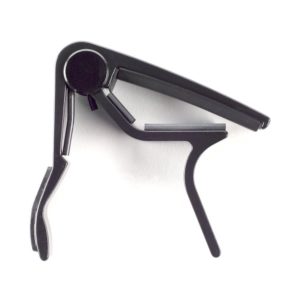 This particular model is one of my favorites. I like the trigger design but not everyone else will.
It is just as reliable and durable as the KG6B, but the trigger method is really something to behold. If you are looking for something different in a capo, this trigger mechanism makes the capo easier to move with your weaker hand because the trigger design is more ergonomic.
According to the manufacturer, this capo will also do 12-string guitars effectively which is not something I have tested with the KG6B, so maybe go with this if you use 12-string guitars a lot or want that trigger mechanism.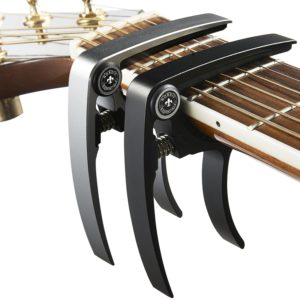 This particular capo is made out of aircraft-grade aluminum and, on Amazon, it comes in a two-pack meaning that really for one capo you are paying around $9 which is a steal for a capo that reviews like this.
There is also the bonus of getting two colors…one for electric and one for acoustic maybe? Also, the package includes carrying pouches for each capo.
Not sure what the value in the carrying pouch is, but if it sounds like something you need this set includes two.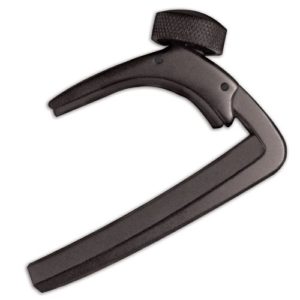 This capo is different from all of the others on our list. It is a screw capo.
I will be honest with the reader, I do not like to use screw capos because they are not as easy to move as the spring-loaded ones. The only reason I would recommend one of these devices would be if you already like a screw-on capo.
Besides the downfall of the tightening mechanism, the device is made out of good materials (ABS plastic) and reviews extremely well on Amazon. As an additional note, the manufacturer does not recommend using this device on anything but a 6-string guitar.
So, no 12-strings, mandies or banjos.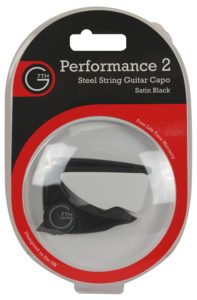 I'll begin this section with a warning that the Amazon reviews are 5 stars yet there are a few people in the reviews warning against certain use-cases. The most important thing is that the capo is too weak to use with a vintage neck profile.
So, if you have an old-school guitar this is not the capo for you. Otherwise, the capo is an iteration on the classic Performance 1 capo design.
If you like that design, then this capo is that but lighter. If you are unfamiliar with that design maybe skip this guy for something more familiar.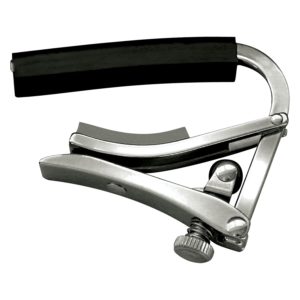 This is another screw capo so my reservations still apply. But, it looks like it is built like a tank.
The reviewers also claim that this thing can really take abuse. The stainless steel construction with high-quality components in the spring mechanism makes this thing maybe the most durable on the list.
In my opinion, the quality of the device is wasted on the screw mechanism but if you want a screw capo this seems like the one to beat.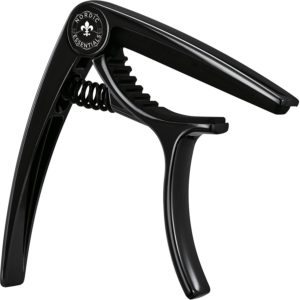 See my above review for the mechanism of this capo. This is simply the "luxury" version of the other Nordic Essential device on this list. The differences are:
This device is made out of the more durable zinc-alloy
This comes with 1 for about the same price as the two-pack above
Unless you really want a capo made out of zinc alloy, there is no reason to pay this price for a capo. Pass on this one.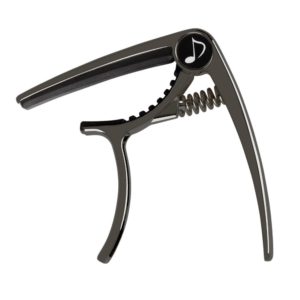 This is another good-looking capo. It is made from high-quality materials like zinc-alloy but features a price that is below $10. It also has many positive reviews on Amazon.
The manufacturers say that this device's mechanism is built to prevent fatigue when moving it which may or may not be the case as I have never gotten fatigued from moving a capo around…take that with a grain of salt.
This capo will be the best bang for your buck on the list, in my opinion. Certainly, one to consider.
Guitar Capo FAQ
What Is A Capo?
A capo is a clamp specially designed to hold down guitar strings to make fingering certain chords easier.
What Do I Use A Capo For?
A capo is used for two purposes
A capo can help you change the key of a song on the fly, without having to transpose or learn new chords.
It holds the strings down for you so barred chords become easier or unnecessary.
Will A Capo Damage My Guitar?
The short answer is no, it will not. Capos are specially engineered to be used in conjunction with a guitar. High-quality capos will not damage an acoustic guitar if used properly.
I would advise watching youtube videos or seeking the advice of a more experienced player if you are unsure how to use a capo.
Does The Type Of Capo I Get Really Matter?
Yes, it does. Like most musical investments, you get what you pay for. A capo must hold down the strings of the instrument in such a way that it is consistent across the neck and holding each string so as not to produce any unwanted vibrations or noise.
A capo that is not constructed well with good quality components is liable to be too weak or get too weak to perform as it should. If you have money to spend, it is better to get a good capo than the just get the cheapest possible.
Is Using A Capo Really "Cheating"?
There is a two-part answer to this question.
While using a capo is not as difficult as learning the barre chords or different ways of voicing the chord across the instrument, it is not necessarily cheating.
Of course, if you claim to be a guitar master and require a capo to play basic barre chords…you are lying about your ability. But if you simply want to be able to play some songs on the guitar, it is about the results not necessarily how you achieve them.
Are There Different Types Of Capos?
Yes, there are three types. The most common is a spring-loaded version which you squeeze to open and then the spring engages and holds the capo on the guitar neck keeping the strings held down.
The next type does the same thing, but the mechanism used to open and engage the capo is a screw, you loosen the screw and then tighten it down onto the guitar neck.
Lastly, the old-school capo type is held down by straps. This is perhaps the least effective method because it is difficult to get consistent pressure on all the strings.
There is also a straight capo type specifically for classical guitar playing. Classical guitars have straight necks and thus the capo must also be straight to work properly.
What Is The Best Brand Of Capo?
Kyser and Dunlop produce some of the most reliable and durable capos out there. The normal Kyser is widely considered the industry standard for standard capos.
They last decades without any degradation in performance. Jim Dunlop, though, produces a "trigger" style capo that features a trigger set up for making the removed and application of the capo a little bit different, easier according to some.
Conclusion: What's the Best Guitar Capo?
The best capos on the list are the Kyser's. There is no reason to innovate on a design that has been mastered. But, if you are looking for a deal the Donner DC-2 will provide amazing price-to-performance for you.
At under $10, I would buy this thing anyway. In fact, in completing this review I did purchase the Donner just to have an extra capo around to go with my Kysers.
I personally pass on any screw capo because the design is less efficient than the spring-loaded ones. Lots to consider!