(Last Updated On: December 21, 2017)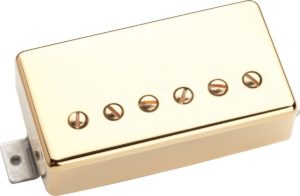 Looking for the best pickups for Les Paul? You're in the right place!
Originally sold in '52, the Les Paul sits alongside the Stratocaster as the two most well known and prolific guitars on Earth.
Through the 60's and 70's rock scene the Les Paul became a true classic and many influential guitarists such as the stellar Pete Townsend, Jeff Beck, Jimmy Page and Clapton heralded the Les Paul as the finest guitar ever crafted.
Today, rock and metal giants like Slash and Zakk Wylde wield the Les Paul to tremendous effect.
Top 4 Best Pickups for Les Paul: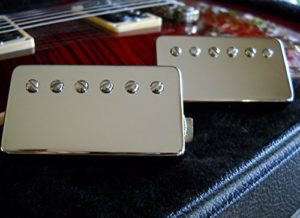 Wolf Macleod has long worked in guitar manufacturing and produces pickups under his own brand Wolfetone. They are the result of many years experience and tremendous workmanship, and they really are something special.
One of these pickups is the Dr. Vintage. It's not only inspired by the original Gibson PAFs but follows the manufacturing process closely. Their production involves a great deal of hand craftsmanship. The magnets are individually tested, for example; and the components are carefully balanced to ensure an amazing, authentic reproduction of vintage tone.
These pickups are specifically designed to add a proper vintage flavor to modern or re-issued guitars, so as an aftermarket upgrade, they do not disappoint.
The tone is fat but bright and articulate. It's creamy and vintage, perfectly complementing the Les Paul. The hard work paid off Wolf Macleod!
When juiced up with some distortion, these really sing a voice of a beautiful vintage nature. You can feel the subtleness of Wolfe's winding process and the pickups magnetism, which creates a magnetic field perfect for letting the body of the Les Paul come through in all its woody glory.
Pros
Lovely take on original PAF with fatness, articulation and a woodiness that complements the Les Paul
Special magnets provide vintage response and dynamics
Cons
Weak pre-aged magnets may provide a slightly unstable tone that doesn't suit heavy rock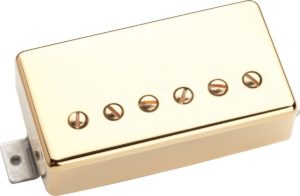 Seth Lover was the father of the humbucking pickup, and he defined years of pickup manufacturing, securing his legacy as a massive contributor to musical engineering. He passed away in 1997, and since, Seymour Duncan lovingly crafted the Seth Lover pickup to honor his life and work.
Seymour Duncan has the original formula, his notes, drawings, and even the winder he used for the original PAF pickups. What amazing heritage there is to this pickup!
In performance, it's very close to the original 50's PAFs, with a mid-range honk which is rounded and pleasant, brilliant articulation in the highs, but mostly rich and creamy. The lows are balanced and detailed, overall, it takes you back to the heydays of guitar manufacture which is exactly what it's meant to do, and the fact it has as close to Seth Lover's personal input as possible is awesome.
When distorted it comes to life with a warmness that can't be easily matched by other humbuckers. It's fat and round bottomed, complementary of that Les Paul tone. It really does a great job of capturing a musical era, which is the amazing thing a pickup can do to your tone.
Any Les Paul, copies or the real thing, will benefit from this fantastic pickup. It gives your highs stylish and sleek life, your mids warmth and definition, and your lows the much needed woody depth. Super!
Pros
Amazing heritage and as close to the PAF as money can buy
Full of vintage life, with a lovely musical roughness and warmth
Cons
Much the same as many of these vintage style pickups, the magnets provide a slightly unstable magnetic field which provides the warmth, fatness, and articulation, whilst making the pickup less efficient in aggressive picking.

Above we have two awesome pickups which really try and replicate a vintage sound which is most at home on any Les Paul. With this pickup, we take a step down in price, but not an enormous one in results.
This is one of Seymour Duncan's oldest designs and was one of the first re-builds of the original PAF to hit the market. It's a very popular pickup and its versatility is wide when applied to a Les Paul.
Its Aminco magnet provides more attack, so it has a slightly modern gleam to its high-end. It's still got a great vintage essence to it and the low-end is rounded, warm and smooth. Soft play allows the creaminess to come through in your tone, but its responsiveness is excellent when picking.
It's a higher gain pickup, pumping out more output than its more vintage styled amigos, but that doesn't mean it isn't sophisticated and it still provides a wooden fatness when combined with Les Pauls.
I'd say this pickup is a good option for modern rock and metal. The Les Paul provides fatness and size, this pickup provides attack. That's a great modern match. Many metal guitarists or hard rock guitarists would prefer this pickup, as its high-gain and low-ring.
Pros
Higher gain, no ring, more applicable to heavy styles than other pickups here
Hotness combines with a warm middle and lower end
Cons
Bright and clangy to some, for a Les Paul pickup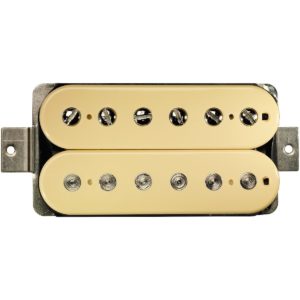 Another faithful PAF reproduction, the DiMarzio take on this vintage pickup mirrors its weak magnetic field to give it a natural articulation and special PAF wound coils to accentuate fatness and attack.
Its voice-like in its smoothness, there's a swell which lets notes' sustain ring naturally but has all the cleanness of a humbucker. That's a beautiful balance on a Les Paul.
Its character is truly deep and reminiscent, it draws inspiration from DiMarzio's '59 guitars as well as the PAF and marries the two perfectly. It's maybe the most unique of this line-up, its natural swell sounds divine when played quietly.
Because of this, it couldn't be recommended over say, the '59 Seymour Duncan, which is a higher output pickup better suited for heavier, louder styles.
It still responds creamily to distortion though, purring with aged wisdom and sophistication. It almost streams your guitar's voice and its woody overtones, providing a brilliant hardware link between your guitar's parts and your amplifier.
It's more of a low-gain model than some and whilst it still bucks the hum from fizzy strings and wiring, it doesn't stand up too well to louder more aggressive playing.
Pros
Weak field provides true vintage articulation
Combines PAF with DiMarzio vintage engineering for a creamy, thick sound
Cons
Weak magnets don't suit aggressive playing
Characteristics of the Les Paul and Its Pickups
The Les Paul is characterized by its shorter than normal scale length, which makes it fatter, rounder and warmer than a Stratocaster.
Stratocasters were made brighter with single coil pickups. Les Pauls, on the other hand, had a humbucker layout with fat sounding pickups which made it excel for heavier, fuzzier or thicker tones. With its pickup layout, the Les Paul had a deeper, thicker Mahogany body which added further to its vintage fatness.
Its pickups and body complement each other to great effect, and if you love Les Pauls then you'll know that you can't get that combo anywhere else!
Buyer's Guide: How to Find the Best Pickup for Les Paul
While Gibson Les Pauls are decked out with great pickups, many choose to upgrade to more bespoke layouts that shoe-fit their tone to precision. Epiphone models may be more lacking in their pickups and a replacement can transform your sound greatly.
Tone is the name of the game and pickups can transform a Les Paul and really capitalize on their fantastic build qualities.
Many Les Paul pickups revolve around their replication of the great PAF pickups of the 50's era, which truly defined an era of tone. Their replications differ but they all have one thing in common, they sound amazing on Les Pauls. They are so precisely engineered to get the most out of your guitar if you're a Les Paul owner.
Conclusion: What's the Best Pickup for Les Paul?
The one thing you're sure of when buying one of these is that you're buying a pickup most at home on a Les Paul. There's a fantastic combination of things going on with most of these.
Articulation of the Les Pauls woody depth, crispness of highs to provide clean dynamics, and vintage warmth in the low and mid frequencies. Between these, your guitar and your amp, there's no reason why you can't get audibly identical results to a true 1950's tone.
If that's what you really want, then the Seymour Duncan Seth Lovers have to be the recommendation. There's nothing about any of these not to love though. If you're in love with your Les Paul already then none will disappoint.
The Seymour Duncan '59 suits metallers and rockers better than most, and that pickup along with the DiMarzio DP103 suit lower budgets.