(Last Updated On: December 21, 2017)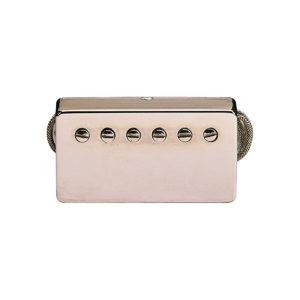 Jazz guitarists are among the most influential in all music, and behind each great player, there is a great piece of kit made of great components.
However, how do you select these? What effect do they have? And most importantly, as a buyer, how do you select the correct kit for the job?
There are many components which make up a guitar but in this guide, we will be discussing the best jazz guitar pickups, which simply put, pick up the vibration of the strings and convert them into electrical signals for output.
Top 4 Best Jazz Guitar Pickups: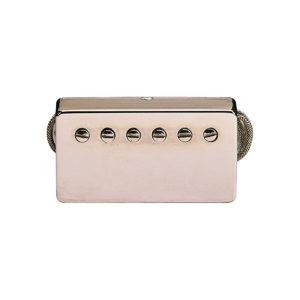 Along with the Classic '57, these are some of Gibson's high-end humbuckers. Perhaps these are the pickups most associated with Gibson's vintage sound.
They are shipped with Les Pauls and are faithful reproductions of the originals that were used by guitarists such as Eric Clapton on his Bluesbreakers '66 album with John Mayall, B.B King, and the Allman Brothers.
The Plus is the same as the '57 Classic with some extra turns of wire in the coil increasing its output without sacrificing tone.
This is true to the original PAF pickups of the late 50's which accidentally received a few more coils in manufacturing, the tone brought about by this mistake has stuck to this day!
The '57 Plus, therefore, reacts better in its velvety warm production of low-frequencies whilst providing more edge for a bridge pickup.
The '57 Plus can be described as having a juicy low and mid-end with a smooth, velvety high-end, perhaps lending itself to darker, louder tones.
The Classic '57 and '57 Plus has remained the choice of many jazz and blues players and are also frequently seen as an after-market upgrade to guitars other than Gibson's.
A common setup is to have the '57 Plus on the bridge and a '57 classic on the neck, as the '57 Plus provides thicker, smoother harmonics best suited to the bridge.
If you need a pickup able to handle more gain, overdrive, and distortion, whilst remaining smooth and rounded then '57 does an exceptional job.
Pros
Higher output than most jazz pickups
Darker, smoother, and warmer tone
Detail preserved in the high frequencies
Perfect for more distorted or more saturated tones
Cons
Some mid-frequency cut traded for more body in the mid and low frequencies
May not be muted and neutral enough for some jazz tones, it could almost have too much character for some players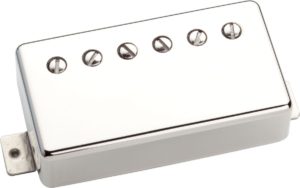 This pickup was also designed with the original PAF 50's humbuckers in mind, meaning along with the '57 Classic and Classic Plus.
It delivers warm, round-bottomed low end, with slightly boosted glassy highs and slightly scooped mid-frequencies for a versatile, true-to-vintage sound that provides character to whichever guitar it is matched with.
The general consensus is that the SH-IN '59 is glassier in the high frequencies than most humbuckers, whilst remaining full and smooth in the mid and low frequencies.
It's known to have a smooth clarity that allows single notes in chords to ring out particularly well and is capable of being very crisp and clean as well as bold.
It has a versatile output level and feeds tube amps well, providing a signal suitable for distortion and saturation. Because of its accuracy in the higher frequencies, it may lend itself best to jazz playing that involves a lot of runs or other intricacies.
By all accounts, the SH-IN '59 Model is exceptionally versatile and its application for jazz music covers all the bases, from edgier riffs with more chord action to intricate runs and soloing.
It ensures full coverage that allows your tone to be well articulated, smooth, and slick.
Pros
The most versatile pickup in the line-up
Lacks quite the same warmth of the '57 Classic
Allows intricate playing to shine
Cons
No real cons, but may lack a specific quirkiness due to its well-roundedness!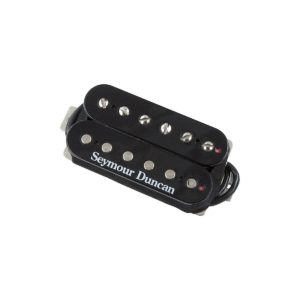 This humbucker pickup is considered more versatile than its name suggests and is the pickup of choice for many metal players, like Dave Mustaine from Megadeth, as well as rock legend Jeff Beck.
The reason for this is because, like in jazz, there is a need for accurate reproduction of speedy, accurate runs of notes that need to slot into the mix.
The articulation of the SH Jazz is due to it's scooped mid-frequencies, providing glassy brightness that shimmers with character. It remains well-rounded in the low frequencies, giving it the body you need for jazz.
It is a fairly low output pickup, but can still be driven to louder volumes whilst remaining clear, and smooth.
Clearness, punch, brightness, and shimmer are all words associated with this pickup's tone, and it is frequently used as an after-market upgrade in many guitars, including Les Pauls and Jackson RRs.
When people play using this pickup they're usually taken back by its crispness and delighted by its lovely handling of drive and saturation, particularly when coupled with tube amps, to provide a truly vintage, yet flexible tone.
Pros
Perhaps the most faithful of the line-up to a true, neutral but characterful jazz tone that lets the playing do the talking
Versatile in that it accurately produces high frequencies for a high-end sheen, which is a quality useful to many genres
Cons
Low output favors high-end, so may lack some boldness in the lower frequencies
May be quieter, and more muted, lending itself less to distorted tones than other listed pickups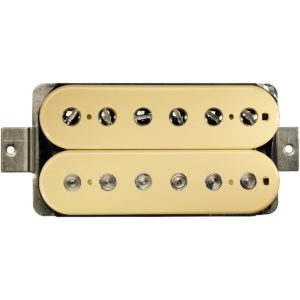 The free and open breathing DiMarzio PAF 36th Anniversary pickup is a great vintage pickup with exceptional character.
It is tightly wound, giving it a controlled essence to what is otherwise a decidedly thick, warm tone, with plenty of high-end clarity and cut.
Its inspiration came from the original PAF 50's pickups and thus it has the essence of a single-coil pickup without unwanted hiss or noise, providing a detailed, rich tone with considerable depth.
The magnetic field is quite weak in the DiMarzio PAF, which allows a smoothness to translate from any guitar, providing the focus and attack reminiscent of old records.
It reportedly functions very well in pinch harmonics, which really pierce heavier mixes as well quieter ones, and provides a shimmer to solos across many genres.
For jazz, it offers depth, warmth and detail as well as glassy high-end which translates intricate playing very well at low and high volumes, clean or distorted.
It's suitably dark, meaning it's perfect for moody playing, evoking that 50's warmth without compromising modern applications in high-gained, effects-driven settings.
Pros
A strong balance between clarity in the highs and charisma in the lows
Plenty of shimmery attack for accurate representation of complex playing
Cons
Mid frequency tones are less thick due to its bias towards the more clear high-frequencies
Too much color for some players may seem too low-fi and characterful
Buyer's Guide: How to Shop for the Best Jazz Guitar Pickups
How Do Pickups Effect The Sound Of A Guitar? How Do They Work?
There are many factors that add up to form the tone of a guitar. The materials and assembly of the instrument, your strings, the amp, cables, and of course, your style.
Pickups are at the heart of this, providing the link between the physical vibration of the guitar and its strings and the sound output to your speakers and amps.
When we find ourselves jealous of another guitarists tone, we should check the pickups they are using.
These pickups have the greatest influence on subtle harmonics, providing a more vintage sound, perhaps a more metallic one, or a crystal clear, smooth tone that has little distortion.
Pickups comprise of wire coils wrapped round magnets, forming a magnetic field. When this field is disturbed by string vibration, it creates a small, meaningful voltage, which is output for amplification.
The Main Types Of Pickups
Single Coil Pickups
Think Fender Stratocaster or Telecaster, and that edgy, metallic twang, which provides a satisfying snap.
Single coil pickups sound great with clean amp settings and are sure to cut through the mix, they tend to hum more than other types of pickups and some players love that as it provides that authentic vintage sound.
P90 Single Coil Pickups
Think vintage Gibson, and that fuller, wider ranged sound that is both twangy and snappy but also well-rounded and warm. P90s gain this character by having a wider coil with a wider frequency response.
Humbuckers
Humbucker literally means buck the hum, by using two coils, one that stops the hum created by single coil pickups.
If you are amplifying your guitar to a high volume with lots of gain and drive then humbuckers may perform more reliably. They sound less 'edgy' than their single-coil counterparts and provide a more rounded sound.
What Tone Do You Need To Play Jazz?
When we talk about jazz guitar tone, we mostly talk about that characteristic warmth that is displayed by the greats on old 60's records.
As well as this ubiquitous dark, warm and fat tone that lets the woodier tones of the guitar breathe, we have the cleaner 'hollow' sound that displays more of a metallic twang.
Take John Schofields 'A GO GO', the guitar has a subtle warmth with a definite edge, but it's also very loud. John uses a Super 58 humbucker pickup that gives him the license to riff out with his band behind him whilst providing a great balance in sections where the dynamics are quieter.
Kenny Burrell, in his self-titled album on Blue Note records, uses P90s and other single-coil pickups to get that brilliant hollow twang with vintage flavor.
So, What's the Best Pickup for Jazz Guitar?
The four pickups described are no doubt amongst the best jazz pickups.
Between them, we have access to tones ranging from deeper, darker, more moody sounds reminiscent of the rougher bluesy side of jazz, to the glassy, high-end twang that allows your guitar voice to really translate to an audience.
The best simply comes down to where you fall in this spectrum, if you want a sound that's fat and smooth, the Gibson '57s are sure to provide that characteristic warmth.
For a glassy, high-end tone which displays your solos in the best light, the DiMarzio PAF's may tick the boxes, or perhaps the Seymour Duncan Jazz Model can provide that neutral yet characterful tone.
The Seymour Duncan SH '59 definitely provides a versatile vintage tone for a wide range of guitars, but is it lacking that slight quirk?
Overall, the best jazz guitar pickup may well depend on whether you've decided upon your niche or personal favorite tone.