(Last Updated On: December 21, 2017)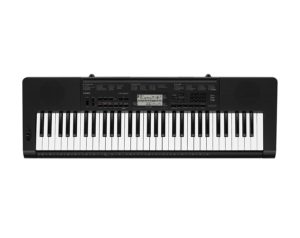 Learning to play a musical instrument can be a rewarding and priceless experience.
For those who want to try their hand at the piano, though, it can be more than a little intimidating.
All those keys, all that money, not to mention the size… Sometimes it's hard to know where to start!
That's why we've chosen and reviewed the best digital pianos for beginners.
Top 4 Best Digital Pianos for Beginners: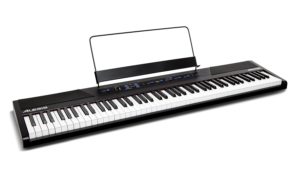 Pros
Semi-weighted, full-sized keys
Velocity-sensitive
Quality sound
128-note polyphony
Split and Layering capabilities
Built-in speakers and metronome
Lesson mode
USB-MIDI and RCA auxiliary connectivity
Battery-powered flexibility
1/4" headphone & sustain pedal ports
Great price
Cons
Only 5 voices
Lack of labeling makes a few functions a bit complicated
We'll start with the Alesis Recital, and it's a great place to start. This little dynamo from Alesis is inexpensive, yet still good enough to compete with some of the pricier models out there.
Oh, did I say "little"? Not so much! This one comes with the full complement of keys — all 88 of them — and impressive 128-note polyphony while it's at it.
All those keys are semi-weighted, full-size keys and velocity-sensitive. That means you'll be able to recapture all the responsiveness and feel of a real grand piano and add depth and dynamics to your playing.
The Recital also comes with adjustable key sensitivity so you can make the instrument match your playing style.
The Recital comes loaded up with 5 great voices. You can play them singly or you can get creative and layer them to make your own great new sounds.
Alternatively, you can split the keyboard to get two sounds at once, one in the right hand and the other on the left. You can edit the sounds even further with the Recital's amazing reverb and chorus features.
Alesis' Recital is great for teaching and learning. It comes with a versatile metronome and a headphone jack, which is sure to come in handy.
Lesson Mode divides the keyboard into two areas with the same pitch and voice to make it easier for a teacher and student to practice together.
One problem, though, is that there are a few functions that can be a bit more complicated than they needed to be.
The metronome function requires you to use a combination of the piano keys to manipulate it — and they're not labeled.
However, that's only a tiny hiccup since it's generally very easy to get what you want from the instrument.
The Recital can be powered by 6 D-cell batteries, so you can take it just about anywhere to practice.
It has great built-in 20-watt speakers, and you can also use the RCA aux outputs to connect to an amplifier or home stereo system for an extra boost.
And if that weren't enough, you can connect it to your computer using its awesome USB-MIDI capabilities.
The fact that the Recital gives you the full complement of keys for just about $200 is a big deal.
Usually, you'd have to dig deeper into your wallet or purse to come up with 88 keys. But despite all those keys, it weighs just 15.7 pounds and doesn't take up much space at all.
This one is definitely a steal — so, keep those bid cards close!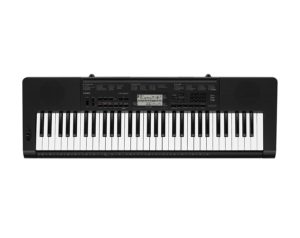 Pros
Velocity-sensitive
Quality sound
Hundreds of voices and rhythms
Split capabilities
Pitch bend wheel
Dynamic and interactive Lesson Mode
Sampling and Audio Input capabilities
Built-in speakers and metronome
Battery-powered flexibility
1/4" headphone & sustain pedal ports
Very lightweight and portable
Great price
Cons
Keys not weighted
Sometimes difficult to read the display
Speakers not powerful enough
It's hard to know where to begin with the CTK-3200 — there's so much to say about it!
Casio set out to create a keyboard that could both teach beginners from scratch and provide entertainment and functionality. They succeeded.
The Casio CTK-3200 is nothing less (but much more) than a teaching machine packed with loads of fun features that'll keep you around the instrument for hours.
There are only 61 keys, but that's more than enough for a beginner to start with. They're not weighted, but they are velocity-sensitive.
That will enable the player to play with some attention to dynamics and feel. You'll have 48-note polyphony as well, which should meet the needs of a beginner easily enough.
That brings us to the sound of the CTK-3200. This digital piano comes with a whopping 450 voices and 150 rhythms!
Not only that, but Casio did a respectable job of assembling these voices. A few of them may not be quite as good as those of some of the other keyboards on this list, but they're still quite realistic.
And in terms of sheer volume, no other keyboard on this list even comes close.
The CTK-3200 has over 100 songs stored on it and, what's more, the keyboard will teach you all of them. In fact, the teaching capabilities of this instrument are immense.
The real advantage of the CTK-3200 is that you don't need a human tutor — the keyboard itself does that job quite well.
I simply can't list all the incredible teaching resources on this digital piano.
For brevity's sake, it can teach you correct fingering, check your reaction time and evaluate your performance for each lesson, among many other features.
And the CTK-3200 comes with an eclectic selection of music styles from around the world, helping you to develop into a versatile player.
Another cool feature I just have to mention is the keyboard's ability to sample sounds from other devices and add it to its library.
You can also connect your mp3 player to the keyboard and have it play back a song through its built-in speakers so you can play along.
There are tons of cool sound effects to play around with.
On the downside, the CTK-3200 lacks weighted keys, which robs you of some of the feel of a genuine piano. Also, for all its great resources and the useful information on-screen, the display can be difficult to read at times.
And unfortunately, the speakers aren't all that powerful, which can be a problem when you need to be heard in a noisy environment.
Still, that's no reason not to consider getting this wonderful instrument for your home.
It comes at about $150, weighs only 8.4 pounds and can be powered by batteries. It's also great for the kids, and any beginner would benefit from owning a great digital piano like this.
RockJam RJ561 Digital Piano – Best on a Budget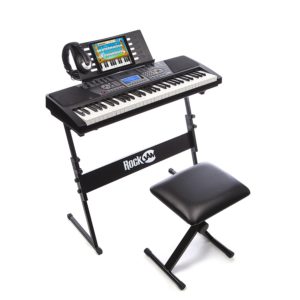 Pros
Quality sound
Hundreds of voices and rhythms
Split capabilities
Lesson Mode
Record & Playback capabilities
User-friendly interface
Built-in speakers and metronome
1/4" headphone jack
Very lightweight and portable
Great price
Cons
Keys not touch-sensitive
Default volume is always max upon turning on
No sustain pedal port
The RockJam 561 is actually quite similar to the Casio CTK-3200. Though you can't quite replace a human tutor, this is another great keyboard option for those who prefer to learn on their own, from scratch.
The RJ561 has 61 keys and comes full of resources for helping the beginner become a skilled musician, which it manages to do quite well.
The 61 keys are not velocity-sensitive, which is a definite con, but they're full-sized and made in the style of acoustic piano keys. This retains some of the feel of an acoustic piano.
They're also not weighted, but the RJ561 makes up for these shortcomings in other areas.
One of these areas is volume. This digital piano comes with 100 voices, 100 rhythms, and 50 demo songs. That's plenty of room for experimenting and learning and also plenty of room for fun.
The wide selection of instruments and sounds available means there's virtually nothing you can't play.
Like the Casio CTK-3200, the RockJam's 561 really sets itself apart in the areas of teaching and learning. The keyboard is equipped to teach you to play any of the demo songs.
The display screen also comes with a lot of useful information and includes a visual keyboard as well as a grand staff to keep track of notes.
The many available voices, rhythms, and songs also make for a versatile learning environment.
The keyboard teaches you what chords and notes to play for each of the several songs included. It also tells you what pace you should be playing at.
For those times when you need some privacy during practice, you can make use of the headphone jack.
This keyboard also has a useful record and playback feature, which is bound to come in handy during practice.
The RJ561 is not touch-sensitive and cannot accommodate a sustain pedal, however.
There's also the fact that the volume is always at max upon turning on the instrument, no matter where it had been before powering down. This can sometimes be a bit of a nuisance.
All in all, though, this is definitely a digital piano you'll want to consider if you're new to the piano. It's a brilliant learning and teaching instrument and comes packed with useful features to get you playing quickly. The RJ561 is the cheapest keyboard on this list, at just about $120, and is a great value for such a low cost.
Yamaha P45 – Best Sounding Digital Piano for Beginners

Pros
Semi-weighted, full-sized keys
Velocity-sensitive
Quality sound
Layering capabilities
Built-in speakers and metronome
10 voices
Simple, single-button operation
USB-MIDI connectivity
1/4" headphone & sustain pedal ports
Cons
Not as many teaching resources as others on this list
A bit expensive
If you're a fan of Yamaha keyboards, you won't be disappointed by the P45. The Yamaha P45 is a well-engineered musician's tool that is ideal for introducing beginners to the world of piano-playing.
It's also sophisticated enough to meet the needs of more advanced players and performers.
First off, the P45 has the full complement of keys (88), and they are all weighted. Yamaha pays attention to detail here in that the lower-end keys are more weighted than the rest of the keyboard.
This more perfectly imitates the physics of an acoustic piano and adds an incredible dimension of realism to your playing.
The P45 only comes with 10 voices but they all sound amazing and are very realistic, being among the best available sounds of the keyboards on this list.
It also comes with a handy layering feature for combining and playing 2 sounds at once, like piano and strings.
In terms of teaching and learning, this digital piano falls short of the Casio CTK-3200 and the RockJam 561.
If you are just starting out, you'll need more human resources than if you were using the two I just mentioned. There's also no available display, a trait it shares with the Alesis Recital.
The Yamaha P45 is a great instrument to own. However, boasting fantastic sounds, authentic piano feel and the full range of keys. It comes with ports for a sustain pedal and headphones.
It also supports USB-MIDI connection, perfect for interacting with learning software, etc. It's also very easy to use.
If you're on a budget, this digital piano may be a bit of a squeeze because of its cost of about $500.
However, if you can afford it, I'd definitely recommend getting it. It's another great product from Yamaha and a beginner isn't likely to outgrow it as quickly as he would some of the other keyboards here.
How To Choose The Right Digital Piano
First off — knowing where to start! The landscape can get a little confusing.
Let's do a brief run-through of things to look for when buying your very own keyboard as a beginner.
The Quality Of The Keys
Anybody looking to immerse themselves in the world of piano-playing will eventually hear the term "weighted keys" being thrown around.
Some will argue you don't need weighted keys in your digital piano. But — and this is important — if you are serious about your playing, you'll eventually want to have them.
Acoustic (real) pianos are made with weighted keys — they're inherent to the instrument itself.
If you do all your playing on unweighted keys, you'll find you have trouble with your technique and finger strength when you switch to a real piano.
Weight usually goes hand-in-hand with sensitivity. An acoustic piano is naturally touch-sensitive, which makes for smooth, expressive and dynamic playing.
Therefore, it's of paramount importance that your digital piano is sensitive to velocity in the same way.
Simply Sound
It's vital that every musician develops an ear for good sound — your ears are ultimately your only navigators in the wide world of music!
One important step in developing reliable ears is playing on an instrument that offers good, authentic sound.
Like anything else in life, the basics are important here, and you absolutely want to make sure your foundation is solid.
Unfortunately, not all digital pianos manage to capture an exemplary and authentic piano sound.
With the constant advances in technology, however, we're only getting better at replicating the sound of a well-made acoustic piano.
It's worth the time and effort to seek out a digital piano that truly makes the cut. Don't cut corners here.
Pondering Polyphony
Simply put, polyphony refers to the maximum number of notes a keyboard can play at the same time.
You can see how this would be important in a digital piano — few things are more frustrating than notes simply dropping out in the middle of playing something complex.
That's a dead giveaway that your instrument just isn't the real thing.
Higher polyphony means you can play bigger chords, more notes and stack more sounds on top of each other without the worry.
It means your music can "build up" more when you want it to.
That might not mean much to you at the very beginning but it will become absolutely indispensable the deeper you get immersed in playing.
Don't settle — there are options out there.
A Feature-Filled Experience
It never hurts to know what you want from your instrument. That can mean the difference between a single purchase that meets your needs and several purchases that don't.
Modern digital pianos often come chock-full of useful features, so all you need to do is choose what's best for your needs.
Are you looking for an instrument to learn or practice on, or are you looking to hit the stage with it? Do you want to use it for teaching a child? Will you be working without a tutor?
Are you looking for something that's full of different sounds or do only the basics matter to you? These and other questions will go a long way in determining what digital piano you should get.
Counting Cost
For many of us, money will be an important consideration.
You'll want to make sure you've bought a quality instrument, but often your budget won't allow for what counts as quality on the market now.
You usually get what you pay for, and sometimes that's precisely the problem.
Getting a piano is a huge investment and a big step for anyone. An acoustic piano is costly, heavy and often takes up more space than we can afford.
Some digital pianos, though great, are hardly better in that sense. But there are many excellent, inexpensive options for the beginner who's determined to learn to play and to play well.
A Word Before Moving On
The standard piano comes with 88 keys.
As far as efficiency is concerned, this is really the best option for anyone wanting to become a pianist.
As far as practicality goes, however, this is not absolutely essential, especially for the beginner.
If you're unable to judge for yourself whether a digital piano you're interested in offers a good, proper acoustic piano sound, get help.
A second opinion from a friend who knows what to listen for or from some other qualified person can be extremely useful. It's very important that you get used to hearing the right kind of sound as you play.
And now, on to our picks for the best digital pianos for beginners!
So, What's the Best Digital Piano for Beginners?
These are all easily some of the best digital pianos for beginners. So, which one do you choose? For sound quality alone, the P45 and the Recital would be the better options.
However, for the beginner looking to learn the instrument from scratch, especially on his own, I'd have to recommend the Casio CTK-3200. It has a great mix of sound quality and learning resources, at a low cost.