(Last Updated On: December 21, 2017)
When you're shopping for a new bass practice amp, it's important to keep a few factors in mind. The most important one is the amount you're going to invest in this essential equipment.
No matter which skill category you fit into, you should be looking for the best small bass practice amps under $100.
Top 5 Best Bass Practice Amps Under $100:
Fender is one of the icons of musical instruments. The company has been a key supplier to the music industry for more than 70 years. Players have performed with guitars and amplifiers from Fender in almost every genre, from rock and jazz to country and blues.
In fact, the company started by Leo Fender is credited with inventing the electric bass amp. This line of products now includes the Rumble Series, a "beefy" power amp with a large, ported speaker. You get plenty of volume and bass response from this 25-watt package.
It comes with standard volume control and EQ controls, as well as a state-of-the-art overdrive circuit and contour control that's switchable. These features give you both the bite and the punch you desire, with the touch of a button.
Pros
Great Tone
Good power in small amp
Excellent starter amp for beginner
Cons
Speaker rattle in some individual units
Hard to access fuse
If you want to practice without disturbing others in the house, just plug your headphones in the ¼-inch output jack to mute the speaker. The MP3 input lets you play your songs while you practice. The Rumble 25 is backed by Fender's five-year transferrable warranty.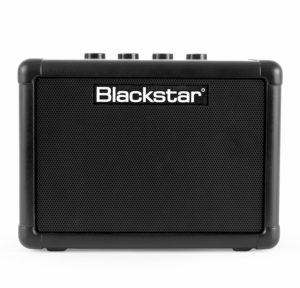 If you're in the market for a very portable, battery-powered practice amp, this is a good option. While it delivers "only" three watts, it does have two channels (clean, overdrive) tape delay and provides good tone for its size.
You'll get nice tone control, with the added feature of resonating sound thanks to the tape delay feature.
Other features of this low-priced option include MP3/Line in jack, output jack for headphones and, of course, battery power for complete portability. You can use it with AC power to save on batteries.
Pros
Excellent performance for battery-power/size
MP3 jack for phone, tablet, laptop etc.
Full tone capability
Cons
AC adapter costs extra
Inconsistent power
This is a perfect choice for the beginner or mid-level player who only needs to practice alone. It's designed to be extremely portable, but some veteran players may be less than satisfied with the tone and performance. In addition, customers have to purchase the AC adapter for an extra $20.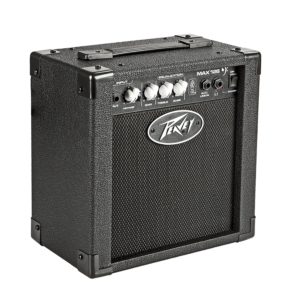 Peavey is one of the older companies in the music-equipment industry, having produced their first products in the mid-1960s. Of course, this doesn't quite put them in the icon class of Fender and Gibson, but the company is now recognized as one of the largest suppliers of instruments and sound equipment in the world.
The Max Series of bass amplifiers includes several amps, with power ratings up to 300 watts. The 126 Combo amplifier is a good choice for low-bass sound from a lightweight amp.
The 6.5-inch speaker produces plenty of sound for practice and in a small-room setting.
You also get selectable "vintage" gain control with Peavey's patented TransTube circuitry, as well as low-range and high-range EQ controls. Listen through your headphones with the 1/4" headphone jack or make use of the handy auxiliary input.
Pros
Great bass lows
Plenty of power
Good punch in small package
Cons
Sound cuts off at high volume
Speaker distortion with some units
Circuitry picked up radio signals
Peavey has a reputation for producing reliable products, with great sound reproduction. The 126 Bass Combo fits with other amps from this long-standing manufacturer, though some customers have experience problems with speaker distortion and loss of sound. This Peavey does deliver nice bass tone.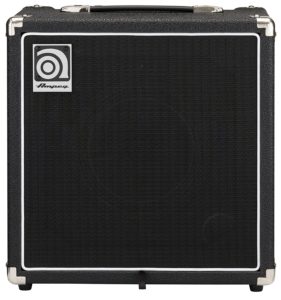 The Ampeg name is recognized among professional musicians and amateurs alike as one of the innovators in the area of big, loud, rock amps.
In the late 1960s, the company created a super-vacuum tube amp to compete with the huge amplifiers being used by dozens of rock guitarists in the UK and the United States.
Those early, 300-watt monsters led the way to a range of amplifiers and sound equipment, reaching down to the Ampeg BA-108, at 25 watts. This power rating and the eight-inch speaker will give you more than enough bottom for practice. But you can also use this small package when playing in small rooms with one or two other musicians.
The BA-108 is a solid state amp with three-band EQ for great tone control. It's an excellent choice for beginning players as well as for veterans who want quality practice sound. It's equipped with MP3 input as well as a headphone-out jack for practicing without disturbing others.
Pros
Good power at 25 watts
Signal-out jack doesn't shut down speaker sound
Headphone jack to mute speaker
Smooth, deep tone
Cons
Speaker buzz/speaker loosens up with use
Controls didn't hold up over time
Tone and 25-watt power are probably the best features of the BA-108. When you practice with this small bass amp, you get great tone and the option to mute the speaker or not with two output jacks. Good product for the money.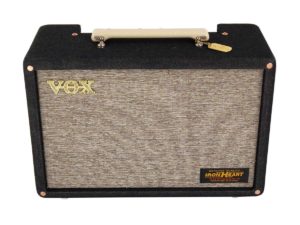 Vox became one of the most desirable names in music equipment in the late 1950s, beginning with its association with the JMI Corporation in the UK. The name first appeared on a guitar amplifier in 1958. Vox was the choice for members of The Beatles, beginning in 1962.
The Pathfinder 10 Denim brings in the sound-equipment technology of this manufacturer and the unique talents of the Iron Heart company. This makes it a limited-edition amplifier, thanks to the contribution of the denim/garment company.
While some see it as a collectible item in the amplifier line, bass players looking for a good practice amp may also find it more than adequate. It certainly looks different, when compared to other amps covered with non-designer fabric.
The 10 Denim is a solid-state amp delivering 10 watts of power through a 6.5-inch speaker. You also get two-band EQ and headphone output. This little amp weighs in at a comfortable 10 pounds.
You might expect this to be one of those "collectible" amps that don't perform particularly well. But the truth is, the Pathfinder 10 Denim not only looks great, it stands shoulder-to-shoulder with the other small practice bass amps on the list.
Pros
Great at practice-level volume
Tone/Gain adjustment
Great for beginner and veteran
Cons
Too small for anything but solo practice
Lightly built, didn't last
"Muddy" sound with some units
How to Choose the Best Cheap Bass Amps
Is Power Important?
Remember, this is going to be an amplifier for practice. If you're a beginner, an amateur with medium-level skills, or a veteran/professional, you can get the same quality components, construction, and performance without spending a lot of money.
The sound will still be more than adequate.
This is not a "gig" amp, so you don't have to put "watts of power" at the top of your priority list. Instead, try to stay with one of the traditional manufacturers and combine that with the budget bass amp that's highly recommended by players who know musical equipment.
What Features Should You Look For?
Without being able to hear the actual sound from a small bass practice amp, you should focus on getting the features you want and need.
Of course, if you've been able to experience one of the best small bass amps in person, you're ahead of the game. But, as a gentle reminder, this is not necessarily the amp you're going to use to produce sound for others to hear.
If you buy a small amp with 10 watts to 25 watts of power, you'll be able to use it for practice without overdriving it. This same inexpensive bass amp will also serve you well in cozy gatherings of friends and family.
You will also need a headphone output jack so you can practice privately. When you insert the headphone jack, the speaker is muted.
Many of the newer amps also have a 1/8" auxiliary input for use with an MP3 player. Most of the speakers in the best small practice amps are in the 6-inch to the 6.5-inch range, so you won't have to spend a lot of time making comparisons of this feature.
This will be important only if you want to make use of the amp for both solo practice and when you play with one or two fellow musicians. Keep in mind that some of the best value bass amps have 8-inch speakers.
Battery or Plug-in?
When portable is the key element you're searching for, you can get a battery-powered mini-amp designed strictly for solo practice sessions.
You don't have to sacrifice on features and benefits with the newer portable bass amps, as manufacturers offer them with two channels, tape delay, and strong tone. The performance belies the size with these tiny units.
Most of the top-line battery-powered portables have a line-in jack so you can connect an MP3 player, smartphone, tablet or laptop. The output jack gives you the benefit of practice privately as well.
What About Controls?
Basic EQ control will be sufficient when you purchase an inexpensive bass practice amp. If you can find what you want in the size and budget categories, and you get low-range and high-range EQ control, you should be fine.
For reliability, you will be best served with a solid-state amp. You aren't going to be seriously concerned with getting tube tone from a bass practice amp anyway.
Speaking of control, you should also pay attention to overall weight of the amp. While this isn't a major concern for most players, you will have peace of mind knowing you can grab your amp with one hand and carry it comfortably when you need to move. Width and height should generally be on the bottom of your priority list.
Now that you've hit the high spots of small amps on the low end of the tonal spectrum, you have enough information to dig into a few of the best value bass amps. All of these carry a price tag of $100 or less, of course, and each could find a place in your practice routine.
So, What's the Best Bass Combo Amp Under $100?
As you begin shopping for the best small bass practice amp, you should not have to spend more than $100 to get equipment for working on your low-end chops.
As you read through the reviews, remember there are individual units within any brand that may have issues. What you'll need to focus on, in addition to reviews from previous customers, is the support you'll get from the manufacturer and the seller.
If you want to buy the least-expensive amp, you should go obviously go with the Blackstar FLY3. The others are very close in price, though still under $100.
For best performance and overall satisfaction, the Fender Rumble 25 is probably your best choice.
However, any of these could be your choice for best small bass practice amps under $100.