(Last Updated On: January 23, 2018)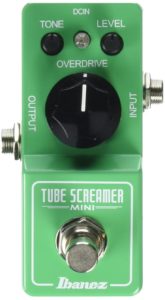 Overdrive pedals have been all the rage since their conception in the '70s. They're invaluable bits of kit, designed to accentuate warm mid frequencies, provide clean level boosts with a bit of grit or provide a high gain boost for overdrive with more bite and attack.
So many guitarists use a form of tube screamer and they're touted as one of the most useful types of overdrive pedal ever.

Top 4 Best Tube Screamer Clones: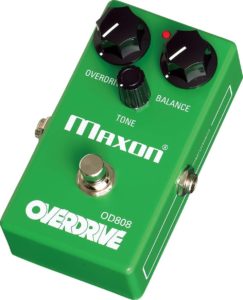 This pedal was originally released in parallel with the original Ibanez TS808/TS808 which preceded the '70's TS9. In fact, all of the original Ibanez Tube Screamer pedals featured mostly Maxon components, who were a chip manufacturer from Japan. Today, Maxon is the same Japanese company that made the originals.
This pedal's smoothness caught on quickly and it was slightly cheaper than the Ibanez when released in 79 and it certainly still is now. You get the heritage with extra modern modifications with this brilliant Tube Screamer Clone.
Features and Tone
Smooth yet crunchy is the aim of the game and this pedal completes it easily. The type of overdrive is pretty mild and you can see why it's earned the comparison to tube amp drive. This distortion allows your instrument's tone to show itself too, meaning it doesn't smother a tone in unnecessary processing.
This pedal is mostly cloned from the original but it has an updated set of outputs featuring new resistors that aid in noise elimination. This pedal has a lower noise floor than the originals. The other circuits are actually the same as the original so you can expect very nearly identical to the original tube screamers. You can also use this as a clean boost to increase volume before amplification.
In terms of the build quality, this pedal has an all-metal aluminum construction that is rugged and compact. It's classically designed and this mirrors its classic sounds. 1970's rock and blues overdrive that doesn't let you down. Definitely one of the best tube screamer pedals available.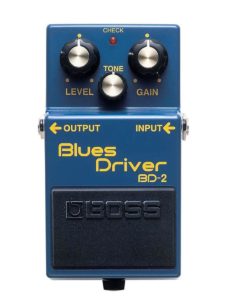 Boss is a household name and their huge ranges of pedals are a tribute to their tremendous work ethic and desire to satisfy the market. They've got tons of distortion and overdrive pedals ranging from hardcore metal distortion pedals to this BD-2 Blues Driver, which is designed to create that creamy '70's emotive distortion. It's no wonder then that Boss have their own Tube Screamer style pedal, named the Blues Driver.
Features and Tone
This pedal, unsurprisingly, comes in Boss' standard pedal format – something we're all used to. Boss are renowned for their faithful replications which come with extra features but on this, you'll just see the 3 normal knobs – level, tone and gain. That's fine, though, as that's really all you need – it's the circuit which does the talking! This pedal is notably responsive to playing nuances and dynamics – something subtle from Boss for once!
The tone it supplies is subtle and warm, just like the original. It's unmistakably bluesy and will suit any blues guitarist or rock guitarists. You won't get any extreme crunch out of this though – just that tube-y kind of sound. It's a versatile and flexible pedal and it's cheaper than many others. A great Tube Screamer pedal at a great price from a great company.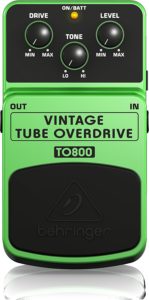 If we told you that you could get similar tones to these other pedals price around $100 + for just $20, would you believe us? The thing is, you can, with this Behringer Vintage Tube Overdrive Pedal. And, to be fair, it really doesn't let you down for the minuscule price of $20.00.
Features and Tone
This pedal doesn't sacrifice much. It uses an identical MA150 diode in its circuit which emulates the originals faithfully. It provides a proper tube screamer-esque distortion – warm and sweet. There are no frills, just the distortion itself and the pedal which is still well built. You can quickly dial in any tone ranging from a real tube scream which adds attack and bites in great proportions or subtle mid-range drive which supplies your tone with extra vintage juice.
Overall, it's surprising that this doesn't cost much. Behringer is one of those companies – they focus on cheaper alternatives and some just don't really have any pitfalls. This pedal falls in that category. It's a bit of a no-brainer, really, as it makes a great back-up, even if you do fancy a nicer tube screamer.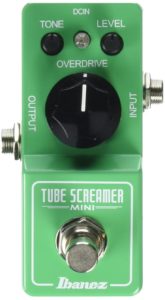 So we've had a few manufacturers here but what about the original big name in tube screamer pedals, Ibanez? The good news is that they do indeed have a replica of their original. Even better, it's remarkably small and still packs the same legendary tonal qualities of the originals. Its small size is appealing to the eye and for your pedal board. 'If it ain't broke, don't fix it', is what many people say when it comes to these kinds of pedals and that's what Ibanez has done.
Obviously, this pedal is pretty tiny. Not everyone is into that, though, and you don't want to be fiddling around trying to find your pedal in your performance. That said, these pedals are mostly set and forget – you won't need to make many modifications as you play.
Features and Tone
This pedal features much of the original circuitry including the legendary JRC4558 IC chip. You get the tone you're looking for easily with this. Anything is available from a proper tube-esque growl that'll be turning heads to your non-tube amp in wonder to a sweet 70's crunch. Don't be fooled by the size – Ibanez has packed this with the same goodness as the older, larger original.
It has a true bypass raised footswitch too, meaning it's elevated out of the way, so no accidental changing of the knobs during use! This pedal is cute and packs the warm growl of its bigger competitors. You can still use it to provide a clean boost to your guitar. It's a Swiss-army knife for guitar tone and it isn't much bigger either!
The Original Tube Screamers
The original came from none other than Ibanez and it quickly rose to a prolific status. Many great guitarists adopted the pedal, including Stevie Ray Vaughan, Joan Jett, Steve Vai, Gary Clark Jr… the list is somewhat endless! When such names are mentioned alongside a pedal you know that it offers something that will benefit your own tone too!
The original legendary Ibanez Tube Screamer has been redesigned, tweaked and emulated to no end – it's earned a status as the most cloned pedal of all time. Basically, every company has its own version of the tube screamer, so picking the best tube screamer is hard!
The original pedal was essentially designed with a circuit that emulated driven tube amps. It included a mid boost which allowed guitars to cut through denser mixes with more attitude. The golden function of these pedals was its op-amp type of distortion which is both non-linear and symmetrical.
That's what earnt its comparison to tube amps. Though Ibanez made a few versions, the most famous is the TS9 which had a bright, clean output with edge and attack. They were long held as the best tube screamers available on the market. Now, we have a new breed of tube screamers with tweaked circuits and extra features.
If you already own a quality setup with a tube amp or other vintage gear then these can take your rig to the next level of authenticity. If you're missing a tube amp and have a more minimal setup then these enhance your tone significantly. Either way, tube screamers are top notch pedals for any guitarist. Here are some of the best tube screamers available on the market today!
Conclusion: What's the Best Tube Screamer Clone?
All of these pedals are credible options. They rank as 4 of the best tube screamers available today. Firstly, the Boss and Behringer pedals may seem the least authentic but actually, they replicate the originals in their effect as well as their limitations. Both of these pedals can introduce some unwanted noise into your signal and some people will like that. They provide the same Tube Screamer attitude in flexible or well-priced packages.
The Behringer is obviously the cheapest by a stretch and for that price. You may as well be buying it as a backup even if you buy any of the others! As a pedal though, don't be fooled by the price and Behringer's (occasionally) questionable build qualities. This pedal is awesome for the price!
The Maxon and Ibanez have heritage on their side and the Maxon clears up some issues with noise involving the older Tube Screamers. It's a simple yet effective change and it makes the pedal that bit more usable. The Ibanez Mini is where most people tend to place their cash in, though. It's made by Ibanez themselves and the circuitry is virtually the same – merely compacted into a small, bulletproof format.
Overall, all of these pedals offer a great effect and for guitarists of all kinds, the Tube Screamer effect is incomparable. You can enhance your tone so simply with any of these Tube Screamer pedals – go with your gut instinct – there is no bad choice!