(Last Updated On: December 21, 2017)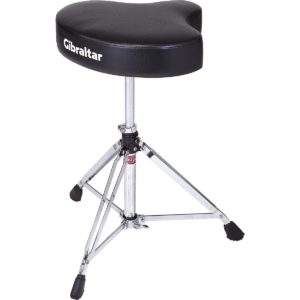 Are you looking for the best stool or chair for your guitar practice? You're in the right place.
Often overlooked but in fact one of the most important aspects of guitar playing is posture.
Proper posture will ensure your technique isn't suffering, help you deliver great performances and keep you free from injury and discomfort.
When you've got thousands of hours practicing ahead of you, make sure they're spent comfortably practicing on a purpose-built chair or stool for guitar players.

Top 4 Best Guitar Stools: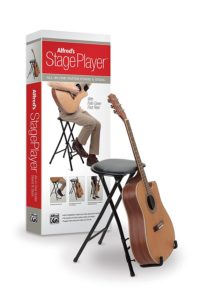 The Alfred's StagePlayer Guitar Stand and Stool has a budget price tag but offers some features common in slightly higher priced guitars. Durable and multi-purpose, this guitar stool can be used as a seat or a handy guitar stand to prop up your instrument when not in use.
As many budget guitar stools at this price offer no padding on the seat, this is a big bonus with the Alfred's StagePlayer. The thin layer of foam covered with faux leather isn't going to match the comfort of your favorite armchair, but it will allow you to play comfortably for a couple of hours.
It's reasonably lightweight at just over 9 pounds, making it a solid option if you frequently gig in different places. When you're finished with it, you can fold the stool up in a single motion and pack it away easily. If you're using this in a home environment, being able to fold the stool is a great space-saver.
In terms of build quality, you are getting what you pay for. The thin faux leather coating will begin to deteriorate after a while and the finishing is spotty, with some sharp or roughly finished edges. If you have an expensive guitar you will have to be mindful of this to avoid damaging it.
There's a fold-down footrest so you can comfortably rest your foot while supporting your guitar. Neither the foot rest nor the stool itself is adjustable and stands at 25 inches from floor to seat. If you consider yourself quite small, you might find that the foot rest doesn't lift your legs up enough to stop the guitar from sliding away while playing.
The Alfred's StagePlayer Guitar Stand and Stool is a no-frills guitar stool for the average sized guitarist who wants something that can be used at home without taking up much room, and also light enough to take to rehearsals, gigs, and other events.
Pros
Durable and lightweight
Folds up in one motion for quick and easy setup on the go
Doubles up as a guitar stand
No assembly required
More features than you'd expect for the price
Cons
Non-adjustable height or foot rest
Not suitable for classical guitar posture
Poor finishing – stools may have rough or sharp edges
Seat feels cheap and will not last a long time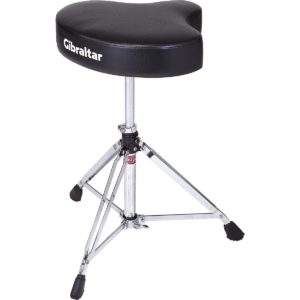 Gibraltar is a leading manufacturer of equipment for musicians. They produce a wide range of quality music equipment and this drum throne is no exception.
Drum thrones and guitar stools share a lot of the same characteristics and the 6608 is perfect for drummers and guitarists alike.
The seat is made from high-grade foam and is the feature that really makes the 6608 stand out. When it comes to seat cushioning, your mobility can be limited if the seat is too soft, and be uncomfortable if too hard.
Gibraltar has got the padding just right, offering a balance of comfort and support for long playing sessions. It is vinyl covered to prevent you from sliding around while playing.
The stand is height adjustable from 18 to 24 inches, so it can comfortably a variety of sizes. A reviewer on Amazon said that the stool was barely tall enough for him at 6'7", so providing you're smaller than that you'll be okay.
It features a memory lock, making it super easy to return to your preferred height after dismantling. And in order to transport or store it away, you need to dismantle the seat. At only 10 pounds, it's easy enough to transport it between gigs.
Increasing the durability of the 6608 is the double braced stand. This will make sure that the braces don't bend and misshape from overuse, helping keep your seat level and your throne in good shape for as long as you use it.
The Gibraltar 6608 is perfect for those looking for something that still can still be transported easily, but is also very heavy-duty and can withstand the wear and tear that comes with frequent use.
Pros
High-grade foam and non-slip vinyl seat
Durable and reasonably lightweight
Height adjustable
Cons
Needs to be dismantled for easy storage
Need a drum key to adjust memory lock (although this results in a more sturdy locking mechanism)
Gibson not only manufactures quality instruments but accessories and hardware for the passionate musician, too. The Gibson Logo Barstool is a slick looking swiveling guitar stool for those looking to practice on something that oozes character and comfort.
With 1" thick, high-quality foam padding on a 5" thick seat, the Gibson Logo offers superior comfort to many other stools in the same price range. Comfortable enough to sit on throughout a full gig, you won't find yourself needing to stand up and stretch.
The seat is covered with vinyl to prevent slipping while you're playing and also has the word "Gibson" officially branded on the top of the seat. This branding offers a unique design aspect that will appeal to many guitar players, especially if you play a Gibson.
The chrome base not only looks good but is incredibly sturdy and can support much heavier guitar players than the cheaper guitar chairs you'll find in this list. Once assembled, the Gibson Logo measures at 24" tall and is not height adjustable.
From the seat to the top of the foot rest is 16 inches. Gibson seems to have optimized the size and dimensions for most guitar players, with no negative reviews referring to the height of the stool or the distance between the footrest and the seat.
The Gibson Logo is a great guitar stool for those who only need it for playing in one environment. Due to the more time consuming (but still simple) assembly than the more portable models it would be inconvenient to transport to gigs.
This isn't an ugly thing that you'll want to hide away when not in use, either, the Gibson Logo would look great in any home.
Pros
Easy to assemble
Durable
Footrest is at a comfortable height
The dimensions are optimized to suit the majority of guitar players
Looks great, no need to hide it away when not in use
Cons
Not height adjustable
Can't be classed as portable due to the assembly required
Cushion is known to harden slightly over time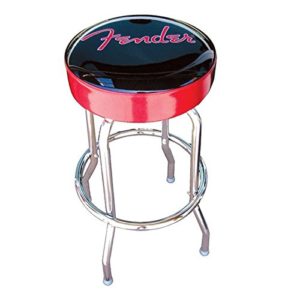 Powerhouses in the music equipment industry, fender need no introduction. We all know their world-famous guitars, but did you know that they also produce a wide range of extras for musicians? The Fender 30 Barstool is an example of some of their fine craftsmanship outside of the instrument world.
With its eye-catching red, black and chrome color scheme this is a guitar stool for those looking to make a statement. This isn't styled over substance, either.
The seat has thick padding and a commercial grade vinyl cover to stop you from sliding around while playing and adds to the durability of the seat, helping keep it in great condition even after years of heavy use.
The swiveling seat is supported by a stand made from heavy gauge, chrome plated 1" steel tubing, providing players with an extremely sturdy frame which can take a lot of weight with ease.
We like the chrome plated finish as it gives the stool a clean, vintage-style design which will appeal to many guitar players who support the Fender brand.
At 30 inches tall, this stool is great for acoustic guitar players but not so much for electric guitar players. It can be a stretch to reach your pedals, luckily there's a 24" version which should let you reach your pedals without a problem.
The ring on the base is as sturdy as the rest of the frame and serves as a solid foot rest at a comfortable height.
While the Fender doesn't offer adjustable height, a feature that we like to see in stools for guitar players, the only negative review regarding the height was from electric guitarists struggling to reach the pedals.
Make no mistake, this is a solidly built barstool that can double up as a guitar stool, but if you're new to playing the guitar and need something that will help develop your posture then the Fender 30 isn't a good choice.
If you're a seasoned player with a good posture and you want something comfortable and durable that looks great in your home studio, you won't get anything better for the price.
Pros
Striking design with Fender branding
Made with high-grade materials
Comfortable
Extremely durable
Comfortable for acoustic guitar players
Easy to assemble
Cons
Not height adjustable
If you have pedals, the 30" height makes it more difficult to reach them easily
Not suitable for guitar players who need something that's portable
How to choose the Best Guitar Chair/Stool: a Buyer's Guide
We eat on dining chairs and type on office chairs, so it's only logical that we play guitar on guitar chairs, right? But with so many models to consider, it can be a daunting task selecting the right chair for you.
I've banged heads with my guitar playing amigos and used our combined experience in the music industry, and thousands of hours of bottom-on-chair time, to identify the key features to look for when shopping for the best chair for playing guitar.
Chair or Stool?
It's ultimately down to your own opinion, as both have their strengths. The most obvious difference is that a chair has a back, while a stool doesn't, giving the chair superiority in the back support department which is important for long playing sessions. Stools offer a no-frills playing experience, letting the guitarist adopt a more natural position.
If you're buying a guitar chair or stool for the home, then space is probably a concern. Guitar chairs tend to be heavier, harder to store away when not in use and are generally only useful when playing the guitar.
A guitar stool, on the other hand, can be tucked under a desk or table when not in use and used as a regular seat outside of practicing hours. Or if you've got a good looking guitar stool, you might want to have it on show all the time!
Adjustability
This is what sets guitar chairs apart from your regular dining or office chair. As you'll be reaching, bending, flexing and exchanging instruments, the back of the chair much be able to flex with you.
For maximum versatility and comfort, the chair should have up, down and lumbar adjustment options. Some higher-end guitar chairs even rock to accommodate even more playing styles.
Guitar stools, on account of not having a backrest, generally just have adjustable height and a ring around the base to rest your feet.
Comfort
Using an uncomfortable chair when playing the guitar can be a pain in the arse – literally. When you're spending so long sat down, you want to make sure that not only does the chair promote proper posture, but is comfortable to use.
What you want to look out for is a good amount of padding on the seats and the kind of material you won't slide around on, like vinyl. Having to readjust your seating position because you keep sliding to the back of the chair isn't ideal.
You may not have a padded seat if you opt for a lower-end guitar chair. If you're only practicing for an hour at a time, you won't experience much discomfort. But if you're playing for hours at a time then it's really worth investing in something with padding.
Price
A chair doesn't have to cost over the odds, especially if you're a hobbyist or usually just practice at home. It's important to know that a guitar chair is structurally superior to a guitar stool, and this drives up the cost.
You'll find some cheaper guitar chairs that aren't too different from basic metal folding chairs. These might not have padded seats or be adjustable.
On the other end of the spectrum, you can find artistic, well-crafted chairs and stools made from high-grade materials. These are usually in another league in terms of comfort and offer much more adjustability.
Verdict
We've looked at a variety of options, all with their own strengths and weaknesses. But which model is the best stool/chair for playing guitar?
If we had to pick one, we'd recommend the Gibraltar 6608. While marketed as a drum throne, it is widely used by guitar players on account of its height adjustability, comfort, and durability.
It's also quick and easy to disassemble and reasonably lightweight so you can take it along to rehearsals and gigs.
But, if portability isn't something you need, then either the Gibson Logo Barstool or Fender 30 Barstool would serve you well. These stools are incredibly comfortable, attractively designed and well-suited for guitar playing.