(Last Updated On: December 21, 2017)

There are some very important factors to consider when shopping for a bass for a beginner, whether that person is a child or if you're looking for the right bass for you. In fact, it would not be an understatement to say these features are more than important. They're essential to being comfortable and learning to play without frustration.
It is important to find an instrument that will fit smaller hands if you're buying for a young person with small hands. Before digging more deeply into this element, it would be best to discuss the features that must be present with any bass, for anyone. You may want to say these features deliver the benefit of "playability."
This isn't an easy term to explain, but as you read some of the details below you'll start to understand that some instruments are right for playing music and others would be better left to someone else. Fortunately, several companies with recognizable names make bass guitars of good quality and offer them at reasonable prices.
Top 5 Best Beginner Bass Guitars:

While the brand name and company name associated with this instrument may not be immediately recognizable, like Fender or Gibson would be, you should give the Sterling by Music Man S.U.B. Series Ray 5 a serious look. Why? Because, the professional model StingRay bass by Music Man has been used by many players in recent years, with excellent results. The lower-priced Sterling could be a good beginner bass for you.
You get a Basswood body and a neck of hard maple. The rosewood fingerboard is designed to improve the feel and make this bass more playable. The Sterling by Music Man uses humbucker pickups and active, two-band EQ. The company markets this bass with the added information that all instruments "receive final set-up and inspection in the USA." The majority of instruments in this line are ready to play out of the box, though one or two individuals had to make slight neck adjustments for playing comfort.
Pros
Great tone
Value for price
Cons
Fret ends sharp on some units
Neck adjustment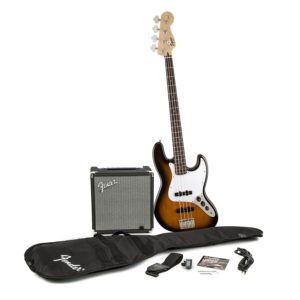 Bass players around the world, even those who own a pro model Fender, have found the Squier line of guitars to be just fine for most situations. This bass is available as part of a package that includes a small Rumble amp, gig bag and some other accessories. The guitar is an Affinity Series Precision Bass, while the amp is in the 15-watt Rumble series.
You also get an instructional DVD, electronic tuner, cable and strap. With this package, you have the style and sound of the P-Bass and an amp with 8" speaker in one purchase. You can also plug in your MP3 to play along with your favorite songs. If you're looking for the best way to begin as a bass player, this could be a good choice.
Pros
P-Bass look and tone
Package value with amp and accessories
Cons
Amp leaves a bit to be desired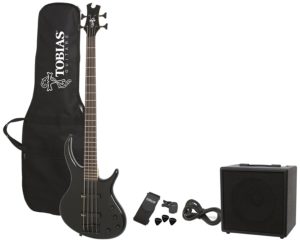 As with the Squier mentioned earlier, the Epiphone Toby Standard IV LTD Bass is available as a package for just a bit more money. The bass has an alder wood body and a fully adjustable bridge. Beginning players will be comfortable with the Toby body design, not only because of its appearance but also because of the balance. The package includes an Electar-15B amp with 10" speaker. Beginners may want to take a closer look at the instructional videos available for this bass package as well.
The name "Toby" is based on the name of a famous guitar designer and builder Michael Tobias. This bass has the 34-inch scale with bolt-on neck design. The asymmetrical neck will feel less bulky than standard necks, which is great for beginners and people with smaller hands. You get a rosewood fingerboard for nice feel, and two humbucker pickups (Tobias TBR and Tobias TBT). Epiphone was, at one time, a leading name in the field of musical instruments and still carries weight with knowledgeable players.
Pros
Tone variety switching between pickups
Balance and neck feel
Cons
Neck not straight on some units
Noisy pickups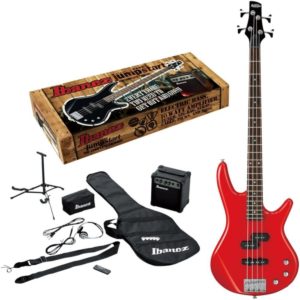 Another good choice for the beginner, because this Ibanez IJXB150 Jumpstart Bass Is also available as a beginner package. The name "Jumpstart" tells you what you need to know, as you get a decent beginner bass, a 10-watt bass amp, tuner, gig bag, strap, cable, picks, stand and online lesson card. The amp is the IBZ1B to accompany the GSR190 bass.
This can be the perfect way to start learning. The bass has a basswood body, maple neck and rosewood fretboard, dual pickups for tone range.
Pros
Appearance with red finish
Good tone range
Cons
Need some set-up time
Pickup noise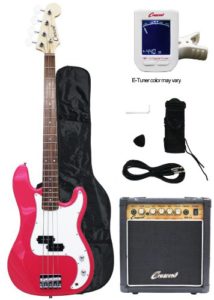 This package includes a starter amp and all the accessories included in other all-in-one kits. But with cable, tuner, amp, extra strings, strap etc. the Crescent Starter Bass can save you a few dollars. The appearance is that of a black-and-white fender bass, with split pickups.
Getting a bass that is undamaged in shipment is key with this choice. But the bass itself can be playable for the true beginner. Parents who want to give their child a chance to start on bass will appreciate the price. Tone is good. Playability can be good with some neck adjustment.
Pros
Nice price tag
Younger players and true beginning musicians
Cons
Shipment damage a problem
Pickups loose
Tuners loose or broken
Buyer's Guide: How to Find a Good Bass for Beginners
If you go to a store to look at a beginner bass, or if you try one that's being sold by a friend or neighbor, don't focus first on how the bass sounds. Pay attention to how it feels to put your hands on the instrument? How does it feel when you place your fingers on the strings? You shouldn't have to put much pressure on a string to bring it into contact with the fret (metal strips set into the neck).
When you have the bass in your hands, hold it up at eye level and look along the neck to make sure the wood is straight from one end to another. There should be no bowing of the neck that indicates the wood is warped. The strings may be slightly higher off the frets as you get closer to the body of the bass, but that should be a small difference compared to the height of the strings at the nut (where the strings pass from the neck to the tuning pegs).
If you're satisfied with what you see and feel during this first trial, you could be on your way to getting a good beginner bass. However, that's certainly not all you should be looking for. Use your common sense to judge the overall condition of the instrument. If it's new, it should be almost perfect in appearance. Chrome pieces like the volume and tone knobs should be clean and free of rust if you are buying a used bass.
Beyond Appearance
You've already read a small amount about how a beginner bass should feel in your hands. You've also learned something about what to look for, in terms of overall condition. But if you want a beginner bass you know you'll be satisfied with for a long time, you'll need to try it when it's plugged into an amplifier. Make sure you have a good quality guitar cord and an amp that is free of mechanical and electrical problems.
This will allow you to judge the bass for cleanliness of sound. There should be no "buzz" or interference when the amp volume is at a medium level and the bass volume and tone knobs are turned up enough to produce sound. The cord should fit firmly into the input jack and the knobs should turn without noise or physical resistance. When you pluck each string lightly with your finger, the sound should be at the same level, in regard to loudness.
You should also be able to turn the tuning pegs without great effort. Even an inexpensive bass for beginners should be relatively easy to tune. In fact, this is one of two or three major factors you should look for when buying a beginner bass, in addition to a straight neck. If you can't turn the tuning keys with one hand, while standing with the bass on a shoulder strap, you are going to have problems in the future. Tuning-peg movement should be smooth but firm. There should be little or no movement once you have the instrument in tune.
If you've been through these steps carefully and are satisfied with what you hear, feel and see, you'll probably have a beginner bass you can learn with.
Summary and Other Thoughts
If you're thinking about learning to play bass, or if you're going to invest in a bass and amplifier for a child who has expressed interest in this instrument, it's important to understand one thing. The bass is not a guitar.
While it's certainly possible to play bass without other musicians around, there are some limitations to the music that can be produced on a four-string instrument like this.
Of course, there are outstanding musicians who have taken the bass beyond its original back-up role. Players such as Jaco Pastorius, Stanley Clarke and others have given their chosen instrument a much different sound and feel.
But they are very accomplished musicians. For someone to begin playing bass, it's necessary to understand that the bass is not an instrument on which you'll accompany yourself while singing. You can, certainly, but you'll have better results if you strum a six-string guitar when you sing.
At the beginning of this guide, you read a bit about playability. Now that you've been exposed to a few of the beginner basses available, go back and look at them a second time, focusing on details that would make an inexpensive bass playable.
What you'll notice is that many of the comments point to the feel of the neck and fingerboard, as well as the balance of the body. A bass can be heavier than a guitar, simply because it's constructed with slightly heavier components.
Those Small Hands, Again
As mentioned from the start, it's essential to find a bass that will fit small hands, unless you're a fully-grown adult with bigger than average hands. With this in mind, you may want to look at a bass that incorporates the Jazz Bass design for the neck. It's thinner than the earlier necks, especially as you get closer to the nut.
So many times, young people stop trying to learn an instrument simply because the equipment is not suitable for their size or the guitar is just not made well enough to keep them interested.
You can certainly buy a bass for less than $200. If you're fortunate, you'll have one that will take you through your first year or two of learning.
For example, Ibanez has found a niche in the musical world with playable guitars for $300 or less. Fender has done the same with the Squier line. It's difficult to judge the quality of an instrument from the online description alone. You should always, always, devote time to reading the reviews from others who have purchased the bass you're considering.
Bottom Line
While there are other companies offering good beginner basses, you should be able to find one among the five listed that will serve your purpose. Remember, you're just starting out, so don't expect too much for too little. However, when you open the box the bass should be almost ready to play.
You may have to make some minor adjustments or have an experienced player help with strings, neck etc. The best advice when you start shopping for a beginner bass – spend a few dollars more and stick with it.