(Last Updated On: December 21, 2017)

What is the best acoustic guitar for blues?
It is beyond doubt that blues is a beautiful and unique musical genre. The raw emotions and feelings that ooze from blues sounds are incomparable.

However, playing blues as a guitarist is not so straightforward. To express your thoughts correctly in blues, you need unique instruments.
Getting the right guitar for playing blues is a decision that is going to give you a lifetime of joyfulness. Nevertheless, the reality is that selecting the best acoustic guitar for blues can be an arduous task.
Top 3 Best Acoustic Guitars for Blues:
If you are interested in getting the best acoustic guitars for playing blues, below are three of the best options you should consider:

The Fender CD – 60 offers the features of a high-end guitar at a cheaper price. Although the name Fender is well associated with the electric guitar models, the brand has earned an excellent reputation as well in the world of acoustic guitars for blues genre.
The features include a spruce top, mahogany back and sides, die-cast tuners, and added good quality case with an ample compartment space which is ideal for storing all extra stuff like fret board oil, string cleaners, fingernail clippers etc.
Pros
This is one of the best acoustic guitars for blues considering the low price and the nice quality of sound it produces.
The laminated mahogany body is capable of producing a very rich organic sound, perfect for the original blues.
The Scalloped bracing boosts the natural resonance of the CD-60 even further, making it a powerful guitar for lead and rhythm playing the blues.
It offers a bright ringing tone along with a deep bass providing a good range for a blues performance.
The Fender CD-60 is the ideal blues acoustic guitar for beginner to the intermediate level player wanting to learn the blues genre.
Fender CD-60 is very comfortable on the fingers. This makes performing leads, pull-offs and other little finger tricks much cleaner and with less effort, an important aspect of playing the blues genre.
Cons
It does not produce a concert-quality tone. (that's not what this guitar was ever meant to be)
The hard case is only included for USA and Canada purchases only.
Requires some attention to keep it in tune during long periods of play.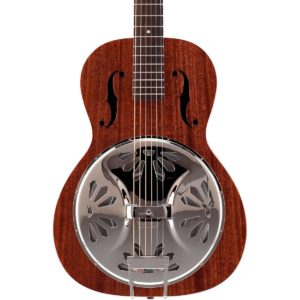 For a guitarist and a fan of blues music, the G9200 Boxcar from Gretsch is an excellent instrument.
Some say that this tool epitomizes the very essence of blues, and we understand why. It is perfectly made for playing the blues.
The essential features of GRETSCH are the Ampli-Sonic cone diaphragm (resonator cone) and a spider bridge. Hand-spun in Eastern Europe from nearly 99 percent pure aluminum, the "Ampli-Sonic" diaphragm yields an impressive quality and volume of tone.
The sound it produces is pure blues class with a distinctive twang. If you're a blues guitarist, getting a Gretsch G9200 Roundneck Boxcar is a must if you want to explore all the intricacies of this genre.
Pros
This is a very compact instrument for playing blues.
It resonates blues in all of its sounds yet at a relatively low price.
Combines wood and metal to reel in an acoustic sound with extra grind and bite to it.
The all laminated body is highly resistant against environmental factors like humidity or heat.
Cons
Because resonators have a very distinct sound, this guitar is better as part of a collection rather than your single instrument.
Although the sound is nothing but pure blues, it can be fairly limiting too.
It runs 12 frets to the body, which can limit you from playing slide

The most affordable solid wood Sapele/Spruce model available from Martin Guitars, the Martin DRS2 boasts a 14-fret dreadnought body made from solid Sapele back sides with a solid Sitka spruce top for incredible balance, tone and projection.
Ready to take on any blues performance, the DRS2 comes equipped with Fishman Sonitone electronics to offer great plugged-in performance and sound.
Rounding out this attractive package is a black rich lite. Modern Belly Bridge with a 16 -Radius Compensated White Tusq saddle, a White Corian nut, a set of chrome enclosed tuning machines.
Pros
The rock solid strata band neck makes the guitar highly durable and playing becomes a relaxed affair.
It has a 14-fret dreadnought body that offers amazing tone, projection and balance.
This compact, easy-to-use blues guitar lets you plug in and play. There's no need for you to spend hours getting a great blues sound from your guitar. Just plug in, and you're ready to go.
The volume and tone controls are positioned directly in the sound hole of the guitar. This gives you the ability to make changes to your sound in real time while playing the blues.
It delivers a blend of durability and concert-quality sound and projection.
The DRS2 comes with a hard-shell case to protect the guitar, making it safe to carry while travelling.
This acoustic guitar for blues responds more like a classical guitar, where all the tones are even and balanced. It was designed to complement the balanced tone of a smaller instrument.
It has the right amount of bass, midrange, and treble.
Cons
This is a little bit out of budget for a beginner.
It requires the right set of strings to get the exact and right tone.
How to Choose the Best Acoustic Guitar for Blues
Shopping for an acoustic guitar that's best for a specific genre of music like the blues can be an overwhelming experience especially considering the large range of guitar makers, hardware, features and design elements around.
Nonetheless, to buy an acoustic guitar for blues, here are the most important factors you should consider.
Sound
A good musical sound is very much like food and wine. The magic happens in your mouth, your tongue, your palate, your nose, your eyes, as well as in your ears and brain.
As far as guitars and blues go, a real genre of musical blues is by definition, a sound that pleases listeners.
How do you know a guitar's sound is good for performing blues? Use your ears.
Playing a chord will give you all the sonic information a full song can provide—without your auditory senses being clouded by a flashy technique.
Here's a checklist of what you should usefully listen to in a six-note chord:
Duration of systemic sustain.
Separation of each note.
Velocity of how the chords emerge
Timbre balance
String-to-string response
Projection
Intonation.
Remember: "The voice of the guitar is the sound of the guitar."
Physical Features
If you had to pick the most important part of an acoustic guitar, what would it be? Generally, a quality acoustic guitar will possess the following physical features:
A good-looking steel-string
A simple and elegant classic natural finish
A traditional body shape which provides exceptional rigidity and resonance to the woods and craftsmanship.
Above all, don't forget your personal preference matters too.
Our Verdict: Best Acoustic Guitar for Blues
Technically, the Martin Road Series DRS2 earns the accolade among guitarists as the best acoustic guitar for blues due to its super technicality when compared with the others.
However, considering that the blues genre is more of emotion and personal expression, prioritizing how you feel about your instrument should come first before considering the technicality.
Martin Road Series DRS2 Dreadnought Acoustic is a beautiful sounding guitar. The only real concern being the hefty amount you'll need to get your hands on one.
If a high price puts this one out of your league, then you can go for the Gretsch, which is more a mid-range option, or the Fender if you need to save every penny.
Thankfully, the Martin and the Fender have extremely high quality and design choices so that no matter what the range of your budget, you'll find the best acoustic guitar for blues that can produce beautiful blues melodies.