(Last Updated On: December 21, 2017)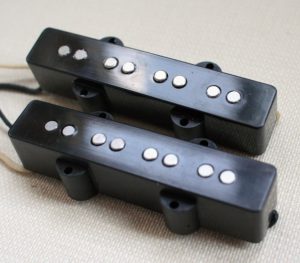 Ever since Leo Fender introduced the Fender Jazz Bass to the world in 1960, the "jazz bass" name has grown synonymous not only among jazz bassists but with other players of a wide range of genres and styles.
Among many components, your pickup is almost always the main contributor to your tone.
Being the bridging link between your fingers (or picks) and the guitar's electronic circuit, the right pickup will play a big factor in your quest for whatever sound you are going for.
Deciding to change your pickups is always a tough decision for any player, whether you've grown tired of your stock pickups or just looking to readjust your overall sound.
For jazz basses, specific tonal qualities play an important factor in contributing to this genre. So here, we discuss 4 of the best jazz pickups on the market for all you low-end lovers.
Top 4 Best Jazz Bass Pickups: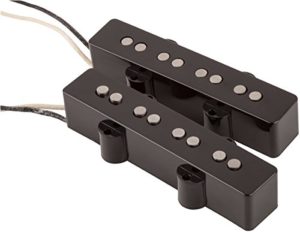 As the pioneer of the archetypal jazz bass sound, it's no debate that Fender should kick off this list.
If you're in search of that sweetness found in older Fender jazzes, these pickups probably are the perfect match for your bass.
The Custom Shop '60s give more output and a punchier low-end to this legendary through overwound coils and the use of Alnico 5 magnets and the Formvar magnet wire. There is also a noticeable reduction in the noise from the single-coils.
These pups replicate that recognizable thump associated with the jazz bass sound wonderfully, and the rich clarity they retain from the vintage originals allows the player to cut through any song and be heard.
With the '60s, Fender has reissued a classic sound with modern improvements, which leaves no doubts over its popularity as the best-selling jazz bass pickup in the world.
Pros
Classic vintage jazz sound
Punchier and hotter output
Reduced noise
Cons
A few users have mentioned a slight drop in 'sparkle' compared to the originals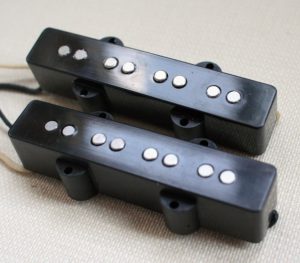 Many flock to the Fralins because of their supposed likeness to the vintage Fender pups.
They are indeed a beefier sounding version of the classic jazz bass tone with their use of an Alnico 4 magnet, and they are very well-renowned for their growling midrange which really exemplifies the jazz sound.
The high output attack that these pickups have in store is perfect for the directness of genres like hard rock, blues, and even metal, making up for the versatility of the Lindy Fralins.
Among the pickups that are known for producing fat bass tones, the Fralin pups standout from other renowned brands like Nordstrand, with its more rounded out bottom end sound.
These pickups also have a tendency to work the best on maple fretboards as the Fralin's sensitivity towards the highs produces a very present clarity that further sets it apart from other jazz bass pickups.
Its seemingly expensive price is actually worth the money if you need to cut out your muddy tone or if you're looking for an eloquent and even tone.
Pros
Modern twist to the classic jazz bass tone
Fatter mids
Rich clarity
Consistent overall sound
Cons
Expensive
May require some woodwork to be fitted in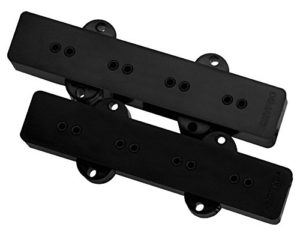 Sometimes referred to as the "ultra-jazz" pickups, the DiMarzios bring about a warmer, more organic tone as compared to the others on this list.
The humbucking setup eliminates noise completely from your sound, leaving you with a clear tone that is fittingly present for any player that runs into a solo or a riff on the higher strings.
To add on to its individually special rawness, its dual coil ceramic magnet pairs gives you a more focused and warmer tone suitable for heavier genres like progressive rock, punk and hard rock.
These pups are also probably the better choice among these 4 models when gain is involved in the sound.
These pickups give an improved attack and bite that means good news for the more articulate bass players and Geddy fans.
Pros
Clean and clear tone
Noiseless
Gives a present sound
Cons
No real punch in the lows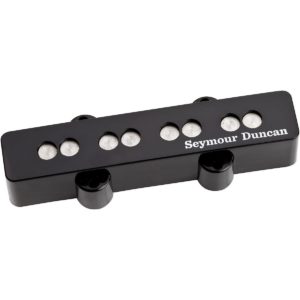 Probably the jack of all trades pickup in this list, The Quarter Pound pickups gives you a versatile sound that covers a wide array of genres.
It has a pretty moderate output for a jazz pickup, and the Alnico 5 magnet once again appears to provide that punchy low-mids sound.
Players looking for a quick and cheap way to expand their sonic avenues for their bass playing will find that the Quarter Pound pups get a decent jazz bass sound out with a very affordable price.
Though it's not exactly the traditional jazz bass sound we've grown accustomed to, these pickups are still a fun and accessible option to experiment with, with its different possible bass tones.
These qualities make them a pretty versatile feature to have on your jazz bass, and they are definitely the best jazz bass pickups for the money.
Pros
Good low-mid attack
Affordable price
Cons
Lower output means less presence in the high ends
Least similar to the classic jazz bass sound
Buyer's Guide: How To Select The Best Jazz Bass Pickup
How To Get That Jazzy Tone from Your Bass
We usually associate the jazz bass sound with the classic trebly midrange thump of the original Fender Jazz Bass of the 1960s.
Fender Jazz Bass essentially helped to develop the "rockier" genres that grew from that period through the talented fingers of players like Geddy Lee and John Paul Jones.
With jazz basses, single-coil pickups will do the job effectively (not to discredit the humbucking options). As for the tonal qualities of the pups, you should be looking at those with a bright overall sound with a punchy attack in the bass and middle ranges.
Single-Coils vs. Humbuckers
So far you could probably guess that single-coils rule the intricate world of jazz basses. That is because of the single-coil pickup's hot output and brightness, the latter of which reduces the muddiness of the bass tone.
However, a downside to single-coils is the 60-cycle hum—the amount of noise picked up from nearby electronics like speakers, computers, and cables. This is where humbucking pickups come in.
Humbuckers have two coils with opposite polarity that cancels the phase, and thus, the noise between them. This eliminates this hum produced, but for bass players, it comes at a price of getting an undesirable darker and heavier tone.
There is still the option of split-coil pickups which are just two halves of a single-coil placed in a staggered position. This gives you both the humbucker's noise-cancelling feature while still retaining some of that good old single-coil clarity.
So, What's the Best Jazz Bass Pickup?
So, if you are yearning for that classic jazz bass sound, you can't go wrong with the Fender Custom Shops. And if budget is the troubling issue, the DiMarzio DP123 are definitely a worthy buy and will do the job.
However, the clear winner for the "best jazz bass pickup" here would be the Lindy Fralin pups which are essentially a great remake of the original tone with a modern twist that never fails any genre it encounters.