(Last Updated On: December 21, 2017)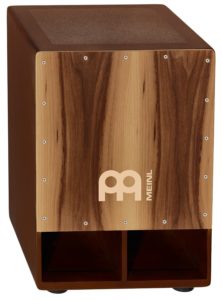 So, you've been seduced by the warm sounds of the Cajon? Looking for the best Cajon drum available on the market? You're in the right place.
Often referred to as a drum kit in a box, it has become insanely popular among street performers and acoustic groups.
Capable of delivering a wide range of tones in a small, lightweight package, it's one of the most versatile percussive instruments you can own.
We'll be taking a closer look at the Meinl brand, as they offer some of the best Cajon drums for the money for both hobbyists and professionals.
Meinl is definitely the best cajon brand for the money and any other manufacturer can't compete with them in terms of quality.

Top 6 Best Cajon Drums: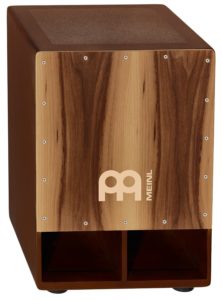 Build Quality
This is one of Meinl's biggest Cajon drums. This jumbo Cajon measures at 13.5" wide x 19.75" tall and 13.75" deep.
The larger size makes this Cajon more suitable for taller or heavier players, by being more comfortable to sit on and providing more surface area for the hands.
The MDF body is common among lower priced Cajons and resonates really well. It isn't the perfect material for a Cajon body, but we have to consider the price.
For the price it's excellent. Meinl has given this Cajon a walnut front plate. It is a perfect wood for Cajons which produces quality sound and gives the instrument a strong structure.
Sound
The Meinl Jumbo Subwoofer Cajon is built for delivering powerful bass. The body, which is deeper and wider than your average Cajon, allows for the development of extra low notes.
An internal reflex channel pushes the sound out of the front-facing sound port, resulting in bass notes that are similar to a kick drum. Having a front-facing port rather than a rear one helps with sound projection, especially when playing purely acoustically.
There are internal fixed snares which allow the player to produce great high-end, cutting tones when slapping the drum near the top corners of the tapa.
You can adjust the screws in the top corners to increase the distance between the tapa and body. Doing this will enhance your slap tones and allow you to deliver a punchy back beat.
Overall
This is the best sounding Cajon if you want to be heard. Its large size allows for deeper bass tones than any other Meinl Cajon, as well as providing comfort for larger musicians.
The front facing port isn't ideal for microphone placement. However, you'll find this Cajon has excellent sound projection so you won't need a microphone.
Meinl Percussion SUBCAJ5WN is absolutely the best Cajon under $200.
Pros
Large, solid construction
Lower bass tones than other Cajons
Walnut front panel boosts the bass capability
Front-facing sound port for powerful projection
Snares give good high-end tones
Cons
The size will make this too big for some people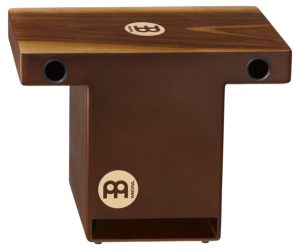 Build Quality
Meinl's Turbo Slap Top Cajon drum is one of the coolest acoustic instruments we've seen. It's made some interesting changes to the traditional Cajon design.
Rather than the player sitting on top and slapping the front playing surface, this T-shaped Cajon sits in your lap and rests on both of your legs, with the playing surface on top.
It's certainly more comfortable for long playing sessions. You can sit on your favorite drum stool while playing, instead of having to sit on a wooden box.
The durable, eco-friendly medium density fibreboard body provides a solid body capable of supporting a lot of weight and the walnut playing surface is ideal for producing a wide range of frequencies.
Sound
Because of the unique design, there are four distinct zones on the Turbo Slap Top. You'll be able to get low tones from the middle, bright and clean tones at the center edge and snare tones on either side of the tapa.
Using these four zones you'll be able to produce a huge range of different sounds.
With forward-facing bass and snare ports, even light finger rolls will be projected clearly in acoustic performances. Meinl upgraded the sound ports by adding plastic tubes which act as amplifiers.
Even in a band setting, you'll be heard clearly without the need for added microphones.
Overall
Not only is this an attractive, unique style of Cajon, it actually has lots of benefits when compared to the regular design. With its inexhaustible range of sounds, this Cajon is a great instrument to have when you can't take a drum set with you.
Pros
Unique T-shaped design and bottom-sided cushioning provide extra comfort
Four zones to produce a wide range of sounds from deep bass to bright high-end tones
Forward facing snare and bass ports make the Cajon responsive and loud
Plastic tubes in the sound ports provide amplification
Cons
Due to the design, it doesn't feel like you're playing a traditional Cajon. It doesn't negatively affect the sound and is purely down to personal preference.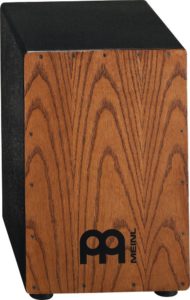 Build Quality
The fully resonating, textured MDF body is an inexpensive, sturdy material, perfect for a low-priced Cajon drum.
Being dark, it won't display scuffs or signs of wear as much as drums with lighter bodies. This Meinl features a stained American White Ash tapa.
It's a durable material which lays the foundation for the rich sound this drum can deliver.
Sound
Playing in the center of the drum you'll be able to produce deep bass tones thanks to the White Ash tapa. Striking the top corners will give you a crisp slap sound, similar to a snare drum.
The drum is responsive enough for light finger rolls to be heard, although with the rear facing sound port the projection won't be the same as a Cajon with a front-facing port.
Having a rear facing port, generally, translates to higher responsiveness as the compressed air inside has the most direct escape route. More responsive drums are preferred by those who play quick styles like flamenco.
This Cajon will perform better in a studio environment or performance where you need to use a microphone to amplify the sound. The back of the instrument is the least intrusive area to place a mic, and you'll be less likely to kick it by accident.
Metal strings span the inside of the playing surface to give the drum its snare sound. These are fully adjustable and can be tuned using the hex key (included).
You can use the two screws on the top corners of the playing surface to adjust the gap between the tapa and the body, helping you to really characterize your own unique sound.
Overall
If you're looking for a Cajon that's responsive enough to keep up with fast-paced genres of music like Flamenco then this is perfect for you. What it lacks in bass projection it makes up for in crisp, clear tones thanks to the rear-facing sound port.
Pros
Responsive – suits fast-paced playing styles
Rear facing sound port is perfect for microphone placement and recording
Enough tuning options to help find the optimal sound
Cons
Bass tones could be deeper and richer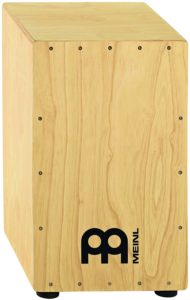 Build Quality
This is the first Cajon on the list to be a solid wood construction. Both the tapa and the Cajon's body is made from rubberwood, a tropical hardwood known for having good resonant qualities.
As we mention in the buying guide section, solid wood Cajons tend to produce a tone with less colouration and a richer, more natural sound.
This Cajon is very simply designed, using the same, natural color of the wood throughout.
Sound
Striking the center of the Cajon produces deep, rich bass thanks to the solid wood construction. Playing on the top corners will allow you to generate some sizzle from the snares.
The rear facing sound port makes this ideal for styles of music where responsiveness is a priority. In a situation where a microphone is needed, whether you're in a band setting or recording, having a rear facing sound port makes mic placement hassle free.
The internal strings can be tightened or loosened to adjust the snare tones with the included hex key and the screws closest to the top corners can be adjusted to increase or decrease the gap between the tapa and Cajon body.
If you're not happy with the sound of the Cajon out of the box, there's plenty of room for tweaking.
Overall
This is one of the best solid wood Cajon drums you can buy for the money. With a rich bass and good high-end capabilities, it's a versatile drum that would be great in a studio or live acoustic performance.
Pros
Solid wood construction
Rear facing sound port ideal for mic placement
Clean looking design emphasizes the natural look of the wood
Nonslip sitting surface
Cons
By spending a little extra you'll be able to get a much better sound. But for the price, there are really no complaints.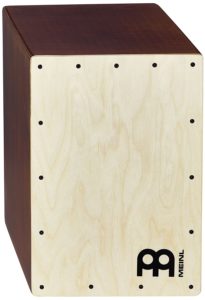 Build Quality
This is one of Meinl's most compact Cajon drums. Measuring 10.25" wide x 15" tall x 10.25" deep, it's marketed as a lightweight travel Cajon and weighs 5 pounds.
While it is great for travel, it is smaller and consequently a little less comfortable to sit on for long periods of time, especially if you're a larger player.
It's made entirely of high-quality Birch wood, a material known for providing rich sound and a wide frequency response range.
Sound
You can get real punchy low notes from this Cajon by playing the center of the tapa and dish out high frequency slaps by striking the top corners.
The birch gives richness and depth to the bass tones while the internal snare wires add some sizzle to the high-end frequencies.
The distance between the tapa and body is adjustable by turning a couple of screws to change the amount of 'slap' you can get if you want to provide a deep backbeat.
The rear facing sound port is perfect for quick, precise playing styles such as flamenco, where responsiveness is the most important.
Even light finger rolls will be heard clearly. It's also an ideal spot to place a microphone if extra amplification is needed.
Overall
Being compact, this Cajon probably isn't suitable for players who are above average height. It's a great pick-up-and-play instrument, easy to transport and suitable for short jamming sessions.
You won't get the same deep bass tones of full-size models, although considering the size it provides a wide range of tones which makes it perfect if size and weight are an issue for you. And it's cheap so we think that it's the best budget Cajon in our list.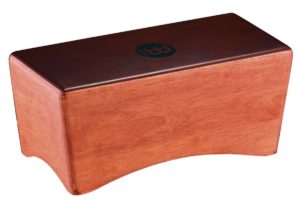 Build Quality
Made from rubberwood – a naturally resonant material – this Cajon drum from Meinl is truly unique in design.Modeled on a bongo, it provides players with a different experience than a regular Cajon drum.
Modeled on a bongo, it provides players with a different experience than a regular Cajon drum.
It's lightweight and portable, measuring 7.7" x 15.9" x 7.7" and weighs a mere 3 pounds, this makes it the perfect drum for on the spot jam sessions and drumming circles.
You'll be able to drum for hours as, like the T-shaped Slap Top, you can have this Cajon on your lap without needing to sit on it to play.
Sound
Constructed without snares, it has a wooden divider instead in order to create a playing surface which can produce the high and low tones typical of a bongo. For such a small, lightweight drum it produces a huge sound. The rubberwood playing surface creates a warm, natural tone with minimal colouration.
Overall
This is more like a bongo than a Cajon. It's designed like a bongo, sounds like a bongo and you play it like a bongo.
It's not the best choice if you're looking for a traditional Cajon drum, however, this drum is fun to play and it's light enough to take with you anywhere.
Pros
Ergonomic design allows you to play comfortably for long periods of time
Compact and super lightweight – easy to take absolutely anywhere
Cons
It isn't really a Cajon drum. Designed to look like more like a bongo and sound like a bongo.
How to Find the Best Cajon Drums for the Money
Choosing the right Cajon is a process and requires some thought. You'll need to familiarize yourself with what makes a good Cajon drum, as well as what your specific playing needs are.
In our buying guide, you'll find everything you need to know to help you purchase the right Cajon drum for you.
Build Quality & Materials
First of all, you'll want to have a look at the materials used.
Higher density hardwoods such as beech and birch will give a wider frequency range, being able to deliver punchy bass, clear mids, and bright high tones.
Some manufacturers use mahogany or mahogany-like woods, which are also known for producing strong bass tones and cracking high tones.
The use of softwoods will provide a duller sound and drums made from this kind of wood will struggle to stand out in the mix. There is at least one manufacturer which makes eco-friendly Cajon drums from pine and they actually sound excellent.
Some Cajon drums are made from plastics and fiberglass. These are strong and durable but tend to produce a more colored sound which is warm and rounded.
The sound you want from your Cajon is a matter of personal taste, but construction materials will play a large part in the end result.
By inspecting the quality of the joints, reinforcing and finishing you'll be able to accurately judge the overall quality of the Cajon.
It's also worth noting that thicker sides, top and base panels will further increase the quality of the sound. A well-made instrument generally provides an equally good sound.
Cajon Tapa – Front Panel / Playing Face
This is the face the audience will see, so it's no surprise that it gets the most attention from buyers. Although it's nice to have a tapa that looks good, the color, design, and branding are all irrelevant in regards to the tone as they are usually only one veneer deep.
The tapa is one of the most important parts of the drum, not because of the design, but because it's the most played area of the instrument. The material it's made from contributes significantly to the tone.
A great tapa is made from several layers of thin plies to create a material of higher density.
Tapas made from fewer layers of thicker plies won't be able to produce the crisp, high tones of the latter and will produce more mid-range tones. Typical thickness of plies is 3-4mm.
It's common for tapas to be made from synthetic materials like plastic, acrylic or carbon fiber instead of wood. Each material produces a slightly different sound, although carbon-fibre has one advantage.
Using carbon fiber, it's possible to manufacture plies around 2mm thick that are stronger, more resonant and more sensitive. Cajon with a carbon-fibre tapa are generally far more expensive.
There are various ways manufacturers fasten the tapa to the rest of the drum. Some use screws along all sides, while others glue the tapa halfway and use screws only on the top half.
We found that there's almost no difference in sound between these two methods. Some players like to slacken the tapa by loosening the top two screws on each side and say it gives the high tones a little extra click.
You'll find tapas which are glued to the body with no screws used at all, these give the richest sound.
Snares
Cajon drums often have snares inside them to add a little extra buzz or rattle to the tones. Some are purposely built without snares.
Again, it depends on personal taste. It's important to know that the two sound very different, so keep your playing needs in mind.
Cajons built with snares should produce a buzz when you play a higher tone or ghost stroke and the buzz should be almost completely muted when playing bass notes.
You still want some buzz with the bass, as it prevents the drum from sounding too dry and gives the bass more projection.
If you prefer to play in a more technical style, string-style Cajons will suit you best. Popular in flamenco music, instead of drum snares they use guitar strings stretched across the drum's face.
What you get is a tight, controlled buzz that suits quick players who want lots of tonal definition.
Some Cajon drums feature adjustable snares, so you can have them as tight or as loose as you want for maximum flexibility. Others allow you to remove the snares which can be 'on' or 'off'.
Removable snares give flexibility over the tones you'll be able to get from your Cajon, although when the mechanisms become worn you could start to experience an inconsistent sound from your Cajon snares.
The Sound Hole
Cajon uses a sound hole to ensure that there's a resonant bass tone present. Without a hole, you'd only be able to play high tones.
That's no good to anybody! Most Cajon drums have a sound hole in the rear.
Rear-situated sound holes offer more convenience if using a microphone on your Cajon as you don't have to worry about knocking the mic with your food while playing. It'll be safely behind you.
They're also located directly opposite the tapa, providing the most direct route for compressed air to escape. Exact placement can vary between manufacturers.
Centre Back – Produces quicker, more precise notes which are great for recording. They might not have the same depth of tone and resonant bass that a lot of players like about Cajons.
Off Centre – Gives the notes more sustain
Side Hole – Brings the bass tones towards the front of the Cajon and therefore closer to the audience.
Budget
Consider where you'll be playing and how often. If you're looking for something just to jam with at home, then you won't need an expensive Cajon.However, if you're a professional player who needs a Cajon that sounds great
However, if you're a professional player who needs a Cajon that sounds great live and also performs well in a studio environment, you'll need to go for the higher end models.
By now, hopefully, you've taken into consideration what you need out of your Cajon. Your budget, what you'll be using it for and the kind of sound you want to get out of it.
So, Which Cajon Drum Is the Best?
We've looked at the number one brand for excellent value cajons – Meinl.
All the cajons mentioned in this list are great for different reasons but the one we had most fun with was the Meinl Percussion SUBCAJ5WN.
It's bigger than most, but that increase in size is a small price to pay when you consider the huge sound it produces.
Rich, deep bass, excellent high-end sizzle and booming sound projection, you can make some next-level drum grooves on this beastly cajon drum.