(Last Updated On: December 21, 2017)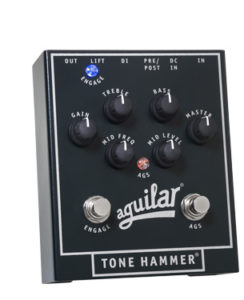 Looking for the best bass preamp pedal? You're in the right place!
Take a closer look and then you can make a more informed decision about which preamp direct box should be part of your equipment inventory.
Top 6 Best Bass Preamp Pedals: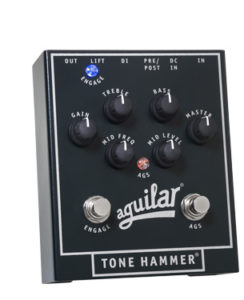 The company has given this unit the name "Tone Hammer" because the results are powerful. As mentioned in the general discussion earlier, you not only have reliable DI results, you also get a full sweep of mid-range frequencies, as well as treble control and bass control.
One of the "discussions" on direct-box use centers around whether they're best for studio use or live use. This one gives you flexibility thanks to its tone-shaping capabilities.
The Aguilar Tone Hammer Bass Preamp Direct Box uses "proprietary" Adaptive Gain Shaping so you can have added gain and equalization using your foot on the AGS button to the right. This unit also gives you separate Gain and Master for added control.
You have pre/post DI output and ground lift switch as well. Operates on two nine-volt batteries or optional universal power supply. The Tone Hammer comes with a three-year limited warranty.
Pros
Sweepable mid-range frequencies
Flexible gain can drive power amp
Switchable pre/post EQ balanced output
Cons
Slight lack of depth
Sufficient power with batteries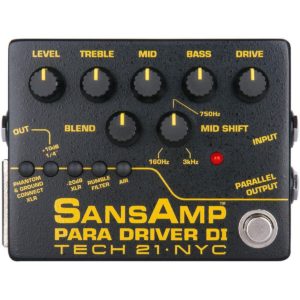 When you connect the Tech 21 SansAmp Para Driver V2 DI you're putting active tone controls in action, with 12 dB of cut or boost and sweepable "semi-parametric" EQ. You'll have the control to produce an unaffected output for a dry signal to a separate channel.
In fact, there are plenty of options for control, with Level, Treble, Mid, Bass, Drive, Blend and Mid Shift. You'll find amp simulation more than sufficient for almost every situation.
But there are smaller buttons for Phantom and Ground Connect XLR, +10dB ¼" and -20dB XLR. The Rumble Filter switch removes sub-sonic frequencies that can cause your sound to "boom."
You can also try the "Air" switch for more top-end. The SansAmp circuitry is also designed to eliminate the "harsh harmonics" of piezo pickups. Optional power supply.
Pros
Sweepable mid-range frequencies
Added depth of bass tone
Phantom power capability
Cons
Possible issues with on/off switch
Amp simulation may be insufficient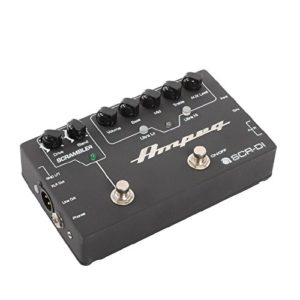 Some bassists will be drawn to this unit because of the Ampeg name, which has been popular among players for years. It delivers the "classic" preamp you'd expect from the company, along with EQ and overdrive control in a rugged design.
You can send a split signal for monitor/amp usage, and use it for practice with a 1/8" aux input for use with your music player.
Players will like the Bass Scrambler Overdrive circuit and the grit of the classic SVT sound. This circuit has separate Drive and Blend control knobs.
You'll have the traditional Ampeg tone you need and desire, along with the well-known Ultra-Hi and Ultra-Lo circuits for added tone shaping. Musicians will also like the overall fit and finish of the Ampeg SCRDI Bass DI Preamp.
Pros
It's an Ampeg
Warm tone
Overdrive
Cons
Noise with a few specific units – circuitry?
Sensitivity hard to control – input control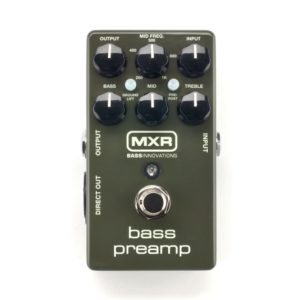 With the MXR M81 Bass Preamp, you can dial in almost any tone you want, pre-EQ or post-EQ. Players who use multiple pedals will like the narrow design of the box, giving you pedalboard space for other units if you need them.
Main control knobs include Input, Output, and Mid-frequency, in addition to Bass, Mid, and Treble, which gives you plenty of flexibility. The MXR also has a "studio-quality" Direct Out.
The unit also has a Ground Lift switch to handle loop hum. Internal switches can disable the Direct Out and ¼" out buffered bypass for "a true ¼" out bypass mode."
MXR has been producing popular effects pedal products for half a century, and always seems to lead innovation in the industry. The products are now produced in California by Dunlop Manufacturing.
Pros
Sweepable mid-range frequencies
Quiet, clean
True bypass capability
Cons
Possible EQ limitations
Better for slap bass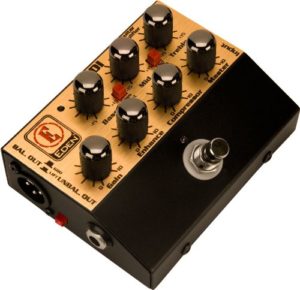 As is the case with many new units, the Eden World Tour Direct Box Preamp Pedal is "more than a direct box." You get true preamp control and performance on stage and in the studio, with true bypass, three-band tone control, Bass Boost, variable compression and mid-shift switches.
Tone is clean and the low-end performance is easy to manage. On-stage players will like the design, which puts the "stomp" switch at a slight angle, with the seven control knobs and finger switches on a flat top.
The top row of knobs has Bass, Mid, and Treble, with Gain, Enhance, Compressor and Master on the bottom row. You'll get plenty of tone control to produce a thickness and punch.
Outstanding boost is one of the key elements making this unit stand out. After you tune it in during the first session or two, you'll have what you need to produce a solid bass foundation.
Pros
Physical layout of knobs and foot switch
Ability to dial in texture
Beefy bass
Cons
Power light too bright, makes it hard to see on stage
Circuitry failure with limited number of units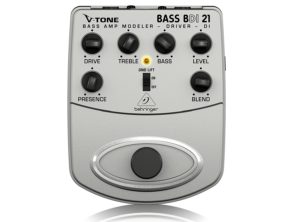 The Behringer preamp/DI box has a slightly different look and design when compared to the other units reviewed here – shape, color, knob design. But it is quite flexible from the standpoint of producing tones, from traditional bass amp sounds to some of the more "modern" sounds.
Presence control is more than adequate, though it only has a two-band EQ. Standard operation is with one, nine-volt battery. Power supply is optional.
The company does promote its "tube emulation" circuitry for added blend, as well as the dual DI modes for direct recording output or standard active DI in bypass mode. The unit also has Ground Lift switch for those typical loop issues.
Pros
Price vs. performance
True bass sound in bypass mode
Good for average/starter players because of price
Cons
Plastic upper case
Circuitry quit after a few months
Not durable
Buyer's Guide: How to Find the Best Bass Preamp Pedal
Before you can decide which preamp direct box is right for your music, you should make sure you understand what this technology can and cannot do for low-end sound. Using a direct box is quite convenient, for the soundman and, to a lesser extent, for the bassist. But this applies to the set-up most of all, as well as to the control both have over the output.
But what does it do to the sound, and for the sound? This is the heart of the matter.
If you do some brief research on this subject, you'll come across terms such as "direct input," "direct injection" and "direct interface."
Don't dig so deeply into this and get so confused you don't focus on the sound you're trying to produce. You can simplify things by concentrating on the sound you'll get in a studio and the sound you'll get when playing live, on a stage or in a club.
You should first be interested in knowing what a direct box does for your sound. Only you, your fellow musicians, the soundman and your audience know this.
Unless you're a master technician and a master bassist, you can leave the real technical stuff to the engineers. Books are written on the subject of producing the best, low-frequency sounds, but you might want to leave that for your college education.
Then and Now
A few decades ago, a direct box was just that, another connection between the bass and final sound through the amp, the main speakers etc. The idea was to reduce noise levels – buzz, hum – when the signal level from the guitar was boosted.
Low-level signals are susceptible to noise. A direct box takes an unbalanced signal from the bass and converts it to a balanced audio signal.
Basically, this converts the signal from the unbalanced guitar cord to a balanced signal from the XLR cable coming out. The bottom line: you reduce or eliminate line noise and allow the bass tone to be controlled when it goes into the mixer.
It's a Preamp and a DI Box
New products produce this same result but add other controls for enhancing the final sound. Enter the preamp direct box. A preamp must increase your gain, can change tone, convert from unbalanced to balanced, lower output impedance, or achieve a combination of these tasks.
One veteran of the bass world says that if your box has knobs and gives you different sound, it's a preamp. And, that's not a bad thing.
So, again keeping the discussion in the musician realm and off the laboratory bench, you can get multiple benefits from the newest products, if you use them correctly. A DI unit can be just what you need in a "bad room" when you're playing live.
Second Look
Someone once said that when you're presenting information to a group of people, you should tell them what you're going to say, tell them, then tell them what you just said.
This is the best method for putting important information out, especially when it's going to be used to produce quality sound. So, at the expense of repeating a few key factors, here is a summary of what you've just seen.
Read the specs and reviews on these six preamp/DI boxes carefully so you know what each one will deliver.
A direct box should be in the equipment bag of every bass player, but it should be used with all due consideration – when you need it! Always ask yourself what it does to your sound and what it does for your sound.
Don't get too caught up in the direct injection, direct input discussion, though it's always good to be an educated consumer. Try to simplify things by getting the unit that gives you what you want, not what someone tells you is best.
Only you know the answer to that. The most of the units reviewed have a three-band EQ. Why not go ahead and get one that delivers this, unless your budget is severely limited?
Two in One
Returning to the idea of these products being both a preamp and a direct box, make sure you have a unit that does what a good DI box should do – reduce noise and give you balance. As for the preamp side of the issue, you are going to get better performance when you increase your gain as well as control your tone.
If you use your preamp/DI box primarily on stage, look closely at the physical construction and durability of the various units. Musicians love to call their pedals "stomp boxes" and for good reason.
If you are a studio musician who sets the box and doesn't make changes on the fly, you can take a slightly different view when you do your shopping.
For example, the Behringer V-Tone would be excellent for practice or in-home use, as well as for studio recording when you won't be pounding the on/off switch. Compare that to the Eden, which has a unique design that puts the switch away from the knobs, even on a slight angle for better access.
But, then there's the Ampeg, which probably gives as good a bass tone as you're going to get because, well, it's an Ampeg.
In any event, you won't go wrong with any of these units, including the SansAmp, Aguilar, and MXR. The bottom line (pun intended) is you should get what makes you sound best.