(Last Updated On: December 21, 2017)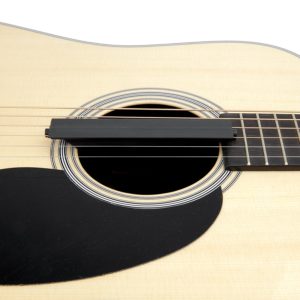 So you want to buy the best guitar humidifier…
If you've had a guitar for a few years, you've probably noticed a difference in playability compared to when you first bought it.
That's because, over time, the wooden materials in your guitar have slowly warped and affected the tone of notes. That's what guitar humidifiers are for!
Well, that's why you're here. Below you'll find reviews for the top 5 best guitar humidifiers on the market.
Not only are there reviews, but you'll learn the basics behind humidifiers. You'll need to know these things to make an educated purchase to but the best guitar humidifier. So, let's get started!
At a Glance: Our Choice Of The 5 Best Guitar Humidifiers On The Market
Pros
Durable/Long Lasting
Anti-drip Material
Low Maintenance
Cons
Casing is Large
Not The Best For Travelling
Not The Strongest Humidifier
Overview
Music Nomad has been a very popular and quality brand in the past. Their products are usually not over-hyped and marketed. You get what you pay for and this item is no exception.
At about $13, you'll be able to keep your guitar at a relatively consistent humidity. Some people do complain that it isn't that impactful on the humidity level, but keep in mind it's only about $14.
If you're in a cold and wet area and don't need that much humidity level inside your case, then this would be a smart purchase. The convenient flip top lets you check if your humid-i-bar sponge is wet or dry.
The sponge does dry out relatively quickly, and the casing is a hard plastic that might stretch the strings a little more than you'd like.
Unique Features
This is defiantly a low maintenance humidifier. The sponge holds 10x its weight in water.
You don't have to worry about water damage due to the anti-drip material in the casing. Most humidifiers at this price will die over a short period of time but this guitar humidifier is an exception.
Most reviews say how long-lasting and durable it is.
Common Questions
Will this work in a gig bag?
The problem with a gig bag is that it wouldn't hold the humidifier as well in place as a case would. It might slip out of the strings or slide around.
Can I use city water to soak the sponge?
Distilled house water is recommended and will help make the sponge last longer.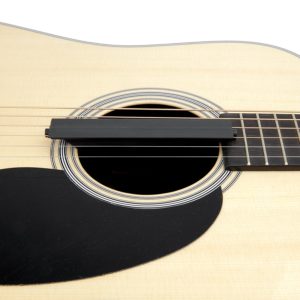 Pros
Maintains 45-50% Humidity
No Manual Adjusting
Easy To Use
Cons
Don't Last Long
Flimsy Mesh Holder
Doesn't Work Well In Dry Environments
Overview
The two-way humidity control maintains a constant 45-50% relative humidity within your case.
You don't have to worry about over or under humidifying and this can be a huge relief when you're traveling or you take a break from playing for a while.
Sometimes, when the humidity fluctuates over a long period of time, the wood will become soft and easily mendable. With this product, there is barely any fluctuations.
The two-way system adds and even removes humidity. You won't find that attribute elsewhere. Some reviews mention that the humid parks don't last as long as their advertised.
However, one could say that it's worth going through these packets. You don't have to worry about maintenance, seasonal changes, and geological locations.
If you live in a hot environment, then the two-way system might not be what you need. Based on some reviews, they don't work very well in dry regions.
Unique Features
The reason they call it a two-way system is because it can not only increase humidity within your guitar case but also decrease it. This is such a big help when you store away your guitar for a while or are traveling.
No worries about the drip, over humidifying, and mold are all very nice luxuries. No more manually adjusting based on countless factors like environment, season, etc. D'Addario guarantees no drip or mess.
Two packets go inside the pouch, which then hangs into the sound hole. Then, another packet goes under the headstock. After that, you don't have to worry about anything.
One very negative unique feature is you have to have the humidity in the guitar up to a certain percent before you use the packets. The product maintains humidity, but can't, say, change the humidity from 20% to 50%.
Common Questions
Can you reuse the packets?
Yes, you can. If you leave the packets out in the sun, they'll soften up and you can reuse them.
D'Addario doesn't recommend this, though. They do lose some of their effectiveness.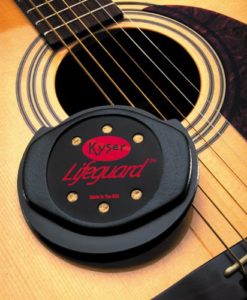 Pros
Absorbs Excess Moisture
Provides Humidity Throughout Body
Very Good for Dry Environments
Cons
Hard to Set Up
Doesn't Fit into All Sound holes
Might Cause Water Damage
Overview
Ok, just because you saw the words "water damage" don't write this off just yet.
This product covers your entire sound hole to ensure a consistent humidity is maintained. Unfortunately, it won't fit all sound holes, so you have to be careful if you buy it.
There are plenty of measurements online to tell you if it will fit or not. If you're careful to make sure you don't drip any water on the guitar, you probably won't have a problem.
It's just a problem if you're careless and you over soak the sponge, resulting in minor spills. You can use it on both 6 and 12 string guitars.
Also, be careful if your guitar has a nitrocellulose finish. If you were to use this humidifier on, say, a Martin D-18 with a nitrocell finish, you could end up with a discoloration on around the sound hole.
Unique Features
This humidifier will cover your entire sound hole, which provides a seal for little to no fluctuations of humidity levels.
It provides free convection and distributed humidity throughout the body. If you live in a hot and dry environment, this would be a very smart purchase.
Common Questions
What size will it fit on?
It'll fit on any dreadnaught, any standard body and jumbo size for most makers. It might not completely seal on the jumbo sound holes, though.
What will "absorbing excess moisture" do?
Well, it won't regulate the humidity like the D'Addario system, but it'll help with any excess spills you may have caused.
Pros
Great For Storage/Travel
Can Raise Humidity Level By 10%
Refill Indicator
Cons
Dries Out Quickly
Reports Of Leaks
Frequent Refill
Overview
If you decide to store away your guitar for a long period of time, this might be the investment for you.
You do have to frequently refill the container with water, but if you keep a schedule and stick to it, it's no problem. It's very easy to refill/use, and you don't even have to take it out of your case to refill it.
Another bonus is that it can change the humidity by a huge percentage. Most humidifiers aren't capable of changing humidity too much but rather maintaining them.
The Oasis does both. You can use this for any wooden instrument in a case.
Two magnets are within the humidifier and attach to the instrument case with the help of a steel belt clip. A syringe comes with your purchase to make refilling even easier.
Unique Features
All you have to worry about with this humidifier is when to refill it. Just open the case, and look to see if the water indicator tells you if the Oasis is full or not.
Most reviews note how impressive the humidity levels are inside the case. A consistent level is maintained and most of the time won't fluctuate.
There are some negative reviews of minor leaks. The leaks usually occur about 6 months in and don't happen to everyone.
It depends on how often you refill it. If you don't keep up on a schedule, it might dry up, and then the next time you fill it there might be a minor condensation issue.
It's nice that you don't have to have the humidifier resting in the sound hole or on the strings. This way, there's less likely a chance for water damage and the whole case, inside and outside of the guitar, is evenly humidified.
Common Questions
How often do I add water?
You'll probably have to refill it an average of once a week. It depends on how humid your environment already is.
Will this work on a soft case?
No, it won't be able to clip on to any sides. It's designed to be in a hard case.

Pros
For Large Guitars
Durable
Easy To Use
Cons
Don't OverFill!
Frequent Refills
Dries Out Quickly
Overview
Careful when you buy this item because there are many other humidifiers that look the same but are not effective at all.
Dampits have been protecting wood instruments since 1966 and have been popular among the most famous guitarists. It can raise humidity by a much bigger percentage than most humidifiers.
You don't have to worry about any damage to your strings because there is not a clip or sound hole cover. All you have to do is fill it up and rest it in your sound hole.
There are some negative reviews that mention that if you overfill it, then you might have some leakage problems which can cause water damage. As long as your careful when you fill it, you won't have that problem.
Unique Features
Out of the five humidifiers reviewed, this is probably the easiest to use. It's also probably the most durable and long lasting. Dampits have been selling high quality and effective products/humidifiers for over 50 years.
The unique thing about this humidifier is that, well, it's not that unique. It doesn't have fancy clips or indicators, but it gets the job done. Whether you live in a hot environment, or a cold one, this humidifier is simple and downright functional.
Common Questions
Wait, are there two different kinds of Dampits?
You can either buy the smaller Dampit, or the larger version. The larger version includes a sound hole cover and a humidity indicator.
Should I get an indicator for the smaller version?
It's your choice, but it's always nice to have peace of mind that you're not over humidifying.
How to Pick a Good Guitar Humidifier
Do I Really Need A Humidifier?
If you're serious about playing your guitar and want to get the most out of the money you spent, you need to get a humidifier.
The best musicians use them, and for you not too just says you don't care about the wellbeing of your guitar. Precious tones will be lost as the guitar warps and bends.
Some of these tones are brands signatures. You won't find the tones that a Martin produces in any other car. To preserve those, you need a humidifier.
What You Should Look For In A Humidifier
Sound Hole Humidifiers cover either the sound hole of the guitar or are placed in between the strings down to the sound hole. You'll find most people use this kind because they don't cost as much and are a simple design.
Guitar Case Humidifiers just sit inside your guitar case. This keeps the entire case in a humid environment. But you have to be careful not to over humidify. Also, with guitar case humidifiers, you might need to buy a sealed case to ensure moisture doesn't escape. You might also want to invest in a humidity regulator.
Room Humidifiers do what their name says. These are used if your guitar (or guitars) are mounted on a wall. If you don't have a case, you could get a room humidifier and just leave the door closed.
Can I Over-Humidify?
Just like an extra dry guitar will warp and crack, a wet one will bend and lose its tone just as much. It's important to regulate what humidity your guitar needs.
You'll probably want to buy a regulator. Fortunately, some humidifiers come with built in regulators. We'll get into that later.
Be Aware of Your Environment
Keep in mind, where you live should affect your purchase/how often you use a humidifier.
If you live in a cool and wet environment, then you might not even need a humidifier. If you're somewhere hot, you might need to keep your case at a high humidity all the time.
Also, keep in mind the change of seasons. Too many people rush in a make a quick purchase, but there are so many different factors you have to pay attention to.
Although there are many factors, paying close attention to them will result in a healthy guitar that will last you several good years. It'll keep its tone and signature sound. Now, onto the reviews!
So What is the Best Guitar Humidifier?
Out of the five humidifiers reviewed, the two-way D'Addario has to be the winner.
You won't find many humidifiers that can maintain a constant humidity, as well as increase AND decrease humidity levels.
It's well worth the money and is defiantly the best guitar humidifier on the market.