(Last Updated On: December 21, 2017)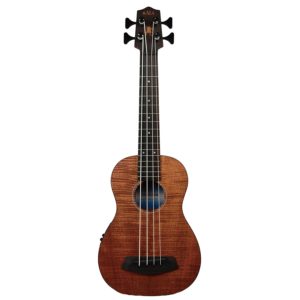 Looking for the best bass ukulele? You're in the right place!
The bass ukulele is an intriguing miniaturization. Compact and portable, the size of the instrument allows you to store the instrument in small spaces, like in airplane holds.
They're relatively modern, certainly not traditional, but still, draw on centuries of ukulele manufacturing and innovation. The ukulele build really suits bass octaves when coupled with appropriate strings, they're generally warm and defined.
They sound quite fat and big for their size but do look slightly peculiar, maybe making you ask, are these a novelty instrument?
My answer to that would be no, they're not, in fact, they're incredibly useful, fascinating and surprising in their playability and tone and have earnt a place among many coveted musicians.
Top 7 Best Bass Ukuleles: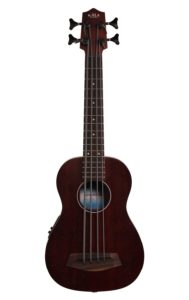 This is a beautiful looking, award winning bass ukulele. It's priced up more like a real size bass and the quality is high.
It's definitely not a novelty instrument. With high-quality laminate mahogany body and neck and a rosewood fingerboard and bridge, this is built to last and to sound good.
Build
It's comparative to a Baritone uke, but slightly longer, at 21′. The neck feels thick, like a bass, and the frets are smooth and pleasant to play. It has a solid top and solid sides so ticks the boxes for construction with well-sealed joints.
To amplify the U-Bass, Kala uses a company called Shadow Electronics, with a Nanoflex undersaddle pickup and small preamp mounted on the bass's side.
There are a chromatic tuner and controls for volume and tone. The preamp is powered by a pair of CR2032 button batteries, which are loaded through compartment near the standard jack.
Kala actually uses their own strings, they're thuddy and percussive and feel great to play. You can feed them in from the back of the guitar and they hold tune really well for bass Uke.
Tone
This bass uke is very impressive when amped up. It produces a wonderful bass fundamental; like an upright bass, warm and defined. You'll hear the amazing bass this can produce, look at the uke's size and wonder how Kala did it.
It's received glowing reports from jazz musicians who use it in live settings but is also a great studio bass, providing a top tone for a relatively cheap price in a conveniently sized package.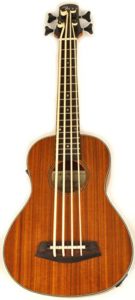 The Hadean is a Chinese copy of the U-basses by Kala in a lot of ways, but they're really good instruments in their own right and are half the price of the the Kala originals. With quality builds, electronics and strings, these provide an excellent choice for a bass uke which won't break the bank.
Build
The build is really good, the top and sides are made from 1 piece mahogany and the fretboard is rosewood, featuring well-set frets which aren't sharp. The joints are sealed tight and there's an overall solidity to the build which is will satisfy bass players.
Its tuner is an own brand version of the Kala, with an LCD display and 3-band EQ for treble, mids and bass. The battery compartment is in the same place and the strings can be restrung through a rear-access compartment for convenience.
This uke uses Aquila Thundergut strings which are slightly different to the Kala's. They're scratchier and twangier but less warm and bassy. It's neither good or bad, it just depends on your preference.
Tone
The Hadean supplies that warm thud that replicates upright basses with surprising effect. Beefy when amplified, it definitely puts bass into a small package and sounds great. Depending on how you alter the tone, it can supply a percussive click or a rumbling warm resonance.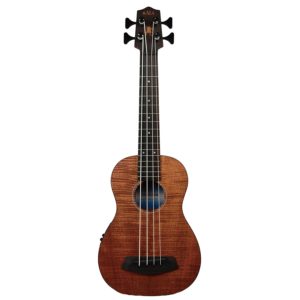 From Kala's U-Bass series comes the exotic mahogany version. With all the up-to-date features of Kala product's like their own strings, Shadow NFX pickups and LCD 3-Band EQ and tuner, the Exotic U-Bass is their best selling product.
Build
It looks exquisite and the key difference between this and the Rumbler reviewed previously is that it has solid mahogany top and sides rather than laminate. The neck is also mahogany and it has a rosewood bridge.
The frets are well made, don't produce any fret buzz and feel smooth. The build quality is very good, the joints are solid and this bass uke feels well weighted, balanced but also authentic to bass players with a chunky neck.
It's slightly bigger than a Baritone uke and comfortably fits on your lap. Tone and volume controls are located alongside the LCD display and like the Rumbler, it has an access port for restringing, die-cast tuners and an easily accessed battery compartment.
Tone
The tonal difference between this and the Rumbler is evident but they both sound great. This uke has a little extra natural warmth going for it though, which makes a difference when it's not plugged. Like the Rumbler, though, it comes to life through amplification and the pickup produces an astoundingly bassy output for a small device.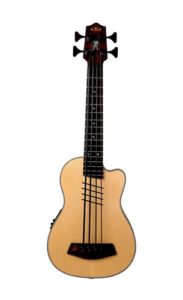 This is Hutch Hutchinson's signature model, a bass player who has performed amongst the stars that are B.B. King, Bryan Adams and Ringo Starr.
Build
The build is exquisite, a spruce top combines with mahogany back and sides for a truly warm and resonant tone that is sure to shake a stage with its uniquely compact but big bass.
The custom top shields the pickup from acoustic feedback and is the main difference between this bass and the other Kala models, other than its superior build.
Tone
There's something special about these uke basses, they're reminiscent of an old school upright bass tone – fat, warm, dynamic but punchy. If they take your fancy then you'll probably be really fascinated and it's easy to see why.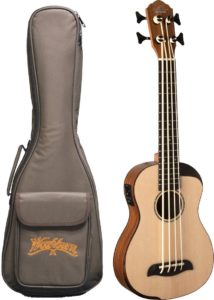 Moving away from Kala, this bass uke offers premium woods for a cheaper price. It has a spruce top and koa back and sides. That sounds great and it is, and additionally, the Oscar Schmidt has a rosewood cutaway for comfortable lap playing.
Build
Other than its fine wood build, the Oscar Schmidt is really well made. It has Aquila strings and the fretboard is smooth. It's well weighted and plays well.
Tone
The amplified tone is where it loses some ground, but it by no means lags behind. The tone is warm and authentic to an upright bass.

Another reasonably priced offering, the Luna also features a spruce top with mahogany back and sides.
Build
The build is solid, the wood is laminate and doesn't have that same real wood finish as the other guitars here but the joinery is good and it feels well weighted.
Tone
Pickups are really important for these bass ukes and it's what separates the price points more often than not. You can still get a really fat and authentic tone with the Luna but at high volumes, some noise creeps in and takes away some of the warm, smooth bass tones.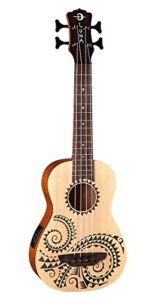 Luna are well established now as a good reasonably priced Uke and guitar manufacturers and this reasonably priced Uke offers a good build from spruce and mahogany.
Build
This uke is built more like a baritone uke than a bass uke, but is still tuned to bass notes an octave up from usual. The strings aren't branded but are still OK. It has a cool, original tribal design on the top.
Tone
As mentioned, the biggest thing you're compromising is the pickup. That may not matter if you don't plan on playing live amongst a band, though, and you'll still get that unique and authentic bass uke thud.
How to Find the Best Bass Ukulele
Size and Body
Bass ukuleles are big for ukuleles. They're comparable to Baritone ukes and measure up at 31 – 32′. That's great because if they're too small they'll feel tiny for bass players! Their body type is either hollow, like a standard ukulele, similar to acoustic guitars, or solid, similar to electric basses.
Hollow bass ukuleles are best for acoustic play and are often equipped with pickups for amplification. Electric bass ukes often only have active pickups and aren't really an option for low volume playing when unplugged.
Strings
Making strings for bass ukes was tricky for the first manufacturers. The question was, how do we get bass from a small instrument? You can't lengthen the strings because then the uke would be too long, you can't slacken them too much without them going floppy and you can't make them too thick without them sounding dull.
The answer was to increase the density of the strings. This means they're heavier whilst remaining optimally long and thick. Polyurethane strings are what you find on most bass ukes. They're plastic and feel rubbery and bendy. Thick and weighty but flexible, they produce a great percussive bass tone. These are typically manufactured by coveted uke string brand Aquila.
Octave Range
There are actually two distinct types of bass ukes, Bass ukuleles, and Contrabass ukuleles.
Contrabass ukuleles, which are slightly are slightly larger (around 32″) play the same notes (EADG) as a bass guitar, at the same octave.
Bass ukes have the same notes as normal bass guitars (EADG), but one octave up.
Pickups
With smaller sizes, it's harder to produce higher volume, and ukuleles are limited in a live setting as they are not easily audible over other instruments. Like electro-acoustic ukes, bass ukes are also often equipped with pickups for outputting to amplifiers.
Frets
Ukes' often suffer from poor intonation. It's not a problem when they're played traditionally but being able to tune properly and accurately is more important when you use your instrument eclectically for many genres.
Bass ukes are worse, as the strings tend to stretch and exacerbate the problem. To help combat this, many were made fretless so you could compensate for tuning issues. Many present bass ukes are reliable though and the strings have improved too, so frets are fine and don't reduce intonation.
What Body, And Strings Are The Best For Ukuleles?
For bass ukuleles, koa, acacia, or mahogany are the most common. Solid wood builds have the best resonance and warmth, the fewer pieces there are the better also. Mahogany is a good place to start.
So, now we've rounded off a few points about different types and parts of ukuleles, let's move onto the conclusion.
Conclusion
Bass ukes are extremely cool. If you had any reservations about their sincerity as instruments then I hope they're gone now as they're tremendously useful and great instruments in their own right. Whether it's for live, studio, or jamming situations, they'll serve you up a fat upright bass tone.
Out of these, the Kalas are the bestsellers and it is justified, but the Hadean and Oscar Schmidt models are really good for cheaper prices and won't disappoint. It just depends on how serious you are about owning a bass uke.
The cheaper models will add something great to an existing collection and the more expensive ones are great pieces of workmanship.