(Last Updated On: May 8, 2017)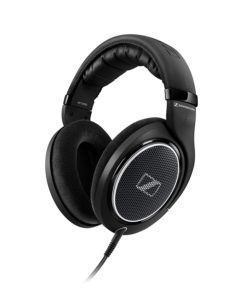 Sennheiser is a brand celebrated for their audiophile quality, incredibly stylish headphones.
The HD range is home to some of their most popular models, including the 598 and 558, which we'll be reviewing today.
It's the clash of the mid-priced titans, which one will emerge the winner? Read on to find out!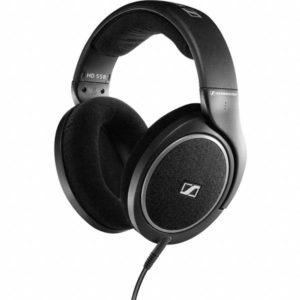 In the sub $200 price range, many headphones focus on compatibility with portable music devices, namely smartphones and PCs, with an emphasis on booming bass.
The HD 558s provide a more neutral listening experience designed to be used with home stereo systems.
Design & Comfort
The sleek and sturdy design of the Sennheiser 558s has them feeling like a premium product in every way.
With plush velour padding on the earcups and adjustable headband, the understated black matte 558s not only look great but are extremely comfortable.
Although these haven't exactly been designed with the flair of some of Sennheiser's more high-end headphones, they still stand out in the sea of black mid-priced headphones as a pair with character.
The circumaural design completely encloses your ears, but the open-backed style of the ear cups allows sound to escape out of the back, and some outside sound to creep in through the black cloth grille covers on the outside of each ear cup.
Anybody around you will be able to hear a taste of what you're listening to, but you will enjoy a more natural, airy listening experience.
The design of the ear cups makes the 558s unsuitable for tracking in a studio environment, as the sound leakage will be picked up by any microphones nearby.
One thing we loved was how the ear cups pivot a few degrees. This seems like a small feature, but in reality, it can make a huge difference to the overall fit of the headphones.
We have reviewed many fixed ear cup headphones and often wish we could adjust them slightly to achieve that perfect fit.
Once thing we did notice was that the headphones do clamp to your head with more force than we expected but they do loosen up with time.
Sound Performance
With a frequency response range of 15 Hz – 28 kHz the 558s cover the entire spectrum of frequencies the human ear can pick up, and more.
These headphones offer a natural, well-balanced sound which is a refreshing change compared to bass heavy headphones that saturate the low-mid priced market.
The mids and highs are exceptionally detailed with great clarity, while the bass is refined, tight and not over emphasized. Listening to the high-quality audio, you'll be hearing it as it was intended.
The 558s are warm sounding headphones, making them more suitable for jazz, classical, acoustic and funk. What you may find when listening to more aggressive music such as heavy rock and dubstep is that it softens out the rough edges for a smoother listening experience.
The headphones come with the 6.3mm jack and a 3.5mm adapter, which is unusual, as most headphones are the other way around. It shows that the Sennheiser 558s are intended for leisure listening at home, plugged into a stereo system.
At 50 ohms of impedance, you'll still be able to use these with your mobile phone, however with the 6.3mm jack plus the 3.5mm jack adapter, it becomes bulky.
One of the most impressive things about the Sennheiser 558s is the incredible three-dimensional soundstage. Relaxed at home, you'll be able to enjoy a thoroughly immersive music or movie listening experience.
Users have also reported these headphones to be excellent for gaming, the 3D soundstage allows you to pinpoint sounds with precision, allowing you to hear exactly where your enemies are coming from – an advantage in online shooters.
Pros
Neutral sound signature
Very comfortable and sleek design
3D soundstage and great channel separation
Durable and sturdy – will last you a long time
Detachable / replaceable cable
Washable/replaceable ear cup padding
Cable twists and locks in to prevent it being accidentally pulled out
Cons
Doesn't come with a case or carry pouch
Has no integrated microphone
Struggles with aggressive, bass-heavy music like dubstep
Conclusion
So the 6.5mm jack may be a little strange to casual listeners and there may not be an integrated microphone, but these weren't designed with the iPod on-the-go listener in mind.
With a 3D soundstage unmatched in this price range, exceptional clarity and a highly desirable neutral sound, these are the perfect headphones to wear at home while you sit back, relax and get immersed in your favorite sounds.
The retro-chic designed Sennheiser 598s are exactly what you need when all you want to do is lay back in your comfiest armchair and get lost in your favorite tunes.
At this price, it's surprising how much of a premium feel the 598s have – in both sound and build quality.
Design & Comfort
Sennheiser has updated their classic look to deliver us these 598s that just ooze character and class. They're one of the most striking pairs of headphones we've seen in this price range.
While the beige and brown color scheme may not be for everyone, you can opt for the more understated black and silver color scheme.
The attention to detail and quality of finish is outstanding regardless of which color scheme you prefer and you'll struggle to find a sexier pair of headphones for under $200. If you do, let us know.
The open-backed headphones are easily adjustable, thanks to the two plastic extenders which slide in and out smoothly.
There's also a pivot at the base of the ear cups, allowing you to further tweak how they fit to ensure maximum comfort. Like the 558s, these headphones aren't designed for use on-the-go so you won't find any foldable hinges.
We can only compare wearing the HD 598s to resting your head on a luxurious pillow thanks to the plush padding around the ear cups and on the headband.
There is a little pressure from the bottom of the ear cups that wasn't uncomfortable, but noticeable. We imagine this will loosen up with time and we experienced no discomfort wearing these for four hours.
Sennheiser has added their Ergonomic Acoustic Refinement (E.A.R – we're sure this is on purpose) technology, which involves adding a small, triangular transducer in the rear or each ear cup, angled at the optimal listening position.
Like the 558s, they don't ship with a storage case or pouch. Even though they aren't designed for use outdoors we would have liked somewhere safe to store them when not in use.
Sound Performance
The Sennheiser 598s boast a slightly wider frequency response range than the 558s at 12Hz – 38.5Khz, giving the headphones a little more clarity, especially at the higher end.
With an impedance rating of 50 ohms, these can be used with almost any audio device, even smaller ones such as smartphones and laptops.
Coupled with the E.A.R technology, which the 558s also have, the 40mm neodymium drivers deliver well-balanced audio for those who like a neutral sound.
These are reference headphones, which allow air to creep in thanks to the open-backed design. Headphones designed like this lower resonance for a much more realistic, natural listening experience.
The sound bounces off surround reflectors, giving a greater sense of dispersion. What you'll hear is an incredibly 3D soundstage that sounds more like a room filled with music than a pair of drivers pressed against your ears.
Due to the open-backed design, those around you will be able to hear what you're listening to at medium to high volume.
Sennheiser make the decision with the 598s to include the 6.3mm jack as standard with a 3.5mm adapter, making the setup quite bulky if you intend on listening to music while your phone is in your pocket.
If you're looking for a pair of headphones to use while walking to work or at the gym, then you'll be better off choosing something else.
While these aren't great on-the-go headphones, they excel in a home or studio environment. With the powerful drivers and 3D soundstage, you'll be able to become fully immersed in what you're listening to.
When listening to music, the Sennheiser 598s are suited to more relaxed genres of music like classical, jazz, acoustic and funk as they tend to smooth out the rough edges of more aggressive sounding music.
Due to their neutral sound signature, bass heads may be disappointed if listening to bass-heavy genres like dubstep. Gamers love these headphones on account of their wide open soundstage, making it easy to listen to where your enemies are coming from in shooting games.
Conclusion
The Sennheiser HD 598 headphones succeed in delivering audiophile-grade sound at the price of a mid-range pair.
For the price, you get a stylish, retro designed headphone with an impressive soundstage and neutral sound signature. It isn't a case of you can wear them for hours, you'll want to wear them for hours.
Pros
Incredible sound stage and channel separation creates a three-dimensional listening experience
Tight, controlled bass with crisp, clear mids and highs
Luxurious feel and comfortable enough to wear for hours at a time
Neutral sound signature
Detachable / replaceable cable
Washable/replaceable ear cup padding
Durable – will last you a very long time
Cons
Adding the 3.5mm jack adapter makes the setup a little bulky
No included case or carry pouch
Can struggle with aggressive, bass-heavy genres like dubstep and heavy metal
Head to Head – Sennheiser HD 558 vs Sennheiser HD 598
Now we've looked at both headphones in detail, it's time to put them in the ring (studio) head-to-head and see which one emerges the winner.
Build Quality
Both the HD 558 and HD 598 are built to incredibly high standards. They both feel durable, sturdy and users report them to still be going strong after years with absolutely no signs of becoming fragile.
There were no weak points in terms of the build quality, with both models feeling as sturdy as headphones we've tested that cost twice as much. In the build quality category, it's a draw.
Design
The 558s come in only one color – black matte. It's a tasteful, understated design that has broad appeal and still manages to stand out in an endless ocean of black headphones.
With cool accents that make the headphones pop, Sennheiser has given immense attention to detail. The 598s are on the other end of the spectrum with a bold beige and mahogany color scheme, reminiscent of a retro-chic style while keeping a sophisticated look.
This striking design doesn't appeal to everybody, and for that reason, the winner in the design category was going to be the 558s.
However, the 598s are now available in the same sleek black color scheme.
With two color choices to one, we'll have to go with the Sennheiser HD 598.
Comfort
As the HD 598s are a little more expensive than the HD 558s, you'd expect to see some upgrades. Both are very, very similar in terms of comfort.
We tested both pairs for four hours and experienced absolutely no discomfort.
The only real difference is the padding on the headband. With the HD 558s, you get a velour padding, the same material as the ear cup padding, whereas the 598s offer a thicker leatherette cushioning on the headband.
The thicker padding means the Sennheiser HD 598s win this category.
Sound Performance
Both the HD 558s and the HD 598s have a wide frequency response range at 15 Hz – 28 kHz and 12Hz – 38.5Khz respectively, while both use the same 40mm driver.
As a result of this, the HD 598s are ever so slightly tighter and punchier with the low frequencies and brighter on the high-end but not to a staggering degree.
Both models have a flat, neutral sound signature and provide a natural listening experience with a three-dimensional soundstage.
Even though the difference is small, the Sennheiser HD 598 come out on top in the sound performance category.
Features
Neither the HD 598s nor HD 558s come with many features. Intended for home or studio use, you won't find Bluetooth connectivity or an integrated microphone.
Disappointingly, both of the models ship without any kind of carrying case or pouch. Because of a distinct lack of features in both models, it's a draw.
Price
The Sennheiser HD 558s are about $35 cheaper than the HD 598s at the time of writing. Being the cheaper model, the Sennheiser HD 558 wins the price category.
Sennheiser HD 558 vs. 598 – Final Verdict
Make no mistake, both pairs of headphones are exceptional and have been heavily praised by thousands of users online.
If budget is a concern and you buy the HD 558s, you'll be more than pleased with their performance.
However, because of the slightly higher sound quality, choice of colors, added headband padding and vintage design, the Sennheiser HD 598s are definitely worth the extra money.