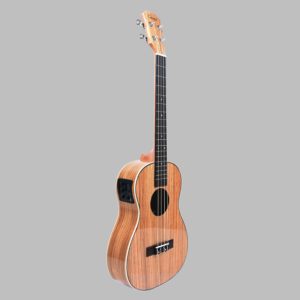 The baritone ukulele offers a very interesting cross-section of guitars and ukuleles. While the instrument has only 4 strings like a ukulele, the strings are tuned differently from the other, smaller variations of ukuleles. Instead of being tuned "GCEA", they are tuned "DGBE".
The baritone ukulele is a bit of an unusual instrument in the fact that not many people know that it exists.
If it is so unique then, what actually constitutes the best baritone ukulele?
One of its features is that it is crafted with the sole purpose of providing a deep, rich sound.
As with any instrument, the size is a factor when producing unique intonations, and that's where the baritone uke comes in. It is smaller than a classical guitar but larger than other ukuleles.
If you're interested in a blend between the ukulele and a guitar, this instrument could be perfect for you.
[Read more…] about Best Baritone Ukulele for 2018 (Reviews)