(Last Updated On: January 23, 2018)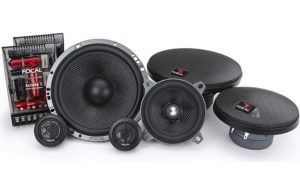 Are you looking for Focal speakers reviews? You're in the right place.
If you're looking to upgrade your speaker system, Focal speakers are some of the best speakers made and are widely used around the globe.
Focal is a French company that specializes in speaker manufacturing. Consequently, most people rush into making a purchase just because they're some of the best around.
Below you'll find what you need to know before making any decisions as well as four focal car speaker reviews. Both positive and negative reviews are included so you can make the smartest purchase based on your tastes and preferences.

Top 4 Best Focal Speakers Reviews: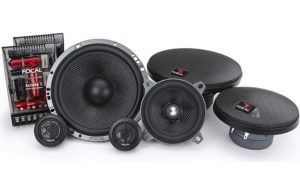 Pros
Woven Glass Fiber Cone
Fantastic Bass
Surface Mounting Capabilities
Cons
Expensive
Difficult Installation
Needs Powerful Amp
Overview
These speakers should only be used with an amp. Otherwise, you'll have your frequencies completely separated throughout your vehicle and it will sound terrible.
You see, when you don't read up on your speaker reviews, you're going to have a bad time. Several people purchased these speakers misinformed, and ran them on their receiver's internal factory amp.
Driver separation, frequency response, and sound imaging all go out the window. With a price tag of about $450.00, you better expect to see more expenses down the road; buying an amp, a new crossover, etc.
Although the price might be intimidating, goodness is the sound quality amazing. In this case, you get what you pay for.
Unique Features
160 watts will knock your socks off when hooked up to the right amp. Something that really stands out in Focal quality is the glass fiber cones and rubber surround on the woofers and midrange speakers.
The aluminum inverted dome tweeters provide a wide soundstage and accurate image. A huge bonus is the fact that the tweeters are inverted.
This allows a wide soundstage, unlike convex tweeters. Although they can't change angles, they still provide excellent high-frequency sound imaging.
The crossover technology allows you to adjust the levels of each speaker (woofers, mids, and tweeters). Really, if you have the money to buy this set, you can't go wrong. Just keep in mind the future expenses that come with the deal.
Common Questions
Are the grilles included with this system?
Yes, this system provides everything you need except a powerful amp you'll likely have to buy elsewhere.
Do I really have to buy an amp?
If you want to spend about $450 on this system and not buy the amp that it needs, go ahead. You're going to have worse sound quality than your existing speakers, though. Your choice!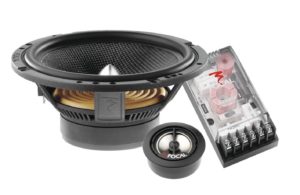 Pros
Glass Fiber Cone
Light ABS Frame
Humidity Resistant
Cons
Overview
The lightweight ABS frame enables unimpeded cone movement. This helps the voice coils cool down, which can be very helpful regarding durability and how long the speakers maintain their sound quality.
Like most focal speakers, the inverted domes on the tweeters provide excellent sound imaging throughout the vehicle. Most factory speakers are made without sound imaging in mind.
Yes, you can adjust the bass, and maybe upper frequencies, either to the front or back of the car, you can't enjoy the sound quality from every seat in the car. That's why you'd want to buy these speakers.
At a reasonable price, you can enjoy sound imaging like never before from anywhere in the car.
Unique Features
The crossover allows you to adjust the tweeters on three levels. 120 Watts power handling allows you to blast your music without losing sound quality. Often at louder volumes your music will get distorted but with the help from the crossovers you won't lose sound quality.
This purchase comes with an installation bonus called a dual-angled pod which enables surface mounting for your tweeters. This makes installation a whole lot easier and makes your tweeters look a lot more natural inside your car.
The good side of having no mids, is that the crossover doesn't have as much trouble distributing their frequencies to the woofers and tweeters. This would defiantly be an affordable alternative to the A3's above.
Common Questions
What amp could I buy for these speakers?
Any amp would do fine, but make sure it's something around 75 Watts per channel. Look up amp buying guides and reviews.
Do I need an amp?
There won't be as big of a difference when compared to the A3 if you didn't have an amp. But, the sound quality will be affected.
If you're buying this kit, keep in mind it's relatively inexpensive compared to other Focal speakers. An amp would defiantly be worth the money.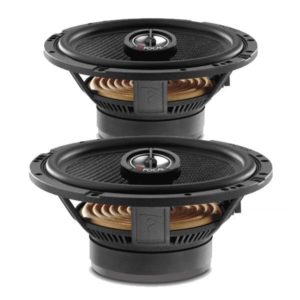 Pros
Built-in Crossover
Adjustable Tweeters
Inexpensive
Cons
Not The Best Focal Tweeters
Not The Best Frequency Response
Overview
These speakers are quite similar to the previous. One of the biggest differences is that there is a built in crossover that makes your life a whole lot easier.
Since the crossover is already built in, the installation process is much simpler and convenient. Like most Focal speaker reviews, they're all positive for the most part.
The glass woven fiber cones and rubber surround create excellent sound imaging and help the speakers last longer. You can adjust the tweeters any way you want for the best sound staging.
Focal recently just reduced the price ion these speakers so now would be a good time to make the purchase. The built-in crossover distributes the frequencies to the right speakers creating natural sounds almost like you're at a concert.
Unique Features
The system frequency response is from 60hz- to 20 KHz. This basically means the speakers are capable of creating a wide range of frequencies from a low bass to a high vocal.
Unlike the previous focal speaker reviews, these speakers come with tweeters you can pivot manually. Pivoting the speakers allows you to create the sound imaging you prefer.
The unique part of the design is the built in crossover. It'll make your life a lot easier.
Common Questions
What's the depth of this speaker?
There is a 2.5'' mounting depth but most reviews say it doesn't even look that deep. Focal does a great job regarding speaker design. It all looks very look natural
What's so great about the built in crossover?
Installation is so much easier with the crossover already being in the speaker. It means less work for you.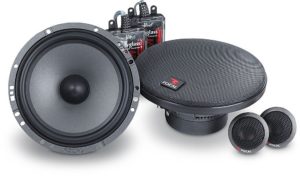 Pros
Reproduces Instruments Very Well
Clear Highs
Durable
Cons
Needs Amp
Distorts At High Volume
Difficult Installation
Overview
Most reviews about these speakers note how well they can differentiate instruments. The listener can hear each instrument separately, all being reproduced clearly.
In other systems, even high-quality systems, you won't see many reviews like this. Most frequencies blend together and it's difficult to make out each instrument.
With these Focals, you'll find you can hear the differences of frequencies without the song being separated and broken apart. It's difficult to explain, but once you hear these speakers, you'll understand.
If you don't want to spend the $450 on the Focal A3's, but don't want to buy something cheap, these speakers are defiantly for you.
Unique Features
The purchase comes with two woofers, 2 tweeters, two crossover networks, grilles, and an installation manual. These too are made with the best materials; glass woven cones and rubber surrounds.
The reason for the sound quality produced by the glass woven cones is because of the sturdy glass combined with a form of poly, which enables the cone to vibrate rapidly while maintaining a low resonance.
With cheaper designs, cones will vibrate rapidly, but lose sound quality as volume is increased or lower frequencies are hit. Usually, you'll find distortion without the rubber surround.
The two external crossovers enable the tweeters to be adjusted at three different levels.
Common Questions
Why are there two crossovers?
With two crossovers, the installation might be a little more difficult, but there is an opportunity cost. Two crossovers allow your frequencies to be separated and dispersed to the speakers as efficiently as possible.
Will I need an amp?
Like with all systems, you're going to want an amp. Focal speakers will not sound right with just factory amps. It's important to keep amp expenses in mind.
Let's Talk Focal Speakers
So, you're going to need to know the basics first. When you understand what is desirable in a set of focal speakers, and then look at the focal speaker reviews, you'll find out what you actually want.
In the end, the purchase is up to you. That's why I've created this buying guide that encompasses all of what is important in a set of speakers. Let's dive in, shall we?
High-Fidelity (Hi-Fi)
High-Fidelity (Hi-Fi) is the term used by audiophiles to refer to the quality of the reproduction of sound a speaker is capable of creating. It takes an experienced ear to be able to compare hi-fi between different speakers so it's important to read up on the review section.
Most factory speakers aren't made with the materials needed for high fidelity response. Materials like silk and cloth in "tweeters" produce smooth and well, "silky" sound. Metals like aluminum and beryllium are great for woofers.
Woofers, Mids, and Tweeters
These are the different types of speakers. Woofers create low frequencies while tweeters create high frequencies.
Also, there are the mids that create the mid-range frequencies. Take note of each of their frequency capabilities. Look at the ranges they're capable of, and even if they can change angles to enhance your listening experience.
Crossovers
Crossovers take each of the frequencies that a song creates, and disperses them to the woofers, mids, and tweeters. Most factory speakers do not separate the different frequencies and this causes distortion and a noticeable change in overall sound quality.
Some crossovers are built into the speakers themselves, and other sets come separately. The ones that come with an external crossover requires you to install it yourself.
So, take note on how difficult the installation process is, not exclusively for crossovers but the whole system too. This could save you a whole lot of time and money.
Sound Imaging/Stage
Sound Imaging/Stage is difficult to explain. It can be described as the imaginary stage/live experience you'd have at a live show.
Once you hear a high-quality speaker that is capable of good sound imaging, you'll understand the phrase. It's a measure of how well the music surrounds you.
Changing the angles of speakers create different sound imaging as well as changing the settings of your bass, mids, and high frequencies. Make sure to look if the speakers you want are capable of changing angles and frequencies.
Take note of the reviews of the sound imaging and overall experience.
And The Winner Is…
The winner has to be the Focal A3's. Although they're expensive, you get so much for your money.
An entire system is included and your car will sound incredible. If you're looking for the runner-up, you'd probably want to get the Focal Access 165 CA1.
Well, it's time for you to decide. These Focal car speakers reviews should help you make your decision.