(Last Updated On: May 8, 2017)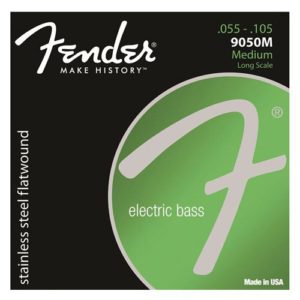 Flatwounds vs. Roundwounds: Intro
Before we even start, I have a confession to make: personally, I prefer roundwound strings.
For a bright, clear and aggressive tone, nothing can match the sound of roundwound strings. If you play slap bass or need a lead bass style tone than roundwounds are the way to go. Most roundwounds tend to be less expensive than flatwound strings. They also will wear down frets much quicker than flatwound strings.
However, the way you play your guitar is personal and, as such, your string choice is too. My goal is to help you determine exactly what strings will suit your playing style and preferences and make a well-informed decision. Let's start.
Flatwound Bass Strings
What Are Flatwound Strings?
During the development stages of the electric bass, there was a moment when Leo Fender realized the inevitable.
A new string would also have to be invented to accompany the new guitar. There were already strings for the electric guitar and gut upright bass, but the electric bass would need to have a hybrid of the two.
Fender took the gut upright strings and covered the part that ran over the magnetic pickup with a steel wrap. While they were satisfactory during the development of the electric bass, they weren't built to last.
He then contracted V.C Squier, the celebrated string manufacturers, to make a new steel string that would fit the instrument with the correct gauges – the flatwound string.
The flatwound strings were the most popular string choice for electric bass players throughout the 1950s, 60s, and 70s.
Towards the end of the 70s, use of flatwound strings started to dwindle and guitarists began to use the roundwound strings on account of their crisp bite and extended frequency response range.
Over the last few years, however, we've been seeing more and more players revert back to using flatwounds and showing appreciation for the unique tone they deliver.
How Are They Made?
The majority of flatwound strings are made from a high carbon steel hex core with a stainless steel outer ribbon wrap. Some have round steel cores or outer wraps made from nickel instead of steel.
Sound
Professionals generally associate flatwound strings with a darker, warmer sound than roundwounds. These days, you'll see them used in a whole range of different music genres such as country, jazz, roots rock, blues, reggae, and indie.
You can find two types of flatwound strings:"Old School" and "New School".
Old-school flatwounds typically produce a darker sound and feel tauter, with a little clunk to the E string. This is probably due to the thick core and amount of extra wrap needed.
In some cases, the E string may have a wildly different tone to the rest of the set, which you'll hear if you listen to some older tracks. For those looking for that ultimate classic sound, it's simply part of the rustic charm.
The "New School" range of flatwounds have a looser feel, more present midrange and greater sustain.
Because of their flat ribbon winding, flatwounds produce far less finger noise while playing and are easier on the frets and fingerboards if you play a fretless guitar. They're also far kinder to your fingers, something to consider if you play for long periods.
They don't deliver the bright, aggressive tone that roundwounds do but are perfect for capturing that classic bass sound made famous in the 60s and 70s.
Many producers and recording artists prefer using flatwounds as they perform better in the mix and are typically easier to control sonically in a recording environment.
Price
Flatwounds cost more than roundwounds do, which can sometimes put people off buying a set, although this increase in price is offset by their longevity. Flatwounds can last players for years and it's widely agreed upon that they sound better with age.
Roundwound Bass Strings
History
Rotosound, a British string manufacturers, developed the first roundwound strings for electric bass guitars in 1962 – the Swing Bass 66 set. This new technology forever changed and helped to shape the modern music we hear today.
In the 1970s, when flatwound string usage began to decline, more people turned to the new roundwound strings.
Their wider frequency response inspired new playing techniques such as slapping and harmonics and roundwounds became a key element for those looking to play louder, more aggressive music and they have dominated the market since the late 1980s.
How Are They Made?
They generally have the same round core as the flatwound strings but with a round winding wire – steel or nickel – that is wound in a tight spiral around it, whereas flatwound strings use wires with a rounded-square cross section.
Sound
Roundwounds deliver a brighter, crisper tone, popular in more aggressive genres such as rock whereas the laid back style of the flatwounds doesn't achieve the right sound.
They cause more noise – fret noise, squeaks, and clatter – but that's as much down to a player's technique as the strings themselves. With practice, you can avoid most of this noise if you want to. Some use this noise creatively as part of their sound.
These strings are harsher on the fingers because of the grooves between the wire, as well as causing more fret damage over time, although not enough to rule out roundwound strings purely based on that.
Roundwounds are also easier to tune and have a lower tension that flatwounds with the same gauge. The grooves trap dirt and grime with usage, affecting the brightness of the tone.
Some people clean their strings after every session, some replace them and some prefer the mellower sound of "dead" roundwounds.
Because of the extended frequency response, players can achieve sounds with roundwounds that aren't possible with flatwounds – it's one reason why they are the most popular string type on the market today.
Price
Roundwounds are easier and less expensive to manufacture, so they are generally cheaper than flatwounds. They do, however, last significantly less time before you need to replace them.
Some bass players who need a very bright, cutting tone will change their strings every few days. In comparison, flatwound strings can last years before they need replacing.
Pros and Cons Flatwounds and Roundwounds
Pros of Flatwound Strings
Causes less squeaking
Is easier on the fingers, especially during long playing sessions
Causes less fret wear, only a concern for those with a heavy hand
Mellow sound popular among jazz players and laid back genres of music
Consistent tone throughout the lifespan of the string
Can last for years
Cons of Flatwound Strings
Are more expensive, but last longer, so it's a trade-off.
Not available in the lightest gauges. When sold as the same gauges as roundwounds, only the top B and E strings felt the same in comparison.
Have a higher tension than the same gauge of roundwound strings, making them more difficult to bend.
Narrower frequency response. Higher frequencies are lacking, taking out some treble and sparkle from the sound. Bass notes, similarly, are less punchy.
You can basically reverse all the above points to get the pros and cons of roundwounds. There are a few extra pros to roundwounds that I'll add:
Far more research has gone into developing roundwounds strings, so there's a huge variety of strings with different materials, winding techniques, tensions, and gauges to suit any player's needs. There are only two different types of flatwound strings.
You can achieve sounds with roundwounds that aren't possible with flatwounds. Slapping and running the edge of a pick down the winding are two examples of such sounds.
Now you're an expert on all strings flat and round, let's take a look at some of the best flatwound and roundwound strings on the market.
Best Flatwound Strings Reviewed
LaBella 0760M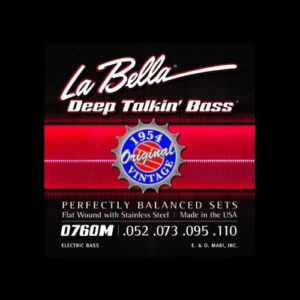 These flats have exceptional balance, not just in tone but in volume too.
No notes sound weak against the others.
They're very high tension.
So, if you have particularly weak fingers then you may struggle using these and you'll probably want to raise your action when playing.
Fender 9050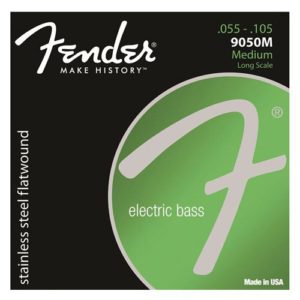 Fender created the first electric bass, so their strings have been around forever.
Well, since the first electric bass.
The 9050 flatwound strings are made with high-quality craftsmanship and have that smooth, old-school fender sound.
Whether you're playing with pick or fingers, these will sit in the mix in a way that rounds just can't.
GHS Strings M3050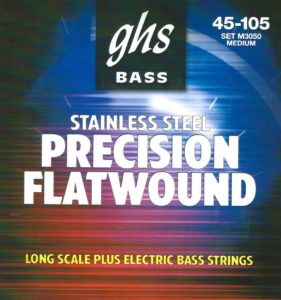 These are a very versatile set of flatwound strings.
Using your tone knob you can quickly switch between bassy reggae tones to aggressive rock tones.
The M3050 offer great mid-range presence, allowing your sound to be heard in a different way than with roundwounds.
With the right EQ, all techniques – like finger, slap and pick – sound great with these strings.
D'Addario ECB82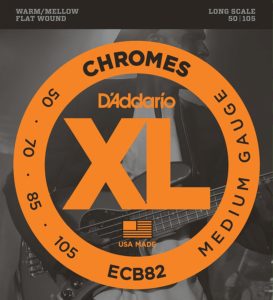 These are solid all-round flatwound strings that have converted many die-hard roundwound users.
If you EQ your bass or amp you can achieve that classic roundwound tone without any of the string squeak and other noise, enjoying all the advantages of flats.
Great for R&B, rock, reggae, jazz, country and slap.
Best Roundwound Strings Reviewed
Fender 7150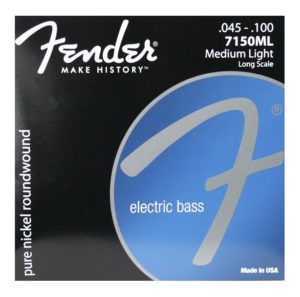 One of the only pure nickel strings available, the 7150 are worthy of the Fender name.
Lesser known than many of Fender's other strings, they are highly praised by those who use them.
You can get the rich p-bass vintage tone which is perfect for Motown, R&B, funk, blues and jazz.
Made to a high standard, these strings will last you a seriously long time and the tone improves with age.
DR Strings Lo-Rider
Lo-rider roundwound strings deliver a greater depth of tune and are stiffer than Hi-Beam strings, making them more responsive and able to retain their brightness for longer.
Players who like to slap, pop and tap will enjoy the high-end and depth of the Lo-Riders.
The stiffness gives the strings greater accuracy when playing harmonics, consistency and superior string-to-string balance.
Flatwounds vs. Roundwounds: Which is Best?
Using our detailed guide you should now be able to determine exactly what strings will suit your playing style and preferences and make a well-informed decision.
Neither flatwounds or roundwounds are superior, they're both just different.