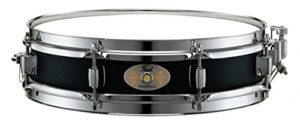 What are the "best cheap snare drums"?
Is there a definite answer for the best bang for your buck?
The answer is "yes", "no", and "sort of". 🙂
No, because different situations call for something specific.
A snare drum used for a live performance – one that the drummer likes and compliments the music/room – will most of the time be different than a snare for the studio, which will be tweaked and tuned to sound perfect in the recording.
Yes, the best bang does exist because a quality, cheap snare drum can sound good, with the right drum heads, proper tuning, and the appropriate situation.
Sort of, as some snare drums are universal – they will work well in the studio and live – and will not break the bank.
[Read more…] about The 6 Best Cheap Snare Drums Under $150 (Reviews – 2017)