(Last Updated On: May 8, 2017)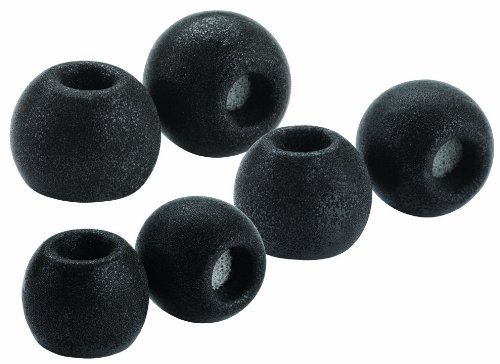 In this short review, I'll be talking about Comply Foam Tips and how you can choose which ones are best for you.
You can easily use Comply Foam Tips for all different types of applications whether it's mountain biking, running, going to the gym or even if you just want to take your headphones and make them better for sitting around and listening to music in isolation.
What Do You Need Comply Foam Tips?
If you have read some of my other reviews you know that Comply Foam Tips were a game changer for me. They took the headphones from being almost useless because they would not stay in my ears to being the best ones that I've ever used.
Types of Comply Foam Tips
There are three main different types of tips that Comply makes:
Comfort tips
Isolation tips
Sport tips
Head to Head Comparison: Comfort vs. Isolation vs. Sport
If you get, for example, a pair of JayBird X2 Sport headphones they will come not only with the silicon tips but they will also come with the Comply Foam Sport tips. Sport tips do a really good job in managing sweat, they don't get greasy and slimy with sweat if you sweat a lot.
However, the problem that I have with the Sport tips is the fact that they don't get a lot of good isolation and if you don't get a good sound isolation or seal in your ear then you're not going to get the best bass response. I really like having a good solid bass response which is why the Comfort tips and the Isolation tips work much better for me.
The problem for me with the isolation tips is that they are so long that they get blocked in my ear canal so as even though I tried different positions they still block it off and this really degrades the sound: it becomes muffled and muted. It was in just one ear canal and that shows me that some people may not have a problem at all with the isolation tips.
The Comfort ones are shorter and they do not get pinched off in my ear so I get really good sound isolation and of course really good bass response.
I said above that the Sport tips to do a better job of managing sweat. However, even the Comfort and Isolation ones are not really a problem for me. I live in a very hot and humid environment, and in the summertime, I sweat a lot but I just don't really have much of an issue.
Cons? They will get a little wetter and the sweat does not get absorbed like with the Sport ones. They may move around a little bit but I don't think it'll be an issue for most people.
Best Comply Tips for Everybody: How to Choose?
To sum it up, my recommendations are:
If you're looking for tips that have the best fit in terms of no slipping, especially when you get a lot of sweat, the Sport tips are going to be your best choice. With that being said, you should be ready to sacrifice a little bit of sound isolation and bass response.
If you really like sound isolation and bass, either go with the Comfort or Isolation tips. I think that most people would like the Comfort ones better because the Isolation ones are a little bit long.
If you're looking for the best isolation and the best bass response then go with the Isolation tips. These do give the best bass response, but the Comfort ones are not that much off compared to them.
If you are looking for the best choice overall, I recommend going with the Comfort tips since they are not as long, making them a bit more comfortable. They still have really good isolation and really good bass response.
It may be a good idea to buy a pair of each. That way, if the Isolation ones get pinched off in your ears a little bit and the sound is muted then, of course, you can switch over to the Comfort tips.
Comply Foam Tips Compatibility
If you go to Comply's website you can look up almost any type and model of headphones. They support the majority of modern models.
This concludes this review as well as my guide for Comply Foam Tips. I hope you found it helpful and can now easily choose which tips will be the best for you. Thanks for reading!