(Last Updated On: January 23, 2018)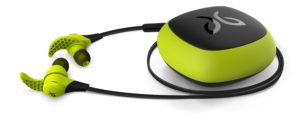 The SonoBoom team reviewed lots of reviews on other websites to find the right answers to the most common questions regarding the best Bluetooth headphones available in 2017 for working out.
You can find our top picks reviewed thoroughly below as well as the criteria used to choose them among other good headphones.
Top 5 Best Bluetooth Workout Headphones: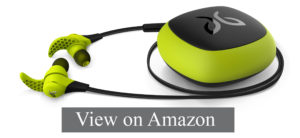 These Bluetooth headphones for working out are supposed to replace the well-known Jaybird BlueBuds X earbuds that have been popular for several years. I'll do some comparisons between these two sports models from Jaybird as I go through this review.
If you're familiar with my website, you know that I do a lot of biking and running in particular, and I use these earbuds for my exercise sessions. That is why I'll approach this model both from a mountain biker's and weightlifter's perspective as well as from a point of view for everyday use.
What Is in the Box?
First, let's review what you get with these workout earbuds.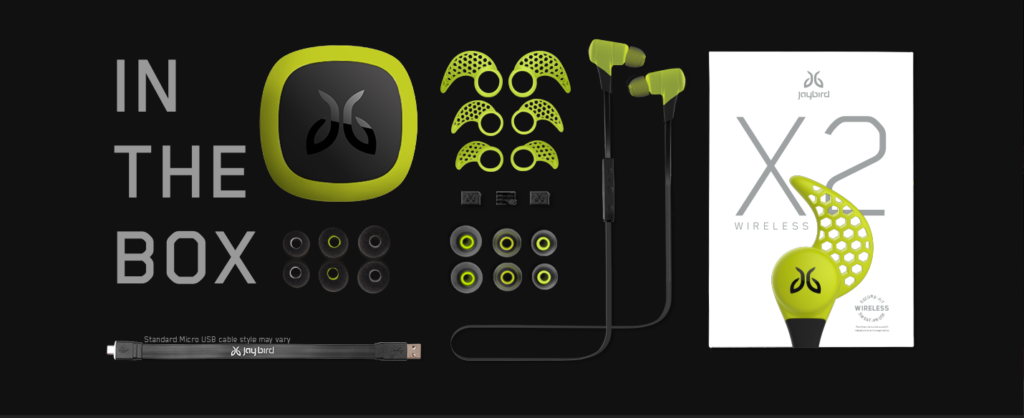 These earbuds come in a nice, high-quality box with a magnetic enclosure. I reallylike when a company tries to make a nice box—it shows that they care about details and their reputation altogether. Usually, it is also a sign of a higher-quality product inside the box.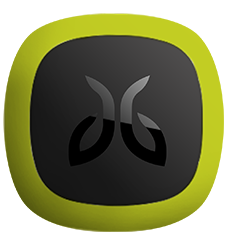 There is a new type of case for the earbuds inside the box compared to the BlueBuds X case. If you're familiar with the BlueBuds X, you know that they came with a case that had a magnetic closure—a clam-shell type of case. This one actually has a lid that pops off and you can store your earbuds inside.
What's nice about these earbuds is that they come in 6 (!) different colors with some funny names: "Midnight Black", "Storm White", "Alpha", "Fire", "Charge", and "Ice". You can go to Jaybird's website and look for the different colors. The "Midnight Black" seems to be the most popular, but I chose the lime green ones ("Charge") just to be different from the mainstream. 🙂

You get the wing tips (or "clips" as some people call them) with the earbuds, and I use the medium ones for my gym and biking workouts.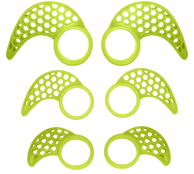 You also get a bag with the little ear tips.
The box also comes with a micro-USB charge cable.
The charge port is going to be on the right earbud. It usually takes about two hours to charge them and once they're charged, you get eight hours of use with the earbuds.
How to Get a Good Seal
These earbuds come with three different sizes of silicone tips, similar to what you get with the Bluebuds X. Unlike the Bluebuds X, you also get three different sizes of the Comply Foam Sports Tips.
Comply Foam was a game changer for me. If you've read my review on Bluebuds X, you know that when I first got these earbuds, I could not get them to stay in my ears and I could not get a good seal –that's a disaster for a weightlifter. You absolutely need to have a good seal for using workout in-ear headphones like these ones, or the bass is inevitably going to be lacking and sound is just not going to be that good.
As I said in my review of the BlueBuds X, once I started using the Comply Foam Tips, it completely changed my opinion of these earbuds. I'm really glad to see that Jaybird Sport is now including the Comply Foam Tips with their new model of workout earbuds by default
.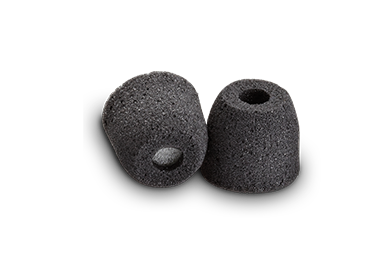 Comply Foam make different types of tips. They make the "Sport" ones which come with X2. They also make "Isolation" and "Comfort" ones. I personally like the "Comfort" ones the most.
Both types of ear tips work. I get a little bit of a better seal with the "Comfort" ones. The "Sport" ones that come with X2 earbuds are going to be fine, too. Each pair of ears is unique, so it's important to try a few to determine which ones are the best for you.
How to Use Comply Foam Tips for the Right Seal
In order to get the best seal with Comply Foam Tips, roll the foam between your fingers or squeeze it, stick it in your ears, and hold it in there about 15 seconds: they will expand and give you a good seal.
How will you know if you get a good seal? You get a good seal when you can thump the cable and it sounds like a stethoscope in your ears. What's nice about the wireless headphones is that when you get that seal, you don't get what's called "cable thump".
Wired headphones have this issue: if the cable is bouncing against things, especially when you are running or cycling or going to the gym, it can cause that "cable thump" noise which is really annoying.
Bluetooth earbuds don't get cable thump because the cable is quite short and it really does not bounce on your equipment, your back, your shoulder, etc. Getting that good seal is a real plus for the Bluetooth headphones.
I absolutely could not get a good seal without these foam tips— ear buds constantly fall out of my ears, which is really frustrating. Actually, I sent my Bluebuds X back but ended up getting them again because the sound quality was absolutely terrific. I wanted to try everything possible to get them to fit.
The tips may look a little bulky when you have them in your ears and they may look even a little bit funny compared to wired earbuds. However, they are also very lightweight (just 0.49 oz. or 13.8 g) and, what is more important, they don't feel bulky in your ears.
Regarding fit, there's a lot of different configurations you can do with these to get them to fit right. I prefer to run them behind my ears (I mean – over my ears) and then turn the ear tips around. This is also the way that JayBird Sport recommends to use them.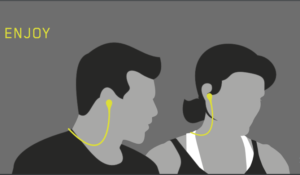 These earbuds also come with two little plastic cable retention devices so you can attach them to the cable and put the folded cable behind your head.

I personally don't like doing that because I like the remote to hang down a little bit more for easy access.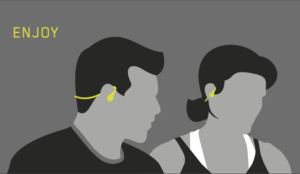 If you bind them up behind your head, that remote comes back a little bit. I also think it would be harder for someone to hear you if you're using your earbuds for phone calls.
In total, I would say that the Jaybird X2 earbuds are the best Bluetooth headphones for the gym in terms of comfort.
Controls
Let's talk about how the buttons work. If you're more of a visual person, you can even go to their website and watch good tutorial videos on their website.
By the way, they do have a very nice, high-quality and mobile-friendly website, optimized for both a phone or a tablet. Again, it's just good quality all the way around, from the box and the earbuds to the website. These are definitely high-quality earbuds..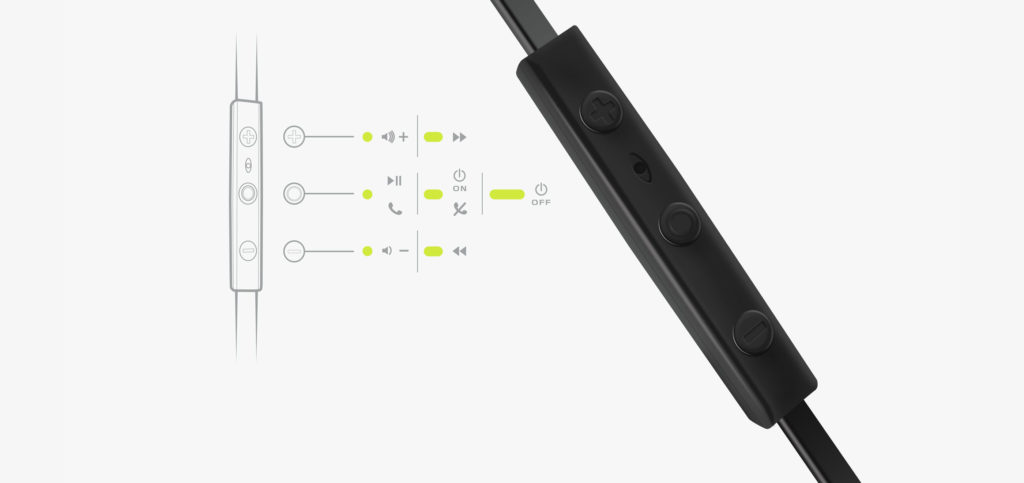 The control includes a volume up button on the top of the panel, so if you're using the earbuds over the head the volume button is going to be at the top, too.
When you hit the volume button up or down, it's very smooth. Obviously, the button at the bottom of the control panel is the down volume.
If you want to skip a track, simply hold the volume up button for one second. To go back a track, you would hold the volume down button.
The middle button does several things:you can use it to play and pause. To power them on, you would hold down the middle button for two seconds.
JayBird Sport says you need four seconds to power them off by the same middle button, although I found it's more like five or six seconds.
If you hold down the middle button for one second, it will go into either Siri if you're using an iPhone, or Google Now if you're using an Android phone.
I'm an old iPhone user. My wife has a pair of these earbuds too and she uses them with her Android. They work great with both.
You can actually go on and do more than just voice dial—you can say, "Navigate here" or all the things you can do normally with Siri and Google Now.Once you hold down the middle button, you'll get a beep, and then about a second or two later, you'll get a beep from the phone (either the Siri tone or the Google Now tone) and then you can talk. You can speak directly and say something such as "Dial this number."
To answer a call, you would tap the middle button as the call is coming in. You can take a second call by tapping the middle button.
You can reject a call with the middle button by holding it down for a second when the call is coming in.
To mute the call, simply hold down the plus and the minus (the volume up and down) buttons at the same time.
The X2, compared with the original Bluebuds X, has kind of a rubber coating on the outside. It doesn't feel like a hard plastic feel that the original Bluebuds X had. They feel a little more sporty in that sense.
Everything else is pretty much the same as the Bluebuds X, including shape of the earbuds themselves.
The ear tips are a bit different. They are a little fatter at the top, and I found that they actually do work a little bit better for staying in your ears, which is an improvement over the original Bluebuds X ear tip. For the most part, as you can see, the shape is about the same.
Everything works the same except for the volume, which as I said earlier is a lot smoother on the X2 now, without that skip in the music.
Sound Quality
The sound quality of these workout earbuds is excellent, and it was excellent on the BlueBuds X, too. Actually, I don't really notice a big difference in the sound quality.
These headphones are extremely clear in terms of the sound. These are probably the best Bluetooth earbuds that I have ever listened to music with.
The bass for these earbuds is really strong. It's not overwhelming and definitely not muddy, but you do have to make sure you get a good seal.
Like I've already written above, I get a little bit of a stronger bass because I get a better seal with the "Comfort" Comply Foam tips than with the "Sport" ones.
If you like tons of bass, I think you would definitely want to go out and purchase the Comply Foam "Comfort" tips instead of the "Sport" ones. The "Sport" ones absorb sweat a little bit better, but I would not say it's a big deal.
The mids are very clear. The highs are extremely clear, too. Actually, the first time I listened to the BlueBuds X, I was really blown away with the clarity of the highs on these.
So, all in all, these earbuds have pretty good mids, excellent clarity on the highs, and very good bass without being muddy or overwhelming the music. And as far as using the Comply Foam tips over the silicone, I think the silicone will give the mids and highs a little bit more clarity.
It's not really prominent, but the Comply Foam tips, to me, do tone down the mids and highs a little bit—I just can't use the silicone ones at all. You definitely are going to want to try a lot of different combinations of ear tips as well as the way that you put them in your ear.
So, if you get these earbuds, take the time to really sit down and try all of the different options and see what works for you. It may take you from thirty minutes to an hour of just messing around and figuring out the absolute best option, but it's definitely worth it because when you have these in your ears, they almost just disappear.
Are They Good for Working Out?
These headphones are sweatproof. I had a pair of the LG Tone earbuds that I actually burned through, which I think was due to excessive sweat. I live in Florida, and the woods where I mountain bike is just incredibly humid. With that being said, it's nice that these are sweatproof.
I also want to note that the "Sport" tips absorb sweat a little bit better. You may get some sweat on the "Comfort" ones, but it's really not a big deal. The mids are very clear. They're not quite as clear as, the DUNU DN-1000 wire earbuds, which are the ones that I use as my standard. They are wired, so I don't work out with those.
Although I use these headphones mainly for working out and mountain biking, I also use them for listening podcasts from my phone before I sleep, in case the family is already sleeping.
I think these earbuds are great for going to the gym.
If you ever tried to work out with a pair of wired earbuds, it's really annoying because you'll get them caught on a bar or something like that and it'll just yank them out of your ears.With these, it's like you have the music and there's just nothing else. It's a really awesome experience using a set of Bluetooth headphones like these—they are absolutely superior for going to the gym.
So, if you're looking for high-quality Bluetooth earbuds, especially for running or working out, these get my absolute highest recommendation. They have high-quality, excellent sound. With the Comply Foam tips, you're going to get a really good seal in your ears.
In addition, Bluetooth technology has just made using earbuds such a better experience than it was. If I flash back 15 years ago, I used to mountain bike train with a portable CD player in my jersey pocket—the thing was big and you only had eight orten songs.Now, by using streaming services and things like that, you've got access to millions of songs. With these in your ears, the feeling of having earbuds in disappears and all you have left is the music..
Call Quality
Call quality on these headphones is really good—I had no complaints from anybody on the other end of the phone that I was talking to, and none of them asked me to repeat things. As far as hearing someone while you're on a phone call, it's also very clear.
Bluetooth Range
The range on these is going to depend on a few things. If I have a phone sitting in one room, I can go to the next room and it's usually really good. If I go two rooms over, however, that's when it may kind of skip out a little bit.
These aren't really designed for putting your phone or tablet in the middle of the house and just walking around. The signal is pretty good, but mostly at the direct range.
I would say you'll probably get a signal of 50 feet or so if there is nothing blocking it, which is a really good range for what they're intended for.
With the new X2, they have increased the Bluetooth technology and renamed it the Signal Plus, which is just a higher-end type of Bluetooth connection.
Pros
Outstanding sound quality with deep and rich bass, as well as clear mids and highs.
Excellent call quality.
Modern-looking design.
Nice fit and seal, especially with clips and modern Comply Foam Tips.
Perfect for any kind of sports activity, especially for working out.
Cons
I love them too much to say something bad about these earbuds. Sorry guys. 🙂
Conclusion
Like I said, the main differences are: a newer Bluetooth technology, less skipping of the music, the volume button is smoother, a different and better case is included, and they do come with the Comply Foam Tips with a nice rubber coating. It makes them a little bit easier to grip and feel a little bit more "sporty".
Should you switch from the Bluebuds X to the X2 if you already own the older model? X2 earbuds sound just as incredible as the BlueBuds X do. There is no real change in the sound quality of these headphones compared to BlueBads X, but the other things mentioned make the difference for me. I'm going to leave that up to you.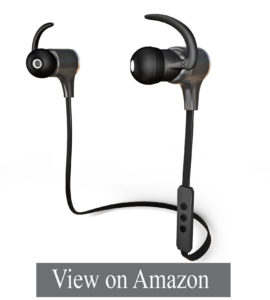 Inteloo Pulse PC-2060 are tiny headphones with a hi-tech Bluetooth 4.1 technology coupled with a CRS 8645 chipset that strengthens the signal two times, with a comfortable earbud design made of sleek, premium black metal.
They look fancy and match most devices both via Bluetooth and a micro-USB port. I would not strongly recommend these headphones for everyday use but for workout purposes, these cycling/running earbuds are nice.
What Is in the Box?
The box contains the Inteloo Pulse PC-2060 wireless earbuds, three pairs of ear tips (S/M/L), three pairs of hooks, a shirt clip, a USB cable, a case, a small mesh drawstring bag, and a warranty.
Durability
These headphones have a premium high-end design with a metal finish and ultra-comfortable active Siri directly from the earbuds.
They are sweat-proof and have an onscreen battery meter.However, these earbuds do not last much long before cable starts coming out of Bluetooth box.
They have a built-in lithium ion battery with 120mAh capacity that should last up to 8 hours of play time.
Comfort
Listening to calls and my favorite music on the go, as well as switching calls with one-button touch and the perfect enjoyment of all kind of tunes in all kinds of environments is possible thanks to ,the noise cancellation capabilities of these high-quality earbuds.
I have recently read a research article which showed that listening to relaxing music in bed can help people fall asleep easily and enjoy a more restful sleep. As you probably know, most earbuds for working out or running are not designed to be comfortable for sleep –some either break or are too heavy or too big.
Things are absolutely different for PC-2060. They are so lightweight thanks to the rubber on the headphones that it makes it easy to almost forget the weight, small construction, and nice tiny ear tips. These qualities make these earbuds suitable for rest.
They also seem good for day-to-day activities –the connections seem right, especially during sporting activities. Bikers in particular will find it good to use:the special hook helps the earbuds to stay tight and keeps them in place for a long period of time.
Sound Quality
The sound quality is really cool: the bass is ample and slightly boosted, and mid-bass is recessed, which makes listening to spoken voice record poor: it produces a noticeable high treble hiss because the highs are a bit sharp.
However, I would not recommend you listen to high volumes with these earbuds.
The voice-over microphone seems cool and satisfactory. Due to the built-in Bluetooth 4.1, the earbuds cover beyond the range of 30 feet and I do not experience any disconnects, dropouts or digital jitter.
Pros
Great, professional-looking design.
Good sound quality, significantly better than expected.
Comfortable to rest with.
Sweat and dust-proof.
Cons
I have some doubt that these earbuds are durable enough, but reviews from other customers do not show any signs of a real problem.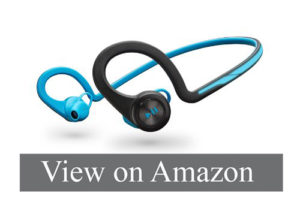 Be it day or night, in the rain or in hot weather, at the gym or in the outdoors, walking, running or any form of exercise, I would strongly recommend Plantronics Backbeat Fit wireless gym headphones.
These earbuds are constructed with a flexible design and remain stable in the ear throughout all levels of exercise. So, whatever your workout, these flexible, sweat-proof earbuds keep pace with you.
What Is in the Box?
The box includes the Plantronics Backbeat earbuds, a smart armband, a micro USB charging cable and a quick start guide.
Durability
These headphones are designed with an invisible nano-coating technology to protect the earbuds against water and sweat during running and workouts. They have an IP57 rating to withstand fresh water up to one meter for 30 minutes, and also protect from moisture during runs and splashes of juices in the gym.
The flexible Backbeat Fit folds up for easy storage into the included neoprene carrying case, which can be turned inside out to comfortably secure a smartphone in the form of an armband.
It also has a built-in automated deep sleep power-saving hibernation mode that kicks in whenever the headphones are out of range from a phone or tablet. This helps to save battery that can last more than 8 hours of play time when fully charged and up to 14 days of standby time.
Comfort of Use
Fitting the headphones can be a bit tricky sometimes. This is not a problem in the case of the Backbeat Fit: they have a 40-degree axial range which fits in perfectly for a user whose ears are not close to his or her head.
Anybody can wear these for several hours with no discomfort.Even while jumping or bouncing on a treadmill, the over-the-ear supports and canal wire do help keep the headphones secure.
The earbuds also have a bright reflective color to add a measure of safety when out for a nighttime or early morning jog or walk.
Battery levels automatically display on the screen of the connected device. I tried this on my iPhone 6S Plus, but Android phones and tablets should support this feature, too.
A good word should be said about easily accessible and lightweight on-ear controls. These controls manage both music and calls. I found the microphone sound quality during calls totally fine.
Sound Quality
The sound quality is pretty good: the lows and mids are smooth with high highs, but you still can clearly enjoy your music.
Because these earbuds are safety-oriented, the design lacks a tight ear seal, which allows you to listen to your surroundings in case there is a car approaching during your outdoor walk, or even if you just want to listen to instructions in the gym clearly.
The call quality is excellent – I have already mentioned this above.
Pros
Armband included.
Durable and have strong water-resistant feature
Excellent battery life
Built-in automated deep sleep power-saving hibernation mode
Cons
They do not totally cancel out loud noise. I mentioned this above as a useful safety feature for street running/cycling but some people may find it annoying for everyday use.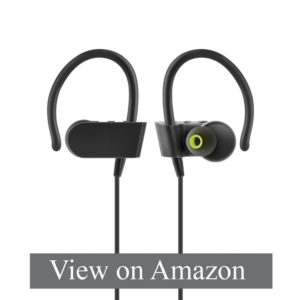 If you are looking for good wireless headphones designed to dispel the most common issues, built with flexible stabilizing ear hooks that will provide you with great sound, have great durability and can be adjusted to fit you comfortably and securely through everyday routines, I would strongly recommend you go for the Photive PH-BTE70 earbuds.
What Is in the Box?
The box contains the PH-BTE70 wireless buds, three pairs of ear tips of varying sizes (S/M/L), a carrying pouch, a USB charging cable, and a warranty.
Durability
PH-BTE70 rank among the best wireless earbuds when it comes to durability. A thin layer of Liquipel protects these earbuds from moisture and sweat. This substance helps to repel liquid while maintaining the compact form-factor of the earbuds, so you shouldn't have any worries participating inactivities that brings about a break of sweat.
PH-BTE70 are safe from spills (accidental or not), splashes and all form of sweaty workouts. They have a long-lasting rechargeable battery: it charges quickly and has a playtime of not less than 7 hours.
Comfort of Use
These wireless earbuds have a built-in microphone and controls which allow you to access your music directly without reaching for a phone.
Appearance is a quite subjective and controversial topiс, but I would note that these have a simple, functional, user-friendly and minimalistic design.
During tests, it was so easy to listen to music, change the volume or tracks, and reject, answer or end calls! These earbuds are designed specifically to stay put during physical activities thanks to the uniquely-designed ear hooks which are flexible and stay firmly anchored to your ear. These ear hooks can be twisted, bent or slided down to fit in tight to an ear, which makes it so suiting and perfect for use – you do not have to readjust them endlessly as for many other models.
Running in heavy rain or sweating in hot weather causes no problem at all, and the sound quality remains the same. It also comes with Bluetooth 4.0 software which enhance its connectivity, so I don't get stuck carrying around my phone most times and can cover the range of 35 feet (more than 10 meters), or even more sometimes.
Sound Quality
Photive PH-BTE70 delivers astonishing acoustics with deep bass. Listening to music with PH-BTE70 comes in a unique way that sends out a kind of spacious presentation of sound that makes you feel like you are sitting in the center of a large concert hall, clearly hearing all instruments as they harmonically contribute to an appealing high, mid and low frequencies mix.
Although the voice quality over the microphone was not the best, I still was able to enjoy my music and I did not have any issues during calls.
Pros
Amazing fit and comfort
Easy to use buttons
Ear hooks work perfectly
Good water protection
Cons
Voice quality over the microphone is not the best.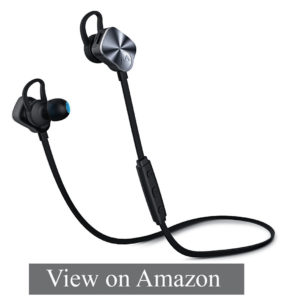 Mpow Wolverine headphones are one of the best, if not the best headphones you can get at such a price range. Why? They come with the new Bluetooth 4.1 stable signal, which has a security encryption and faster pair speed. So, if you are looking for wireless earbuds that can give you an all-day active lifestyle at a lower cost, I would recommend checking out Mpow Wolverine.
What Is in the Box?
Along with the Mpow Wolverine headphones, the box contains a micro USB charging cable, sets of earbuds in different sizes, sets of ear hooks in different sizes, and a user manual.
Durability
In terms of durability, these earbuds have no major shortcomings—it is definitely worth the investment. With the ingot silvered case and a CD-striped reflect, it looks dashing in the ear and the design looks cool.
The earbud is made of a rubberized plastic with a vinyl-like finish, flexible wire and is ultra-lightweight, providing a long-lasting comfort. They have the ability to repel sweat, though they are not waterproof. These earbuds have a playtime of an average of 8 hours when fully charged and a charging time of 2 hours.
Comfort
As said above, Mpow Wolverine headphones are Bluetooth headphones that allow you to deal with no cables. The headphones also fit correctly in my ears while using the correct earbud and ear hook size.
Both in-ears speakers are connected with a flexible wire that goes around the back of the head while walking, jogging or working out. No matter what the activity, the headphones stay fit without falling off. The innovative patent ear fins help lock them in the ears even when you dance –they will not become loose and their ultra light weight causes no burden to your ears, thus providing a lasting comfort.
They feature an easy to use control box, have three nice and tactile buttons which allow you to skip tracks, answer calls and have a mute function. The headphones also have a built-in microphone so you can use them for hands-free calling, which actually works well. They have a faster transmission and a great pair speed and cover a range of about 20 feet.
I did not have an issue with pairing these at all, even as a first-time user.
Sound Quality
These are definitely one of the better-sounding Bluetooth headsets for their price range. The call quality was great even when making calls during my early morning jogging. It is interesting that most of my callers did not notice I was actually on a walk.
The sound is crisp and clear, with no distortions at the greatest volume and with a decent amount of bass. It gives me a good listening experience; once the music is on, I am completely in the world of music.
I would say the sound quality is cool and dynamic. It also features a CVC6.0 digital noise reduction tech.
Pros
Features a mute function.
Ultra-lightweight.
CVC6.0 digital noise reduction tech.
Great call quality
Cons
They seem a little bit fragile but it is just a gut feeling.
Conclusion
Mpow Wolverine earbuds may not be the best gym headphones all in all but they are absolutely unbeatable if you are pressed for money at the moment.
How to Choose the Best Headphones For Working Out
There are several common questions people always ask when looking for workout headphones:
Is it true that workout headphones are different in any way from "normal" headphones?
Are earbuds (in-ear headphones) better for working out than on-ear or over-the-ear headphones?
Are wireless (Bluetooth) headphones better for working out than wired?
What is the difference between sweatproof and waterproof headphones?
I will try to cover this topic to give you comprehensive answers to all these and some other questions.
Are Workout Headphones Different from "Normal" Headphones?
The short and simple answer is "yes, they are." You can use your favorite headphones and still be able to go to the gym listening to your favorite songs, e-books or podcasts. However, if you want to be serious about your training sessions and avoid any issues, I would recommend using headphones that are specifically designed for sports activities.
So, why would you need these?
You are active, jumping, or raising your hands.
You often need to be far away from your phone for some time.
There is plenty of special training equipment involved.
You can easily damage your headphones by sweat.
There is a lot of noisy people around and they are not supposed to distract you.
Etc.
Are Earbuds Better for Working Out than Over-The-Ear Headphones?
Yes, they are, and I will try to explain why special workout earbuds are the best in this situation. You still can use on-ear or over-the-ear headphones, but be aware of all pros and cons.
The main disadvantages of over-the-ear headphones for working out are:
They are bigger. Mobility is quite important in the gym, and popular over-the-ear headphones are just not compact enough for this.
They are much heavier, which may become distracting or stressful if you have focus on making the right movements.
Hard workouts cause sweat and heat, and over-the-ear headphones make these problems even worse.
Headbands of cheap headphones get your skin itchy after 30-45 minutes of use.
Over-the-ear headphones are usually more expensive, and I am not sure you want to get sweat and dirt on your top-notch headphones every time.
On the other hand, earbuds are compact, portable, lightweight, and less expensive. All modern models are sweatproof and have rather good sound quality.
The bottom line: you need in-ear headphones for working out. Over-the-ear headphones are still an option but it's going to be tougher and much less convenient.
Wireless Headphones Vs. Wired Headphones For Working Out
This is, maybe, the most important criterion: the best workout headphones must be wireless.
Why? There are just several simple reasons:
Pros
Bluetooth headphones are just more convenient to use. You can wear them in-ear or over-the-ear. You can also use your hands freely without the risk of dropping your headphones out.
Wireless earbuds usually do not get tangled because they have no long wires. I cannot even imagine how many people every day swear or use the Lord's name in vain trying to untangle their randomly tangled mess of cords, keys, and ear buds. Not for me anymore, guys.
Bluetooth earbuds for working out are designed to weigh much less than any corded models. I am a big fan of weightlifting myself and must say from my own experience that each gram makes a huge difference during long and exhausting workouts. In my opinion, you need your priceless energy for more meaningful things than wearing heavy headphones.
So…? Are there any drawbacks? Yes, there are some things which numerous haters of wireless headphones mention all the time and which we are about to discuss.
Cons:
Bluetooth headphones are usually worse in terms of sound quality than wired—at least they used to be. However, modern AptX technology became a game-changer over the last several years and now you can get premium sound quality even without a cord. You can find a full list of devices which support AptX technology here. I dare say that If you are a not a famous music critic you will not catch this difference at all.
You are not able to go far away from your phone or MP3 player. Bluetooth range becomes important and worth mentioning only if you have to go more than 30-35 feet from your device. I do not think you will need more than that range of a distance in your gym during a normal workout.
Wireless headphones used to be much more expensive. The price problem almost disappeared during the last several years. Now you have a wide range of great and really affordable Bluetooth earbuds made specifically for working out, running and other similar activities. Their price is still higher in terms of the same level of sound quality but Bluetooth earbuds are much more comfortable for an active lifestyle. You may end up having to decide between incredible bass quality or true convenience while running, jumping, cycling or working out.
The battery life of old Bluetooth headphones were absolutely pathetic. After the release of Bluetooth 4.0, this problem completely disappeared. Normally, you are now only going to charge your headphones about once a week.
The truth is that in the course of time the real reasons not to buy wireless headphones for working out become more and more flimsy.
Why Should Workout Headphones Be Durable?
Headphones for working out should be solid and durable no matter what. Sometimes you need to use them in terms of conditions which are far from ideal or even normal.
Sweat and a high risk of mechanical damage, in particular, are the main rivals of gym headphones.
If you use your headphones for listening to music lying on your couch, their durability is just a nice bonus. If you like long workout sessions, however, the durability of your workout earbuds becomes more important than many other things.
Why Do You Need Sweatproof Headphones for Working Out?
If you're trying hard in the gym, you will get sweaty. If you're not working hard in the gym, you should lay down on the sofa and send your gym card back. That's clear and I do not want to explain why you cannot protect your headphones for working out from sweat.
However, there are several useful tips you need to know regarding sweating in the gym with headphones on:
Do not buy too expensive of a pair of headphones/earbuds for working out. There is something weird in using high-end headphones with sweaty ear pads. Usually, people buy such models for the best sound quality. However, I doubt you can get such a quality from sweaty ear tips and a wet microphone. The best sweatproof earbuds are going to give you a decent quality of sound without muffling. However, do not expect something special.
Over-the-ear headphones become hot and cause sweat much easier than in-ear headphones.
Sweatproof does not mean waterproof. Do not take a shower after a workout and continue having your earbuds on. If you want to do this you'd better buy some waterproof MP3 players or waterproof headphones.
Do I Need Noise Cancelling Headphones for Working Out?
No, usually you do not.
I am not going to explain the complicated difference between noise canceling and noise isolation in this short intro to the world of sports earbuds. You just need to know that the standards of noise isolation are much higher for any earbuds marked "for sports", "for running", etc.
Real noise canceling earbuds are pretty expensive and totally worth their price but the majority of normal people do not need them.
There is one more important thing worth mentioning:your workout sessions usually take place in real-world conditions where you might get hurt if you miss important sounds or warning from another person.
So, I would not recommend using noise canceling headphones for working out just because it is too dangerous.
Noise isolation is ok and good noise isolating earbuds help you avoid unnecessary noise pollution–they are more than enough for the majority of people.If you still want to know all of the advantages of total noise cancellation, you can check out my review of the best noise cancelling headphones.