(Last Updated On: December 21, 2017)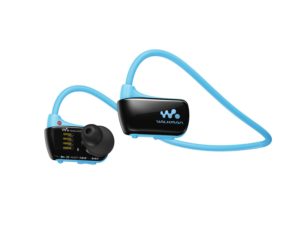 What are the best waterproof headphones?
What is the difference between waterproof and water-resistant headphones?
What does "water-resistant" mean in terms of headphones and MP3 players? Are MP3 players better for swimming than waterproof headphones?

Why does a phrase like "waterproof Bluetooth headphones" mean nothing? What is an IP rating? How deep can you dive with your waterproof headphones on?
You can find detailed answers to all these and other questions below.
Top 5 Best Waterproof MP3 Players & Headphones: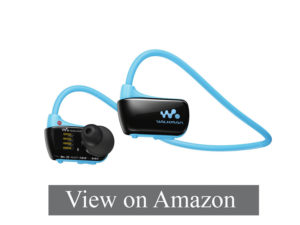 When I got injured from cycling, swimming was the best way to stay in shape. Unfortunately, I would get really bored and not swim for as long as I wanted to because it's really mentally draining. But once I got this product it changed my life! I can swim for longer than I could have ever done before.
By the way, this review is not sponsored in any way. 🙂 I just wanted to give you my honest opinion of this product because it's really improved my life and I just want to share it with you.
Features
What I really like about this product is that it has no wires. You can go completely hands-free without it distracting you any way, like getting tangled or something.
This product also comes in other colors like black, blue, and white. I chose white and pink because I want to stand out and look really cool among all the random strangers in the pool.Just in case it gets lost underwater and it's not blue I can easily see it. I like feeling cool. 🙂
You can use these headphones for more than just swimming: it can also work for running, jogging, hacking, sailing, tether boarding, biking, cycling, trekking, and climbing because they stay really snug in your ears.
The built-in MP3 player can hold up to 900 songs, so it's sure to keep you entertained for a very long time. This product also contains up to 8 hours of music on a full charge. With just 3 minutes of charge, however, it can already play 60 minutes. Just in case you have to plug it in the night before you go swimming, you won't be sad the next day.
Also, be careful not to turn the volume on too high, just like when you listen to regular headphones. I did that one time, and when I got out of the pool my ears were kind of numb and I don't think my cochlear was very happy with me. So please be nice to your cochlear by not turning it on too high.
This product is only one size fits all because it comes with a little band that you can adjust to fit the shape of your head.
The headphones come with 4 different sizes of waterproof earbuds and 4 different sizes of nonwaterproof ear buds.
Some of the features of this product include a port where you can remove and adjust the size of your ear buds, a charging port, and a music transfer piece you connect to a separate device which you connect to the computer to charge and transfer music.
Several buttons include the lock, power, the lock helps it stay in power so it doesn't power off when you swim. Play, pause, repeat and the other side has the shuffle and volume changing button.
So another piece that this MP3 player comes with is a little charging and music transfer piece, which you connect to the USB port of your computer. It has a port where you can plug in your device.
Downloading songs on here was really easy because when I first got it, it arrived at my door from Amazon. I was really excited so I opened it up and started downloading right away. It took me less than 30 minutes.
This nice little device is compatible with both Mac and Windows. If you go on the website it will show you a list of all the operating systems compatible with it.
The first time you connect to the computer it might take a little while. But once the computer recognizes it, the computer will give you a little pop-up to download Meda Go. You just download it, install it, and follow the steps. It's really easy. You just click forward and accept the terms. After that, there are two windows. One with iTunes, and another with Media Go. Just drag and drop your music individually.
The second time I used it, I had problems connecting to the charger, so I took a wet toothbrush and cleaned up the dust on it. Use a giant toothbrush. Don't ever use water. This device is not waterproof. After doing that, it connected fine.
I'll tell you a little about how to put it on with the swim cap. It was a little confusing for me at first and it is still a bit confusing.
So what you want is the word Sony facing right side up. You want to have the wire loop around your ear on the top and do the same thing on the other side. You can adjust the angle of the device to fit in your ear. Just make sure it's really tight because if water gets in your sound quality will become really muffled and no one likes that.
And just to make sure it doesn't come off my ear during swimming I like to tuck it under my swim cap. Just the first part of the wire when it comes out so it stays snug. I have been using it for about a week and I haven't had the wire come out so it stays in pretty well.
When I put my goggles on, I like to put the straps over the wire and over the swim caps so it's extra secure. That would be really annoying if I had to stop in the middle of a swim and let people pass me. Just in case you do get water, which happens to me sometimes, I like to knock it against my fist. This helps get water drops out sometimes, and then I'm happy again.
So the first time I put them on, I felt like the coolest person at the pool with my cool little gadgets. I ended up swimming for 90 minutes. Before, I was never able to swim for that long because I would just get bored. This really helped me improve my endurance.
The first time I was using it I only had to adjust it once because someone collided with me. It stays in pretty secure. I'm really happy with it.
Sometimes when I do freestyle my arm will accidentally hit this thing, which makes me stop and fix it. This makes me feel sad. I kind of wish this thing was smaller, but these ear pieces stay really well as long as you don't touch it, or unless somebody hits you or you hit something.
I would also like to add this product is completely waterproof and you can submerge it up to 6 feet. You can wash it all you want. You can rinse all the water everywhere. It won't break anywhere in my experience. To clean it you can run it under water.
Don't use salt water and make sure you have a lifeguard because when you listen to music you're not fully aware of your surroundings. Use these in a public place, not in a lake. Not in salt water because it will be corrosive. You can also clean it by removing the ear buds and washing them under warm water.
Here we are with a waterproof neckband MP3 player from PyleAudio. I have already had a chance to try Pyle Bluetooth headphones, but this is the first MP3 player from them. It retails for about 150 dollars and comes in several different colors. I have had the white one for review.
What is in the box?
Let's first look at the packaging.
This, of course, is a neckband MP3 player. It has a built-in along the side.
There is a USB cable so that you can sync it with your computer and download your music.
There are also two different types of earbuds:
the ones that come for swimming in the water;
the ones for running, jogging, at the gym, etc.
Let's check this neckband MP3 player. It's really waterproof and it's actually a really cool device.
First, you need to charge it using the USB cable.
When you're done, you have to make sure that the plug is really tight, so no water gets in.
And pass that, everything's pretty simple. To turn it on and off you just need to hold down the biggest button, and it'll show green. When the battery is about to die it will blink green.
I've experienced around 7 to 8 hours of listening time, which is pretty good. It's not great, but it really depends on how much you use it. If you only go to the gym 3-4 times a week for a couple of hours at a time, you'll get a week or so of one charge. It really isn't that bad at all.
There is also a pair of volume buttons, a 'play/pause' button, and 'track up and down' buttons.
You wear them around your ear. It has a really good suction and a really good hold, so that when you're running and/or swimming, these won't come off.
I took this to the gym a couple of times. It's really good, and these are basically cordless, so there's nothing in front of you. If you're lifting or doing anything like that, there aren't any cables to worry about swinging while running or swimming.
These are 100% waterproof. These can be completely submerged. You don't need to worry about them. They're really light. You don't even feel like anything's on.
Sound Quality
So, now let's talk about the most important part here. It is the sound quality because it doesn't matter if something's waterproof if the music you're listening to is terrible. But I'll be honest, these are a great pairing.
These are a great sounding pair of headphones. Pyle Audio make a lot of different headphones with good sound quality, and Pyle waterproof headphones are well known for a really strong background in music.
I'm not going to lie to you and say that the bass is head bumping. This isn't a type of headphones to use for just sitting in your room and listening to music.
This is the type that you use to get those highs and lows, and that you're going to be able to run and stay active with. These are going to pump you up. These things get really loud. You can drown all the music around you and just run, pump up. These are really good for staying active. And you can drop these, they're really light and they're really durable. Everything else is pretty self-explanatory.
There is a thing that you do need to go through when you are downloading music (I'm not exactly sure how well versed you are in the different types of files; I will just do a little brief lesson here).There's a lot of different music files, there's an MP3 file and MP4. There are dozens of different types. Most music on iTunes is going to be in the ".MP3" file, which is what this will hold. You can just drag-and-drop them.
But some of the newer music and some other newer files you can download are in M4A, which is a little bit faster to download. I'm not going to go too far into that, but you just need to make sure that any file you have is in ".MP3".
You can go to a lot of different file conversion sites for free. You can also do a mass converting if you have a lot of MP4 files or M4A, and you can get them into an MP3 file, which is what this player needs.
Conclusion
Pyle headphones are well-known for their good sound quality and durability. This waterproof MP3 player from them did not disappoint me and I can highly recommend it for any person who wants to listen to quality audio underwater.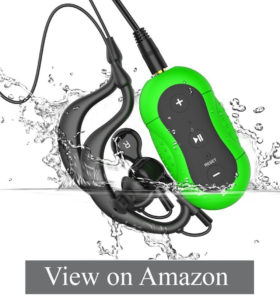 This is a waterproof IPX8 certified MP3 Player with 4GB of built-in flash storage which allows you to go for a dive with this product. Perhaps you want to use this at the beach, or if you're a serious swimmer and still listen to your tracks while you are outperforming in that sport.
It features a pretty nice design and comes in different color variations from black to blue to green, so you can choose your favorite. It also comes pretty affordable at a street price of about $40.00.
So, it's a pretty good value again. If you don't want to take your smartphone swimming with the protective case, it's a great option to go. It's cheap, it's dispensable, and it offers a pretty good clip design, so it's easy to take around with you on a pair of goggles or on a swimming cap.
What is in the box?
Taking a closer look at the specific design, it has a soft touch material that is quite waterproof, and the front only features three controls. There is no LCD screen on this unit, although you won't really need one because you're just navigating the product through the volume and track changing keys, which are essentially all you really need.
There's a LED indicator on the front to tell you when the product is charging via the lithium ion battery, up and down volume keys, and a play and pause key.
The keys themselves offer a nice definition and are quite high above the surface, although they provide a fair amount of resistance to be pressed, so they do take a little bit of pressure to be pressed. They are not the easiest to navigate if you don't have heavy fingers, although the sides of the product are pretty easy to grip.
The back of the product features this clip that's pretty well crafted. You don't feel like it's going to break if you use it on a regular basis, and of course, you also have the 4GB LOGO.
The top of the product only features the 3.5MM headphone jack, which also dubs as a port where you charge the MP3 player. This reduces the number of open ports in case you drop this thing into water, so it's not going to break.
So taking a look at some other accessories, including the packaging, again we have the USB charger and syncing cable; it plugs again over the 3.5MM headphone jack to initiate the file transfers and the charging.
Charging the product takes about two hours to complete. We found that the battery life is pretty decent in terms of playing back music as far as lasting us through the day. It also worked fine when we took it for a swim and went to the gym.
You also have access to a pair of headsets. That is designed by Aerb to also be waterproof. The plug itself plugs into a gold plated connection that's pretty tight. It offers a nice, decent cord length that also allows you to extend it in case you need to have a longer pair of headsets.
More importantly, you have access to these entirely sealed earbuds that offer better water¬ resistance. So if you use these earbuds, they won't break.
You can still, of course, use your own pair of earbuds if you aren't planning on swimming. But if you are planning on swimming, your better option for getting a pair of waterproof earbuds are more limited, and chances are you'll have to use one of these.
Sound quality is okay. They're not the best, but they do the job again because you're just going to playback some basic music when you're swimming.
The quality and the performance of the Aerb waterproof MP3 player is also quite good as well. When the device is turned on, there is a green LED indicator that will tell you so, and when the product is actually charging and syncing, it's going to flash with an orange LED when connected to the computer.
The control set is actually pretty simple to use. When you're trying to skip tracks, however, what you actually do is use the plus and minus buttons. As you will notice, there aren't any dedicated skip track keys. To change the volume settings, you basically long press for a few seconds and then release it to change the volume.
If you press once on the up and down keys instead of perhaps being able to change the volume, you'll be accidentally skipping your tracks. You can see here as well that the device also comes with a reverse battery, so the device will actually power off after 30 seconds of inactivity to save battery life. Battery life is very strong and lasted us about 2 weeks before we had to recharge it, which is definitely great.
Sound Quality
The sound quality here is actually quite good, and the device itself actually does a pretty good job at playing back audio. The audio also fades slowly in and out whenever you press on the play and pause key, which is pretty nice.
Compared to some more expensive MP3 players, I have to say the audio quality is again, pretty impressive. It's not the best in terms of fidelity and audio reproduction but at the same time it does a great job of producing some pretty good three-dimensional sounds.
Most importantly, the volume on this thing is very, very loud; you can actually get the volume quite loud. This is important because if you're swimming and engaging in an active sport you have to be able to hear what's going on behind the background noise, and this does a pretty good job at doing it.
Otherwise, it's rugged and the clip feels pretty sturdy and strong. We've tested it out and hadn't had any issues. We also dumped this thing into the water and it still survived.
Pretty much what you might expect from an MP3 player. Again, pretty impressive as far as the audio sound is considered, and equally as good as more expensive ones as well. It also does a good job of recognizing file formats – from WMA to MP3 formats– and you won't really have any issues with playing back music, putting it in, and having the device recognize it.
I would have to say that the bundled headsets are also quite nice, despite the fact that they aren't really replaceable because they are waterproof. If you plan on swimming, you are stuck with the pair that's included here. But, they have a nice fit in terms of the ear canals and they do stick on pretty well and it's a pretty comfortable fit; and they definitely seal off the water.
One thing I would have liked to see, however, is the cord to be a little bit longer. It's not that huge of a loss though, considering most people will be clipping it onto their goggles or on their swimming caps, so the cord doesn't have to be super long just to accommodate for that.
The Aerb waterproof 4GB MP3 player offers most folks ample storage for their songs for a quick workout and also for a quick swim, so it's a great sport MP3 player with a very rugged functionality and simple to use controls. Audio quality externally is very solid, the battery life is strong, and overall it's a well-designed product from the manufacturer.
Best Waterproof Headphones Reviewed
What is in the box?
First of all, you have headphones, a user manual, a carrying case and a micro USB charging cable. To get them charged you need to plug this cable into your computer, or plug it into your portable battery charger, or just use your phone charger depending on what phone you have.
It comes with some extra ear clips and different sized earbuds, because everybody has different sized ears. You don't need these ear clips if you don't want them.
Now let's take a look at the actual headphones. They are super lightweight for just $29 bucks: 0.6 oz (about 20 grams).
Remember that – $29 bucks. Is this so important? Yes, you can leave these earbuds in the locker before your workout, leave them in your car, leave them at work. If somebody steals them – who cares? They cost just $29 bucks.
Alright, now let's take a look at the buttons. You have an on and off switch, and a flap nearby. These headphones are waterproof so you need to have a waterproof flap. This flap covers the micro USB charging cable. Make sure this is covered back up though if you want to use the waterproof function.
Keep in mind you can make phone calls with these as well. A call button also serves as a play/pause switch. You also have a skip and forward button too.
There is a little NFC logo on the back side and it's flashing red and blue when it's in pairing mode. The light stops flashing once you're connected.
Sound Quality
These actually sound really good and have a really cool bass. Some people ask me why I always talk about bass. Well, the thing about it is I like hip-hop music. I like bass heavy music, and what you're going to look for in headphones depends on what kind of music you like.
Personally, when I'm looking for workout headphones, I want headphones that are loud and have a lot of the bass. This is because a lot of the times when you go to the gym they're going to be playing music in the gym already.So if you've got some cheap headphones, or some headphones that don't sound that good, you're not going to be hearing your music. You're going to be hearing the music from the gym.
So if you've got some cheap headphones, or some headphones that don't sound that good, you're not going to be hearing your music. You're going to be hearing the music from the gym.
I don't know about you but when I'm benching that 450 pounds, I need to have my workout music. I don't want to hear some Iggy or something in the background while I'm trying to listen to some Mobb Deep. I don't want to do it like that or vice versa.
If I'm up in the gym and I'm trying to relax and have a nice smooth work out while listening to some R&B music, I don't want to hear a young thug playing in my ear. That's why I like the heavy bass songs.
I'm thoroughly impressed, and for just $29, these sound very good. I'm definitely going to be wearing these in the gym, especially on days that I forget to charge up my Beats or I forget to charge up my Jaybirds.These are nice headphones to have on deck because the last thing you want to do is get to the gym and you forgot your headphones.
These are nice headphones to have on deck because the last thing you want to do is get to the gym and you forgot your headphones.
Bluetooth Range
The Bluetooth range is about 33 feet (10 meters), which is pretty normal for even much more expensive earbuds.
Are They Really Waterproof?
These earbuds have an IPX4 rating which means they are protected against splashing water from any angle but they are not supposed to work underwater.
Why? Bluetooth signal becomes very weak underwater and that's not a feature of this particular model. All so-called "Bluetooth waterproof headphones" do not work underwater. You can take a shower with them on, and even a hard rain is not a problem. You can even swim without a deep immersion and they are still going to be working.
Anyway, these headphones were supposed to be "waterproof" so I had a little waterproof test, just to be sure all the ports are closed. This could have been $29 down the drain. 🙂
I submerged them in water using a big glass, left them in water for a minute, then took them out, and the music was still playing. I also checked if they still sounded loud or if the water muffled out the sounds. It still sounded the same.
I usually don't recommend going swimming or going underwater with any electronic product but if I'm riding my bike and I get caught in the rain, I just want to be sure that they're not going to get damaged.
The bottom line: they are waterproof and you definitely can swim with them on, but they are not supposed to work underwater because of restrictions of Bluetooth technology. If you want something which works underwater buy any waterproof MP3 player with a 7-8 IPX rating.
Conclusion
Most of the time you get something cheap and you expect it to be cheap. If it's not cheap then you feel like it's a great deal. But these right here are for $29 bucks.
That just goes to show a lot of the times everything isn't always about the price. If you've been reading my reviews for some time you know I review stuff that cost thousands of dollars and I review stuff that costs $10-15. Sometimes it does matter but sometimes it doesn't. Everything isn't always about the price.
Right now I would put these right next to my Jaybirds and my Beats headphones. These are going to be next in the line. For $29 this is a win and they are perfect for a gift. I might have given these away if they would sound like trash, but on a scale of one to ten, these are certified win.
I charged these up but I'm still going to use my Beats, I'm still going to use my Ludacris, my Jaybirds, and all that other stuff. But these are always going to be charged up and left in the car, or if I know for sure I'm going to be riding in at night.
I like to go bike riding in the middle of the night, and if I know that there's going to be a chance of rain, or even if it's raining sometimes I just ride out in the rain.
Waterproof earbuds can defend you from splashing water and I think that's more than enough for the majority of people.
For big pools, wide rivers/lakes/ocean I would definitely prefer a waterproof MP3 player (they are just a little bit more comfortable and work underwater) but in terms of the price you are not going to find a good waterproof MP3 player for such a low price.
Pros
Waterproof (up to 12 feet)
Super lightweight.
Built-in NFC and AptX.
Great sound with a lot of the bass.
Perfect for gym and bike riding.
Cons
Usually, I do not criticize something when it costs just $29. If these were $75 or $175, I would have expected a little bit more from the build quality. But the sound is a $100 sound. This is definitely a $100-150 sound in a $29 package right here.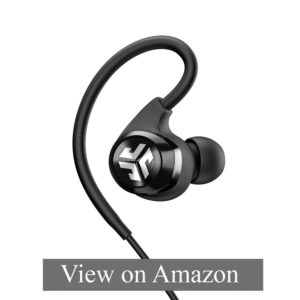 What is in the Box?
They do come you know with basically a nice little pouch. You can put your headphones in there and all your parts and bits if you want to. You can put all that in there if you want to but this is designed to hold your phone.
It's got a little clip. The problem is my iPhone 6-plus doesn't fit in it, so for me, it's just a little pouch I can use.
Inside the box, you have a bunch of these guys here. Little ear bud adapters to get them to fit right. We'll get into that in a bit and of course, your USB cable which is a standard USB cable.
Let's just quickly take a look at the headphones. They're pretty nice. You do have this little remote. Your essentials, you have your power on, a talk button, volume up, down the advance, fast-forward, and reverse. That type of thing, right. Advance and forward. Here are the actual headphones themselves.
Let's talk a little bit about what JLab basically offers in these headphones. One of the cool things is one of the longest battery lives out of their industry-standard. If you compare them to other products, like Jabra's similar type of earbud set-ups, 10 hours of battery life. That compared to the Jabra System here is 3.5. I found every couple of workouts I had to charge these ones.
In terms of battery life, I can pretty much go all week with this. I work out six days a week, but I don't always use them each workout. If I'm working out with somebody else, I don't necessarily wear them. It's kind of rude if I'm doing a crossfit workout and they've got music pumping there.
I don't wear them, except when I do my isolation, my home workouts, and when I go to the gym. So I'm using five, six times a week for at least an hour easily. At the end of the week by charging I'm good to go.
I could probably get about seven or eight workouts with these guys. So for me, I have them pretty loud and I'm getting about 7-8 hours. With lower volumes, you for sure would get 10 hours. Just depends on how loud you want them.
Alright, memory wire ergonomics. There's a little wire, the kind of which wraps around your ear, and this wire you can adjust. This sort of memories where it goes.
Does this help with how it fits in your ear? It keeps the earbud in your ear. It's not going to fall off and hang down. They're not going to fall off your ear because you can adjust these wires to accommodate your ear. But do they help it actually help to keep the headphones to stay in your ear? I don't find that they do as much.
More importantly, what helps the earbuds stay in your ears are the size of the earbuds you put on. You have to play around with those earbuds and get those earbuds to fit snug. Because if they don't fit snug they're going to kind of back out of your ear a little bit.
These memory wires, at least for me, didn't necessarily help keep them in the ear channel. The fact with these earbuds is that if they don't sit in the ear properly, then they're not going to sound nearly as good, and they're not going to isolate the noise as well.
These guys are lightweight, sweat proof design. They are super light, I have to give them that. They're really quite light. When they're on you don't feel too much at all. They're very comfortable to wear for sure. They're not tiring to wear at all.
In terms of sweat proof, well, I have only been using them for a couple weeks but I can say I haven't had any problems. I don't suppose I am going to.
They do you have the IPX 4 rating so you should be fine for sports activities. Don't swim with them or anything like that.
They have something called C3 crystal clear clarity technology, and it delivers a clean crisp immersive surround sound that boosts fibrin highs, mids, and pumping bass through pristine high-performance. The 8mm driver is important because what these guys do offer is really fantastic sound. The 8mm drivers are pretty much some of the biggest drivers you're going to find in a pair of earbuds, especially wireless earbuds like this.
They do sound really good. The bass is really awesome. As long as they're in your ear fitting properly they will sound amazing. As soon as they back out a little bit. For me, it took a bit. It took me about 3 to 4 workouts to really find the angle for them, the ear bud size to get them to sit in my ear without coming out.
Even so, they still will occasionally back out a little bit where I have to readjust them. That said, the best I can do is I'll have to adjust them periodically just to make sure they're seated in my ear. But it's not that often and it's not like they're just popping out of my ears all the time. They slowly work their way out, then a little adjustment and we're good to go.
There is a couple of things about the packaging. There's six of the earbud size tips, smart case, cable, and that's pretty much it. I mean, in terms of Bluetooth connectivity, I find with my iPhone 6-plus and all the Bluetooth stuff I got going on I'm using a Garmin heart rate monitor and I'm wearing a Garmin fitness band.
I've got other Bluetooth stuff it's probably looking for all the time and so whether I'm using these guys or my Jabra's periodically I'll get some weird stuttering. It will happen for about 30 to 40 seconds where my music is freaking out on me and then everything clears up. I imagine some Bluetooth activity is happening. Perhaps my Garmin app is trying to pair with my heart rate monitor or something in my heart rate band. I don't know.
But something is going on that interferes with the Bluetooth signal. When everything is good to go I found that these have great range. I can walk, I can have the actual iPhone in the gym, or I can walk around my house pretty much anywhere almost and still get practically full connection with Bluetooth. So the Bluetooth signal is pretty strong in them.
Again, lots of battery life so that's always important with wireless headphones. In terms of how they operate Bluetooth wise, you've got your power button which is your talk button. Your pause I think if you hold it differently sometimes you'll get a speaker. You know last call if you want to make a call with these little arrow buttons.
You've got basically next song, previous song, volume up, and volume down. Again, it depends on how long you hold the button for what it's going to do, but that's all in the manual. It's not rocket science.
If you've used wireless earbuds with controls then you know exactly what I'm talking about. Getting back to the sound and the fit, they do have the best sound I would say in class but the only problem I have with them is they do work their way out of my ear. I've tried all kinds of different positions, I've tried adjusting these little pieces differently, and I've tried using different ear buds.
But with my ears and with the setup that I have, this is the best I can do. They do back out just a little bit every once in a while. That's the only thing I don't like about them. The sound is absolutely phenomenal and the battery life is great. The price is right where you want it to be, a hundred bucks, for quality headphones. They're waterproof, all of that.
If I was going to buy one pair and I had $100-150 or whatever, you know these are a little cheaper, have extra battery life and better sound quality, so I would probably go to JLabs.
If I wanted comfort over sound quality and battery life than I would go with the Jabra's. But both of them are really quite good, you can't really go wrong with either one. Just so you know, this is the spark coach and I was mentioning that it does have basically a sort of fitness tracker that tracks motion, which isn't ideal for rates.
It's probably good for running, jogging, hiking, and all that kind of stuff. Not so good for weight lifting because it doesn't always know what you're doing. They also have one that does your heart rate which I thought was pretty cool. That one would be better for weightlifting because it's going off your heart rate, not your body movement.
Water-Resistant vs. Waterproof Headphones
The majority of people do not know the right answers to those tricky questions and a huge army of shameless marketers uses this ignorance for their selfish interests.
Let's go deep step by step. 🙂
What is the Difference Between Water-Resistant and Waterproof Headphones?
First of all, there are two simple definitions:
Water-resistant headphones and water-resistant MP3 players are devices which are able to resist the penetration of water to some degree but not entirely. Light rain or several drops of water from the pool are not going to do any harm to such headphones. You can take a shower, swim or even dive into shallow pool water with them on but should not check them too seriously.
Waterproof headphones and waterproof MP3 players are watertight, entirely hermetic. Such devices can be submerged under the water for long periods of time completely and there will not be a single drop of water inside them afterward.
The bottom line: technically the majority of so-called "waterproof" headphones, MP3 players, and other gadgets are just water-resistant and NOT waterproof.
In fact, even if your waterproof headphones can withstand a certain degree of water ingress there is always a limit to how much water pressure they are able to handle before they start leaking.
Thus the term "waterproof" depreciated and you cannot rely on it anymore, even if it is a part of the name of the product, e.g. "X waterproof headphones for swimming". Most likely those "waterproof headphones" will be just water-resistant to some degree.
How can we know that our rather expensive swimming headphones will not die during the next deep dive? Well, now you need to know what an IPX Rating is and what all those IP65, IP66, IP68, IPX4 or IPX7 labels mean.
What are IP and IPX Ratings?
An IP rating, or Ingress Protection Rating, classifies the degrees of protection against both solids and liquids in electrical enclosures.
Usually, it is a two-digit number where the first figure identifies protection against solids and the second one identifies protection against liquids.
For example, IP68 means "complete protection against contact" for solids and "during immersion beyond 1m the equipment is hermetically sealed" for water or other liquids. IP68 swimming headphones do not exist but, for example, Samsung Galaxy S7 phone has been certified as an IP68 device.
The first figure is not important for us but we should know everything about the second one.
"X" in the "IPX Rating" in a case of waterproof headphones means that they have not been tested to protect against entry of solid objects, e.g. dust, but have passed some water protection tests.
Each pair of swimming headphones or earbuds for swimming can be certified with an IPX rating in terms of protection against water intrusion on a scale from one (1) to eight (8). The rule of thumb: the higher the IPX rating, the better the protection.
Waterproof headphones certified as 4-5 usually are good enough to swim with them on.
Normally just IPX 6-8 headphones for swimming can be considered "waterproof" taking into account everything said above.
IPX Rating Chart for Waterproof Headphones
You can find an IPX Rating chart with a detailed explanation of each figure below.
Important Warning: all specified data is approximate and you need to read and follow instructions provided by the manufacturer of waterproof heardphones or waterproof MP3 players.
| | |
| --- | --- |
| IPX Code | Water Resistance |
| 0 | No protection at all. |
| 1 | Protection from condensation or dripping water from above for at least 10 minutes. |
| 2 | Similar to the previous one but headphones are rotated during the test (at an angle up to 15 degrees). |
| 3 | Protection from a spray of water in any direction; headphones are rotated at an angle up to 60 degrees for at least 5 minutes. |
| 4 | Protection from a spray of water in all directions for at least 5 minutes. |
| 5 | Protection from a 6.3mm spray of water and splashes in all directions for at least 5 minutes. |
| 6 | Similar to the previous one but with a 12.5 mm spray of water for at least 3 minutes. |
| 7 | Protection from water submersion up to 3.2 ft (1m) for up to 30 minutes. |
| 8 | More than 3.2 ft and 30 min. Exact depth and time are specified by a manufacturer ("x m for up to x min"). |
What are the Best Bluetooth Waterproof Headphones?
Will the wireless Bluetooth headphones work underwater? No, they will not, and "Bluetooth waterproof headphones" in terms of underwater usage do not exist. Bluetooth does not work underwater.
Bluetooth is a 2.4GHz electromagnetic wave, a microwave per se. Microwaves are easily absorbed by water molecules and all radio signals from your device to your headphones are usually disrupted by water. That is the reason why you cannot use Wi-Fi, Bluetooth or take calls on your phone underwater. You can get a weak signal for some time but it is no way to keep it stable and get decent sound quality on your Bluetooth headphones.
So "Best Bluetooth Waterproof Headphones" or "Best Bluetooth Waterproof MP3 Player" are just marketing tricks.
The bottom line: you can use wireless Bluetooth headphones for swimming in the pool but you need to keep your head above water.
Waterproof Headphones vs. Waterproof MP3 Player: What to Choose?
When Is Waterproof MP3 Player Better? As I said above Bluetooth does not work underwater. If you are not going to dive deep you can still enjoy listening to music from your phone connected to your waterproof headphones. You still will be able to use Wi-Fi or take calls if your headphones for swimming have a microphone.
When Are Waterproof Headphones the Best Choice? However, if you plan to submerge your head underwater for a sufficient amount of time I would definitely recommend using of a waterproof MP3 player. Wi-Fi, Bluetooth, and other radio signals are going to be dead and you need to carry everything needed (music, podcasts, audiobooks, whatever) inside your device.
How to Use Waterproof Headphones and MP3 Players in the Right Way?
There are several simple tips you need to know about usage of waterproof headphones and MP3 players for swimming:
Keep in mind that all water leakage tests are performed in fresh water. Your swimming headphones are not supposed to block salt water by default unless the manufacturer supports this feature.
Taking a shower with IPX-rated headphones on is not recommended by the majority of manufacturers. You definitely can take a shower with headphones certified as IPX 4-5 but the warranty may not cover water damage in this case. IPX 6-8 headphones can be used for showering without almost any risk.
The standard tests take place at temperatures between 60 to 95 degrees Fahrenheit (15-35 Celsius). Any higher or lower temperatures can damage your waterproof headphones unless otherwise specified.
Waterproof headphones still have to be charged and usually have a special charging port with a plug or a flap to cover it while swimming. Do not forget to close it before a dive.