(Last Updated On: December 21, 2017)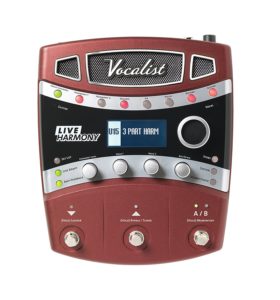 Vocal harmonizer pedals are so common in modern day music, it's tough to name a song that doesn't use one!
The best vocal harmonizer pedals can take your vocals to the next level regardless of if you're playing in a garage or on a stage in front of thousands.
They allow you to make small tweaks or completely transform your voice. Enjoy subtle reverb or changing your voice so much you sound like you're a member of Daft Punk.

Think of your own virtual team of sound engineers and backup singers packed into a small pedal. No longer do you need to fork out time and money on post processing when so much can be done in real-time.
If you're a solo artist who needs to enhance your voice or add backing vocals, a band who needs to get the instruments working in harmony with the vocals or, to put it bluntly, none of your band mates can really sing, then a vocal harmonizer pedal may be exactly what you need.
Luckily for you, we've done the heavy lifting and compiled a comprehensive list and review of the 5 best vocal harmonizer pedals on the market today!
Top 5 Best Vocal Harmonizer Pedals: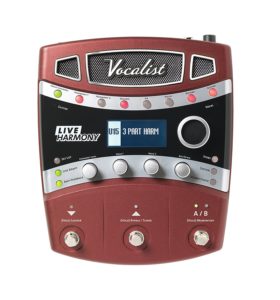 The Digitech VLHM is by far the most complex harmonizer pedal on this list and is aimed at those with some experience operating sound equipment.
The VLHM's complexity is justified, it comes with over 65 distinct vocal effects so is perfect for those looking to experiment with a variety of different settings.
This next gen vocal processor is more than capable of handling everything from home recording to live stage performances with fantastic reverb quality.
The Digitech VLHM analyses the chords you're playing on guitar and automatically adds natural sounding vocal harmonies to your vocals. Up to two additional harmonies can be added.
You can strum a different chord while holding a note and listen to the harmonies change behind you, it sounds like realistic backing singers!
The VLHM is loaded with vocal enhancing options – Pitch, Distortion, Reverb, Automatic Feedback Suppression, Harmony, Lexicon Reverb, DBX Compression, Modulation, and Delay.
It has four pedals, one for expression control, one for bypass and two for picking the presets. For those who regularly perform live and don't have their own soundman, this vocal processor can fill the role.
Pros
Wide range of effects in addition to harmony and reverb, making it a great option for those looking to experiment
70-second looper to add backing vocals, useful for when you've only got one singer
Lots of high quality presets to use right out of the box
Versatile – can cope well in a home studio and on a stage
Lots of features for the price
Cons
Not as easy to set up as some of the other vocal harmonizers
Closely-spaced buttons make it easy to press the wrong one with your foot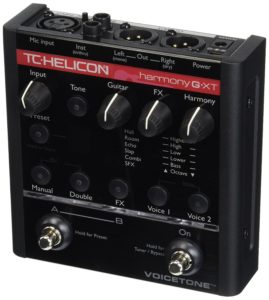 This could be considered the little brother to the VoiceLive2, as they both use the same harmonizing algorithm and produce an incredibly natural sound.
The VoiceTone Harmony-G XT enjoys many of the same features as its big brother and is much simpler to use.
A versatile piece of equipment, it is capable of delivering sound to a high standard both on stage and in the studio.
The TC Helicon Harmony-G XT boasts a wide range of useful sound effects. You'll be able to easily switch between five factory-installed presets whilst standing, all with their own effects, harmony, and doubling settings.
There's an additional A or B option within each preset. You can configure between 3 and 10 of your own presets on the Harmony-G XT and they are easily editable using the effects pedal.
The Room, Slap, Hall, Echo, Combi and SFX categories all have unique combinations of delay and reverb resulting in vivid, natural-sounding harmonies.
The tone button may look simple, but underneath it is a professional quality signal chain. Included are settings such as adaptive gate to help reduce feedback while you're not singing, de-essing abilities to remove harsh constant sounds and compression for overall smoothness of voice.
As a solo artist, or for acoustic gigs with little signal interference, the VoiceTone Harmony-G XT is a game changer. When you're the only vocalist and want to beef up your voice, it does the job well and delivers a clear, natural sound.
In a live performance or band setting, it can be sensitive to external noise being picked up by your vocal mic. To avoid this you'll need a polarizing hyper-cardioid microphone and make sure that the other amps aren't pointed towards it.
If you regularly perform at crowded gigs in small spaces, this pedal has the tendency to squeal.
Pros
Simple to use and set-up
Natural sounding harmonies for solo and acoustic performances
NaturalPlay technology listens to guitar and voice to automatically produce harmonic parts
Wide range of useful sound effects
Cons
Sensitive to changes when using the input dial
Can pick up sound interference when performing in a band setting or crowded gig
A lot of foot switching action is required when changing the key manually
If like many of us, you don't have the luxury of a vocal choir to support you, don't despair!
The Boss VE-2 delivers studio quality vocals in an easy to use, compact vocal processor. Great if you're looking to enhance your natural voice, add depth by using some reverb or just switch up your tone a little.
Not so great if you want to achieve a non-natural sound or regularly experiment with alternative styles of music.
One of the best features of the Boss VE-2 is the Auto Harmony function, detecting and "remembering" the last chord played on the guitar to generate seamless harmonies as you sing.
You can set the key manually via a panel knob, follow the guitarist's chord progression or have the best of both worlds. Using a combination of these three settings you're able to enjoy natural harmonies without much knowledge of complex musical equipment.
The VE-2 has 12 harmony types to use, so you can be sure that you'll find one to suit your style of music. They can be easily selected with a dedicated panel knob and each type includes one or two additional voices in different scale intervals above and/or below your own voice.
You can also add even more voices for richer harmonies. This vocal processor can go the full nine yards, from adding a little extra punch to your vocals to creating a full ensemble sound.
The Boss VE-2 is exceptionally easy to use, even for those with absolutely no prior experience involving sound equipment. LED indicators accompany the buttons and knobs to clearly show the current settings at a glance.
You can connect it to your PC via USB cable to record your vocals with no complicated set-up required.
Pros
Auto harmony function creates seamless harmonies between vocalist and guitar
Great at enhancing your natural talent
Can add additional voices for fuller harmonies
Portable – Can run on 4xAA batteries
Easy to set up and use – simple knobs and a clear display make adjusting simple and accurate
Cons
Is not sold with AD adapter
No pitch correction – if your singing is flat, your harmony will be too
Not good for those looking for a more experimental sound
Some online reviewers reported experiencing feedback when using in a live setting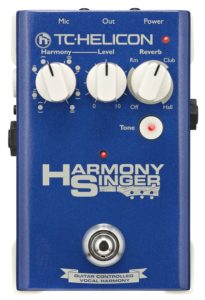 The TC Helicon Harmony Singer is a commonly used harmonizer and a tried and tested model. The reason we love it so much is partly due to its simplicity.
With the Harmony Singer, you can add up to two harmony voices guided by a connected guitar. It reads the chords and tweaks the harmonies accordingly, making sure that they're always on time and in the correct key.
You can feel free to play around with different keys and chord arrangements knowing that the Harmony Singer will always have your back.
I suppose you could call it your personal vocal arranger. It won't, however, improve your singing as this particular model does not offer pitch correction.
Beneath the simple interface is a set of complex audio processes working in…. harmony (I had to do it) to produce a superior sound.
The adaptive tone improves the overall quality of your vocals through smooth dynamics, de-essing and helping to eliminate those muffled lows.
All of these processes continuously adapt and change along with the tone of your voice so even with a positively average PA system, you'll be experiencing great sound.
Reverb quality is excellent as is expected from TC Helicon's sister company TC Electronic – a company celebrated for its market leading reverb algorithms.
The reverb settings available – Club, Room, and Hall, will enhance your vocals and fill spaces without any loss of quality. If you're talking to the audience or chatting to your bandmates, make sure to switch off the reverb.
Holding down the harmony on/off button will disable harmony and reverb effects to put you in a "talk mode". Tap the same button again and you're back in the game.
Pros
The Harmony Singer displays its real prowess when connected with a guitar, automatically keeping harmonies in the correct key
Adaptive tone produces realistic sounding vocals
Reverb and Tone can be kept on while Harmony is switched off, so you can sound great even when talking to the audience
Simple interface, easy to use
Cons
No pitch correction
Over usage can lead to robotic or artificial sounding voice. Best used sparingly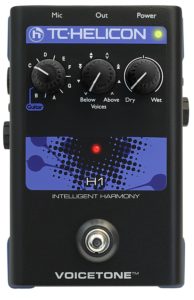 This is one of the most affordable options on this list, making it great for both hobbyists and those just starting their journey. It's built to the same standards as we've come to expect from the VoiceTone series.
You'll get a lovely mic preamp, a robust metal case with a rubberized non-slip base and vocal processing on par with some of their flagship harmonizers like the VoiceLive series.
If you're like me and you hate reading instruction manuals, then the VoiceTone H1 offers some salvation. It is so easy to set up that you shouldn't need to use the manual unless you need tinder to start a fire.
Some other TC Helicon products are notoriously complicated to use, but the H1 does away with the bells and whistles and lets simplicity reign supreme.
When using a guitar, the VoiceTone H1 automatically picks the appropriate key. If you don't have a guitar, no problem, as you can manually select the key you're singing in and add one or two voices with natural sounding harmony.
The H1 can occasionally generate some low level humming noises, so it may be an idea to consider using a noise gate too.
Pros
Compact yet very durable
Powerful device considering the low price tag
The easiest harmonizer in this list to set up and use
Natural sounding harmonies – still sounds like your voice
Cons
Knobs aren't recessed so can be accidentally hit with your foot
Even if you've got one power supply for all your board pedals, you'll need to connect the H1 separately with its own lead
Sometimes generates low-level humming noises
No pedals to change presets
How to Choose a Good Vocal Harmonizer Pedal
There's a wide selection of harmonizing pedals to choose from, each with their own strengths and weaknesses. Since vocals are the focal point of most songs today, it's important to pick the right one for you.
Here are some key features to look out for so you can savvy up before you part with your hard-earned cash.
Make Sure It Delivers the Basics to a High Standard
With such importance placed on the vocals, the sound quality is the number one priority. You shouldn't compromise on this for the sake of having effects that you won't use, regardless of how cool they are.
You will probably be using compression, EQ, and some reverb to enhance your vocals, so you these basic effects should all sound great right off the bat.
The mic preamp is another great feature to look for. It lets you squeeze the maximum potential out of your microphone for a superior final sound by boosting the low-level signal from your microphone and increasing it up to line level.
Effects to Suit Your Playing Style
Automatically generated harmonies are great for solo performers, or you can use a looper if you'd like to build you own backup vocals. Used properly and only where necessary, real-time pitch correction is a great little feature that can kick your vocals up (or down) a notch.
If you perform edgier, experimental styles of music then you might look for some effects that would be largely useless to an acoustic guitar player. Where others will overlook the otherworldly voice-bending, robot, and alien voice effects – you may appreciate them!
It can be tempting to go for the pedal with all the pizazz, but if most of the features are irrelevant to your style of music then you're wasting money.
Harmonizing as a Focus, not a Feature
As obvious as this might sound, you'll be surprised at the number of vocal processors that have harmonizing as a feature rather than a focus.
Picking one of these pedals could fall short of your expectations if you're primarily looking for a harmonizer, and be unable to provide you with the level of sound quality you need. If you want a natural sound across all layers, then you need to be looking at harmonizing as the main function.
Gender-Shifting
In musical terms! If you want to have a chorus effect, then it's a good idea to look at how effective the harmonizer it is at gender-shifting your voice. They do this by creating an extra vocal layer that sounds like a male or female to accompany the lead vocals. This can save you the time and money of auditioning another singer to do backup vocals for you.
Easy to Program
A pedal can have all the features under the sun, but if it's a pain to program, all it will do is frustrate you. It's important to have a harmonizer that is easy enough for you to program. For example, will it take the key being played on another instrument? Does it have presets that are easy to use?
If it can't do the basic tasks you need quickly and easily, look at other options.
The Verdict
The truth is, different musicians have wildly different requirements so vocal harmonizers aren't a one size fits all type of equipment.
One person may benefit from the full 65 effects of the Digitech VLHM whereas some may want the simplicity of the Harmony Singer. It depends on where and how you play.
Best Vocal Harmonizer Pedal For Live Performances
The TC-Helicon Harmony Singer is the one for you. With an excellent reverb algorithm from one of the most renowned companies in the industry, you can easily fill spaces with immersive sound.
It performs best when connected to a guitar or other instrument and also features a "talk mode" so you can still sound great while talking to the audience.
Best Vocal Harmonizer Pedal For Home Studio
The Digitech VLHM would serve you well. Loaded with effects and features, it gives you the opportunity to really experiment with different sounds and has incredible presets programmed in to be used straight out of the box.
It's clear why vocal harmonizer pedals have quickly become such an integral part of a musician's performance. With the power to enrich your vocals and take your music to the next level, investing in a harmonizer pedal will be one of the best decisions you ever make!