(Last Updated On: January 23, 2018)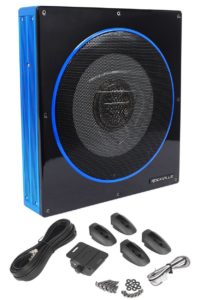 Underseat subwoofers are awesome inventions that put extra bass in your vehicle without taking up valuable boot space. Not only are they great at minimizing space usage, they are great bits of kit which put bass right under your seat. That's a pretty attractive proposition! They are perfect for sports cars which have tiny boots, or in large cars where the boot is too far back to be of much use to a sub.
Underseat subs are fairly modern inventions and they have developed hugely to put more power into a smaller space that can be slid under the seat. They're easier to install as you won't need to run cables through the entire vehicle, either. The best underseat subwoofer is hard to ascertain as there are quite a lot of models available now and they're all close in terms of size, rating, etc. Most underseat subs are powered, meaning they have their own built-in amps. That means they're plug and play.

Top 4 Best Underseat Subwoofers:
Here are the best underseat subwoofers and the best low-profile subwoofers available today.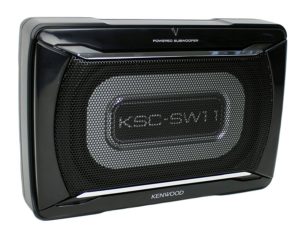 This smart little sub really is low profile in its form. It can easily fit under seats, even in particularly small cars. It will fit in tight boot spaces or even under back seats with some modification. This little sub is a great way to enhance your front-of-car system and can be paired with a rear sub for awesome bass.
It's quite loud, though it is only 150 watts so don't expect it to blow the world apart. Still, the bass it does output is superb in its quality so it makes every watt count. Sometimes, higher wattage doesn't indicate better volume and it certainly doesn't indicate better sound quality so don't be put off if you're thinking 150 watts sounds a little weak.
Build Quality and Features
The build quality in this Kenwood unit is superb and that's what we expect from one of the oldest and most experienced manufacturers of aftermarket car audio. It's one of the best underseat subs because of its phenomenal build and real small size. It has a hard aluminum shell and it doesn't rattle.
It also comes with a bass control remote so you won't have to bend your arm underneath your seat to make alterations. Kenwood is obviously a class manufacturer and this is a reasonably priced high-quality unit that still provides awesome front-of-car bass.
Overall, this sub is probably the best underseat subwoofer available if you're not looking for a lot of power. It provides great audio quality but it isn't best suited to you if you're looking to rattle the windows.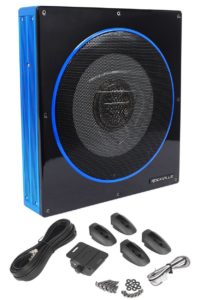 This is a cool looking slim-profile subwoofer which can fit under most seats comfortably. Amazingly, this unit is only 2.7 inches thick! The 10-inch sub pumps out 200 watts RMS so it's rated slightly higher than the Kenwood sub.
It's a great little sub and for its price, it really does produce remarkably clear results. Despite this being a comparatively cheaper unit, it still has really good bass clarity. It comes with all the cables and it's easy to install and is an active sub – no amp required.
Build Quality and Features
This sub is very slim and will even fit under sports car seats in low-profile cars. It has lots of controls and it's very easy to install and it will automatically turn on when it senses an audio signal. Rockville are a reputable brand and their audio gear is very well priced – considerably cheaper than Pioneer, Kenwood, etc. This sub has multiple settings, too, including a subsonic filter to filter out useless subsonic noise and a bass-boost feature.
The reports on this sub really are fantastic and many say that it surpassed their expectations in terms of the volume it can produce. Although this unit is thin, it is wider than others so double check your dimensions before buying.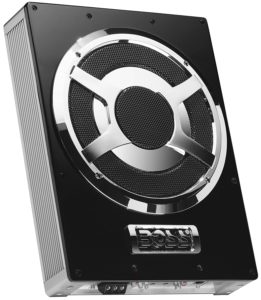 This awesome unit from BOSS is more powerful than the other contenders here with an RMS rating of 700 watts! It's slightly bigger than other units but is still only 3 inches tall meaning it'll easily fit under most seats or in tight boot spaces. This unit isn't rated higher without effect – it really does produce fantastic bass at a great volume. It'll really get your seat vibrating!
With a MOSFET power supply and great quality short protection, it's quite surprising that this sub costs as little as it does. With all the added extras like bass-boost functionality, it doesn't fall short at any angle so what's the catch? There isn't one really, but it's not up there with the rest here in terms of reliability. It's definitely a more bang-for-your-bucks option.
Build Quality and Features
Built from aluminum, this sub is strong and it contains thermal, short and overload protection circuitry. Maybe, this unit isn't quite as solid as the others in the list in terms of its build quality but it'll still easily last a long time. Boss produce quality components at lower prices than the competition so something had to be compromised.
Overall, this sub gives you awesome power at its price. It's strikingly powerful and you will feel the extra juice If you're not bothered about crystal clear bass tones then it fits the bill nicely. If you're looking to juice up some electronic music with some front-of-car bass, then it's perfect. Audiophiles, it's maybe best look elsewhere.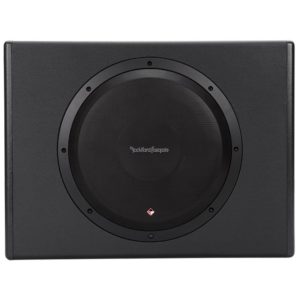 This sub isn't strictly an underseat subwoofer but is instead a slim profile sub that will fit under some seats. It's actually 7 inches deep at its deepest point so you'd have to get some measurements for under-seat use. Still, it's pretty slim and the bonus is that it has a 12-inch sub, which is bigger than the other models here.
Rockford is a great manufacturer and they've packed some awesome bass into this small unit that features an RMS of 300 watts and it makes good use of every one of them. With intelligent on/off features meaning you never have to worry about switching it on or off and full protection from overheating, overloads or shorts, this sub packs high-quality features into its small shell.
Build Quality and Features
This sealed cabinet is fully protected against bumps and knocks and with a closed-loop design, you're guaranteed top performance. Rockford has earnt their place in the higher-ends of aftermarket car audio and this unit, whilst larger than the others, is built to last. As mentioned, this sub is bigger than others here and it has the profile of a more conventional sub. There are many reports of people successfully fitting this sub under car seats, though, and if you can get it under then it won't disappoint you!
Overall, this sub is the best on the list IF you have the space for it under your car seat. If it's going in the boot, there might be better options if you can squeeze in a couple more inches. If you can't but still want a proper sub in your boot without sacrificing the entire space, this sub is well worth it.
Small Subs for Small Places
Underseat subs aren't limited to the underseat area, either. You can use them in tight spaces in your trunk or boot and can even place multiple subs under multiple seats! Some underseat subs are simply named 'low profile' subs and are built with the underseat capability in mind. You'll have to check your car's dimensions and make sure that any seat adjustments won't rub on your sub. Most underseat subs are 3 inches or thinner so there aren't usually any problems.
When fitting an underseat sub, the sound quality will be much enhanced by a snug fit to your car's floor. Some of these subs come with spacers or brackets which can help you do this but if not, there are plenty of ways of attaching firmly to your car floor.
Now, underseat subs have all the frills and setting options of larger subs. Many have bass remotes so you can change the bass level remotely. They have thermal, overload and short protection and an array of extra features like subsonic filters.
Conclusion: What's the Best Underseat Subwoofer?
Picking the best car audio units depends on what sort of power you're looking at. For underseat use, you won't get a ridiculously powerful sub but given its proximity to you, you won't need one. Underseat subs are not just practical in their space-saving nature, they're also a novelty in that you'll feel bass right under your seat.
This is great for sports cars, or low profile cars that feature no or fewer back seats. They're also great for drivers of large cars, where the boot is too far from the front of the car. Underseat subs are easy to set up, too – they're almost all powered so you won't need an amp. Just hook up power, ground, and inputs and you're good to go!
The best underseat sub? The Rockville RW10CA is pretty amazing and the price is quite remarkable. It's a slick unit, easily capable of fitting under many seats and it provides real clarity in its bass. It's a great unit from a great less-known upcoming manufacturer.