(Last Updated On: January 23, 2018)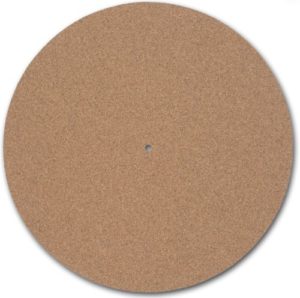 There are a number of features that will help to improve the sound on a turntable and also protect records. This is a great thing whether you are simply listening to records or are using records to DJ.
Turntable mats are one of the most important and affordable turntable accessories that will really help to improve the quality of the sound you produce when DJing or listening to music.
Top 7 Best Turntable Mats:
From Jake's Turntable Mats, which is a company known for making a variety of different turntable mats, the Premium Leather Deer Hide Turntable Mat is an excellent high-end mat. Made from high-quality leather and suede, it is durable and nice to look at.
This affordable mat is resistant to static and dust and also helps reduce vibrations which can decrease the quality of sound produced. The mats are hand-cut and well designed for regular use.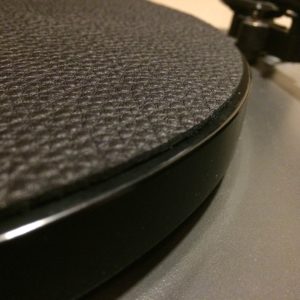 Hudson Hi-Fi is a popular and trusted manufacturer of a wide variety of audio equipment and accessories. Their Premium Swiss leather turntable mat is a beautiful, high-end mat that is durable and well designed to stand the test of time.
The mat helps to dampen resistance and reduce vibration to improve the overall sound quality of the turntable. It is resistant to static and reduces operational noise.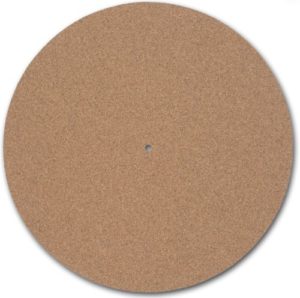 Pro-Ject is an up and coming company that makes a wide range of different pieces of equipment and accessories for DJs and turntable enthusiasts. The Cork It Turntable Mat is an interesting alternative to the more common leather turntable mat.
In addition to being a departure from leather or felt, the cork style mat also has its own characteristics that give your records a unique sound. It also helps to reduce vibration and resonance, which improves the overall sound quality.
These mats are suitable for all turntables and like their leather counterparts, are also known for preventing the build-up of dust and static.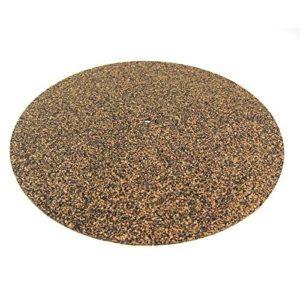 Turntable Lab is a company that produces a range of turntable accessories for DJs and vinyl enthusiasts. The Cork & Rubber mat is an affordable, composite mat that is another nice alternative to a felt or leather mat. Suitable for all turntables, the mat helps to reduce resonance and vibration while helping to protect your records from undue damage and stress.
Since the mat gives you improved grip, you have more accurate timing and a reduced tendency to experience unwanted slips. These composite mats are better at repelling static and dust than felt counterparts.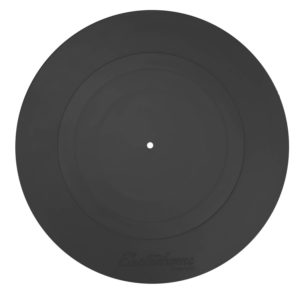 Electrohome is a brand known for making a variety of turntables and accessories. From the turntables themselves to mats, microphones, and even karaoke machines, Electrohome is a high-end, top of the line manufacturer of turntable mats and other related products. Their Turntable Platter Mat is an affordable mat that is uniquely made from silicon, as opposed to the more traditional felt, leather, and even cork.
The mat provides a non-scratch, responsive surface that also helps to dampen resonance and reduce vibrations which can impede the quality of the record sound. The mat is well suited for all turntables and can be used even with LPs with recessed centers.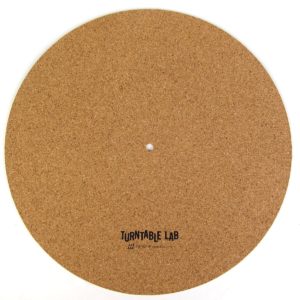 Another great option from Turntable Lab is their Cork Record Mat. This is a pure cork mat, unlike the composite mat we reviewed earlier. As with its composite counterpart, this mat helps to repel dust and static. It also helps to protect records from unnecessary damage, reduces vibration and resonance which can cause decreases in your sound quality.
It has a better grip than felt or leather mats and also has its own unique sound characteristics.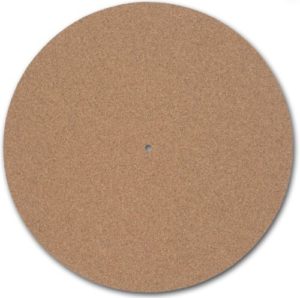 Turntable Toys makes a number of different high quality, yet affordable, turntable mats. The Cork Audiophile Turntable Mat is a well-designed and solidly constructed cork mat that is available at an amazing price. The mat helps to improve traction, which improves timing. It also works to dampen resonance and vibrations which reduce the quality of the sound.
Like other cork mats, the Audiophile Turntable Mat is great for repelling static and dust.
Things to Consider When Shopping for a Turntable Mat
Many people might not see the purpose or need for turntable mats, but there are a number of important purposes that these mats serve.
A turntable mat can be an eye-catching addition to your DJ set up, allowing you to express your personality while you mix the latest sounds. However, they serve a much more utilitarian function as well.
Turntable mats help protect records from being damaged and can also help reduce friction that is applied to a record when someone is mixing, scratching or otherwise DJing. Additionally, turntable mats provide improved sound.
To find the best turntable mat, you want to get a mat that will provide reduced friction while not sliding around a lot as this is rather inconvenient when you are trying to use the turntable.
Most often, leather or cork material are the recommended material for turntable mats as these are durable materials that will not cause undue friction but are also not prone to a lot of slippage.
It should be noted that these mats are incredibly different from a slip mat, which is another common turntable accessory. A slip mat is something that is pretty much only used as a decoration for when no record is on the turntable. These are often made from slippery or synthetic materials that are not conducive to actual DJing.
Conclusion
Certain accessories are necessary components for a full-fledged DJ setup or even just a proper set up for the avid vinyl lover. A turntable mat is an affordable and important accessory that will help reduce wear and tear on your turntable and also help to improve sound quality.
High-quality turntable mats help protect records from damage, they reduce vibration, and they also help smooth out sound quality. Finding a durable turntable mat is a great way to get the best sound and prevent wear and tear out of your system.