(Last Updated On: December 21, 2017)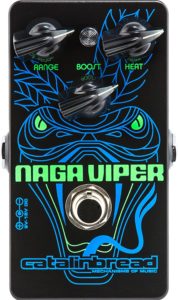 Treble booster pedals have staged somewhat of a revival after falling out of trend throughout the 1980s. Now, many guitarists use overdrive pedals instead but treble boosters offer a more dynamic, focused and louder sound without the dark saturated tone of an overdrive pedal.
Treble boosters boost treble, that's pretty simple, but they do so in a way which is pleasant despite their high-end drive which can often get ear-shatteringly tinny if not done in an appealing way.

Top 3 Best Treble Booster Pedals: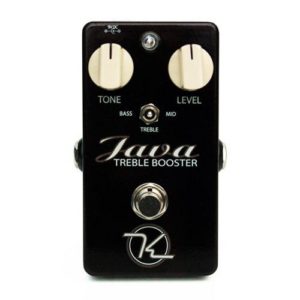 This treble boost pedal by Keeley isn't just a pure treble booster. That means you get a bit value out of the pedal's extra features – there isn't any need for manufacturers to confine themselves to the streamlined settings of old pedals.
It can boost each section of the frequency spectrum individually, or boost the whole signal. Boost bass for extra low-end, mid frequencies for extra warmth and the highs for extra treble loudness.
The pedal uses the famous Mullard OC44 transistor to provide its gain and it provides a proper authentic and vintage boost to your guitar. It's a classically designed booster pedal which flavors any rig, especially those which are already vintage-inclined.
Build and Features
It's a simple pedal with a solid, high quality and metal case that can take brutality from the road easily. There are a couple of rotary knobs, a 3-way switch for frequency selection and a foot switch. The knobs control the tone and level. It provides simple and effective boosting of frequencies which is achieved pleasantly using its famous transistor.
Performance and Tone
This pedal isn't cheap but neither is its tone. It really turns your guitar into a snarling classic beast, delivering fairly balanced gain that can be pumped up to clip slightly. You can adjust this to provide heavier gain effects with plenty of drive or clearer, tighter and more focussed tones which allow your solos to soar through dense mixes.
If you pair this with a dark tube amp like then you'll get the best results, adding a bite to a dark and vintage tube amp tone. Many people report this to be more like the 'real deal' classic treble boosters than any other pedal. If you love that classic rock tone and can't quite get there, you may well now know what the missing piece is…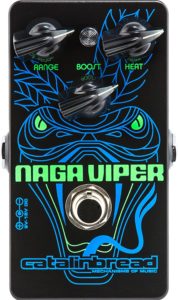 This Catalinbread Naga Viper Modern Treble Booster has an extremely long name and a long history of positive reviews to match, making it a stalwart amongst treble boost pedals. It's been extensively modeled on the Dallas Rangemaster, one of the most influential treble boosters that was used by plenty of top guitarists throughout the 70s and 80s. This pedal brings all the classic frequency boosting of that original and combines it with a couple extra controls for a plethora of sweetening effects.
Features and Build
The Naga Viper looks exactly how you'd expect a top boutique pedal to look with awesome styling, sturdy structural design, well-made controls and a durable switch. It's bright and strong and features knobs named Heat, Boost, and Range. These extra effects give the pedal some extra juice for your cash whilst still retaining the ability to shape the high-end of your guitar with that elusive classic tone.
Tone and Performance
Solid, stable and adaptable, the Naga Viper has a real quality to its tone. There's no unwanted shrill or digitalized artifacts, all proper transistor sweetening that can juice up your tone to deadly levels or provide that subtle push that turns your guitar and amp into a real vintage combo.
The Heat knob allows you to control gain level saturation whilst the Range knob allows you to select what part of the frequency spectrum you boost, ranging from the bassier bottom to the classic top-end. When placed in your chain with a tube amp, this pedal's effect on your tone is undoubtedly one which can elevate your tone to that of a true 80s rocker, layering all manner of sweetened harmonics to create a dense yet penetrating tone.
The designers notes on these say that the pedal was designed exclusively to mirror the tones of British classic rock guitarists like Brian May and Tony Lommi. Having bought rangemasters, the designer really took a look at what was going on in order to replicate that pedal's characteristic precisely. With a featured extended version of that pedal's classic circuit, the Naga Viper seems to honor the rangemaster with extra modern juice.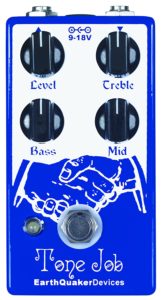 The EarthQuaker Tone Job EQ and Booster Effects pedal is a bit of a toolbox pedal and allows you to shape your tone in lots of different ways. As a small company, EarthQuaker put time and effort into their large range of pedals and they've sure come up with some reputable models.
This is a versatile pedal, and whilst not a true treble booster, it certainly does that job and others proficiently. It weighs in cheaper than its competition and it doesn't provide the highest quality tonal sweetening as its competition here. The audible difference in most guitar rigs is low, though, and it packs extra features.
Build & Features
Strong, simple and versatile, the Tone Job has 4 knobs including Level, Treble, Mids, and Bass. Acting as an EQ/booster pedal, these can all be adjusted individually so you can attenuate or boost the signal in each range. It's a simple box which features tried and tested built quality. Road worthy and compact, this pedal can slot into most effects boards, but beware, the input and output are placed on the top of the pedal which can inconvenience some pedal boards.
Tone & Performance
The EarthQuaker Tool Job's reviews are generally extremely positive. It's a great adaptable pedal that can be used to drive or attenuate cleanly, transparently and in linear fashion. Don't expect true vintage tones but do expect exactly what it says on the tin – a proper job for your guitar's tone. With plenty of gain available to work with, you can really boost that treble without harshly affecting the rest of the spectrum.
Extra mids can be pumped in for a fatter, warmer tone and low-end shaping cleans up muddiness whilst bringing fatness to the table. You can boost up to 20 dB per range and the level control can boost up to 5 times the input. Stick this pedal at the end of your chain to shape the overall sound or at the beginning to juice up your signal before or hits other effects.
How to Find the Best Treble Booster Pedal
Of course, though, volume is kind of the point to a treble booster, you get a louder, more focussed and heavier tone that is perfect for rock, metal, solos – all sorts actually. Treble boosters have been used famously by guitarists like Brian May and Richie Blackmore, allowing them to shred right through a heavy mix of live instruments with blistering solos.
They're undoubtedly more effective when combined with dark amps, particularly dark British amps or Marshall tube amps, etc. This gives a tone a fat bottom with plenty of cut and just the right amount of overdrive that doesn't overly compress the signal, allowing it to retain a dynamic range which lets your guitar and playing skills cut through with articulation.
Now, treble booster circuits have been rediscovered by various manufacturers and boutiques who have turned them into appealing pieces of kit. Providing a less compressed and more dynamic tone to your guitar, the treble booster pedal could be the piece of kit that you're looking for and have never found, so here's some of the best!
Conclusion: What's the Best Treble Booster Pedal?
There are 3 great pedals here, two of which are designed with a more streamlined purpose in mind – vintage shaping. One designed with a broader purpose in mind – generally tonal shaping and EQ. The first two pedals generate a tone that die-hard classic rockers will appreciate but work best with set-ups that already lean towards this with tube amps and guitars with great vintage pickups, etc.
That said, they can still add authentic juice to cheaper equipment and their effects aren't lost in any setup. The EarthQuaker isn't a true treble boost pedal but it does the job well and for its price, it offers tons of extra bits and bobs that guitarists love indulging in.
Treble boosters are bespoke little bits of kit and are often overlooked by guitarists in their quest for tones. If you've drawn inspiration from the classic rock tone, particularly the classic British rock tone excised by Deep Purple and Queen, then you're going to need one of the faithful Dallas Rangemaster re-designs.
The Naga Viper and Java Boost will certainly fit the bill. The Naga Viper's designer's personal interest in rangemaster most surely indicates that it's a real snug fit to that original classic rock tone. Maybe it rates the best choice!