(Last Updated On: December 21, 2017)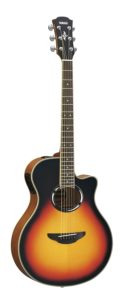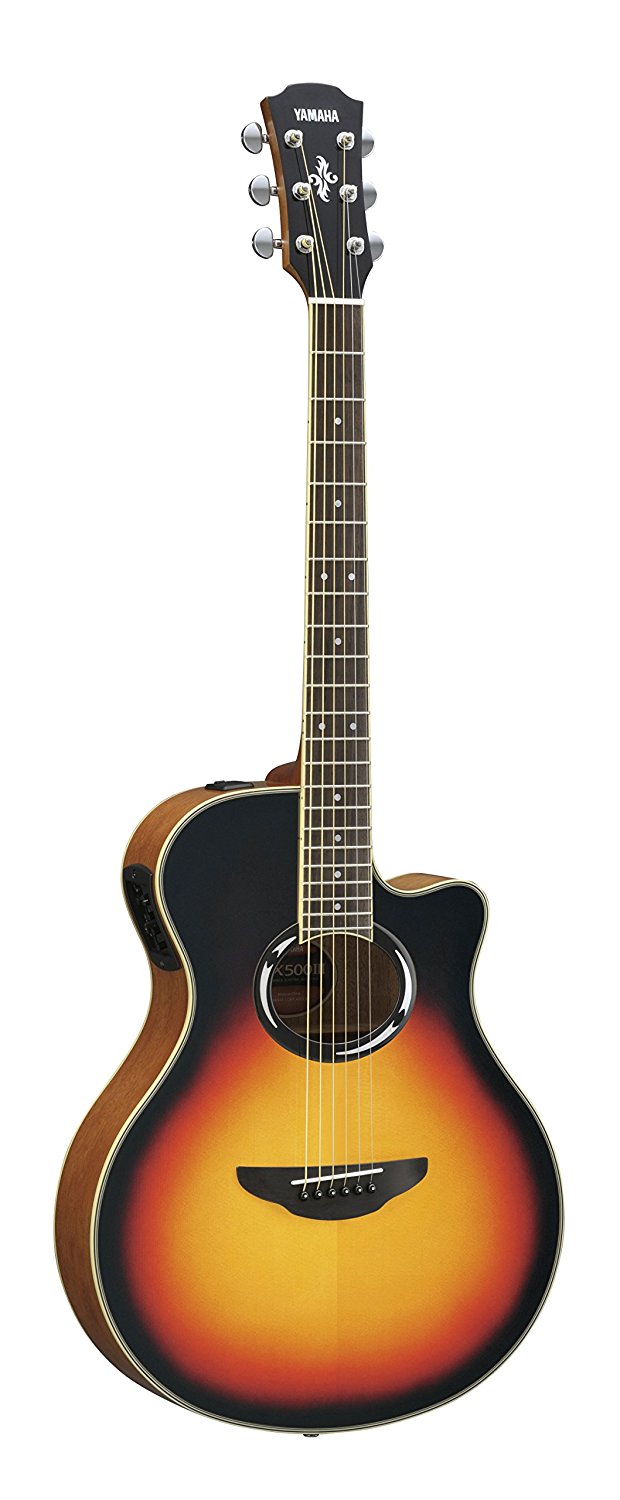 What are the best thin neck acoustic guitars?
Just like snowflakes, fingerprints, and babies, no two guitarists are exactly alike. We all have different influences, different techniques, and different ideas of what makes a great song.

But we think there are a few things every guitarist has in common. For instance, every guitarist wants a guitar that sounds good and plays like a dream.
So we searched the internet and put together a list of the best thin neck acoustic guitars available.
Top 4 Best Thin Neck Acoustic Guitars: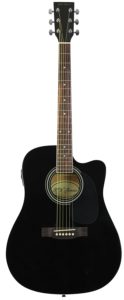 The Jameson Thinline is a lightweight guitar with the classic dreadnought body shape.
This guitar ships with everything you need to get started playing, which makes it perfect for first-time guitarists — and really convenient for more experienced players.
Jameson produces several versions of this guitar in different colors, so you have plenty of options to choose from. Left-handed? They've got options for you, too.
The body width comes in at a slender three inches. It's a convenient, comfortable touch to this guitar's design, but there is a tradeoff. A smaller body of an acoustic guitar equals less bass in its tone.
The Jameson Thinline comes equipped with passive pickups, so you can amplify your guitar without relying on those pesky, short-lived 9V batteries.
Unfortunately, passive pickups don't sound particularly good. They can be replaced with warmer-sounding active pickups, or their tone can be shaped with an EQ pedal, but the stock pickup just doesn't quite make the cut.
With that said, we've seen used guitars for twice the price that sounded only half as good as this one.
Pros
Great price
Durable build
Clear acoustic tone
Smooth finish
No batteries required
Cons
Poor electronics
Not much low-end
Fret buzz on the low strings
Conclusion
Nice guitar for a really nice price. Many guitarists like having a "beater" guitar around — something you can toss in the backseat of your car and throw around a little in your rehearsal session. The Jameson Thinline is the kind of guitar you buy as a beater, but soon find yourself treating like an old favorite.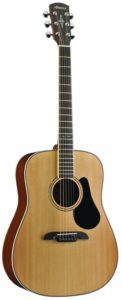 Alvarez has a great reputation among acoustic guitarists, and the AD60 is working hard to keep the bar high. This guitar has the deepest body of any on the list, a full four inches, so it gets a nice resonant tone. The lows are deep, the highs are crisp – exactly what we like to hear from an acoustic guitar.
If you had to describe the AD60 with one word, it would be "natural." Not because it has a great natural tone — although it does — but because every part of this guitar is the real deal.
Every one of these babies is made by hand. It's a sitka wood top with mahogany back and sides, so it feels like luxury in your hands. The saddle is real bone. The finish alone on this guitar is a twenty-day process, and it looks gorgeous.
But, of course, there's always that tradeoff. This great guitar has one big downside, and that is that it's acoustic only.
There are no pickups, which means that live performers will have to use a mic to amplify the guitar or spend some extra money to have pickups installed.
Of course, if you prefer to play more intimate settings — like your living room, say, or while sitting with friends around a campfire in the woods – then this could be the guitar for you.
Pros
Full, natural tone
Beautiful finish
Ready to play straight out of the box
Handmade with high-quality material
Cons
No electronics
Does not come with a case
Slightly higher price
Conclusion
Unless you really need the easy amplification of an acoustic electric guitar, this is an instrument that's going to make you look great. Even if you're a beginner.
From the bright tones and playable feel of this guitar's thin neck to the gorgeous, natural finish, it's hard to complain about this guitar.

Like the Jameson Thinline, the Kona K2 is a guitar that gives you more than you pay for it. The neck on this guitar is paper thin (okay, maybe a little thicker than that), but thanks to sturdy Construction, it feels solid and secure in the hand.
Because of the small body, this guitar's acoustic sound is a little thin to our taste. Of course, one guitarist's "thin" is another guitarist's "bright." In rock and roll settings, where a big band is playing at top volume, that bright tone may be just the thing to cut through the mix.
And speaking of rock and roll setting, the K2's pickups sound great. The three band EQ allows for tremendous flexibility. If you're looking for a guitar to play live — especially if you're playing with a drummer and loud electric guitarists — this is a good one.
And it sure doesn't hurt that the K2 just looks cool. The swooping, asymmetrical headstock and bridge are a really stylish touch.
Unfortunately, the production quality on these guitars occasionally misses the mark. Some setup may be required out of the box.
If you're comfortable with a little DIY work, this will be no problem. If you're not sure you want to adjust your own truss rod — or if you don't know what a truss rod even is — you may want to take a trip to your local guitar technician.
Pros
Good electronics
Unique, stylish look
Very affordable
Lightweight
Comes with two pickguards
Cons
May need some setup
Thin tone
InConsistent quality
Cheap parts
Conclusion
Good guitar if you do a lot of live performances, or if you're a beginner looking for something to get started on. Just be prepared to spend some time or money on a good setup job.
Once it's been setup, the Kona K2 is a great guitar that sounds and plays beautifully.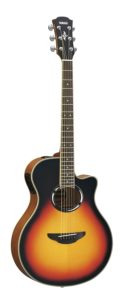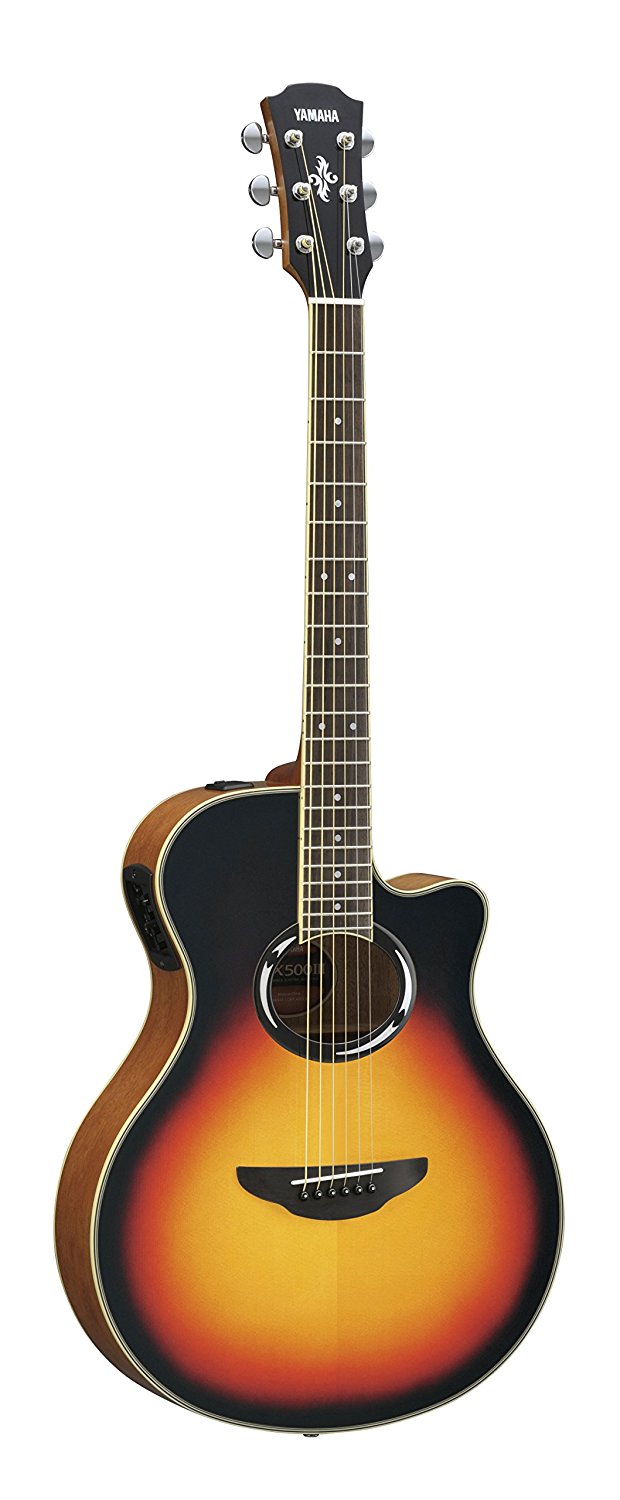 Yamaha is a great company that's been around for a long time, and while the APX500III doesn't exactly have the catchiest name, its sleek, thin design is unforgettable.
This is the thinnest guitar on the list, with a body just under three inches thick. However, by making the body wide – as opposed to deep — Yamaha has created with the APX an incredibly lightweight guitar with resonant tone and tons of sustain.
This guitar comes in several colors, which is nice for the choosy guitarist. It also comes in 3/4 size, which, combined with the thin neck, makes this a good choice for children under twelve who are interested in music but might be too small to handle a full sized guitar.
The quality of Yamaha guitars is legendary. The wood is carefully cured and treated, so these guitars a very durable and can handle all kinds of environments.
No humidifier or special treatment required. Even if you're in the driest desert around, this guitar is going to be just fine.
And don't worry, we haven't forgotten about all you live performers out there. The pickups on the APX are about the best thing available in this price range. Electronic amplification with rich, natural tone – what more could we ask for?
Pros
Ready to play right out of the box
Thin design
Full tone
Good pickups
Three-band EQ
Plenty of options
Cons
More expensive
Low-quality tuner keys may need replacing
Conclusion
This is one of the most popular acoustic electric guitars of all time, and once you've played it, you'll understand why.
And, with the thin neck on this guitar, plus a saddle and nut designed for lighter gauge strings, you'll be able to play for hours without getting sore or tired.
How to Pick a Good Acoustic Guitar with a Slim Neck
Why thin neck acoustic guitars? Well, because the neck of the guitar is one of the most undervalued parts of the guitar.
Most of the time, when we're looking at a new guitar, our eyes are drawn to its flashier parts. The body. The headstock.
Maybe the cool inlays in the fretboard. However, most of us don't pay much attention to the neck until we actually start playing the instrument.
But the type of neck on your guitar plays a significant role in both the comfort and tone of the instrument. For that reason, it's worth taking a closer look at this important part of the guitar.
Comfort
There are a number of ways to make a guitar easier to play. However, there's often an unfortunate tradeoff.
Most guitarists have tried lowering the action – the space between the strings and the fretboard. However, this can cause ugly buzzing, especially when fretting lower strings.
You can use lighter gauge strings on your guitar. However, many guitarists feel that light gauges lack the power of thicker gauges.
If you've tried these methods and were less than pleased with the results, maybe the thin neck is the way to go.
A thinner neck on your acoustic guitar will allow you to play with less effort. It's a simple matter of leverage.
In fact, try out the thin neck and you may find your stamina increase with no extra effort. You'll especially notice a difference playing barres, or complex, hand-stretching chords.
Tone
But will the size of the guitar's neck really influence the sound? Well…yes. It's not the main factor, but it is a factor.
This is especially true of acoustic guitars, where all the sound is created within the guitar itself — as opposed to electric guitars, where the sound is heavily affected by the pickups, the effect pedals, and the amp.
A slimmer neck will lead to a brighter tone and increased clarity, especially when playing false harmonics. The tradeoff here is a thinner tone and slightly less sustain than you might have with a thicker neck.
This type of sound is generally associated with the acoustic guitars in pop music and certain types of country music. Of course, there are no rules in music, so if you prefer the brighter sound of a thin neck guitar, then, by all means, that's the way to go.
All right, now let's get on with the show: the best thin neck acoustic guitars.
Best Acoustic Guitar with a Thin Neck: Our Recommendation
So if you're looking for a very playable neck guitar, and you want a great sound to boot, we believe that these are the best thin neck acoustic guitars around.
However, the one that stands out from the group — in sound, value, and quality — we'd have to recommend the Yamaha APX500III.
This is a guitar that's going to sound good plugged in or played acoustic. It's ready to go right out of the box. And with so many sizes and colors to choose from, there's something here for everyone.