(Last Updated On: December 21, 2017)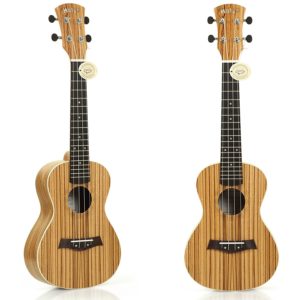 When searching for the best tenor ukulele, it is important to keep in mind several important things:
The size of the instrument
The material that it is made of
The strings that accompany
The different types of tuners to use
All of these elements will have a definitive impact on the tone and depth of the instrument, as well as its durability and life.

Top 5 Best Tenor Ukuleles:
In this article, we review the top tenor ukuleles to help you pick the best one for you.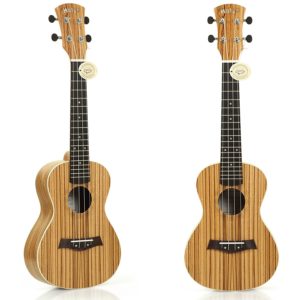 The Hola! Music HM-127ZW+ is 27 inches long, 1.2 pounds, and available in a laminate zebrawood or mahogany body, with a satin finish. It is setup with pre-strung premium Italian Aquila Nylgut strings and geared die-cast chrome tuners. This ukulele does a good job of staying in tune, with the strings staying on pitch without much deviation.
It comes with a high G string, but if restrung with a low G string, it gives a nice, full bodied, mellow sound. The fret ends are sometimes a bit sloppy.
The nuts and the fret ends may be a bit sharp. It may be necessary to file them with a fret file.
In some instances the saddle may be too high, leaving the action too high. This means that the saddle is not squarely seated, and off by about an eighth of an inch.
However, this is for those with a more advanced ear to the intonation. Because this instrument has a larger body and a longer scale, it sounds more mellow, with better sustain. Also the intonation remains good all the way up the neck.
This is a good instrument for people who are series about playing the ukulele and want to move on to the intermediate level.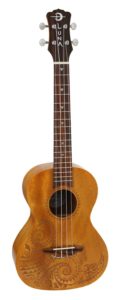 The Luna Mahogany TT Ukulele has a nice blend of the traditional ukulele sound with a deep richness of the classical guitar. It is setup by the manufacturer, and pre-strung with Aquila Nylgut strings (the best in the market,) providing great projection and tone.
It weighs two pounds and comes with geared tuners and quality mahogany wood. This is a great starter instrument for anyone who is interested in learning the ukulele. It's inexpensive and still gives that traditional ukulele sound.
The frets and edges may be a bit sharp, depending on personal sensitivity. They may require some filing in order to make it more playable.
The action (height of the strings from the fretboard) is a little high. So, it may take some time and adjustment before the tuning stays consistent. We would recommend at least a week of playing.
In general, the setup is accommodating to the average player, and once tailored to personal specifications. It is completely satisfying. An added bonus is that a guitar capo will fit this ukulele, so there is no need to buy a special one.
Overall, this is a very reliable, very enjoyable purchase. Go for it if you are a novice looking for a rich sound with more depth than a soprano or a concert ukulele.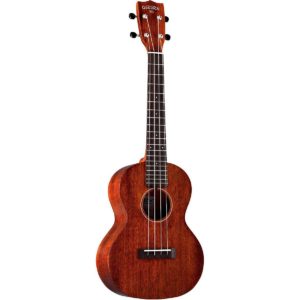 The Gretsch T9120 Tenor Ukulele is a mahogany laminate uke, pre-strung with Aquila Nygluck strings and weighing in at about 3.6lbs. The finish gives it a nice classical touch, and the sound is brighter than a traditional ukulele, which allows the playing of the melody to stand out.
The laminate finish of this model ensures that you won't have to worry about temperature or humidity swings. It has little trouble staying in tune, especially after it's been played regularly for a few weeks. However, the setup may not be quite personable, and some individual modifications may need to be made before you can really go to town with this instrument.
Some of the frets may be sharp and in need of filing, and the action may be a little off, causing a "buzzing" sound that appears to be common with this model. These features are fixable, but it may end up costing a little extra time and money at a professional ukulele shop.
Nevertheless, most beginners and even intermediate level players enjoy this model and are able to work with this instrument in order to make it more personable for them. It's quite durable and accurate, and once it's been played frequently it becomes more comfortable and therefore more enjoyable.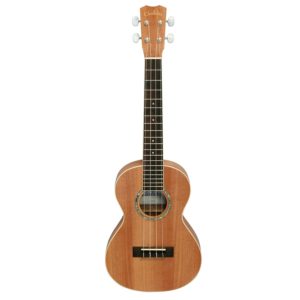 The Cordoba 15TM is made of laminate mahogany on its top, back, and sides. It weighs in at about 3.8 pounds. It is pre-strung with Premium Aquila strings. The tuners are geared and metal with pearl buttons, allowing for less slip when playing. This provides it with a very elegant look.
This model has a rich, warm sound with a smooth action. After a few days of playing and tuning, the neck and strings will be fully broken in and it will retain its tune.
On occasion, it has been pointed out that there is a noticeable angle change of the fretboard where the neck joint is. This could be problematic because if the saddle is lowered, it could cause the strings to hit the frets, leaving some dead notes further up the neck.
There is also the common occurrence of buzzing that can be heard because of the way that the strings cling to the frets. However, adjusting the saddle with professional help can fix this.
This is a nice starter ukulele for anyone interested in picking up the instrument. It's a good choice if you want an instrument that looks sharp and gives off a full, loud, and crisp sound.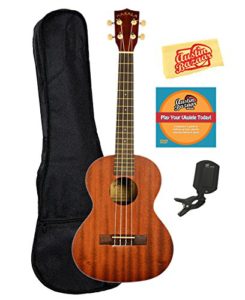 The Kala MK-T Makala is made of a lightweight, laminated Agathis body (2.4lbs) and a mahogany neck. Combined with Aquila strings, this ukulele sounds both sharp and clear.
It holds a tune well, and the intonation of the instrument is generally bright and rich and vibrant. People seem generally pleased with the excellent tuner and the CD that come along with this purchase to help them begin to play. For that reason, it is perfect for beginners, especially children, interested in learning the ukulele.
There are mixed reviews on the strings. Some people say that the strings accompanying the original setup are too cheap, opting to replace them immediately with Aquila Nylgut. Others say that the instrument comes pre-strung with Aquila, so make sure to inquire before purchasing.
Also, the action might be a little high right out of the box and may need to be lowered, because if not there is a definite buzzing sound when the plastic rings around the tuners vibrate. The accuracy in features of this particular model seem to be varied across the board. The real draw of this instrument seems to be more about the items that come along with it.
Nonetheless, it seems to be a wonderful gift for children who are interested in plucking away, albeit not well crafted enough for anyone who is truly interested in learning the ukulele or continuing with their studies of it.
How to Choose the Best Tenor Ukulele
Why the Tenor Ukulele?
The tenor ukulele provides a distinct range of sound when compared with the Soprano, Concert, and Baritone ukuleles respectively.
The tenor ukulele is known for its deeper tone and an increase in number of frets in comparison with the smaller members of its family (15 to 25 frets for a tenor.)
Although many opt for a tenor uke because of its moderate fretboard, it does lend itself to obvious limitations in terms of range.
Many ukulele players opt for this size instead of its smaller counterparts (or even the classical guitar). Why? It is more easily manageable and comfortable to play.
The frets are more moderately distributed. So, if you have smaller hands or a smaller range in finger dexterity, this instrument could be a better fit for you.
Keep the size in mind when looking for what will personally be more enjoyable for you to play. The key is that your instrument does not become a burden, but rather stays continuously enjoyable.
Does the Material of the Instrument Really Matter?
The material of the ukulele will have a definitive impact on the tone.
Solid wood will create a much more resonate, deep tone because it will vibrate more freely, and may improve with age.
However, solid wood is also much more susceptible to humidity and temperature changes, and therefore more prone to crack.
The different traditional wood types available are Koa, Acacia, or Mahogany. Depending on what type of wood you choose will reflect the type of investment that you're willing to make. However, solid mahogany is the most common choice and a good place to start.
A ukulele made of laminate will not have as deep or as rich a sound. However, it is much more low maintenance and will last for a longer time.
Laminate does not breathe like wood, so it will not become richer over time. The trained ear might perceive a more "manufactured" intonation with laminate instruments.
Geared Tuners or Peg tuners?
It goes without saying that a stringed instrument must be tuned with precision to produce the best possible sound.
Geared tuners are more thorough in terms of holding the string in place, and allowing for fewer instances of slipping.
They are considered easier to tune than their peg counterparts and are generally easier to get an exact sound.
The geared tuners have a ratio of 1:18, allowing for much more accuracy.
The peg tuner is the traditional tuner for the ukulele and allows for a more traditional intonation.
With a ratio turn of 1:1, the accuracy of the string is not as precise.
Although this will give you a more traditional look for your instrument, it is intended for more experienced players who might be searching for a less precise, but a more unique, personal sound.
Types of Strings for the Tenor Ukulele
The type of string that you use will absolutely affect the sound of the instrument.
In addition to the sound, the durability and stability of tuning over time are important factors to consider. For this reason, different strings offer different results.
The most common and accepted string for the tenor ukulele is Aquila Nylgut. It's a material designed to improve intonation and tuning accuracy.
The overall sound of the different types of strings relies more on personal preference. However, whether that be D'addario Titanium, Aquila Red Series, Italian Aquila Nylgut, and so on.
Many tenor uke players often opt to switch out the High G string for a Low G in order to make the range of the instrument more full bodied. However, this is not considered the traditional ukulele sound.
Final Thoughts
Considering the consistent quality of each product, the most traditional ukulele sound, the instrument with the least hassle, and the biggest bang for your buck, the Hola! Music HM-127ZW+ Tenor Ukulele is the strongest contender.
With its rich, mellow sound, geared tuners, moderately spaced fretboard and sustained intonations, this model is highly recommended for both beginners and intermediate players alike. Providing that full bodied, traditional island sound and the iconic look to boot, the Hola! Music HM-127ZW+ Tenor Ukulele is the best tenor ukulele on the market.