(Last Updated On: December 21, 2017)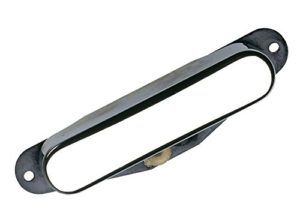 Are you interesting in elevating the sound game on your Telecaster?
With one of the best Telecaster pickups, you can acquire a whole new range of sound that will definitely set you apart from the rest.
From a sharp Blues twang to modest country pickin' and even to smooth jazz these pickups can really change your sound!
Here are some of the best Telecaster pickups available.

Top 3 Best Telecaster Pickups: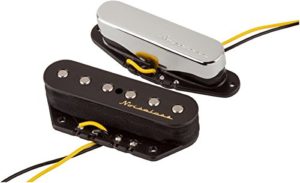 Fender Vintage Noiseless Tele pickups produce the brilliant single-coil clarity, definition, and twang of a vintage 1960s Tele without the hum.
It is furnished with flush-mount pole pieces for an even string response. Also, Alnico 2 magnets for a warmer attack and a less aggressive midrange.
Sound
The string separation is excellent, and when pushed into overdrive, the inner harmonics really leap out in a beautifully balanced tone. They do alter your pick attack somewhat, but not in a bad way.There's still plenty of traditional, percussive "smack," but it is more focused and very responsive to your technique.
There's still plenty of traditional, percussive "smack," but it is more focused and very responsive to your technique.
If you are looking to get a little more growl out of your Tele then these are your pups. They are great for just about any style you would want to play from jazz to country.
Bridge Position
The bridge position provides a very clear and bright sound. It has all the honk and sparkle you could want but is mercifully free from the overload of treble that can produce more pain than twang.
Even without extensive shielding, these are very quiet single coils which do not squeal when the gain is dimed. Together in the middle position, these pickups produce a wonderful, exciting rhythm color with just the right amount of shimmer.
Neck Position
The neck position sounds deeper and more 'chimey.'
The neck pickup has a warm yet defined color. Never muddy, it has a relatively flat response which produces rich sounding chords and round, punchy lead lines.
Installation
For those who decide to do it yourself, the installation might be a bit difficult (from start to finish, it takes about 2 hours). Adding flux and soldering the wires ensures an excellent connection.
It's also a good idea to use heat shrink tubing so that your newly soldered wires are covered snug and professionally. Make sure the pickups test exact or close to their electrical output that the packaging lists!
Design
The biggest problem with the design is that the bridge pup doesn't fit some Telecasters. The coils are actually a sliver wider than some tops, and the top of the stock pups are quite small as it is.
Additionally, the schematics sent with the pickups are not detailed enough to make installation yourself if you don't know exactly what you're doing. It may require a professional to install.
Pros
Great, growling sound
Warm color in neck position
Cons
Somewhat difficult installation
Design is not for all models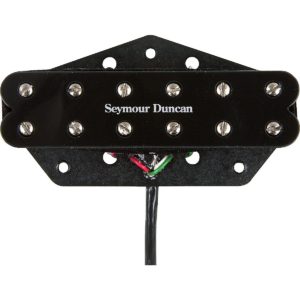 The Seymour Duncan Little 59 Pickup for Telecaster is a single-coil-sized humbucker.The Little 59 Tele is great for
The Little 59 Tele is great for country, jazz, blues, funk, classic rock and heavy rock.
Designed to deliver a warm, smooth tone, this pickup is reminiscent of an old '59 Patent Applied For humbucker mixed together with a healthy dose of twang.
Sound
Great sounding pickup replacement for the single coil bridge pickup. Gives a wonderful performance when used in overdrive channels. It does take away from the Tele twang a bit but that is because it is a humbucker.
When you play it clean, you still get the Tele twang, but this pickup really shines when you play it hot. It can handle overdrive and gain extremely well and is perfect for rock of any kind. This is the go-to upgrade for anyone looking to make their Tele more versatile.
Bridge Position
This bridge pickup is excellent because it provides a satisfying twang with the vibration of the strings. I never used to use the bridge position, but now I use it and like it.
If you don't tend to use the bridge position, this is a great sounding way to start to learn and to experiment. The sound may be different from what you expect, giving you something very new and unique for your Tele.
Neck Position
With a Duncan SH-1 59 Humbucker in the neck position, the Little 59 will complement it perfectly to give that advertised "warm, smooth tone".
The magic of this pickup seems to be complimenting it with others and experimenting with a tone that feels right for you.
Installation
The Seymour Duncan is a great humbucker that turns a Tele into a fire breathing monster. In single coil mode, it won't necessarily inspire you, but it is totally acceptable. Correctly installed, though, it is quiet as a mouse and roars like a lion.
Seymour Duncan's website even offers all the wiring diagrams you would need to install it yourself.
Design
The design for this pickup is exceptional for Teles! Well crafted to fit almost all models. However, it won't work for strats, jags, or mustangs because of the hole configuration. But as far as the Tele is concerned, this pickup will do just fine.
Pros
Perfect for all kinds of music genres
Easy installation
Well crafted design
Cons
Somewhat subtracts from the Teles natural twang.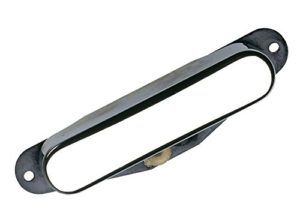 The DiMarzio DP172 Twang King electric guitar neck pickup handles a wide dynamic range with an unequaled response to pic attack.This chrome-covered neck pickup delivers vintage-flavored Tele tones that spank, sparkle, and bite!
This chrome-covered neck pickup delivers vintage-flavored Tele tones that spank, sparkle, and bite!
Sound
The DiMarzio is a very versatile pickup, perfect for blues, chicken-pickin country, funk, and even jazz!
Just roll off some highs with your tone control and you can achieve a pretty convincing hollow body jazz guitar sound. It's less muddy than the average Tele neck pickup with clear, full, and deep sounds. It even gives off a mix of a Strat and Tele tone.
Bridge Position
In the bridge position, this pickup gives off a detailed and articulate response. It definitely produces a louder and hotter sound, especially when wiring the bridge with a push pull pot. Very bright and clear.
Neck Position
The neck position is where this pickup really takes the cake. It is highly recommended for the neck because it is so versatile, keeping the neck nearly as bright as the bridge. This absolutely gives off a stand-out, unique twang that you'll be proud of.
The DiMarzio in the neck with a chopper in the bridge will give your Tele a hot mid boost that is absolutely perfect for leads!
Installation
The installation of the DiMarzio is incredibly easy. It comes with instructions, and they are furnished to fit almost all Tele models. Again, installing it in the neck and pairing it with a chopper in the bridge will give you a stand-out, excellent tone.
Design
Brighter than a typical vintage style pickup, it's very responsive to dynamics and pairs well with other pickups in the bridge. The build quality also looks great and seems very sturdy. It has the ability to live in your Telecaster for years to come.
Complete with controlled-tension windings, hand-calibrated magnets, special wire, and double wax potting, this model ensures a great pickup with killer tone.
Pros
Incredibly versatile with different genres
Exceptional action in neck position
Easy to install
Sturdy design
Cons
*Brighter than a vintage style pickup (*if vintage is your tonal preference.)
How to Pick the Best Telecaster Pickups
Sound
A recognizable change in sound is what you're really looking for when considering which pickup to buy.
Obviously, you want to upgrade the current sound of your Telecaster so that it will give you a unique sound, or at least something to experiment with.
Consider what kind of tone or genre you're going for, and then snag the pickup that will give you what you want.
Bridge Position
When a string is plucked on a guitar, the sound near the bridge is brighter than the sound near the neck. When amplified, the pickup "hears" and reproduces this difference.
What the pickup also "hears" is the volume of the string. If you're looking for something with a higher output and a hotter sound, consider the pickup ability in the bridge position.
Neck Position
Pickups closer to the neck are designed for a lower output, as they are receiving less string amplitude or volume.
If you use the exact same pickup in the neck and bridge positions, then the bridge may sound thin and weak compared to the neck, or the neck may sound too dark and too loud.
Installation
Consider how easy it is to install the pickup. If it takes you forever to set it up or frustrates you to no end, maybe it's simply not worth it.
Many professionals will help you set it up, though, and this may be a better option so that you don't do any damage to your Telecaster by trying to install it yourself.
Design
You'll want to pay attention to the design of each pickup. Some are larger and smaller than others, with slightly different details that might not make it a good fit for you.Consider the design of your Telecaster as well, and see if some of these pickup designs will work with it.
Final Thoughts
All things considered, the DiMarzio DP172 Twang King Telecaster Neck Pickup is the best Tele pickup on the market.
With very few negative aspects working against it (unless you're REALLY a stickler for vintage tone) the DiMarzio will have you experimenting for days.
It is so versatile and provides such a strong, unique sound that it will literally blow the competition away.
In conclusion, Twang King, twang away! You are the best Telecaster pickup on the market.