(Last Updated On: December 21, 2017)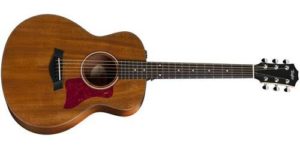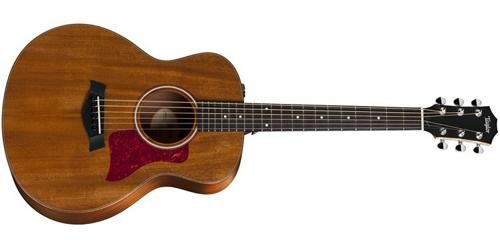 Whether or not you're aware, I'll bet you that you've heard a Taylor guitar.
Renowned for producing some of the finest guitars on the market, Taylor guitars are played by the likes of Dave Matthews, Jason Mraz, and Taylor Swift.
Known for their playability and excellent sound, you'll struggle to find a bad Taylor guitar.
So what is the best Taylor guitar?
Top 5 Best Taylor Guitars: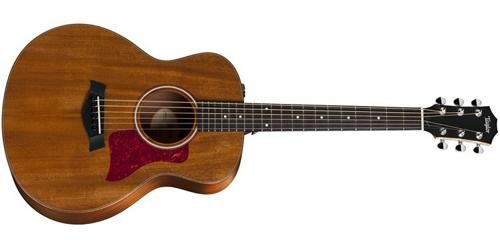 The issue with many mini guitars is that it's difficult to get a rich tone from a smaller body. Build quality often lacks, with manufacturers opting for cheaper materials to further drive down the price, also having a knock-on effect on tonal quality.
What Taylor has succeeded in doing is achieving balance in build quality, size, and sound. What they have essentially done is shrunk the size of their traditional Grand Symphony, keeping that shape to produce a full tone while updating the neck and brace joints.
The GS mini is a little larger than the Big Baby. This means that adults can play this guitar comfortably while either standing or sitting.
The GS Mini can run circles not only around other similar sized guitars in its price bracket but also full-size guitars!
The back and sides are made from laminated https://en.wikipedia.org/wiki/Sapelesapele. The top is solid Sitka and Taylor have given the GS Mini a real ebony bridge and fretboard. Ebony is usually one of the first things to go when manufacturers try and bring down the size and cost of a guitar.
Taylor has produced a guitar that is small, but not cheap in terms of build quality. The GS Mini features the exact same tuners, saddle and nut materials used on the full-size guitars they make.
Taylor's move of using the same body shape of the Grand Symphony is the reason why the GS Mini still boasts booming tones. It can be played at almost the same level of volume as most full-size guitars and trumps many other guitars in tonal range, too.
If you're a light strummer or forceful pounder, the GS Mini responds with ample volume. The tone's warmth can be attributed to the Grand Symphony style body and the clarity is a product of the high build quality of the guitar.
Taylor guitars are known for their playability and the GS Mini is no exception. The GS Mini has low action, so experienced players will be able to speed through scales easily and beginners will be able to enjoy crisp, clear sounding notes without string buzz.
The action refers to the size of the gap between the strings and the frets, a low action means the strings are closer and easier to press against the frets.
This guitar is great for beginner players, with the low action, smaller body and excellent sound you'll sound good from the get-go. If you're a more experienced guitarist, the GS Mini provides you with a guitar that offers true portability without compromising much on sound. With the ES2 pickup system and onboard tone and volume controls, you'll be ready for any gig.
There used to be a line dividing entry-level guitars and quality guitars, with the two appearing to be exclusive. The GS Mini eliminates this line and provides us one of the best value guitars on the market that feels like much higher-end models.
The goal is for the Mini to be sort of a modern-day Parlor guitar, a smaller, more portable instrument that offers tone and playability comparable to a full-size guitar.
Overall, the Taylor GS Mini eliminates the line between "entry-level guitar" and "quality guitar" by producing one of the best-valued guitars that feels, plays and sounds more like guitars twice the price.
Widely regarded as the affordable gateway into Taylor's range of instruments, the 200 series are well-balanced guitars with wonderful tones and exquisite playability. The 200 is designed with aesthetic constraint, appealing to those looking for a more classic, less glamorous guitar.
The 214ce Deluxe Grand Auditorium boasts a fully-glossed body, rather than the glossy top with a satin back and sides you'll find with the non-deluxe versions.
One of the main features that sets it apart from the older models is in the electronics, which have received a huge upgrade to the Expression System 2. This is the system that comes with a lot of Taylor's higher-end guitars, while the lower end instruments like the 100 series have the ES-T.
The popular body style of the Grand Auditorium helped define the signature acoustic sound Taylor is known for. A versatile guitar, you can enjoy high volume even in response to light fingerpicking. If you're strumming or flat picking, the 214ce Deluxe Grand Auditorium delivers a balanced and clear sound across the board.
Sitka spruce is the most widely used guitar top material. It balances stiffness and elasticity to provide the guitar with a broad tonal range with a crisp, articulate sound. The rest of the guitar is layered, or laminated, with rosewood.
Laminated guitars offer a reliable, sturdy platform for the guitar as it is less affected by changes in temperature and humidity, factors which can alter the tone of the solid construction guitar.
Plugged in, the Taylor really starts to move ahead of the pack. It reproduces the guitar's natural tone seamlessly and is a testament to Taylor's innovation in acoustic guitar amplification.
Taylor tells us that the soul of the ES2 is the patented behind-the-saddle pickup, featuring three precisely positioned pickup sensors. The unique location of these sensors increases the dynamic range of the guitar the pickup is able to capture.
This guitar sits comfortably at the top of Taylor's 200 Series. With exceptional build quality, high-end sound, style, and durability the 214ce Deluxe Grand Auditorium is a fantastic entry point to one of the world's most celebrated guitar manufacturers.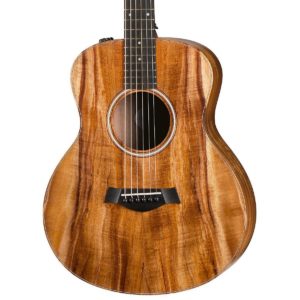 Another guitar in the GS Mini series, the Mini-E Koa was crafted when Taylor started a limited run of premium GS Mini guitars. This model comes with a pair of upgrades to enhance the already superior GS Mini series.
Instead of being made from laminated sapele, the Mini-E Koa is crafted using exotic veneered Hawaiian koa. Koa oozes character with lots of curls and dark streaks in the wood, giving a hologram-like effect when turned against the light.
Even with a change of materials, the Mini-E Koa has kept the shrunken Grand Symphony body and delivers a full, rich sound with excellent tonal range to rival most full-sized guitars.
The low action of the Koa makes this guitar versatile and exceptionally playable to any play style, from fingerpicking to heavy strumming. Beginners will be able to produce crisp, clear sounds with minimal string buzz and experienced guitarists can slide through scales quickly and with ease.
The Mini-E Koa is one of the models in the GS Mini series to be fitted with Taylor's innovative Expression System 2, with three uniquely placed pickup sensors that reproduce your guitar's natural tone for a superior plugged-in performance.
This is a great travel guitar or beginner's guitar, albeit at a price tag that may seem expensive when compared to other models with similar spec.
A good guitar is worth paying for, though. What you're getting from the Mini-E Koa is an ultra-portable guitar with the voice of a full-size version and features you won't find on other guitars, such as the patented NT neck, which guarantees maximum playability.
The Taylor 150e Dreadnought is, without a doubt, one of the most playable 12-string guitars on the market. 12-strings have a poor reputation because many users experience playability and intonation issues. None of those seem to affect the Dreadnought, a popular and affordable guitar in the Taylor 100 series.
Opting for a cost-effective material, the Dreadnought is made with laminated sapele, an African wood similar to mahogany. The bonus of having a layered construction is that the guitar is less sensitive to fluctuating temperatures and changes in humidity. Varnish is applied to unfilled wood, giving the instrument a much more organic feel.
The Dreadnought isn't a flashy guitar, by any means, but it is tastefully designed. The finishing on this guitar is every bit as good as it is on some of Taylor's more expensive guitars, like in the 800 and 900 series.
The 150e Dreadnought delivers a satisfying sound. The guitar has an excellent tonal range and responsiveness, being able to accommodate gentle and hard strummers with equal merit. A versatile instrument, like many other Taylor guitars, this can be enjoyed whether your favorite playing style is fingerpicking or strumming.
Don't get me wrong, the 150e is excellent without the use of electronics. But the signature Expression system really boosts the plugged-in performance and adds an extra dimension to the way you can play. It's the same system that you'll see on many of the high-end Taylor models and incorporates a preamp with volume, bass and treble controls mounted on the upper bass bout.
The Expression System eliminates the artificial sound that lots of acoustic guitars pickups produce. This patented system by Taylor works to simulate the warm, woody sound of your acoustic as if it were in front of a microphone. The only thing the Dreadnought is lacking in the sound department is the projection you'd expect from a dreadnought body.
But for the price, balance, tonal warmth and playability you won't be able to find a better 12 string guitar on the market, I promise you.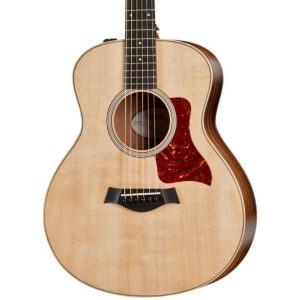 The Taylor GS Mini- RW is one of the latest additions to the hugely popular GS mini family. As the name suggests, this guitar is made from a smaller body and is completely car, airplane, and couch friendly. It's a go-anywhere type of guitar, great for travelers and those who love to play outdoors.
The Mini-E RW takes the body and bold tones of the Grand Symphony guitars then condenses them into a much more affordable and playable instrument. Scaling down usually means not only on size but on quality too.
That is not the case with the GS Mini-E RW. It looks nothing like what you'd expect from a 'travel guitar' – although the sapele and satin finish give the GS Mini-E RW a simple appearance, the three-ring rosette, and three-layer purfling are all characteristics of much higher-priced guitars.
Big sounds come from this small guitar. The deep body and full-sized sound hole make the GS Mini-E RW sound and feel like a full-size guitar. Whether you lightly strum or give it your all, you will hear a response that perfectly matches your efforts. The notes are articulate and crisp across the entire tonal spectrum, whether you're playing fast-paced fiddle tunes or jazz chords.
The extreme playability of the GS Mini-E RW is primarily down to the low factory set action, giving beginners the opportunity to play without hearing the string buzz as well as experienced players the ability to slide through the scales quickly and effortlessly. If you have a more aggressive playing style, then I would suggest raising the action.
The GS Mini-E RW has the added feature of Taylor's Expression System 2, a genius pickup system that reproduces the natural, woody sound of the guitar rather than a more artificial sound common from many guitar pickups.
The sonic versatility, great playability, and affordability make this the perfect first guitar for anybody just starting out. It equally serves as a quality travel guitar for those who love playing in a whole manner of different places but don't want the inconvenience of dragging around a full-size instrument.
How to Pick the Right Taylor Guitar
It's important to do some research on the guitar you're planning to buy, as every guitar is slightly different. Guitars will satisfy different needs for each musician, depending on their size, body style, and material.
We're providing you with the main characteristics to consider so you can purchase the right guitar for your needs. Why is that so important? Because if you purchase a guitar that isn't fit for purpose, you probably won't be playing it for long.
That's one of the reasons so many people who learn to play the guitar don't stick with it. Here are some things to consider when picking the best Taylor guitar for you.
Size
Smaller guitars offer increased portability, great for outdoor types and guitarists that travel often, saving you the hassle (and cost) of transporting a full-size guitar. They're also excellent beginner guitars, appealing to younger or less experienced guitar players. Full-size guitars offer a more powerful, richer and louder sound.
Purpose – Acoustic or Acoustic-Electric?
If you'll be playing in a band, busking or taking your guitar to public events, an acoustic-electric guitar should be a consideration. They are fitted with pickups and a preamp, letting you hook them up to sound systems and amplifiers without ruining that typical acoustic sound or limiting your mobility whilst playing.
Not plugged in, they sound exactly the same as normal acoustic guitars. Typically a little more expensive, acoustic-electric guitars can greatly expand your playing options.
Materials
The type of wood used in the construction of a guitar will contribute to its tone. Lower priced or entry level guitars are generally crafted using layered wood which doesn't mature with age – what it sounds like now will be the same as what it sounds like in five years. Some higher-end guitars are built with solid wood tops and a layered back and sides.
The highest quality guitars are produced of solid wood, these produce a much richer sound. Solid wood matures with age but is more susceptible than layered wood to temperature and humidity changes which can alter the tone.
Body Style
Dreadnought – It's the first thing non-acoustic guitar players think of when they think of an acoustic guitar. This body style is equally as capable in a wide variety of musical styles from bluegrass to punk and everything in between.
Parlor – These are some of the smallest acoustic guitars you can buy, besides the modern 'baby' guitars. Typically used by those who play with a more low-key style in genres such as indie and folk.
Jumbo – The plus size models of the acoustic guitar world. These produce a big, bold sound on account of all the extra space for sound to reverberate around the body. Jumbos are for guitarists who want to be heard.
Auditorium – This style is almost halfway between the dreadnought and parlor. With a great balance of playability and comfort, it's widely used by those who play fingerpicking styles of music.
Grand Auditorium – One of the greatest all-rounder guitars, the grand auditorium has an exceptional balance between size, shape, comfort and volume. It was on one of these guitars that Taylor Swift played her way from a small-town country artist to global stardom.
Verdict: Best Taylor Guitar
The Taylor GS Mini-E Mahogany Acoustic-Electric Guitar, in our eyes, takes the title of best Taylor guitar. It appeals to both beginners and seasoned guitarists. While Taylor's full-size guitars are exceptional in their own right, the GS Mini-E fills a gap that few other guitars do.
The size enables younger or new players to comfortably learn, while at the same time providing seasoned guitar players an instrument that they can take and play anywhere. Travel guitars often take a blow to quality and sound in order to help drive the price down, but the GS Mini-E retains that same full-bodied sound and high standard of craftsmanship as the Grand Symphony on which it was based.
With the ES2 pickup system, this guitar can even go with you to gigs and deliver a great plugged-in performance. You won't find a more versatile guitar!