(Last Updated On: December 21, 2017)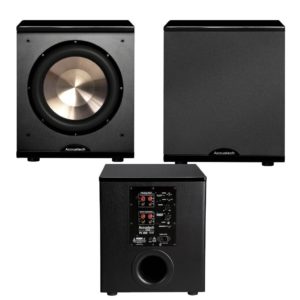 What is the best subwoofer under $500?
Subwoofers are an essential part of any serious home entertainment system, designed to reproduce the low bass frequencies that regular speakers can't.
These specialized speakers bring the roaring Dinosaurs of Jurassic Park or the rumbling earthquakes of Volcano into your living room.
In the market for some extra bass? Check out the best subwoofers under $500 on the market today.

Top 5 Best Subwoofers Under $500: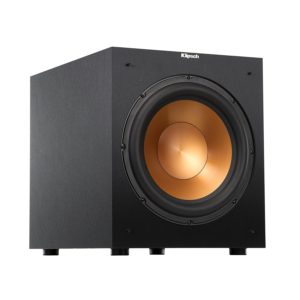 The Klipsch R-12SW 12" Powered Subwoofer is a beefy speaker that caters to music enthusiasts and movie lovers alike. As a Klipsch product, you know you're getting a product that is built to high standards.
With the black and copper color scheme, this subwoofer isn't an eyesore and will blend to almost any space.
Key Features
The Klipsch R-12SW has an impressive frequency response range of 29Hz – 120Hz, giving it the ability to capture and reproduce all the low-end frequencies the average human ear can pick up.
The bass-reflex MDF enclosure with brushed black polymer veneer finish extends and increases bass response for higher power efficiency.
You can tweak the crossover frequency between 40hz and 160hz to suit your preference, giving you the ability to seamlessly integrate this subwoofer with the rest of your speakers.
To get the best performance possible, we advise you to place the sub in the corner of a room. We experienced much better bass response in comparison to placing it in a more open space where the bass was generally far weaker.
The R-12SW can effortlessly fill large rooms with rich low-frequency sounds. This is a sizable subwoofer, measuring in at 16 inches high, 14 inches wide and 18.5 inches deep and weighing 33 pounds.
It comes with an all-digital amplifier, delivering 400 watts of dynamic power, for efficient and accurate bass reproduction.
The IMG woofer helps to reduce distortion and the front-firing woofer radiates deep, full-bodied bass. Lowpass and phase control are great features which allow you to change the level of bass depending on the size of the room, as well as being able to acoustically match the sub with the main speakers.
The R-12SW has an auto power feature which makes it an incredible power efficient sub to have in your home – it'll turn off after idling for 15 to 20 minutes and turn back on once the sub detects a signal.
This subwoofer is compatible with both old and new receivers, with its line/LFE inputs.
Conclusion
If explosions in movies aren't really having much of an impact on you anymore, or you seem to be missing something when listening to your favorite songs, we're wagering that the Klipsch R-12SW is the missing piece of the puzzle.
Able to fill a large room with ease, this sub will transform your existing sound system and have those realistic, deep sounds vibrating through the whole room.
Pros
Wide frequency response range
Variable crossover frequency
Powerful enough to fill large spaces
Dynamic enough to be used in small and large spaces
Can connect to older sound systems
Cons
This is a large and heavy subwoofer which could make finding space for it difficult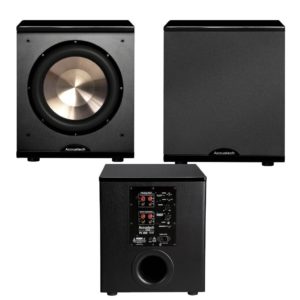 Make no mistake, this is a titan of a subwoofer. Its size is matched only by its power and quality of sound.
The perfect addition to any home cinema, the PL-200 will bring high-end, cinema-grade bass to your living room.
Build & Design
Let me tell you what I mean when I say it's a titan of a speaker. Measuring in at 17.25 inches by 14.75 inches by 19.5 inches, it stands at around 1.5 feet tall!
Needless to say, this subwoofer requires a lot of space and you should take that into consideration before you buy. It weighs a whopping 43 pounds, so it can become a highly physical task trying to locate the optimum location for this sub.
Sound
Operating on 250 watts of RMS power from a state of the art BASH amplifier with the ability to handle 1000 watts of dynamic peak power, it's no surprise that this subwoofer consistently delivers powerful, realistic bass.
When the PL-200 was called upon to handle the lowest of the low frequencies it managed to do so and shake the floor in the process. With a frequency response range of 22Hz – 200Hz this subwoofer can go low.
Fitted with a 12-inch front-firing speaker, this subwoofer can easily be too beefy for smaller spaces. For large, open rooms the PL-200 can push out enough bass to fill up the whole room.
Key Features
As well as being built to a high standard and delivering impressive sound across the board, the PL-200 has a few extra features, allowing users to fine-tune elements of the speaker and amplifier.
On the back of the sub, you'll find the adjustable crossover and volume knobs along with an 180-phase control and an auto on/off feature which will power up or send the sub into standby mode depending on if a signal is detected. There are speaker-level inputs and outputs for those who want to connect the subwoofer to an older sound system.
Conclusion
The BIC America PL-200 is one of the most powerful subwoofers you'll be able to pick up for the price. The 250-watt RMS dynamic power and wide frequency response make this a stand-out entry-level subwoofer.
It'll push out the bass with enough power to make a large room rumble, bringing a wonderful depth to your music or movies.
Pros
Some of the most accurate, high-quality bass in its price range
Adjustable crossover frequency switch
Can fill small or large spaces with rich bass effortlessly
Wide frequency response range
Can connect to older sound systems
Cons
Another member of the BIC subwoofer family, the America F12 is the perfect choice for those on a strict budget. Many subwoofers at this price point don't perform well.
With the F12 we get a budget subwoofer made to the same high standard as the other BIC subs. The best of both worlds!
Design & Build
At first glance, the F-12 looks like a $400+ dollar subwoofer. The cube-shaped cabinet is classic and attractive, albeit a little large and heavy.
Measuring in at 14.75 inches by 17.5 inches by 17.25 inches and weighing a hefty 43 pounds, you'll want to make sure you have space to put this sub before you buy it. Once it's down, you won't want to move it.
The 12-inch woofer is housed in a solidly constructed, cube-shaped cabinet finished in black laminate. The mesh grille is removable for those who want to switch between a classic understated design to a more stripped back look.
Sound
The 12-inch subwoofer has a frequency response range of 25Hz – 200Hz which is the same, if not wider, than many subwoofers that cost twice as much.
Magnetically shielded, the F12 gets power from a long-throw driver that can move serious amounts of air with little effort, making this capable of filling a medium-sized room with rumbling low-frequency goodness.
The F-12 has a fairly low power rating, at 150 watts continuous and 475 watts of peak power. If you're looking for something with some real "oomph", don't be put off by these numbers.
The manufacturer rates the sensitivity at 90 decibels, a testament to how efficient the BASH amplifier is at efficiently converting power to big, powerful sound.
Key Features
The BIC America F12 has a whole range of features which make it a suitable addition to any home theater. There's three power settings: on, off, and a signal-sensing auto power setting.
The only design flaw we could find was that the LED power indicator was on the rear of the speaker, making it difficult to see.
It's easy to integrate the F12 with the rest of your sound system with the crossover frequency dial. With a little tweaking, you'll be able to tune it to blend in seamlessly.
You can set the phase control at 0 or 180 to help integrate the F12 further. When the phase is properly set, all the drivers in your speakers will move in the same direction at the same time.
There are a few different connection options for the F12. The sub-in connection lets you alternate between a Dolby Pro-Logic receiver and a Dolby Digital 5.1, 6.1, 7.1 or DTS surround-sound receiver.
Conclusion
This is the best subwoofer for those on a budget, but still looking for punchy, tight bass to fill their entertainment space.
The specs may be underwhelming for those who want something with a lot of power, but in reality, the BIC America F12 delivers full-bodied bass that can't be bested by any circa $200 subwoofer we've seen.
Pros
Excellent value for money
Crossover dial and phase control for fine-tuning and seamless integration
Suitable for medium to large-sized rooms
Cons
Power indicator is on the back of the unit, making it difficult to see
Large and heavy
Since its release, the Polk Audio PSW505 has been featured in audio supply stores, both on and offline, all around the world.
Even though the price is now a fraction of what it used to be, the PSW505's performance rivals most newer models in the same price range. This model is still the favorite of many audiophiles on a budget and it's clear as to why.
Design
The PSW505 uses a bass reflex design with a 12-inch front-firing woofer and rear-firing slot vent. The whole unit measures in at 16 inches by 15 inches by 18 inches and weighs about 40 pounds.
The sturdy feel of the PSW505 is partly down to Polk Audio using the top of the slot port as a horizontal brace, which supports two more vertical braces.
Four plastic feet on the bottom do a good job of keeping the subwoofer in place, we didn't see any movement during testing. The unit is finished in a black wood grain vinyl, with a black metal faceplate in the back and a silver painted faceplate in the front.
Sound
The PSW505 has a frequency response range of 23Hz to 160Hz, but in a real environment, we found that the subwoofer struggled to reproduce bass that was lower than 30Hz.
For the low price tag, there were bound to be some compromises. The 12-inch long-throw woofer has a rating of up to 300 watts of continuous power, giving the PSW505 the ability to fire out enough quality bass to fill large rooms.
Because of its impressive power, we wouldn't recommend this for small spaces.
Equipped with a magnetic shield, you can place this sub next to other electronic devices without any interference and the Dynamic Balance design helps reduce unwanted resonance, resulting in tight, clean bass above 30Hz.
Key Features
There's a signal-sensing automatic power on/off circuit which will turn the sub off after 15 minutes of idle time. To reduce distortion and keep an accurate bass response, there's a one-inch thick baffle located on the front.
Slot loaded venting helps to further eliminate turbulence, noise, and distortion.
The PSW505 also comes with adjustable low-pass crossover, a phase control allowing you to switch between 0 and 180, and volume controls, all features which help you easily blend the subwoofer with the rest of your sound system.
Conclusion
This subwoofer is designed to fill large rooms but can be used for smaller spaces if care is taken with volume.
Excellent performance for your money and a sturdy construction makes the PSW505 a great investment, especially if you're looking for an entry level sub that will last you a long time.
Pros
Sturdy build and innovative design features help to eliminate distortion and resonance
Powerful enough to fill large rooms with rich bass
This has been on the market for a long time and the positive reviews speak for themselves
Excellent performance for a budget subwoofer
Cons
Large and heavy
Struggles to reproduce bass lower than 30Hz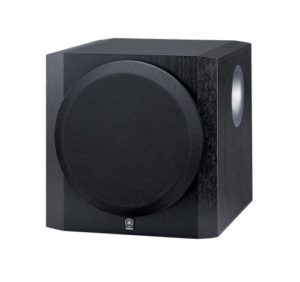 The smallest subwoofer on this list, the Yamaha YST-SW216 (I know, the name rolls off the tongue) is the cheapest subwoofer you'll be able to find that provides you with a reasonable listening experience. For the price, it really can't be beaten.
Design
Looking at the subwoofer, you wouldn't expect it to only cost approximately $130. It's a simple design, consisting of a high-density MDF cabinet finished in matte black with a cloth covering the front-facing driver.
Okay, it won't turn any heads, but the understated design will no doubt blend nicely into any living room.
Measuring 15.2 inches by 13.3 inches by 13.3 inches it's the smallest sub on this list, and at 27.8 pounds in weight it's also the lightest, making the sub a little more concealable if you don't want it on display.
Sound
The YST-SW216 boasts an impressively wide frequency response range for a subwoofer of this price, at 25Hz to 180Hz it can pick up all but the deepest bass frequencies.
A 10-inch long-stroke cone driver rated at 100 watts of dynamic power does most of the heavy lifting and allows the sub to produce powerful bass considering its driver size.
Magnetic shielding eliminates any interference from nearby electrical devices. The sound does come with some compromises, with many users reporting that this subwoofer is unsuitable for quick, bass-heavy genres of music such as techno and hip-hop.
The YST-SW216 is still an excellent choice for a home theater and can reproduce the demanding bass of action movies with ease.
Key Features
There are a few features in the YST-SW216 that you'd usually find in more high-spec subwoofers such as the selectable high-cut filter.
You'll be able to connect this subwoofer to smaller speakers thanks to the speaker level input, making this a great sub to beef up your PC sound system for more immersive gaming.
We would've liked to have seen a signal-sensing auto on/off feature, however, considering the price we're comfortable turning it on and off the old fashioned way.
The YST-SW216 also features Yamaha Active Servo Technology, a unique system in which the speaker and amplifier work together to eliminate impedance so the speaker has a perfectly linear motion.
Conclusion
If you're looking for a mid-range subwoofer to handle both movies and music, then you'll be disappointed with the YST-SW216. What this subwoofer does offer is incredible power for the price and a compact factor the other subwoofers in this list don't have.
If you can cope without some of the conveniences such as the signal-sensing auto on/off feature then this would make a great addition to any home theater or PC sound system.
Pros
Smaller and lighter than the other subwoofers on the list
Incredible value for money
Contains many features typical of a higher caliber subwoofer
Cons
Not suitable for reproducing quick, bass heavy music such as techno
Sometimes doesn't pick up the more subtle bass frequencies
What to Consider Buying a Good Subwoofer Under $500
Bass is the foundation on which great sound is built, so it's important to get a subwoofer that meets your needs. We've put together a list of the key things you should consider when investing in a new subwoofer so you can build a solid sonic foundation in your home.
Driver Size
Before you start shopping for a new subwoofer, consider how much power you'll need. Generally, a larger driver gives you deeper bass, while a smaller driver has a quicker response time.
If the subwoofer's driver is too big, it might struggle to keep up with things like rapid drumbeats. However, if it's too small, you might not feel that car exploding in your favorite action movie.
An 8-inch subwoofer is the most economical size, although it won't deliver that heart-pounding bass you want. The most common (and practical for the home) size is 10 or 12 inches, this size should be able to keep up with any music track and deliver those bass-intensive moments in movies.
If you want to crack your wall in two or piss off the neighbors, a 15 or 18-inch subwoofer would do just that. A subwoofer this big is usually considered overkill in a home environment.
Frequency Response
The frequency response will indicate just how low the subwoofer can go. The average human ear can hear sounds as low as 20Hz. Subs that can reproduce such low frequencies tend to be very expensive. A good quality subwoofer in the $500 price range should go down to around 35Hz.
Passive vs Powered
Passive subwoofers are powered by an external amplifier. Powered subwoofers have a self-contained power source. Because bass can put a huge strain on an amplifier, powered subwoofers are a much more sensible choice. Any good subwoofer should have at least 150 watts of power for accuracy with no distortion.
Front-facing vs Down-firing
Front-facing subwoofers blast out sound from the side or front of the subwoofer enclosure, whereas down-firing subwoofers radiate sound towards the floor. Neither is really better than the other, it will depend on your individual needs. If you have people living below you, a down-firing subwoofer may not be a great idea as you'll no doubt disturb the people downstairs.
Enclosure
The enclosure refers to the cabinet that contains the speaker. The design can significantly alter the performance of the subwoofer. Bass reflex and acoustic suspension are the most common designs. Acoustic suspension enclosures use a sealed box to reproduce accurate bass – but these draw more power than other enclosure designs. Bass reflex designs add a tuned port which increases and extends bass response, resulting in a more power efficient but less accurate subwoofer.
Crossover
The crossover is a circuit that re-routes all frequencies below a specified point to the subwoofer, leaving all frequencies above that value to be handled by the main speakers. Generally, a crossover frequency of around 100Hz is optimal.
Size
Bigger doesn't always mean better, especially with modern technology. We are constantly seeing more power coming from smaller devices. It's important to consider the room it will go in and whether or not having a huge subwoofer will be obtrusive. Plan beforehand and choose a subwoofer that's the appropriate size for your space.
Now you're clued up on what to look for, let's check out some of the best subwoofers you can pick up for less than $500.
Verdict: What's the Best Subwoofer Under $500?
So what is the best subwoofer for under $500? We've seen units covering the whole range of our budget. But there can only be one winner…
BIC America PL-200
It sits right in the middle of our budget, yet has specs to rival subwoofers that cost more than $500.
Able to fill both small and large spaces with punchy, tight bass, the PL-200 is more than capable of bringing your favorite movies and music to life, no matter how sonically demanding.