(Last Updated On: December 21, 2017)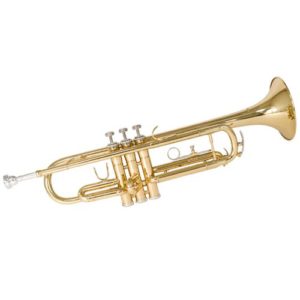 Figuring out what trumpet to buy as a beginning player can be wildly intimidating – there are so many options with huge variations in price, and it can be difficult for the non-discerning eye to figure out why the prices can range from a couple hundred to several thousand dollars.
Student trumpet players often struggle with whether or not they should buy or rent an instrument.
The price of many trumpets might intimidate a lot of people out of considering purchasing their own instrument – but there are a number of well-priced trumpets that provide desirable features in student trumpets.
Top 5 Best Student Trumpets for Beginners: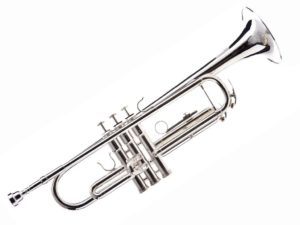 The Hawk WD-T313 trumpet is both advertised for and built to be a student trumpet. Available in silver or nickel plating, gold lacquer, and a variety of painted colors, this higher-priced trumpet (ranging from $170-$200) is a decent option for beginners.
The manufacturer does not provider the size of the internal bore; however, the tubing certainly behaves the way thinner tubing would, which suggests a smaller bore, better for people who need to develop their power.
The valves do a good job of popping back up but you'll need to liberally use the valve oil to prevent it from sticking after a few months of use.
This trumpet plays clearly, albeit somewhat lightly – it doesn't have the power or depth of a more expensive trumpet, so it's not ideal for solo work, but it will fit in well with a beginner band.
This trumpet was designed for student players in mind, so every feature was decided with ease of playing in mind. When you're first learning to play, the amount of power and skill you'll need to develop might surprise you – a trumpet like this will make it easier for you to build your way up to solid playing strength.
Pros
Bright
Clean playing
Solid build
Cons
Less affordable
Lightweight sound might lack power
Overall, the Hawk WD-T313 is an acceptable student trumpet. However, the price seems to be a little on the higher end of student trumpets. It plays well and can help you gain the strength to play better.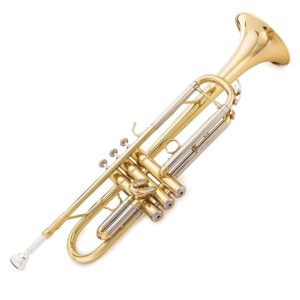 This trumpet comes from the Jean Paul line of student trumpets.
The body is made of yellow brass, finished with a gold lacquer to add warmth to the sound. Unusually, this trumpet comes with a slightly larger bore than most student trumpets do for a more powerful sound.
This might take a little more effort to play for a beginner, but with the appropriate mouthpiece you should be able to compensate and even develop the power necessary to play decently on any trumpet. At $160-$180, this is certainly an affordable trumpet considering its strengths.
While this trumpet has a solid build initially, a common complaint is that after a few months of playing the valves have a tendency to stick. This is likely caused by infrequent valve oil application in the initial months of owning it. So be sure to liberally and frequently coat the sliding pieces with valve oil to prevent sticking.
The trumpet has a good, powerful sound. However, it also needs frequent clearing of the spit valve to prevent a congested sound.
Pros
Cons
Needs frequent upkeep to prevent common problems
This is a great beginning trumpet for anyone who is looking to play powerfully and stand out in a crowd – and good for teaching responsible trumpet owning, as it is sensitive to neglect.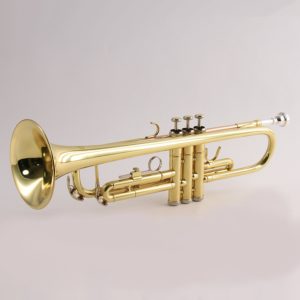 Coming in at $120-$130, this is the one of the cheapest trumpets on our list – but it appears to be priced that way for a reason. If you intend on purchasing a better trumpet fairly soon, this would be a fine instrument to buy for the time being, as is sounds quite well.
Made of yellow brass with a clear lacquer and a medium bore, it has some decent playing power, and doesn't lean too far to either bright or mellow. In fact, it plays very well and if it lasts, can take you to an intermediate playing level easily.
However, there are some design flaws that make it possible for the trumpet to have problems playing in the future.
Without frequent oiling of the pistons, you are likely to find yourself with a very stuck valve – and there's the slightest chance it might happen anyway. The valves do not come numbered, with is both unusual and inconvenient when trying to oil them.
The price suggests "elementary school" but the amount of upkeep this requires is more akin to someone in a more responsible age range.
Pros
Cheap
Solid body
Decent sound quality
Cons
Third valve designed wrong
Poor lifetime potential
While it can be acceptable for some beginning situations, it might be cheaper in the long run to purchase a slightly more expensive instrument that will last longer – the lifespan of this instrument is not long, and the construction leaves something to desire.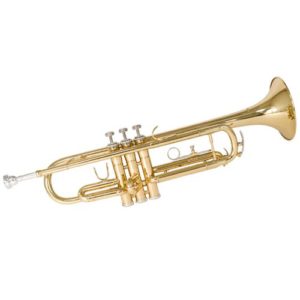 The Mendini MTT-L is a bargain student trumpet option that feels and plays like it costs more than it does. At $80-$100, this easily affordable horn comes with a mid-size bore and a gold lacquer finish.
The valves feel sturdy and heavy while remaining loose and fast-acting while playing, especially with careful lubrication. Unlike some of the other cheap options, this trumpet doesn't require deep fastidiousness to prevent it from being destroyed, only normal maintenance. This trumpet is built both to play well and to last.
With smooth airflow and a clear sound, this trumpet will serve well for any beginner or intermediate player. It sounds strong, clear, and somewhat dark – a depth that works especially well in middle registers.
Pros
Very affordable
Sturdy
Sounds great
Cons
You'll eventually need to replace it as you get better
This is our winning trumpet by a mile. Between the price and the quality, it's going to be hard to find a better trumpet suitable for beginners that will deliver the sound and strength of the Mendini MTT-L student trumpet.
The Glory Brass Bb Trumpet is another bargain-for-the-price horn to consider, priced between $80 and $90. This trumpet comes standard with a clear lacquer. With a small bore for student trumpet players and responsive valves that don't require intense maintenance, this is a well-built trumpet for beginners.
The materials and size were all decided upon with introductory playing in mind. The valves do get stuck on occasion, but keeping up with your maintenance and cleaning regiment will prevent the instrument from being damaged in any way that will affect quality.
It plays somewhat flatter than a good, expensive will play, and doesn't have the power that comes with a wider bore or more expensive material.
The sound quality is good enough for beginner and intermediate level players to do well either in a band or in solo performances, but you will eventually need to upgrade if you become a serious player.
Pros
Cons
Flat sound
Needs attention to valves
While not our first choice instrument, this is a solid second. The majority of beginner and intermediate players will lack the skills necessary to get the most out of their horns, so the quality of sound is not as big of an issue until your playing is beyond what this trumpet can offer.
Buyer's Guide: How to Choose the Best Beginner Trumpet
Materials
Valve Metal
The material composing of the pistons varies depending on the goal. Nickel pistons are popular for beginner trumpets as they stand up better to poor maintenance and rough handling. Intermediate or advanced trumpets might be made with monel alloy, which allow for a more precise fit that improves longterm lifespan but requires more upkeep and is more sensitive to damage.
Mouthpiece Materials
The majority of trumpets are made with brass; more expensive mouthpieces include silver, which create a deep, dark tone. More frequently you'll encounter different finishes – silver is very common, as it is durable and allergy-friendly. Silver-plated mouthpieces provide more grip than the next most common mouthpiece, which is gold-plated. Gold-plated mouthpieces are smooth and provide flexibility, both to airflow and your lips as you play.
When learning, it will be difficult to keep your lips from moving, so silver-plated is recommended.
Body Plating and Lacquers
While most metal trumpets will be made of brass, the finish on it can have a significant impact on how it plays. Most beginner trumpets will feature only a clear lacquer, which is also available up through advanced models. Silver-plating provides a brightness and ringing sound to trumpets. In advanced models, gold plating is also available, which provides a dark richness to the trumpet's sound.
Body Materials
Almost all trumpets are made of brass – but there are exceptions. Growing in popularity are plastic trumpets, which lack the warmth and tonal intonation of brass trumpets but play quite well anyway.
Rarer finds include copper, gold, and silver trumpets. They're worth mentioning for the novelty but not something to seek out when buying a daily trumpet.
Parts
Bore
The inner diameter of the trumpet tubing; this is measured at the thickness at the second valve. Smaller bores are often found on beginner trumpets as it makes it easier to produce a powerful sound with less power. However, this sacrifices the sound quality somewhat.
Mouthpiece
The detachable portion of the trumpet that you blow on. You should generally use the mouthpiece a trumpet comes with when you're a beginner, but different aspects of a mouthpiece affect the sound you make.
Wider rims train your endurance, while narrower mouthpieces train your lip flexibility. Rounded edges are more comfortable, but sharper edges improve the sound of the attack.
Shallow mouthpieces sound brighter than deeper mouthpieces, larger mouthpieces are louder and provide more control than smaller mouthpieces, but smaller mouthpieces are easier to play on for beginners.
Valves
Also known as pistons, these are the "buttons" or keys on a trumpet that you compress to change the tone. For beginners, the most important thing to look for is valves that can be pressed and released with no catching.
Well made trumpets will have valves that fit perfectly in the cylinder without being too tight that it catches; poorly made valves with have knicks or other design flaws that make the valve catch in the down position.
Bell
This is the end piece of the trumpet where sound comes out. The biggest difference a bell can make is in what material is used. Yellow brass is favored for beginner instruments as they can handle a bit of a beating.
Advanced trumpets and some intermediate trumpets will be made with a single piece, while beginner and intermediate trumpet bells are usually made by welding two pieces of metal together.
Final Considerations
There are a few things that your trumpet should come with when you're purchasing it. First is the case itself – it should be sturdy enough to endure any daily wear-and-tear and protect your instrument from bouncing around; preferably, it should have a solid core.
Second is the valve oil. Valve oil should not be so thick that it builds up gunk on the inside of your trumpet – this usually indicates cheap materials. However, thinner oils have a tendency to evaporate. A good valve oil will be thin but have good staying power.
Finally, a trumpet should come with a mouthpiece when you purchase it. If it does not you're looking at an additional $30-$40 out of pocket that you would need to factor into the price. The standard mouthpiece size is a 7C, with sizes increasing from one up.
Final Thoughts: What's the Best Student Trumpet?
Student trumpets are a minefield of different options and experiences that young trumpet players might not fully be able to choose from. Educating yourself on the various options out there is a good first step to deciding what kind of trumpet will suit your needs.
Our pick for the best student trumpet is Mendini MTT-L by Cecilio. It sounds great, feels great, and plays great, and costs less than $100 – far less than many lesser-quality trumpets on the market. Whatever trumpet you choose, make sure you feel comfortable playing it and it suits your needs, from solo to band to on-the-go playing.