(Last Updated On: January 23, 2018)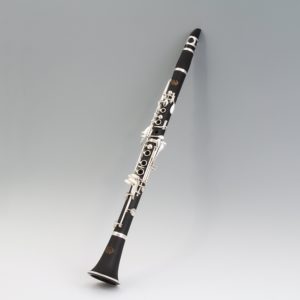 When looking for the best student clarinet brands for beginners, there are a few things to consider.
Since the clarinets in question are specifically geared towards students who are just starting out, you'll want something that's more durable.
You'll also be looking for a clarinet in the lower price range since you'll most likely upgrade in the future.
Top 3 Best Student Clarinet Brands: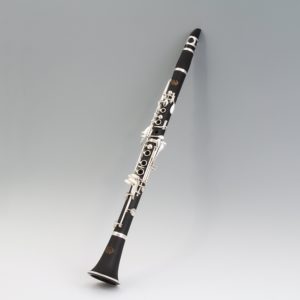 Sound
This clarinet has a smooth and rich tone. It would be good for either a concert or marching setting.
Materials
The Legacy CL-750 Intermediate Clarinet With Deluxe Carrying Case has a plastic body and sterling silver-plated keys. Due to the keys being sterling silver, they are far less likely to bend. It also includes Italian-made pads.
Set-Up
The set-up for this horn requires a bit more work than usual. The joints are very tight. Since the instrument is plastic and not wood, it will not change and make assembly easier over time. The cork may actually require sanding from a professional before it is able to be assembled. Cork grease is definitely a must for this one.
Pros
Durable.
Nice wood-grain cosmetic finish.
Rich tone.
Comes with two barrels of different lengths.
Instrument is a step up from a beginner clarinet.
Good for a high school level player.
Relatively inexpensive.
Keys less easily bent.
Has a contoured case with a carrying strap.
Cons
May require a better mouthpiece and ligature.
Comes with no accessories.
Difficult assembly.
Corks require replacement over time.
Overall, I think that this is an excellent student instrument for the price. It's a bit more expensive, but you'll have to pay less in the long run for repairs and maintenance. It has more durable keys and is easier to keep clean as well, due to the silver-plating.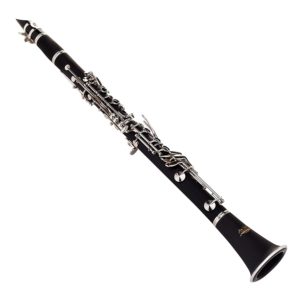 Sound
The Jean Paul USA CL-300 Student Clarinet has a clear and accurate sound. It can produce a variety of tones and has a strong projection. It has a relatively smooth tone as well.
Materials
This clarinet's body is made of ebonite. Ebonite is a highly durable form of plastic and is unlikely to crack unless exposed to extreme heat. The keys are made of nickel.
Set-Up
This clarinet also has an easy set-up. However, too much force could cause bending and require repair. Gentle assembly is definitely a must. Cork grease would also come in handy to prevent damage while putting the instrument together.
Pros
Comes with almost every accessory you could need.
Includes two barrels of different lengths.
Case is contoured and has a carrying strap to make transportation easier.
Nice tone.
Affordable.
Good for student or personal use.
Nice wood cosmetic finish.
Includes a screwdriver for adjustment purposes.
Cons
Keys are easily bent and frequently unaligned.
Requires gentle assembly.
Low notes are usually unplayable when keys are not properly aligned.
Requires maintenance and repairs very often.
Overall, I think that this is a decent instrument for the price. You're paying a little bit more for the ebonite and the accessories. Due to that, this clarinet is a bit more costly than one that is effectively the same. You might want to consider how much money you're willing to spend on the repairs as well. It is definitely a good beginner's horn.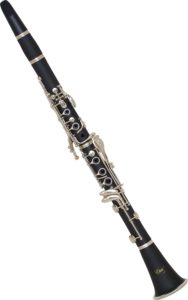 Sound
This clarinet has a loud and clear sound with a decent tone quality for a plastic horn. It would be best used as a marching instrument, as concert quality instruments often need a warm tone that can rarely be found outside of wood.
Materials
The Etude Student Clarinet Model ECL-100 Standard has a plastic body, which is ideal for beginners. Plastic horns do have the advantage for students just starting out. They are a bit more hardy than wood, which should really only be used if the user already knows how to properly assemble and take care of the instrument.
It also has nickel keys. Nickel is one of the lower-end metals to use on instruments, so the keys could easily be bent or worn over time. This instrument comes in a hard carrying case. A hard case is great for students who are rougher on their instruments, it offers a nice layer of protection.
Set-Up
This clarinet has an easy set-up. It will need to be assembled with a little more care. Beginners are often rough on their instruments. Since the keys and stairways are all made of nickel, too much force could cause bending and require repair. For that reason, I recommend that someone experienced teaches the student proper assembly before letting them attempt on their own. Cork grease would also be a good idea to have on hand for preventing damage with assembly.
Pros
Low price.
Nice wood cosmetic finish.
Decent quality mouthpiece.
Sound is loud and clear; good for projecting.
Good horn for marching season.
Sturdy and protective carrying case.
Plastic body is more resistant to being dropped.
Cons
Does not include cork grease, reeds, cleaning cloths, or accessories.
Easily worn down over time.
Requires frequent maintenance and upkeep.
Needs adjusting of keys often, due to bendiness of metal.
Ligature is low quality and may require an upgrade.
Cosmetic logos on instrument are easily worn off.
Overall, I would say that this is a good student instrument for the price. It may require some upkeep over time, but you're only a beginner for a short period. Upgrading will be necessary if you want to advance your playing quality and tone. Playing quality and tone are more intermediate level than beginner concerns anyway.
Tips for Finding the Best Student Clarinet: Plastic vs. Wood
What is the Difference in Sound Quality?
With a plastic clarinet, you're getting a loud and clear sound. Wooden clarinets tend to have a more warm and smooth sound.
Which is More Durable?
Plastic horns are more durable because they won't expand when exposed to the elements. They are also more resistant to being dropped and are less likely to crack.
Wooden horns have an unfortunate habit of cracking and expanding when in high heat. They are also more porous than plastic ones, making them more susceptible to harm if used in the rain. They are far more likely to be damaged if dropped as well.
Which Would be Best Suited for a Concert Band?
A wooden clarinet would be better suited for a concert setting. They have a better overall sound and tone. They also tend to have a nice finish, making them more presentable.
Plastic clarinets have a loud and clear sound that isn't exactly ideal in this particular setting. They would be more likely to stand out when the idea is to blend in with the other players.
Which Would be Best Suited for a Marching Band?
A plastic instrument is ideal for marching band. They can be exposed to a variety of weather without being harmed. They are also better at projecting. Clarinets are often unheard on the field and this would give them a better chance. Marching season is rough on instruments, and can create a need for many repairs.
With a wooden horn, those repairs would need to be constant. It could easily be ruined if not maintained properly. Wood also tends to be quieter, and would be drowned out in a marching setting.
What Is the Price Difference?
Clarinets have a wide range of cost. Generally speaking, a plastic clarinet is far cheaper. Wooden clarinets are often upwards of $600 for a low-grade beginner's instrument. You can find the same quality of clarinet that is plastic for as low as $100. Wooden ones are often seen as an investment for that reason.
Which is Better for a Beginner?
A plastic clarinet is best suited for a player who is just starting out. Beginner students are often very rough on their instruments. Plastic ones are far less likely to be broken.
Wooden instruments are better for intermediate to professional players, who have experience in handling and taking care of them. Beginner students are often unsure of whether or not they are sticking with the clarinet. A plastic one is less of an investment if they decide to switch later on.
Nickel-Plated vs. Silver-Plated Clarinet Keys
How Does Plating Affect the Durability?
Silver-plated keys are more durable. It is a less reactive metal than nickel, so it will take longer to wear it down. Silver is also easier to polish, making it require less frequent cleanings.
Nickel-plated keys are less durable and far more likely to bend. They are easily damaged and require repairing and realigning frequently. It is also more likely for nickel-plated keys to tarnish and turn black when they come into contact with sweat.
Which Plating is Better for Beginners?
Silver-plating is probably the better choice for beginners. They are a bit more costly but will require less expenses in the long run.They are less likely to need repairs due to durability, eliminating that extra cost.
Nickel-plating is certainly the cheaper choice. However, the keys are so easily bent that maintenance can create a large expense. They would be best for a player who knows how to carefully handle an instrument.
Conclusion: What's the Best Clarinet for Beginners?
After much research on the best student clarinet brands for beginners, I would say that the Legacy CL-750 Intermediate Clarinet  is the winner. It's an intermediate clarinet, you won't have to upgrade as quickly as if it were beginner. It's still a student clarinet though, beginners should have no trouble playing it. This clarinet is an excellent quality for the price.