(Last Updated On: December 21, 2017)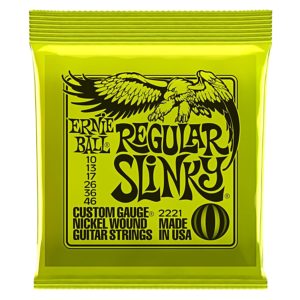 What are the best strings for Strat?
Guitar strings are an often neglected topic of discussion. Whenever we need to change them, sometimes we wonder; "Are there better strings out there for me than the ones I'm using?"
So to help you in your journey of your perfect tone, we will be looking at some of the best strings for one of the most popular guitars out there.
The Stratocaster is one of the most tonally versatile guitars of all-time.
Ever since Fender released this gift to the world, many playing styles and signature guitar tones have been adopted by famous Strat players from the chunky rhythm playing of Stevie Ray Vaughn to Mark Knopfler's chicken pickin' style.
So here are 4 of the best string choices for Strats.
Top 4 Best Guitar Strings for Fender Strat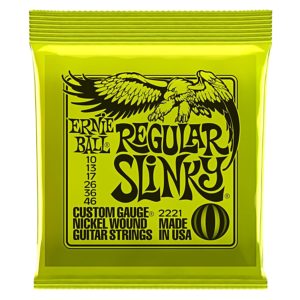 Let's kick off with a classic model that is famous among many players worldwide. Made in California, USA, Ernie Balls are used by many top guitarists such as Slash, John Mayer & Jimmy Page. These "slinkies" are currently the best selling string set model from this brand.
We've all come across boutique amps and boutique pedals. However, back in the day, EB specialized in a certain type of "boutique strings" with a flexibility that allowed the player to bend even more than usual. This evolved into the slinky strings today that are favored by many players.
These strings are made from a nickel-plated steel wire with a hex shaped steel core wrapped around it. This provides great intonation and consistency, while still retaining the well-loved signature "slinky-ness" of these strings.
The specially tempered tin plated high carbon steel, that the strings are made of, produce a well-balanced tone and a decent amount of output, suitable for a wide range of styles, especially heavier genres.
Element Shield packaging prolongs string life's freshness from the day it is made, adding to the many features this model has to offer which makes one of the best strings for Strat players, especially for its modest price.
Pros
Reliable tone consistency
Works well with tremolo arm usage
Comfortable when bending
Cons
Known to rust more easily than other strings
Might sound too "tinny" for some players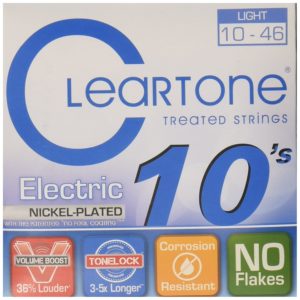 Cleartone appears to be rising in the game of guitar strings with its growing popularity and noteworthy praise among players.
This model scales new heights with superior durability, consistency, and longevity, which all amount from its revolutionary coating technology. It utilizes only one micron of coating, which they claim to be of equal worth to even thicker coatings found on other strings.
It also features super high tension winding over a hex-core to maintain good intonation and consistent tuning. EMP treatment is applied as well to ensure the longest possible tonal consistency for the strings without any compromises.
Its long durability allows for great ease and slickness to any style of playing and because of its rich clarity and warm sound, it brings out the best out of any maple or rosewood fretboard your Strat may possess, making for an excellent choice of strings.
Pros
Very durable
Rich clarity and warm sound
Good intonation
Cons
May be tough on your fingers the first time switching to these strings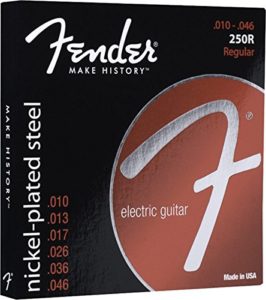 Pairing Fender-made strings with a Fender-invented guitar model seem like a match made in heaven. The fact that they're designed with the knowledge that they would be used on their guitars further cements their place among the best Strat strings.
These strings fit perfectly on any Fender Strat. When you compare them to the similar Super Bullet strings, the 250s are the better choice with their surprising competence and their tuning stability with the usage of a tremolo arm.
Features include a nickel-plated steel outer wrap that brings out the nickel's smooth feel and the steel's high output and dynamic attack, as well as a perfect blend of high and low frequencies that conquer a wide range of genres and playing styles that Stratocasters are capable of.
Despite its rather short lifespan, the Super 250's are still bang for the buck as they sound amazing paired up with any brand of Stratocaster-designed guitar and would be worth the increased frequency of your string-changing errand.
Pros
Good consistency & intonation
Comfortable and snug feel
Well-balanced tone
Cons
Low durability
More fragile than other string models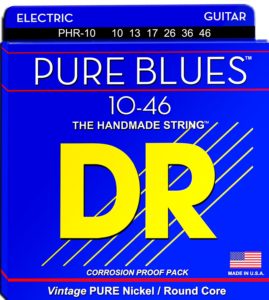 As the name suggests, these strings are perfectly made for, not only blues but other classic genres like jazz, rock & roll and country. But that doesn't mean it doesn't work for other styles of guitar music.
This is because of the vintage style and sound these strings produce from the titular pure nickel wrap wire that is round wound on the wire cores and makes up the string's design. DR uses this traditional style of construction to improve modern performance.
This "handmade" technique has given these strings an acclaimed increased sustain, the aforementioned vintage tone as well as great low tones for rhythm and lead playing.
These strings are perfect for more technical players as the personal craftsmanship put into designing them gives the player a good tonal control of the strings, including an improved warmth and increased longevity, perfect for the practice-crazed guitarist. The signature vintage style of the DR strings makes them one of the best strings for Stratocasters.
Pros
Vintage style tone
High durability and sustain
"Handmade" feature makes it comfortable for most players
Cons
May not be suitable for heavier players who play more modern styles such as shredding
Lacks a bit of clarity in the higher frequencies
Buyer's Guide: How To Select The Best Strings For Stratocaster
What String Gauges Should I Be Looking At?
Okay so you've found the string brand and model you're interested in, now which gauge should you get? The common ones range from ".008 sets" to ."012 sets".
Lighter gauge strings are easier to play, exert less tension on the neck but break easily, while heavier gauge strings have more sustain, are perfect for lower tunings, but are tougher on the fingers.
Stratocaster players swear by ".010" sets, being the standard gauge for most guitars. However, some players use ".009″s for that extra "quack" and an even easier feel when playing.
How Do Different Materials of Strings Sound Apart From One Another?
Different materials that make up guitar strings have unique tonal qualities among themselves, so here are some materials of strings commonly found on Stratocasters:
Pure Nickel – Produces a warm tone
Nickel-plated Steel – Brighter than Pure Nickel with more attack
Stainless Steel – Crispier tone compared to others and is corrosion resistant
Cobalt – Very dynamic with balanced brightness
What Makes for Good Stratocaster Strings and Sounds?
When one think's of the Stratocaster's tonal ability, the terms "twang", "quack" and "chime" to name a few out of the many variations of sound that this axe can produce. So, let's discuss some of the more famous Stratocaster styles for you emulators out there.
Those looking for that clean and quacky sound found on positions 2 and 4 would do well with lighter gauge strings that are good with bending and are tonally flexible. While those who yearn for that classic SRV crunch should look at the heavier gauge strings that do not break easily and last very long while producing a very warm tone in the mids and low ends.
There are many possible sounds with different strings paired up with different guitars. These strings are some of the best choices not only for Stratocaster players but possibly for other guitar models.
So, What Are the Best Strings for Strat?
Not to discount the trustworthiness of the Ernie Balls or the vintage tones of the DRs, the Cleartone strings seem revolutionary enough to be a worthy champion among these 4 for the best strings for Stratocasters.