(Last Updated On: December 21, 2017)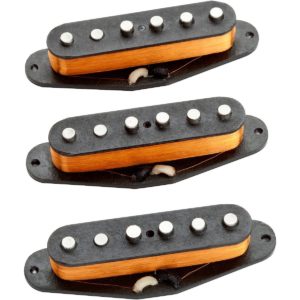 I have this problem sometimes: I play my guitar and it just sounds like the same old guitar with the same old sound. Yes, I want something to spice it up a little, but I still want it to sound like a Strat, just a distinct tone that is mine. I tried effect and amp settings and different tweaks.
Then I start looking for the best Strat pickups to enhance my own sound. There are so many options that I end up getting disgusted and stick with what I have. After research and trial and error, I came up with the perfect combination for me. This buyer's guide for the best Strat pickups will help you find the perfect pickups for you.
Let's look at some pickups that will enhance your Strat!
Top 5 Best Strat Pickups: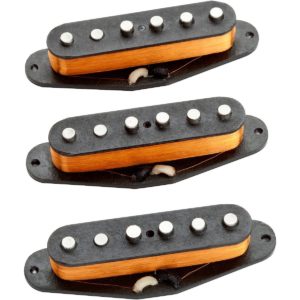 A Fender Strat is supposed to sound bright in the bridge and warm in the neck with a balance of both in the middle position. This is exactly what you will get with the Seymour Duncan SSL-1. These pickups were made as replacements to the stock Fender pickups. These pickups are versatile for playing Blues, Classic Rock and even Surf guitar.
Vintage Fender Strats (pre-1974) were stock with pickups that had staggered pole pieces. The SSL-1's are made the same way. This enhances certain tones that are given off by the strings to give a specific tonal quality.
The SSL-1's use Alnico 5 magnets, which give a hotter, more edgy sound. This is due to the strength of the magnet. The stronger the magnet, the more of the string vibration it will pick up.
Pros
Seymour Duncan did a great job on capturing what a Vintage Strat should sound like
The design is true to the original Strat pickups with the staggered pole pieces
Versatility, they are great for all different playing styles
Cons
Honestly, I have had no complaints about these pickups
Overall, the Seymour Duncan SSL-1 California 50's Pickups are well constructed to give you the sound that you would expect from a vintage Strat.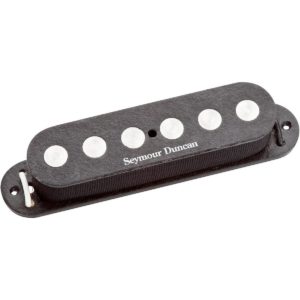 The Seymour Duncan SSL-4 can only be described as thick. The sound is fuller with a rich tone for modern rock. It's excellent for a fat clean tone or a heavy overdriven sound.
While not quite as versatile as others, the sound is distinct and jumps right out at you. Seymour Duncan boasts that these have "double the power of a traditional Stratocaster single coil."
The thick sound can be attributed to the Alnico 5 magnets with an overwound coil. The magnets are thicker as well, helping to produce the powerful tone, think Ritchie Blackmore.
The sound will not give you that vintage Strat quack as much as the other single coil pickups out there. The SSL-4's are not designed for a vintage Strat sound. These, in my opinion, are replacement pickups to give a more modern, heavier tone.
Pros
Beefy, rich tone without sounding muddy
Heavy duty design
Cons
No classic Strat vibe
Not going to be a great replacement pickup if you are looking to keep the vintage Strat sound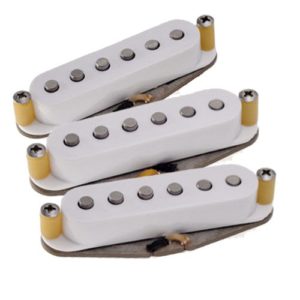 The spanky quack of a Strat wailing the blues and bluesy rock, oh yeah! If that sound appeals to you, then you need to check out the Tone Rider TRS-3's. These will give you the grit and spank for southern rock and blues rock that you've dreamed of.
The TRS-3's are designed as a single coil replacement for an American Strat of the 60's. Fender changed the sound of their pickups in the 60's to a hotter design to give that snap that is associated with southern rock and blues rock. This sound is replicated to a T by Tonerider.
Alnico 5 magnets for a stronger pickup gives an in your face attack. Although these are NOT noiseless pickups, the middle pickup is reverse wound to help reduce noise. Staggered rods give that classic Strat vibe. A gritty sound with a lot of attack for an in your face blues sound.
If I had to describe the TRS-3's in one word it would be "versatile." Great blues sound, excellent southern rock tone and powerful replication of that 60's/70's blues rock vibe.
Pros
Capturing the spank of the 60's Strat sound
Powerful magnets to produce an in your face attack
Stronger than the original vintage Fender pickups which are known for a weaker signal
Cons
Not a noiseless design
Not a dark modern sound (if that's what you are looking for)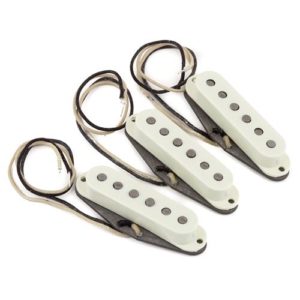 Made by Fender, the people who know what a Strat should sound like, these pickups replicate the sound of the mid to late 60's perfectly. Designed with a middy sound, not a muddy sound. The mid scoop tone gives a great clean blues/surf tone or use some fuzz (think Hendrix, Little Wing).
These pickups also use Alnico 5 magnets for a more enhanced tone. Fender used enamel-coated wires to give a warm vintage sound. Staggered pole pieces mimic the original design of the 60's guitars giving off balanced volume.
This is a precise replication of the 60's Strat sound. Who knows how to replicate that sound better than Fender? I fell in love with these pickups the first time I heard them. There is no muddiness and nothing bogging these pups down.
Pros
Stellar 60's Strat replacements
Clear tone
Sounds good clean or dirty
Cons
The only thing I can think of is that they aren't noiseless, but if they were, would they be true replications?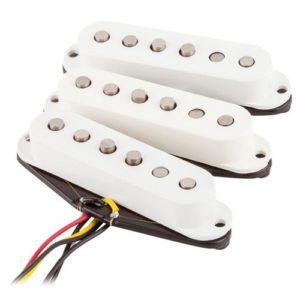 Stevie Ray Vaughn called, he wants 2 sets. That's right, you want SRV, you got it right here. A slight hint of twang with some bottom end to fill it in is how I'd describe the Tex-Mex.
The specs for the Tex-Mex (I'm a poet….) feature Alnico 5 magnets with overwound wires. Reverse wound middle pickup to reduce hum. Fender got it right on this one, they would know. The Tex-Mex were designed to bring out the highs and mix in the warm lows and you can hear it in the sound.
The clean tone of these pickups is impressive. You can dirty it up for some Texas grit, but don't expect Texas mud, because these things are not going to blur.
Pros
Beautiful clean tone
Not overly shrill or too bright
Not overly low or muddy
Cons
If you like the spanky Strat quack, you won't hear it
Finding Your Guitar Sound With A Strat Pickup Upgrade
What Sound Do I Want?
This is the first thing that you need to ask yourself. It's very important to know what you want to sound like and then you can choose the pickups that have the tonal qualities that you are looking for. Let's say that you want to sound like Stevie Ray Vaughn.
You surely would not buy Fender Custom Shop '69 pickups, and if you did, you wouldn't be happy with them. So, figure out your style and sound and it will help you narrow down what you are looking for.
Why Am I Upgrading My Pickups?
This is important because it will help also help you narrow down your search. Are your current pickups, then you need to find pickups that have similar tonal qualities. If you are changing your sound, then you need to find the qualities in the sound that you want so you can find a matching pickup.
Where Do I Start?
Playing your guitar is a perfect place to start. Use your ears and listen to what you like and don't like about your current pickups. Do you want a more vintage sound? More twang? More low end? This is important to know.
It's the same as if you were car shopping. You wouldn't buy a sports car if you were needing a bigger vehicle for more people. Play your guitar and write down what you like and don't like about your tone. For example, is it too shrill and bright, too dark, too muddy?
I have guitars that mean something to me, yet I don't quite care for the tone. To me, there is value in upgrading pickups. For instance, I have a Kramer Aerostar from the 80's that my parent's bough me for graduation.
I love the guitar because it's special to me. However, I want it to sound better because the cheap pickups are just not doing the trick. To me, it would be worth the money to upgrade the pickups and other hardware to make it a great playing/sounding guitar.
On the other hand, I have an old Teisco guitar body that I picked up somewhere, is it worth putting money into? Probably not, because it's still going to be a cheap guitar when I'm done and it means nothing to me.
Important Reminders
There are many variables that affect your tone. Your amp, amp settings, guitar settings, effects, the room you are playing in, your playing style, your strings and even your pick.
The main factor, however, is your guitar and the main thing on the guitar that affects your tone is …… your pickups. In my opinion pickup selection is the most important thing that you can do to get the tone that you are looking for.
Let's use B.B. King for example. B.B. King would sound like B. B. King no matter what guitar rig he used. Part of his tone is in his hands, his playing style.
Remember, that no matter what you do, you will never exactly replicate another guitar players tone. My own experience was trying to get a tone that sounded like a cross between Keith Richards and Brian Setzer.
No matter what I did, I couldn't find the sound that I heard in my head. I always just sounded like me.
I modified my guitar rig, played other people's rigs, went to music stores and played on equipment that was like nothing I've ever tried.
However, I still sounded like me. Finally, I realized that I am me and that's a great person to sound like. Instead of trying to sound like someone else, I embraced the journey on finding my own sound.
This started with pickup selection. I tried different pickups, listened to examples of pickups and finally selected the perfect match for me. I encourage you to do the same, find the best Strat Pickup to make you sound like you.