(Last Updated On: December 21, 2017)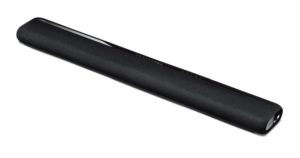 Buying the best soundbar under $200 is a fantastic way to enhance the volume of your TV without breaking the bank on a fully equipped surround sound system.
If you simply need some louder volume or improved sharp dialogue, a simple and clear-cut soundbar is a great way to go.

Top 4 Best Soundbars Under $200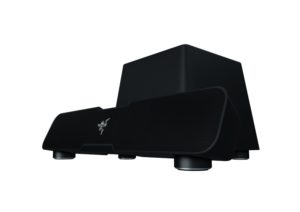 Description
The Razer Leviathan is a 19 inch, elite gaming, and music soundbar that is designed to save space.
Versatile enough to be repositioned constantly, this soundbar features cutting-edge Dolby technology, superior sound drivers, Bluetooth connection, and a subwoofer.
It can project rich sounds to enhance your gameplay, or just stream music straight from your smartphone.
Sound Quality
The sound quality of the Razer is powerful and sharp. You can get it to play surprisingly loud before you notice any serious distortion, especially considering how small it is.
The highs and mids of the Razer perform very well for the price. It can easily fill a small to mid-sized room with commanding sound, and definitely, strengthens the sound capacity of the computer.
Although this model boasts a 5.1 sound system, it is actually more like a 3.1.
Subwoofer
Unlike most soundbars that suffer from weak bass because of built-in subwoofers, the Razer Leviathan is accompanied with a powerful downward-projecting subwoofer on the side.
This is dedicated specifically to the accurate reproduction of bass, and tuned to produce distortion-free lower frequencies. It has the added feature of being incredibly versatile, able to fit any size space.
Particular Features
Unfortunately, this soundbar is designed to turn itself off if it hasn't played anything for 15 or 20 minutes. It can be incredibly frustrating to try to use it only to realize that your speaker has turned itself off and needs to be manually woken up again.
There are programs you can run in the background in order to trick the speakers into remaining on. However, you shouldn't need to trick your hardware into performing its basic function.
It is also very important to note that this model is not recommended for a TV. It does not come with a remote, nor is there a way to hook it up to a remote. definitely meant for computers.
Bluetooth
That being said, the Bluetooth connection on this model exists, yet it is not very practical. Because there is no remote, you need to manually turn the speaker on and then connect to Bluetooth.
At that point, you might as well pull the audio up on your computer and not use the Bluetooth at all.
Pros
Excellent for enhancing gaming sound with computers
Versatile, space-saving, powerful subwoofer
Cons
Frustrating energy saving feature
Bluetooth connectivity not very practical
No remote control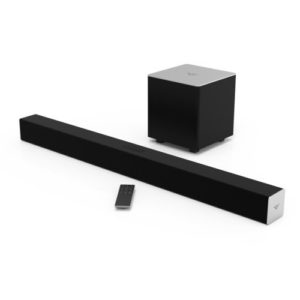 Description
The VIZIO SB3821-C6 is a 38 Inch, 2.1 channel soundbar with wireless subwoofer and Bluetooth connectivity.
It is very easily mounted to a wall and includes a remote.
It has integrated Dolby and DTS audio technologies, delivering a room-filling audio experience with a deep thumping bass in a sophisticated design.
Sound Quality
The sound is crisp and clear with very little distortion, even at high pulsing sound levels. The sound is also surprisingly full and loud when you turn it all the way up.
It has more than enough power to fill an average living room, and the dedicated subwoofer really distinguishes it from other soundbars with "built-in" subs.
This model will work for anyone who needs a generic sound system for their TV. It is inexpensive, compact, convenient, flexible, and has enough features and settings to keep most people happy.
If you're looking for something cheap and you're not too picky, the VIZIO is a fine choice. However, you should not expect it to compete in quality with floor standing speakers and a receiver combo.
Remote
The helpful feature about this soundbar is that it comes with a remote.
Moreover, it can be linked with the remote of your TV. huge in terms of saving yourself from having to worry about multiple devices. A definite upgrade from some of the cheaper soundbars on the market.
In addition to the user-friendly remote, the Bluetooth connection is simple and is compatible with several devices. Nothing too fancy, but it gets the job done.
Particular Features
While nothing, in particular, seems to set this model apart from its competition, nothing too drastic seems to disqualify it either. It is average when it comes to its defining characteristics.
It works wonders for some and is subpar for others. At the end of the day, this is a popular model for anyone who is not looking for anything too particular or elaborate.
Pros
Powerful, built-in subwoofers
Can be linked to a universal remote
Cons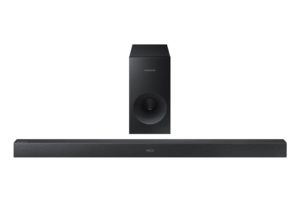 Description
The Samsung HW-K360 is a 35 inch, 130 Watt, clutter-free home entertainment system.
It can be easily set up within fifteen minutes, boasts a wireless subwoofer, Bluetooth connectivity, and is wall mountable.
Sound Quality
The lows are actually pretty clear and come through really well at most volumes, but the mids and the highs give off a tiny, raspy sound at higher volume levels.
Sometimes they don't come through at all. This is most noticeable when listening to music or watching movies where many sounds are occurring at once.
The bass from the subwoofer is very good and accompanies the bar off to the side. If you set it too close to the bar, though, the bass will drown out most of the sound.
Remote
Unfortunately, you will have to use two different remotes when using this mode: One for your TV and one for the soundbar.
Although, with the Samsung Audio Remote App, you can control your home entertainment system from your phone or mobile device.
This convenient app lets you control all the soundbar's basic functions such as power, volume, and the media controls. In addition to this app, the Bluetooth connection is easy to use and provides a great sound for the price.
Particular Features
This soundbar is an expandable system. It allows customers to first buy the basic system, and if they like what they hear, they can purchase the extra speakers later on down the road.
Eventually, you could create a less powerful surround sound system if you are on a budget.
Be sure to set your TV to send sound to "external speakers mode" though so that the TV and soundbar don't compete.
Pros
Audio Remote App to control system from your phone
Expandable system
Cons
Not compatible with a universal remote
Somewhat distorted at higher volumes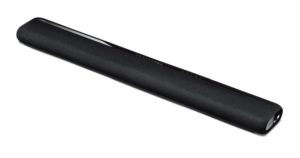 The Yamaha YAS-106 is a 35 inch soundbar with 120 Watts maximum output.
It has an ultra slim design with dual, built-in subwoofers.
There is the option to connect to Bluetooth, and the model comes with a sleek, easy-to-use remote control.
It can be mounted on a wall.
Furthermore, this model allows you to select from five sound modes: Movie, Sports, Game, Music, or TV.
Sound Quality
With all of these combined features, this is an excellent soundbar. It doesn't perform quite as well for general audio as it does for voice and other movie sounds. However, it is specifically designed to enhance the dialogue audio on TV, Games, and Movies.
The subwoofers are built in, so they won't be nearly as powerful as the models that have subwoofers on the side. And while this model will not replace a 5.1 system, it is quite loud and very powerful nonetheless.
Bluetooth
Bluetooth pairing with an iPhone is easy, as the model immediately asks if you would like to download the app once it is all hooked up. This allows for a quick and easy stream via Pandora, iHeartRadio, et cetera.
Remote
It is possible to connect the Yamaha system to your TV remote, allowing for less fumbling with different devices.
In addition to this, the YAS-106 is also compatible with a free controller app for iOS and Android. However, a caveat is that the app has more functions than the remote.
This is a tad off-putting because the remote should have everything you need. You should not be forced to use the app to operate this system.
Particular Features
The Yamaha YAS-106 has a special button called "Clear Voice." This feature is specifically designed to make the dialogue in movies or on TV much more clear.
It picks up on the minute details of the dialogue and filters it out above the general sound and noise on whatever you are watching. Some customers have bought this model specifically for this feature alone.
Pros
Powerful system with 5 sound modes
Downloadable controller app; easy to use Bluetooth
"Clear Voice" audio feature
Cons
Remote control has few functions
How to Pick the Best Soundbar Under $200
Sound Quality
The quality of sound is the number one feature to consider in a soundbar. The sole purpose of using the bar is to enhance the quality of sound on your TV. Since TVs are smaller and sleeker nowadays, their built-in speakers are smaller too.
Thus, the overall quality of the bar that you buy must strengthen the sound somehow. Can it fill your entire space? Is it choppy or filled with static? Will it burst if used at maximum capacity? All of these are very important considerations.
Subwoofer
Along with the quality of the highs, mids, and lows of the built-in speakers of the soundbar, you should also consider the power of the subwoofer.
Some subs are built-in, some accompany the bar off to the side, some are left out altogether. Consider how much power and bass you're interested in, and see which model would be a good fit for you.
Remote
A good remote can make or break any electronic device. Especially a sound system with the purpose of reinforcing sound with the smallest amount of effort on your part.
Some things to consider here are whether or not the model comes with a remote. Can you use it from across the room, or do you have to be practically on top of your system for the connection to register?
Also keep in mind, with some of the more advanced models, it is possible to connect the system to your devices and to use them as the remote control itself.
Bluetooth
Most models come with this option, but the ease of using this feature is the real key. Nothing ruins the Bluetooth option more than an obstacle course of power-switches, button-mashing, and wasted time.
The difference between these soundbars under $200 and some cheaper models is that they have better connectivity to smartphones and other devices. Nevertheless, make sure you don't get stuck with a faulty system.
Particular Features
All in all, most soundbars will function pretty much the same across the board. However, some bars have various incredibly defining features that truly set them apart from the competition.
On the other hand, some models still have a few bugs that need to be worked out by the manufacturer.
Consensus
The Yamaha YAS-106 is the obvious win!
Its most important feature that sets it above the rest is its "Clear Voice" command. This command enhances the dialogue so much that it is a notable and worthy attribute for anyone who uses it.
The speaker is powerful enough when it comes to music and movie audio and the Bluetooth connection is simple and very user-friendly.
The Yamaha YAS-106 is definitely the best soundbar under $200, and will enhance your life immensely.