(Last Updated On: December 21, 2017)
What is the best soundbar under $100 in 2018?
Because TVs have gotten so thin nowadays, most stock speakers within them don't carry the sound power that they once did.
So, in order to enhance the sound of your TV with little hassle, soundbars are a great way to go.
Granted, they are not as fully-stocked as a surround sound system, but they do solve the universal problem of blowing out the sound on your TV. Not to mention that they are very easy to set up, and very user-friendly.
Complete with handfuls of features, we'll outline some of the best soundbars under $100 on the market.

Top 4 Best Soundbars Under $100: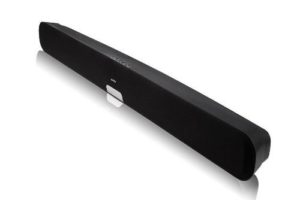 The Apex Digital ASB-900 has a 20Watt maximum output and is 40 inches long. The sound is clear, and very powerful and does a great job of enhancing the dialogue of TV shows and movies.
It will definitely help protect your TV from blowing out its speakers if you prefer your volume to be louder. It could use some more bass, but has a deep rumble and pronounced background noise.
This soundbar also has the option to connect to an external subwoofer speaker if needed or preferred.
It is very painless to hook up, and can stand on its own almost anywhere.
However, it does not have any mounting holes on the back: only two key hole slots to be mounted flush with a wall, so it may not be ideal if it needs to be placed somewhere specific.
However, an added bonus is that it can easily plug into a projector, and is loud enough for an outdoor movie night.
Additionally, it can effortlessly connect to Bluetooth. This is quite a plus, as Bluetooth connectivity can be such a hassle with most soundbars. But this model is able to connect with many devices and streams music from smartphones and computers with ease. It even has an optical cable option that can be used with an Apple TV.
This soundbar cannot program directly with the remote for your TV though, so you will need a separate one to control the sound. It can be a bit annoying, and if the remote is lost you will have to purchase a new one, so keep it safe!
Pros
Loud sound with a decent, built-in bass
Easy to hook up, and to connect to Bluetooth
Perfect for an outdoor movie night with a projector
Cons
Difficult to mount on the wall
Can only be used with its personal remote
BÖHM 60W BT – the Best Soundbar Under $100 (Editor's Choice)
The BÖHM 60W BT is a 32 inch, 60Watt soundbar with 3 audio modes: Music, Movie, and Night. It can easily connect with Bluetooth, making listening to Pandora and other media a huge bonus.
This model seems to be able to play music loudly while still providing clear dialogue without too much fluctuation. The bass is also surprisingly good, given that it has an integrated bass speaker within the unit.
Features
The Night Mode (which reduces peak volume levels) is great for when children or guests are asleep in the house. The Movie and Music modes also work very well to enhance each of those mediums, respectively.
This model has a "spacial time delay," meaning that it intentionally delays some sound to give the effect of sound bouncing off the walls, essentially creating the surround sound experience.
The installation and hookup for this model are simple, taking about 10 minutes in total to set it all up. However, this model does have difficulty being mounted.
The mounting brackets are short, so you might have difficulty mounting your optical cable plug-in, or attaching it to a specific area of your home.
Again, this soundbar will not synch with any other remote, so you will need to keep your eye on two different remotes. Worryingly once more, if you lose your remote, you cannot use the soundbar because there are no buttons on the bar itself…
So don't lose your remote! Moreover, it is hard to decipher what input is selected by the led's indicators on the front. There is no way to monitor the volume or bass level other than just by ear because there is no visual indicator on the model.
The BÖHM soundbar has an "energy saving feature." It will turn itself off if there is a lack of sound for an extended amount of time.
This feature is great if you are someone who is forgetful about turning the power off, but some have found it to be annoying, saying that the feature causes random "cut-outs" while it is in use.
Pros
3 audio modes to enhance every listening experience
Loud, clear sound with "spacial time delay"
Connection to Bluetooth
Cons
Short mounting brackets
Only functional with one remote
Energy saving feature sometimes causes random disconnects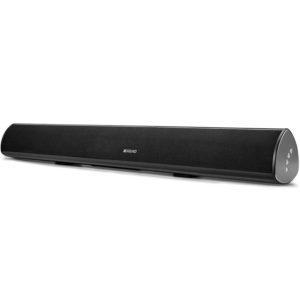 Megacra is a 34 inch, 60Watt soundbar with 3 audio modes (Movies, Music, and Night).
This model is exceptionally equipped with 2 Base reflex tubes, 2 full range driver speakers, and 2 tweeter speakers all combined within. 2 AAA batteries are required to power the bar. It is wall mountable, with 4.0 Bluetooth connectivity and the ability to wirelessly stream audio from Bluetooth-equipped devices.
The sound is full with nice lows and clear mids, but, the volume levels are low without an upgrade. This is relatively easy to fix, but somewhat of a hassle: you need to download a zip file, put it on a thumb drive, plug it into the speaker, and the volume will immediately increase.
This bug may have been worked out on the newest models, but an inquiry before purchase would be a good idea.
The Megacra model is easy to install and easy to mount, and has a round shape with makes it look different from others. The Bluetooth works quite well, but there may be some difficulty when pairing it with devices such as a phone or a tablet.
You may have to power off and unplug the power cable then reconnect it and then retry pairing the device for the soundbar to recognize what is going on.
Unfortunately, the remote on this model has a very limited range. Some have said that you also have to point the remote directly at the TV to make it work, and that there is a delay before the speakers would respond.
The LED lights blink when you hit the up and down button on the volume but there is no actual volume indicator on the model itself. Furthermore, it does not have an option to set the bass or treble manually.
Pros
3 audio modes, and 6 built in speakers
Very easy to mount
Cons
Low volume bug (easily fixed, but hassling)
Somewhat time consuming to access Bluetooth
Cheap remote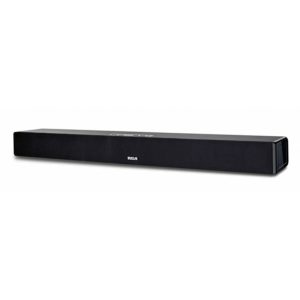 This RCA soundbar has a 20Watt total power output and is 32 inches long. It can be free standing or wall mounted and has a low-profile design to compliment your TV, decor, and entertainment system.
As far as the sound goes, it works really well in smaller rooms, but not so well in rooms with larger, open space. So, if you were planning on using it for a party or a movie night outside, it would not fare well at all.
It is very easy to use though. It has a straight forward set up with standard red and white aux ports, the "line in" port and an optical port.
The newer models come with an optical cable input. It is very easy to mount this model, as it comes with VESA mounting holes. Additionally, this model connects very well to Bluetooth with all devices.
Like most soundbars under 100 dollars, it does require the use of its own remote that cannot be connected universally. And once again, don't lose the remote or you won't be able to use the bar.
Ultimately, this is a cheap soundbar, and while the price may seem decent, when compared with the other products on this list it only has a fraction of the features and a fraction of the charm.
Not many people have positive or negative things to say about this model, but that's probably because there are other models out there with more features at the same price. However, if you like the name brand, and are an RCA type of person, then there's no reason why this model couldn't get the job done for you.
Pros
Very well suited for smaller spaces
Easy to set up and connect to Bluetooth
Cons
Cannot fill larger spaces with sound
Cheap remote
Less built-in features
How to Pick the Best Soundbar Under 100 Dollars
There are several things to keep in mind when purchasing a soundbar, as not all may be compatible with your devices or your needs. Here is a list of things you should be looking for when purchasing your soundbar on a budget.
Quality Of Sound
If you're just looking for a better projection of sound, a cheap soundbar is a great purchase. It will help amplify the dialogue in movies and TV shows, and will save the cheap plastic on your TV from rattling right off.
However, if you're in a larger room, you might have more difficulty filling the space with sound. Of course, if you're looking for something very fancy and powerful, a surround sound system is definitely a much better way to go.
Simple Set-up
Soundbars relatively cost less than bigger systems and are very easy to install. Most soundbars can stand freely on their own and are made to be placed right in front of the TV.
Some have the ability to be mounted on a wall or somewhere else in the room. It is nothing extravagant, but it does enhance the sound.
For something that is a little more costly, you can pair an individual soundbar with some external satellites to enhance the "surround sound" feeling for less of the actual cost. But here we will be focusing on the best cheap, individual soundbars to use.
Remote
Sometimes the remote to a soundbar can make or break the entire experience. For most cheap soundbars, the remote is cheap as well.
However, nothing can be more frustrating than a remote that doesn't work, especially when it is the only way to control the sound. Sometimes you need to be within close range to use it with your soundbar; sometimes you need to point your remote directly at it!
Some soundbars don't have any buttons at all on the bar itself, so the remote is the only way to use the device… Make sure you don't lose it, or your soundbar will be useless!
Wattage And Bluetooth Connectivity
Don't blow out your TV! Also, don't turn the sound all the way up on your soundbar, or you might experience some "clipping" in the sound because of the high intensity of volume.
In addition, with all of the devices that we have today, Bluetooth connectivity is nearly essential. From music to guided meditations to podcasts, the ability to connect and project your favorite audio is extremely significant.
Consensus
All things considered, a cheap soundbar is exactly what it sounds like: a cheap enhancement for your daily sound needs.
But clearly, some models are much better than others in terms of features, durability, user-friendly set-ups, and more. For these reasons, the BÖHM 60W BT is the clear winner.
It is equipped with power and several built-in features that can enhance any listening experience. It's energy-saving feature may be a bit of a bug, but it is a small price to pay for the overall quality and capability of the product. The BÖHM 60W BT is the best soundbar under $100 that will give you the biggest bang for your buck!