(Last Updated On: January 23, 2018)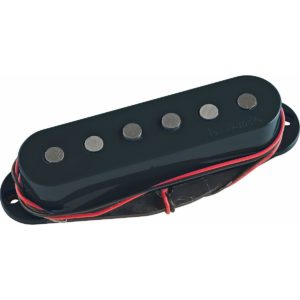 You don't have to buy a new guitar to get a unique sound out of it. In other to help you cut cost, we have selected the very best single coil pickups for you.
For electric guitar and electric bass, single coil pickup is preferred over a humbucking or dual-coil pickup.
We now review some admirable single coil pickups you can buy and why they are the perfect pick for you.

Top 4 Best Single Coil Pickups: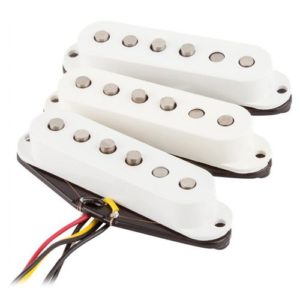 Fender Tex-Mex Strat single-coil pickups offer increased output and sparkling highs. It has a catchy warm tone that holds all the characteristics of a vintage-style Stratocaster. From Texas grit to soaring clean tone, they're the pickups of choice for versatile players.
The Fender® Tex-Mex™ possesses the following features:
Formvar magnet wire for bright and glassy tone.
Staggered hand-beveled polepieces for balanced output.
Alnico 5 magnets for more focus and dynamics.
Cloth wiring and fiber bobbin.
This pickup promises to give an ideal sound. This strat sounds great for rock, especially if you use a decent overdrive pedal. However, on a low gain, Tex-Mex strat sounds bluesy.
This vintage noiseless pickup should be able to turn an alright guitar into an amazing one. They have a lot warmer sound than the original strat that comes with the guitar.
Regardless of the guitar manufacturer, the Tex-Mex™ strat is capable of producing 5 different tones in high, mid & low. This single coil pickup cancels humming and makes a re-creation of sound easy with dynamic sound.
Pros
More balanced and powerful output than an average single coil.
Uses 5 Alnico magnets to gain focus and play blues, rock, and metal, smoothly.
Very affordable.
Cons
You need an overdrive pedal or a high gain amp to be able to play rock or metal.
The Fender® Tex-Mex™ is an amazing, noiseless piece. It is from the leading single-coil pickup manufacturer. Over the years, Fender has been remarkable in the guitar market.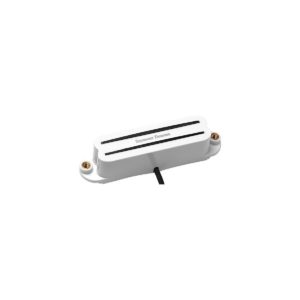 Seymour Duncan® is a highly versatile pickup which operates both as a Single-Coil and a humbucker or Dual-Coil pickup.
This dual ability was done by combining the accuracy, brightness, and expressiveness of single-coils on one side with the richness and fullness of humbuckers on the other.
Features of Seymour Duncan's:
The two thin blades with powerful coil windings give you the incredible sustain and a fat.
Produces full sound needed for playing heavier rock music. This pickup responds to the subtlest finger movement.
This pickup uses a pair of blades coupled with a bulletproof ceramic magnet and intense coil windings to produce a rich ton of sustain.
Best of all, these humbuckers and all their beefy tone fit inside a single-coil-sized pickup.
Pros
It is a very good hum canceling single coil.
It is very sensitive to volume and tone control changes.
Perfect for classic rock, but also give an interesting tone such as for garage rock or metal.
Highly responsive when switching between plays.
Cons
The corners of the pickup are slightly wider than a strat single coil.
It is not advisable for bass as you might not get the desired tone you want.
Seymour Duncan's is an amazing pickup as it adds girth to your sound. Quite noiseless as it seems, it sure picks a seat among the best, delivering commendable pickups for guitar lovers.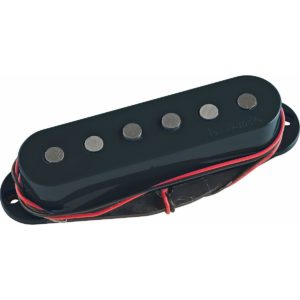 DiMarzio ISCV2 Evolution Single-Coil pickup is specially designed with neck and bridge models in a wiring configuration. This pickup provides a small amount of distorted or muffled sound. With no noise at all, this device is meant to produce great sound.
The Dimarzio® functions as a 5-way switch:
When the switch is in line 1 or 5, you will be able to hear the neck or bridge humbucker.
When in line 2 or 4, the middle single-coil combines in parallel with one coil of either humbucker. This then results in producing a good tone and canceling any hum.
When in line 3, this pickup gives a true single coil sound.
Pros
It is quite affordable
The pickup delivers a commendable groove that covers all sonic frequencies.
It can play any mix and adapt well.
It can play almost all genres of music.
Cons
When playing in the middle range, it does not cancel hummings.
You need to use it along with an evolution neck and bridge pickups.
Although the Dimarzio pickup might sound great, it is not convincing enough to satisfy a wide range of guitarist. As a guitarist. You might want to switch between genres easily and swiftly without any hum, I don't think Dimarzio would be the best for that.
Though, some users find this pickup to be great, producing a desired sound. However, you need an extraordinary single-coil pickup with amazing versatility for practice and stage performance.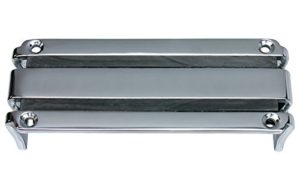 Honestly, this is a sexy pickup in style and in look. The Alumitone Deathbar™ is voiced in an aggressive mid-range and a higher output than some other pickups. This pickup is designed for extended range guitars.
The Aluma-Deathbar pickup features:
Is Chrome plated
Has extended 4.5 inches for 9 or 10 strings guitar
Has a broad and sensitive tone which defines a tone and makes the player feel warm.
Has a tight and non-bassy low end which keep you tone out of the mud.
Is a passive High Definition pickup
Pros
It is admirable for a distinctive high-gain, distorted, palm-muted, low-pitch guitar sound.
As a single coil pickup, there is no volume drop when in split mode.
When playing rhythm and lead, it gives a smooth sound.
It can play Jazz, metal, and djent perfectly with great sound.
The liquid crystal tone shines through for large chords even when distorted.
Cons
It is mainly for high output guitar playing meaning it cannot play blues or other low-level music.
It is not cheap
The Alumitone Deathbar is an amazing current driven single coil pickup for Jazz and metal. Nonetheless, it is for extended range guitars which mean it won't fit easily on your body.
This pickup should be able to give an amazing sound for large stage performance. It is very sure to wow guitarist and lovers of high output music. It doesn't come cheap but sure to deliver.
I wouldn't want to say, but it seems to be one of the best single coil pickups for extended guitar.
Things to Know When Choosing the Best Single Coil Pickup for Guitar
There is no wrong or right choice in choosing a guitar to buy. In view of this, we have narrowed down the necessary things to look out for when buying a single coil pickup.
The size of Pickup – The first thing to do is look for the pickup that fits your guitar.
The kind of music you play should be an important consideration as well. Are you a player that plays with distortion or the type that play clean? High output pickups generate distorted tones more readily.
If you play loud and aggressive music, the high output pickup will be a good choice for you.
Moderate output pickups are great for clean sounds but you can use amps or distortion pedals to dirty your sound.
An alder body or a maple fingerboard guitar produces a bright sound. The Alnico magnet of a pickup determines the quality of the sound you will get.
Alnico 2 magnet pickup will give a moderate quality of an alder body or a maple fingerboard. Alnico 5 magnet pickup will produce a higher quality.
A mahogany body and a rosewood fingerboard guitar produce a darker sound. However, an Alnico 5 magnet pickup with a higher punch is preferable for a metal guitarist.
You can get a cheap and durable single coil pickup which will serve you effectively. The sound you get from a pickup should be unique.
More so, if a pickup gives same quality with the original pickup of your guitar, what do you do?
There is no point buying a less quality pickup than the original one. That is the main reason we reviewed the best single coil pickups for you to choose from:
Fender Tex-Mex Strat single-coil pickup, on a low gain, sounds bluesy but with an overdrive, it is solid for rock. Definite to be a decent buy for quality sound and noiselessness.
Seymour Duncan which serves both as a Single-Coil and a humbucker or Dual-Coil pickup proves to be amazing. It is solid for rock and metal play.
The DiMarzio ISCV2 is a comfortable pickup piece with nice sound and good enough for most genre of music.
Lace Alumitone Deathbar is a solid High definition pickup for extended guitars. It is sure to sound great for a stage performance and certainly for Jazz, Rock, and Metal.
The prices of these pickups are very affordable and the features they possess are sure to serve you. In the cause of this review, we hope you are able to choose the best single coil pickup that suits your need.