(Last Updated On: December 21, 2017)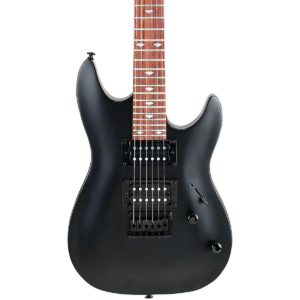 Looking for the best short scale electric guitars? You're in the right place.
So you love the sound of the bass guitar, but you're not ready to commit to a full-sized instrument?
Or maybe the full sized bass is just a little too overwhelming for you at the moment.
Whatever the case may be, a short scale guitar is a perfect option to turn to if you're really interested in playing.
Top 5 Best Short Scale Electric Guitars:
The all-new Vintage Modified Jaguar Bass Special SS (short scale) puts a classic Fender looks into a distinctively sharp-looking and very versatile bass model.
Features include a sleek offset-waist body and a slim, fast-action neck. More than just a student model, this bass is perfect for players who will appreciate the comfort of a short-scale instrument.
Sound
The intonation of the Squier is spot on. It sounds great through an amp and is very clear when recorded. It even has nice sounding pickups that are a bit hot.
The EQ is fairly balanced for the most part, but the lows are a bit too pronounced. However, this bass does a great job staying in tune, requiring only slight adjustments as the strings begin to stretch from being played.
Overall, it has smooth playability and a unique sound.
Setup
The setup is really good on this bass. It comes with the wrenches to adjust bridge and truss rod, and the frets are done nicely with no sharp ends. The neck is finished with a satin sealer.
It has a low action, and no high frets. I had to make a small bridge saddle adjustment on the E string as it was a bit low.
The harmonics are fine, but a small bridge saddle adjustment on the E string might need to be made as it is a bit low. And the stock strings are definitely not the best sounding.
Otherwise, the machine heads and the neck are excellently manufactured.
Range
The range of tones and the ease of playability are great with the Squier. Because the action is set so low, it is comfortable to fret any note, and the neck allows the hand to slide easily.
These characteristics offer a great range and allow for hours of play without fatigue. Definitely a plus for this model.
Weight
It's much lighter than many other basses. The material and hardware are very well put together, so the instrument is definitely going to last for a long time.
Another added advantage is that the neck profile feels like a jazz bass, but it is also a bit slimmer. A plus if you're looking for something similar to a jazz bass, with a fraction of the heaviness.
Pros
Excellent range
Easy playability
Cons
Stock strings are not the best
Sound is a little too low
Ibanez GSRM20 Short Scale Electric Guitar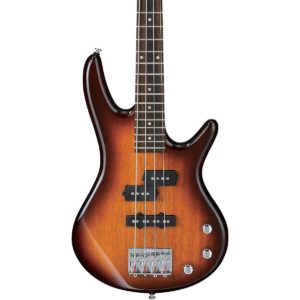 If you need a smaller bass for touring or gigging or just plain convenience, the Ibanez is a great option.
The Ibanez electric bass offers anyone who needs a compact axe or the comfort of a smaller neck a real alternative to small bass guitars.
Sound
It has a nice smooth action and is very well finished. The tuners and other hardware are just fine too. The tone is decent and the electronics work as they should.
The pickups are not as active as other models, and the bridge pickup is very noisy.
The tuning knobs are also not quite as stiff, so it is relatively easy to go out of tune when traveling or moving the instrument around.
Setup
The setup of the Ibanez is good and straightforward. Not too many surprises or quirks. The tiny neck has a very smooth feel to it and plays quite fast.
One issue, however, is that after a few days of playing, the pickup height adjustment screws can become misaligned. This is something that can be easily addressed and overcome, though. The fret ends near the neck have a few rough edges too.
Range
As far as tone goes, the Ibanez displays an enormous amount of versatility. Ranging from deep reggae tones to bright snappy ones, this bass is great for rock or jazz, plucking or slapping.
All in all, its tonal versatility far surpasses that of other basses in this scale length and price range. Its playability is wonderful and the feel of the neck is great.
Weight
The light weight is truly a godsend with this model.
This bass has a solid high quality feel to it, and anyone who has small hands or is just starting out will be very happy with it. It even fits nicely into a standard electric guitar gig bag, making it incredibly easy to travel with.
Granted, it is not of the same caliber as bigger jazz basses, but it is certainly good enough.
Pros
Fantastic range
Easy to travel with
Cons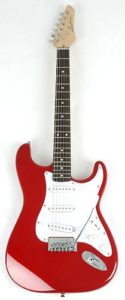 The SX RST boasts a package that includes everything you need to start playing: Guitar, Guitar Amp, On Line Lessons, Guitar Bag, Strap, and a Cable! It is a sturdy model that is excellent for beginners.
Sound
The SX RST offers a classic bass sound with bass and treble control and a clean/overdrive switch. Both modes of the amplifier seem to function very well and offer a powerfully projected sound.
The guitar is very well made and is good quality and will offer beginners all the necessary functions needed to learn and to become more familiar with future guitars.
Setup
The guitar appears to hold standard tuning fairly well once the intonation is set. One thing to keep in mind is that this guitar is detuned and not set up straight out of the box.
While this does provide the opportunity to learn how to do a basic setup and to set the intonation, it's important to know that you might have to seek some outside assistance before you can start playing.
Otherwise, the setup of this model generally takes about 20 minutes.
On the plus side, the guitar is equipped with a vintage fulcrum bridge with six adjustable saddles and a truss rod adjustable neck. The maple neck and the solid basswood body definitely adds stability.
Range
The dual cutaway and solid basswood body allow access to the highest frets, ensuring a nice full range.It has three single coil pickups, one volume and two tone controls, plus a five-way pickup selector switch to create all of
It has three single coil pickups, one volume and two tone controls, plus a five-way pickup selector switch to create all of today's greatest sounds. Additionally, the body is contoured for hours of comfortable play, so fatigue is absolutely minimized.
Weight
This scaled down, 3/4 size guitar is about 3″ shorter and narrower than a full-size guitar. It is excellent for a person with smaller hands, or for a larger person who just wants a smaller instrument.
Although it weighs in at about 9 pounds, this might be a bit heavier than expected. While it is a fraction of the size of a regular guitar, it is every bit as heavy as many full-sized instruments.
Pros
Strong sound
Very full range
Cons
Needs to be professionally setup
Stagg BC300 Short Scale Electric Guitar

The Stagg BC300 is a 4 string, 3/4 size fusion electric bass guitar. It has a natural semi-gloss finish and a rosewood fingerboard with 24 frets.
Sound
The Stagg is a good starter instrument with a deep and well-defined sound. The tuners and bridge are very nice quality and the pickups have a very smooth mellow tone.
The output of the pickups is a little low compared to other bases, lacking a bit of kick. But of course, this is based on personal preference. But if you're looking for a decent, nice sounding bass, you can't go wrong with this model.
Setup
All of the hardware on this model is good quality. It has solid tuning machine heads that function easily, and the neck is thin and has nice large frets.
The neck is straight and thin enough for small hands to get around on, making this instrument great for young kids. The controls knobs are solid and turn smoothly, and the action can be brought down quite a bit without excessive and distracting buzzing.
However, you might have to do some adjusting to the saddles and the nut in order to get the string height properly adjusted.
Range
The Stagg has quite an impressive range that doesn't skimp on quality. The intonations can fluctuate between rock and funk, and lends itself to ease of both plucking and slapping.
Also, the electronics seem to be properly wired since there isn't any buzzing or interference when recording, which is a huge plus.
Weight
It's comfortable to play and has a good balance; not too heavy at all. This model is highly recommended for anyone who wants to get into the bass but is worried that a full sized guitar might be a bit too big for them.
With the Stagg 3/4 bass, you do not need to have huge strong fingers in order to play it, so you can enjoy the bass, without the frustration of not being able to reach frets.
Because of its size, it is also excellent for anyone who travels or takes their instrument on a lot of gigs.
Pros
Solid hardware
Impressive range
Cons
Laguna LE50 – Best Short Scale Electric Guitar (Editor's Choice)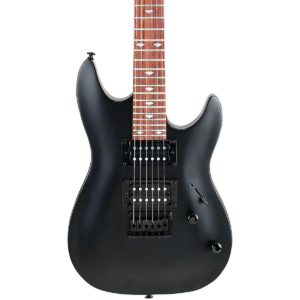 The Laguna LE50 Electric Guitar is the "little brother" of the Laguna LE200 and is perfect for smaller hands. Put simply: the LE50 rocks. For your first guitar, you can't go wrong with it!
The slim-tapered neck and shallow C shape provide a comfortable feel, and the hard rock maple neck will stay straight and true. The basswood body and high-output ceramic magnet pickups offer a clean, biting tone.
Sound
The guitar sounds pretty good, especially through the amp. The tone and volume controls work well and smoothly, and the frets are decent without any immediate intonation issues.
It has a Stratocaster-style adjustable bridge, so it is easy to adjust the height of each string.
One caveat is that the strings that come with it are not the best. They are a bit difficult to tune, but once you change the strings it becomes much more pleasant to play. Although this model has weak pickups, it is still a great instrument for beginners.
Setup
The Laguna has a great setup, with many outstanding features. One of the best things about it is the neck: it's substantial enough not to feel frail or glossy, so it doesn't resist you when you slide your hand up and down.
The satin finish on the body is nice and the volume and tone pots don't feel cheap. It has aluminum knurled knobs too. Again, once you change the strings on it and do a quick set up, it plays very nicely.
Something to look out for though is that the rear plastic cover plate is not quite the right shape and does not mount completely flush with the guitar body.
The plastic nut that acts as a string guide near the tuners has some rough edges, too, but these are minor things that we can definitely be fixed.
Range
While the Laguna is solidly built with wonderful electronics and a nice sound, there is a bit of a hiccup that slightly affects the range.
The nut is a bit too high to the point that making open chords or fretting on the 1st – 4th frets bends the strings out of tune. But this can be fixed by taking it to a professional to eliminate the problem.
Weight
Weighing in at 10 pounds, the Laguna is heavier than most short scale basis. But this is definitely countered by the strong, durable build and the deep tone that it offers. If you don't mind a little extra weight, this guitar will not let you down.
Pros
Wonderful sound
Easy to use
Durable
Cons
How to Find the Best Short Scale Electric Guitars
Here are a few things to look for when considering which short scale guitar would be the best fit for you.
Sound
The sound of the instrument, is, of course, the reason for choosing a short scale guitar.
You're looking for something that will still give you that clear and crisp guitar sound, but that will also be just unique enough to enhance your repertoire. Consider the different tonalities and depths of resonance when looking for the right model.
Setup
The manufacturer setup of the instrument is crucial. If you're just starting with the instrument, or you don't want to spend a lot of money just to play, it is important to consider how the instrument will play right out of the box.
Will you need to buy better strings? Does the instrument feel right for you specifically? All of these things are important to consider when choosing which short scale guitar is the best.
Range
Even though you're purchasing an instrument with a shorter scale, you definitely don't want the range of the instrument to suffer.
Consider what kind of tone and quality you can get out of this short scale instrument and if it would be a good match for what you are looking for.
Weight
The weight of the instrument is incredibly important when discussing the scaled guitar because it is one of the main reasons for purchasing the instrument.
You want an instrument that is lighter and more manageable than one of a larger size. So consider what size requirements you need, and what would personally be a good fit for you.
So, Which Short Scale Electric Guitar is the Best?
The Laguna LE50 is definitely the leader when it comes to the best short scale guitars.
It has a wonderful sound, and a fantastic, sleek look. It is super easy to play, and great for beginners.
While its range and full potential might be a little off right out of the box, once you have it set up you'll be playing for hours on end with an instrument that is comparable to full size basses, with a fraction of the bulk.