(Last Updated On: December 21, 2017)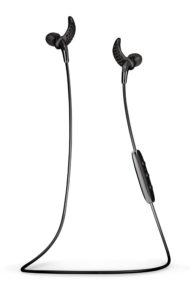 We worked hard to present you this buying guide about the best headphones for running with all information needed for a smart and intelligent decision.
Our team tried dozens of sport headphones to choose the best ones. We also checked tons of articles, reviews, and specifications, talked with marathon runners to understand what really matters for the best running experience.
We hope you will enjoy this article and finish it with a final choice in mind.

Top 4 Best Running Earbuds: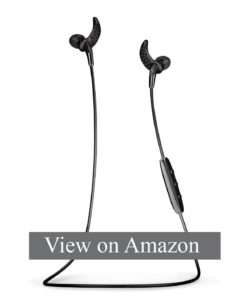 This will be a fairly in-depth review of the Freedom Bluetooth earbuds by JayBirdSport.
If you're looking for a short review that just highlights features or show this great running headset coming out of a box, this probably isn't a review for you.But if you're thinking about investing in good running earbuds and you want some detailed information, stick around because I think you will find this review helpful for you.
But if you're thinking about investing in good running earbuds and you want some detailed information, stick around because I think you will find this review helpful for you.
This is the third pair of Bluetooth earbuds for running that I've owned from JaybirdSport. I've had the BlueBuds X, the X2 and now the Freedoms and I'll have to say they keep improving with each iteration.
I'm going to do a little bit of comparison to the X2s in this review because the X2s are still made and some of you may be trying to decide which ones to go for.
These Bluetooth headphones are probably the best earbuds for running I've ever owned. So with that, let's go ahead and take a look.
What Is in the Box?
I want to start by showing what you get with this.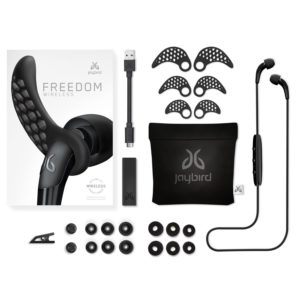 First of all, in typical Jaybird fashion, you get a nice high-quality box with a magnet closing lid.
You get a pretty nice carrying bag with the spring snapping closure at the top, and it is pretty compact.
This case is a water-tight. It is a little bulky and the lid is sometimes a little hard to close but nothing really complicated.
You also get three different sizes Comply Foam Sport Tips and you get three different sizes of silicon tips included.
One really nice thing about these jogging earbuds is the size of its body: it is very small. In the past, the battery of the Jaybird Sport earbuds has been actually in the earbud itself and the controller was kind of small. With the new ones, the controller has the battery which is why the earbuds are a lot smaller and a lot less bulky.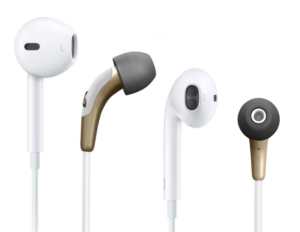 These headphones are the first JaybirdSport earbuds that I've been able to use without the ear fins. However, I do use the ear fins, and I'm going to talk about this below.
Why do I need ear fins? As all runners, I move around a lot. That's the reason I like the ear fins: they can hold earbuds tightly inside my ears. You can use both silicon tips or Comply Foam "Sport" Tips (included) for this and get the earbuds staying in your ears very well.
Usually, I prefer the Comply Foam Comfort tips when I am using any good earbuds for jogging or any other sports activity. They make the "Comfort" ones, the "Isolation" ones and the "Sport" ones, which is what you get with the new Freedom sports earbuds.
However, the "Sport" ones are a little bit porous. They absorb a lot of sweat and don't get slimy when while you're running but because they are porous, you don't hear the bass response that you would get with the silicon tips and that is why I prefer the silicon tips for Jaybird Freedom
If I wanted to use the Comply Foam tips, I would actually order a pair of the "Comfort" ones because those give a really tight seal and a really good sound isolation which causes a really good bass response.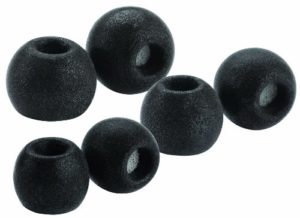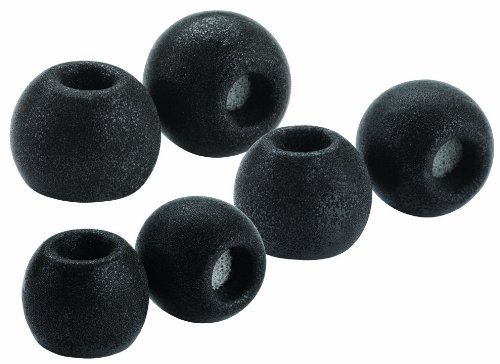 These are actually the first JaybirdSport earbuds that I've been able to use with the normal silicon tips. In the past, I've had to use the ear fins even with the Comply Foam Sport tips because the earbuds have been bulky.
With the Comply Foam Tips, whether it's "Sport", "Isolation" or whatever, you get a very slight drop in mids and highs. I am not an audiophile but I do love good music and noticed this.
A lot of people aren't going to notice that but I'll really pick up on the mids and the highs. The clarity is toned down with Comply Foam "Comfort" tips but they give such good comfort and isolation that it is the worth that trade-off.
I've already mentioned that the battery is in the controller. That makes the controller a little bit bulky compared to Jaybird X2. It is also a little bit more heavy than with the other JaybirdSport earbuds.
You also get a retaining clip and the strap retention devices with the earbuds. They allow the straps to go behind your head shorten the cable.
You may want to do that to fold up the coil a little bit behind your head while running. If you're a runner, the cable might dangle without those strap retention devices. You can also use a cord clip to fix a wire at the back of your T-shirt for the same purpose but I found it less convenient and I'll explain below "why" in detail.
If you are a cyclist, it's not really that big of a deal. If it bothers you and you don't want to use the strap retention devices, I found that you can put the cable underneath your helmet strap and solve the problem.
The only downside is that it's a little bit harder to reach the controller now and that is why I even prefer it sometimes dangling around. It doesn't really matter on a bike, as I said above.
And finally, you get your USB charging cable with the charging clip. The charging clip will snap on the back of the controller and it is two-fold.
To charge it, you would just plug it into your computer and it charges both the charging clip and the earbuds at the same time. You get about four hours of listening time with the earbuds if you didn't have the charging clip snapped on the back.
By the way, the charge takes about an hour and a half from zero all the way up to 100% which is incredible.
The neat thing about the charging clip is when you snap this on, assuming the charging clip itself is charged, you will get an additional four hours of listening time. This clip is obviously a little bit bulky and it's probably too heavy and if you're moving around a lot.
But it is nice to get additional four hours of listening. Four hours is not that much but for most sporting activities, I think it's going to be plenty. You're just going to end up charging them a little bit more frequently than you did with the X2 earbuds or the BlueBuds X earbuds.
When you're charging the earbuds, you're going to get a red light and then it will turn green when they're fully charged. The same with the clip: there's a little light on the side.
Comfort and Fit
I want to mention the positioning of the ear fins because this is important. You would not want to have these straight up. In fact, they share this in the owner's manual. You need to rock this a little bit out to the side because what this does is it tilts the earbuds forward and they fit in your ear canal really nicely.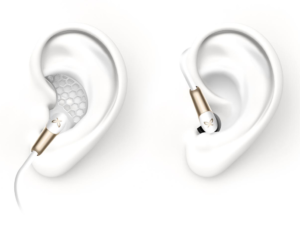 You need to rock this a little bit out to the side because what this does is it tilts the earbuds forward and they fit in your ear canal really nicely.
The controller of these really "running-friendly" headphones works just like on other JaybirdSport earbuds. The middle button is your "play/pause" and it's also used to answer a call. If you've got a call coming in, you can tap it, and take the call. When you tap it again, it will hang up the call. If you double tap it, it will redial.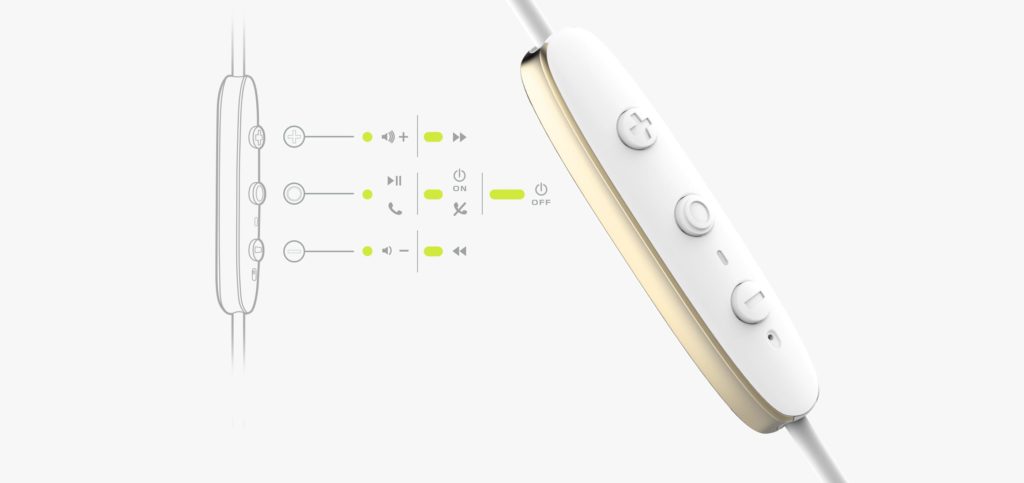 The top button has got a "plus" mark and the bottom has a "minus" mark. The "+" is your volume up so every time you tap it, the volume's going to go up one and if you hold it down for two seconds, it's going to skip forward to the next song. The same with the "-" button, that's volume down. And that is also the button to go back.
To power them on, you're going to hold down the middle button for about two seconds and you get a green light come on.
And what's new about these is when Jenna comes on, I think that's what they still call her, she'll actually announce your battery level, and I believe it's 20% increments. It's either 10 or 20 but I think it's 20. So she'll say "Power on," and Jenna has a little bit more of a party attitude now, but she'll say "Power on," you'll get a little bit of music. She'll say "Headphones connected" and then she'll announce the battery level, again, in 20% increments.
And to turn the earbuds off, you would just hold down the middle button for about five or six seconds. Jenna will say "Power off."
There are some interesting features you have using their special app. You can set the equalizer of the earbuds and it adjusts the firmware. You can change almost everything pretty specifically.
It does it instantaneously and in a live listening mode so you're actually listening to the music change. So once you get it to where you want it, you would hit "save" and that is it.
It actually adjusts the firmware of the earbuds. If I were to pair this to another device, so my iPad let's say, it keeps the same equalizer settings until I would open an app and change them again. That's really nice that you don't have to open the app for other devices and change it because it will lock it into the firmware.
The other thing about the app that's really cool is you can tap on an icon and look at other sponsored athletes and musicians and see what they use.or example, if you wanted to see what Fuzzy Hall uses for his settings, you can tap on that.
You can go to "preview" so you'll be listening to the music with his equalizer settings. If you like it, you can hit "save." Again, it will lock it into the firmware of the earbuds. So that's the app.
For example, if you wanted to see what Fuzzy Hall uses for his settings, you can tap on that.You can go to "preview" so you'll be listening to the music with his equalizer settings. If you like it, you can hit "save". Nice, and I have nothing even close to this with other popular running models.
Using with Bluetooth
I get very little drops in the music listening to these Bluetooth headphones. I had some issues with the X2s dropping out sometimes and so I would either repair or tap the center button and connect it back with the music, at the music going again. Very little issues with these earbuds.
You do get a pretty good range with this. I'd say from 30 to 40 feet. I had my phone sitting at my desk at work and when I walked two rooms the earbuds still stayed connected.
Are They Good for Running?
These earbuds are excellent for running.
First of all, there is a lifetime warranty against sweat included. Is it nice and pretty generous offer for running earbuds, isn't it?
These headphones are extremely good for running, and there is just some risk of them falling out of your ears.
Their lightweight construction is perfect as long as you find a right fit for your ears using special ear clips that come in the box too. The majority of people are not going to need these clips but some runners may need them. And as soon as you find the right fit headphones will feel really snuggly and will not slip off of your ears.
The earbuds are totally sweatproof. I've been using them every day, for each my run since I received the box and had no issues with sweat. I even took a shower with them on several times but I would not recommend this as a normal practice.
You can also easily use them for biking or working out or for any other sports activities.
Sound Quality
First, the mids are very clear and very forward. I get really good soundstage with listening to acoustic music. Definitely, that was the best soundstage that I've ever had with the pair of Bluetooth earbuds.
The mids, like I said, are forward and the treble is very clear. Great clarity on this. No sibilance or harshness in the treble and the bass itself is very clean.
Please note that you don't get a good bass response with the Comply Foam "Sport" tips. But with the silicon tips, and especially with the ear fins, I get a super tight seal, it stays in place, and you need that tight seal if you like the bass response. In this case, the bass is very clean.
Comparing to the X2s, the bass is still very strong as it is in the X2s but the Freedoms are a little bit clearer and the mids are a little bit more forward.
I use my Dunu DN-1000s, which are the wired earbuds, to compare sound quality. And I would say the Freedoms are in the same ballpark of clarity with the Dunu DN-1000s which is saying a lot because these are very clear. These are a $200 pair of wired earbuds so you can just image how good they are in terms of clarity.
So sound quality is superb on the Jaybird Freedoms.
Pros
Superb sound quality with very clean bass, very forward mids and clear treble.
Nice fit. Jaybird made ear buds less bulky and more lightweight this time.
Perfect for any sports activity, especially well designed for running
Cons
These are not the best earbuds overall but among Bluetooth earbuds for running, these are a great value. I'd prefer and recommend more wired Dunu DN-1000 if you need better and deeper bass but they are way less convenient in terms of running.
The Bottom Line
When I was looking for a really high-quality pair of wired earbuds, I went through quite a few before I got to my Dunu DN-1000s. I started off with maybe $40 or $50 earbuds up to a $100-150 so I went through quite a few. And I probably would have saved a lot of money if I just went ahead and invested in the Dunu DN-1000s to get that sound quality and build quality that I was looking for.
I look at the same way with these Bluetooth earbuds. If you really care a lot about your music sound quality and you want the features that you can get in this, then you are probably going to save some money if you just invest in this and not go through a lot of different ones.
So it is going to depend on your budget and things like that. These headphones are absolutely perfect as far as every quality and aspect that I look for in Bluetooth earbuds.
I would, for the most part, recommend them as the best Bluetooth earbuds for running.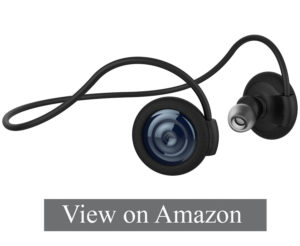 Muse1 are sport Bluetooth headphones.
Actually, they have military-grade water-resistance, so I'll be talking about that as well as the sound quality, the other features of these running earbuds comparing them to other Bluetooth earbuds for running around this price range and maybe the best budget running headphones.
What Is In The Box?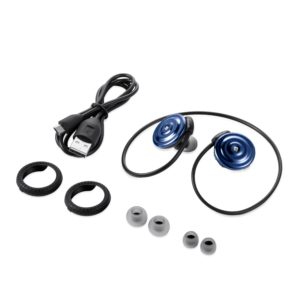 Controls
I'll walk you through the features of these headphones.
First of all, notice there's a little blue LED light flashing there that let you know that the headphones are successfully paired.
The controls are on the right side; you have three-button functionality there. You have the multi-function button for turning the earbuds on and off, and for pairing them with your device.
Then you have your plus and minus buttons. They turn the volume up and down. So, to turn the volume up you just push it once, and then to advance track for backward to just hold it down for a few seconds.
Battery Life
These earbuds do charge fairly quickly. After two hours you should have a full charge, or, another way, to look at it every 25 minutes you get about an hour of charge.
These headphones are ready to give you about five hours of listening time and seven hours of talk time if you using them for hands-free talking. I would say your 4-5 hours of listening to music to be pretty accurate.
It just depends on a course the music you're listening to and how loud you like to listen to your music.
Are They Good for Running and Working Out?
Next to talk about – the comfort and fit, and these particular earbuds.
One thing that stands out is how light these are. Their weight is just 0.6 oz (about 17 grams)! These are actually the lightest sport Bluetooth headphones I've ever used!
It's really comfortable how the wire sits on the neck. It is made from hard plastic and it doesn't press up into the neck the way other around-the-neck style Bluetooth headbands do. That is quite important if you are going to use them for gym workouts.
If you're doing something like bench presses or anything where you have the back of your neck laying down you get this pressing up with other models. With these earbuds, you don't have that problem. So, they are really comfortable to wear that way and can be easily used in the gym.
When I saw them for the first time I was a bit concerned about their seal on my ears. But that was a false alarm. It is almost impossible to shake these earbuds off your head. I mean, you can whip your head around, forward and backward, and do just anything without any damage.
If you're training for American Ninja Warrior and you are doing backflips, these would be the perfect pair of sports headphones for your head. They're not going to leave your head. If you had such a problem in the past, you'll definitely like them.
Another cool feature that I alluded to earlier is these have military-grade moisture resistance. What that means is: you can actually take these in the shower, you can go jogging in the rain. Just do not submerge them in water.
For instance, I would just go straight from a workout to the shower and just keep the music go on the whole time, whatever you're listening to. It's really awesome!
In terms of Bluetooth connectivity, these do a better than average job. And what I mean by that is: when I went jogging with other sport Bluetooth headphones in the past, especially if I had my MP3 device in my pocket, I would notice occasionally I'd lose a connection or would pause to have to take it out of my pocket, then put it in the other pocket.
Apparently, the reason is Bluetooth doesn't always travel through walls and your body. Your body being mostly water and that can create issues as that signals trying to pass through you to your headphones.
The range is going to be pretty typical, it's about 30 feet or 13 meters. But in terms of maintaining the Bluetooth connection, these do a really nice job!
Noise Isolation
In terms of sound isolation, it's really going to depend on how loud you got used to listening to music running on the street and how far you have these earbuds pressed in your ear canal because you can have them situated lightly in your ears or you can make sure they're more of a snug fit.
That will affect sound isolation. But if you have more of a snug fit, you have the volume at a moderate listening level that will definitely give you a decent amount of sound isolation meaning blocking out that outside noise.
If you're using them in a gym or workout environment where there is typically music playing in the background, you'll still most likely be able to hear that, you'll still hear some clinking of the weights around you; but it is at a subdued level.
Likewise, let's say you're going for a running ride: you can definitely hear that traffic noises around you, but it is a little bit of a subdued level.
The good thing is you can still hear what you're listening to even if it's something like an audiobook. It is actually important to hear the words. These running earbuds were great for that.
These headphones are pretty loud in terms of volume. And I think for most people it provides a lot of volume, more than enough.
Sound Quality
This was one of the surprising features for me, especially at this price point (it is about $70 at the moment). Given how small these were, honestly, I wasn't expecting a lot.
They actually do a nice job in the mids, the highs, in particularly, the lows – what surprised me the most.
There is actually a decent low end; you can even "feel" the bass. Even if you're listening to rap, hip-hop, any dance type of music – anything with some bass to it, it actually comes through with these earbuds.
I've even played one of my bass-resonance tracks with these. It works basically like someone is standing in a studio three feet from a mic, and they are just plucking a bass guitar. It is actually something really good!
You can hear some of their resonants, you can hear the plucking at the string and the bass guitar. You could hear the low notes, you can hear some of that reverberation as the bass is a kind of extended each time the string is plucked.
Nothing spectacular, but I was not expecting world-class bass at this price point; but the fact is that there was something measurable there, something that can get you a little bit excited, what's really cool!
Pretty impressive for these super lightweight earbuds that are pretty small and yet pack a punch in terms of sound quality.
Is it "outstanding"? I would not say so, there is nothing that's going to blow you away. I don't want to give you the impression that these are going to take on wired ATH-M50x or anything like that. But they really do a really good job in terms of sound quality, and I was pleasantly surprised.
If sound quality is important in your running headphones, it means you want to hear some of the detail in the music or particularly a little bit of the low end. That is what these do a really nice job of.
In my opinion, it makes them awesome running headphones. You get a little bit of inspiration from your music. It's not just this flat experience because these earbuds give some life to your music.
Pros
Extremely lightweight – just 0.6 oz (17 grams)!
Solid and reliable stay on your head while running.
They are not waterproof but have strong water resistance. You can run under heavy rain or take a shower with them on.
Sound quality is really nice, even in lows.
Cons
You shouldn't overestimate the sound quality of these wireless running earbuds. They were made for sports, not for listening complicated acoustic songs on the sofa. The bass, the sound quality in total is absolutely nice for this price range but if you need really cool sound you'd better go for something else.
Conclusion
Going to wrap things up with some final thoughts my recommendation regarding the sports earbuds. There are three things that stood out to me most about these earbuds.
One is how light they are. 17 grams. These are the lightest sports headphones I've ever used yet. It's amazing!
And the fact that they just stay on your head and stay just focused on running itself.
I love their sound quality, especially in terms of the bass. It really rounds out the sound and gives you a nice music experience.
And the third thing is the moisture resistance. I love that you can actually take these in the shower, that you can go jogging in the rain. You don't have to worry about getting too much sweat in your sports headphones.
Bottom line, if you're looking for a pair of Bluetooth running headphones or earbuds that are as light as can be and that are moisture-resistant. They don't have to worry about getting too much sweat, and literally you can take them into the shower with you. They have good sound quality, have good call quality, have decent battery life. I think you will really like these great wireless running headphones.
Jabra Rox Earbuds Review (Best for Bass and Soundstage)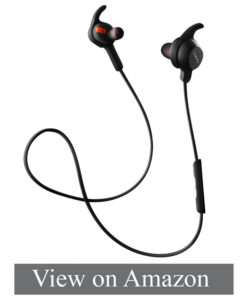 I'm going to be doing a review of the Jabra Rox wireless Bluetooth earbuds. I'm going to be talking about the build quality, the comfort, the portability, the sound quality and, of course, their convenience for running and working out.
Then I'm going to talk about how these headphones work as sport earbuds compared to other similar models in terms of their sound quality.
What Is In The Box?
Jabra includes a durable "sound bag" (Jabra calls it so, not me, guys), three pairs of ear tips, three pairs of wingtips, which I actually ended up never needing, one cord clip and a USB charger. Not so much, although, everything seems to be pretty nice and well made.
Are They Good for Running and Working Out?
The design of these earbuds is pretty clever since they can be worn over or under the ears depending on what you personally prefer. I usually wear them over the ears but you have to try both options in a "running mode" and find what works better for you.
Fortunately, these sport earbuds are dust, rain, and sweat-resistant which is a great consideration to take in for those of us who exercise in just about any weather conditions.
I found them to be comfortable and pretty lightweight (just 0.67 oz) which is critical for running and not so important (I mean, weight, of course) for biking or working out.
My only gripe was when I was wearing glasses: the mic on the left labeled earpiece would get in the way of my glasses when I wore them. I do not think that is a big drawback for the majority of runners but that is just a thing which you need to aware of if you are a fan of, for instance, mountain biking.
Of course, we have the basic in-line mic and remote. Good, normal, convenient to use when you are exercising.
These earbuds also offer advanced noise cancellation and HD voice for phone calls but to be honest I saw almost now difference compared to other good running and workout earbuds.
One of my favorite features of these earbuds is that the backs of them are magnetized which is really cool. When you place them together it puts the Rox into a power saving mode. That is convenient if you are on a run but feel that your ears need some rest or when you just want to hear outside sounds for some time.
Finally, they connected with my devices really easily (NFC is supported) and stayed connected well within the 50 feet range which is way above normal Bluetooth range. That is not a big deal for runners but weightlifters or yoga fans might find this thing cool.
Now just some quick words about comfort. These earbuds are incredibly comfortable from any point of view and I really enjoyed that I could wear these earbuds without the wing tips to hold them in place.
However, if you still want to use wing tips for some reason during your running sessions they are rather soft and go unnoticed when used which is something that I really appreciate.
I found them actually to be a bit more comfortable than the wing tips that were included in the Jaybirds boxes. I will also make some other comparisons Jabra vs. Jaybird below but that is something to keep in mind if you can use that as a reference point.
Sound Quality
Just a quick overview of what to expect with the sound. As I've said many times you should not expect too much from running earbuds but I still have something to say about this model. I will share some thoughts about better sounding alternatives at the end of the review.
These headphones are definitely more bass leaning with some great highs and alright mids. Bass is dominant and present. It's incredibly full and the sub bass is bumping.
They could have managed it a bit better as I felt it detracted from the overall detail of the earbuds. But it was definitely the highlight of the sound signature, it goes without saying. Anyway, it is great for hip-hop, pop, and dance.
Mids were really well defined due to the bass emphasis coming through. Lower male vocals sounded really rich and satisfying. If I was listening to a video or a podcast and there was a sound effect that could have reflected the surroundings that I was actually in I looked around to see if it was a real-life noise.
That was something that was really cool to me and caught me off guard in the best of ways for better or worse.
The highs left a bit to be desired. They were audible and differentiated themselves from the pack but they were a bit dull and lacked flare or excitement for my tastes. If you like music genres where highs are dominant you probably need more expensive earbuds for your workouts.
On the flip side, this is probably because these headphones could be considered workout and/or running earbuds. With that being said in such situations bass and mids would be more important and easier to hear than highs anyway.
As I mentioned, this handles pop and hip-hop the best can be satisfactory as an all-rounder but it will definitely surpass expectations if what you normally listen to are the above genres.
Comparison to Other Running Earbuds (Jaybird and Audio Technica)
Something really important when researching headphones is seeing how they compare to other headphones or earbuds because that's how you can really understand where these particular earbuds stand.
When compared to another Jabra family earbuds, e.g. Sport Pace or Sport Pulse, the Rox are better in just about every way. The build is more practical in the Rox and less cumbersome.
Also, the remote and volume controls are more naturally integrated to where you don't have to reach directly behind your ear to control anything.
As far as sound quality goes, the Rox deliver a much clearer overall sound than the Sport Pulse. They don't offer a built-in FM tuner, though.
Other earbuds often compared to the Rox are the Jaybird Bluebuds X's, Jaybird X2 and Jaybird Freedom. These sport earbuds are also Bluetooth and are oriented towards those of us who love to exercise – run, bike or work out.
The battery life of all those earbuds is a bit better than the Rox's. Actually, quite a bit better: you usually get 8 hours or even more out of them instead of the given 5 hours.
But as a trade-off, they're a bit bulkier, especially old models (Bluebuds and X2s) and give a little less luxurious feeling. At least that is what I think about old models because the newest version (Freedom) has no such a drawback and feels pretty good.
As far as sound is concerned both brands pretty similar in sound quality although I did find the Jaybird's to have a bit of an edge when it came to the bass.
This does not mean that the bass of Jabra earbuds is muddy or muffled but the bass of Jaybird Freedom earbuds was a little bit clearer for me.
Also, if you want Bluetooth headphones but plan using them all day or to be away from a charger there are definitely some other great Bluetooth options with exceptional battery life. The Jaybird earbuds will definitely be better from this point of view.
However, almost any Jaybird earbuds are more expensive than the Rox at the moment.
There are some other reasons why you may want to consider something else. If you also want to stick within the same budget and much better sound quality I would recommend something like the Audio Technica ATH M40Xs or the M50Xs. Those two models offer absolutely amazing sound quality.
Do not misunderstand me, the Rox earbuds are pretty good in terms of sound quality, but they can't be compared with wired headphones from Audio Technica.
The Bluetooth functionality of them or any other wireless earbuds for working out will never compete with the reliability of a connected cable when it comes to doing something for the best sound quality. You will get much less comfort for your running goals because of those annoying wires, though.
Pros
Great booming bass and pretty cool mids.
Surprisingly good and natural soundstage.
Amazing comfort and fit.
Perfect for running, biking, and working out.
Lightweight – just 0.67 oz (about 19 g)
Support NFC pairing.
Good price tag: the Rox might be the best running earbuds under $80.
Cons
Highs are rather weak but normal for running headphones.
Sound quality, in general, is good but you still can get even better sounding from more expensive models.
Conclusion
In total, the Rox are fantastic Bluetooth headphones with a great price tag on them. After reviewing many Bluetooth earbuds I've become a huge fan of the convenience and added mobility that these earbuds offer. The sound quality is rather impressive and the soundstage was a lovely bonus with these earbuds in particular.
Personally, I prefer more expensive models because I want even better sound quality and battery life but if your budget is tight I can definitely recommend these great earbuds.

These sport headphones sound surprisingly good. They are amazingly comfortable and I am really looking forward to talking overall comfort features and sound quality of them. They also have a unique style of resting on your shoulders while running which I also want to talk about below.
What Is In The Box?
There are a micro-USB charger, a quick starter guide (very thorough one), three different sizes of ear tips.
Features
On the right side of the headset, you have your track forwards and backward.
Then you have your play & pause button over on the left side.
You have your talk button for answering the phone calls or making phone calls.
Then you have your volume down and up button on the inside.
They also support up to 2 mobile phones at the same time.
You get 8 hours of listening time when fully charged and 100 hours of standby time. I found it also to be quite accurate. I would say anywhere between 6 and a half to 8 hours depending on how loud you are listening to your music and of course what you are listening to.
Are They Good for Running and Jogging?
In terms of the comfort and fit of these earbuds, there is kind of 2 parts. One is, I think, just the comfort of this neckband and then two, the comfort of the actual earbuds being in your ears while running.
Let me start with the neckband because if you have not used one of these headsets before you may be wondering if is comfortable for runners to wear something like this.
Does it bother you? It is actually quite comfortable. I barely notice it on my head during my morning workouts. It is actually very light, very comfortable and stays in your ears without falling down.
They are super comfortable if you are wearing just a t-shirt which I was doing a lot of the time. You barely notice they are there now.
What is so cool about this particular style is I find it personally more comfortable than the over-the-ear and around-the-neck style of headband.
Next, I want to talk about the earbuds themselves. To use them you obviously pull them off and then go ahead and place them in your ears. In fact, these earbuds are almost the most comfortable earbuds I've ever used.
What is interesting is there are of course three different sizes of the ear cushions included: small, medium, and large ones. I find the small being most comfortable for my ears.
However, I can also wear the medium ones comfortably which is interesting because usually if small is most comfortable I do not like the medium. It is just too much for me and to my ears. But with these earbuds, I think it really speaks to the comfort of the cushion they are using and just the overall style and design and everything about it.
What is interesting is I would say a lot of the time I do not even notice they are in my ears after I put them in. After a few minutes of running, I start to forget they are there and that is incredible for me to say about earbuds.
These headphones go a step further in the sense that I actually forget that they are in my ears which is pretty amazing for me. If you have been on the fence about wearing earbuds, or if you have worn them in the past and they were not very comfortable, I think you really like these ones.
I think what really plays into that this whole experience is the fact that you have this super thin and tangle-free wire. It is not really pulling down on the earbuds themselves so it gives you this very comfortable fit. Excellent for jogging or running, in my opinion.
The other nice thing is you have this full range of movement with your neck while running to where you are not tugging on this slack in the line. You are not having to worry about this actually tugging on your ears. Like I said, the whole thing works so well the way that this sits on your neck it is very comfortable with the earbuds in your ears, awesomely comfortable.
You can easily move your head back to see if a car comes on a crossroad, etc.
You can move your head and it is not tugging on these versus something like say the Jaybird Bluebuds. Those go around the neck
and there is enough tension there that you can feel a little bit of tugging down on the earbuds.
They are also pretty good for everyday use and I can wear these earbuds all day with no problem. Obviously, they are GREAT for running. From a comfort and fit standpoint, these are awesome.
The only downside is that if you are doing activities where this might be bouncing up and down that is where you can experience some discomfort. You may want to consider something else for that. Otherwise, these earbuds are awesome and very comfortable.
There are separate buttons to do all those different tasks. if you like that idea, you really enjoy these as far as from a functionality standpoint.
Bluetooth Pairing & Range
These headphones have the 4.0th Bluetooth version. They have a range of about 10 meters or 30 feet and I found that to be fairly accurate.
That is definitely a benefit to having something like this in terms of the Bluetooth connectivity. Pairing these were breeze they connected really easily with all my different devices from PC, Apple type devices, Mac, everything paired really easy with these.
They stayed connected without any interruptions. The headset kept its connection range which is basically the Bluetooth standard 10 meters or 30 feet. That is pretty much what you see with Bluetooth headphones so it did a really nice job no problems there are at all.
I think these should be hassle-free for you in terms of getting connected initially.
Call Quality
In terms of the overall call quality of these headphones, they did an above-average job, surprisingly good for running earbuds. You can hear what people are saying really well they can hear you really well.
It is actually quite a clear conversation you can have with someone with. I would say above average especially at this price point.
Noise Isolation
Next, I want to talk about sound isolation because these earbuds did a really nice job in that area.
One of the things I really like to do is running on a trail that takes me by a highway. I get a lot of that highway noise and traffic.
These headphones actually drowned out quite a bit. I mean I could obviously hear and tell some of the noise there but it was so subdued it was not even an issue.
I want to remind you that good earbuds for running should not block all the noise because this might be dangerous in terms of cars next to you, people moving around, barking dogs, etc.
Anyway, I could hear the music just fine during my running sessions. At another part, I was listening to an audio book I could hear the words that were being said everything was really clear and easy for me to hear.
In an in inside environment like an office environment, I found I was not able to hear anything going on around me. I could not hear the drone of the air conditioner, I could not hear when the TV was on and that was listening to like a moderate to slightly above moderate listening level.
If it is important for you to be able to really drown out your environment these two really do a nice job.
Sound Quality
Next, I want to talk about the sound quality of these headphones. They do a really excellent job at the lows, the mids, and the highs giving you a balanced sound, giving you a detailed sound.
I like that there is enough bass you know to get a little bit thump to music. It is not overwhelming. It is not like a subwoofer in your ears but there is enough there like I said bring music, movies, whatever you are listening.
Also, the mids and the highs have enough detail so you can really hear voices clearly. There is enough naturalness overall across really most all the genres to sound really nice what is interesting is comparing these to say the LG is.
These definitely sound as good if not actually a little bit better. I think the average person putting the side by side may not be able to tell a difference at all. But for me personally, I think they are just a little bit more detailed in the mids and the highs.
Which really in my mind that is what brings this to life and makes it sound just a little bit better.
If sound quality is important to you, I think you will be really happy with these running earbuds. Especially compared to other earbuds at this price point.
Pros
The most comfortable pair of running earbuds at this price point.
Perfect for running and biking in total.
Extremely lightweight in spite of their a little bit heavy look.
Sound quality is amazing for such a low price, even in terms of bass.
Cons
Not so good for working out at the gym because this activity is usually connected with bouncing up and down pretty often which may cause some discomfort.
Conclusion
So I will wrap things up here with my final thought and recommendations.
As I said above, these sport earbuds are really an outstanding pair of Bluetooth headphones for running. A lot of great features a lot of value here. Really they are above average in terms of comparing to other headphones at this price point.
But there is still a reason you may want to consider something else from a comfort point. If you are using it for any type of activity where this might be bouncing up and down as I mentioned earlier you may want to consider something different.
Otherwise, I think, there is a lot of situations where these earbuds would be the perfect fit for someone, such as anyone who is looking for something to use for sport and gym use.

How to Choose The Best Headphones for Running?
It is quite complicated sometimes to choose good headphones for running. Below I share my thoughts about the most important criteria you should care about when you look for a good pair of running headphones. Let's get straight to the point:
Proper Seal of Running Headphones
A proper seal is a very important thing in general, even if you just lay on your sofa at home. You are never going to get really good sound quality without it.
However, when we are talking about running headphones the factor of a good seal is getting even more important. The best running earbuds should never slip off from your ears during a run.
Unfortunately, the form of the ear canal is unique for everyone and general recommendations are not going to help in this case. You should try which ones are right for you for getting the best seal possible.
What can you do if the sound quality and other features of a particular pair of running headphones are perfect but they do not stay well in your ear canal?
I would recommend using of Comply Foam Tips. They do not make all ear canals the same but they can help you sometimes get the right seal even if any other method does not help.
I mention them almost in every review and even made a short guide how to choose the right type from three ones present on the market ("Comfort", "Sport", and "Isolation" ones).
I am not going to discuss the difference one more time in this article but Comply Foam "Sport" tips (surprise-surprise) are probably the best for runners who have seal issues. "Comfort" ones are almost as good as "Sport" ones and have other advantages but they do not absorb all the sweat and that is the big drawback for some people.
The bottom line is: try, try, and try to get the proper seal of earbuds. It is a critical factor for the best running experience you can get with your headphones.
Wireless Headphones for Running vs Wired Ones
As you may know from my other articles and reviews, I actively recommend using of wireless earbuds for running, biking, working out and other sports. They have lesser chance to get tangled and cause by this discomfort to you during exercise than any wired model of earbuds.
Nonetheless, there can be several reasons to choose wired headphones instead of Bluetooth headphones for running:
If you are a true audiophile and sound quality of any Bluetooth headphones sets your teeth on edge. However, if you are a happy owner of any modern Android smartphone you probably have built-in AptX codec and can get almost the same sound quality as with a good pair of wired headphones.
If you do not like pauses or skips which sometimes happen with Bluetooth. Why does this happen? Our body contains a lot of water and that is the reason of unstable behavior of a signal with Bluetooth headphones on. This usually happens only when you keep your device on a belt but a good armband for a phone/player fixes this issue completely.
If you do not like wearing a special armband for your Bluetooth device. You can still use pockets, loops, holes on your dress to keep your device safe which is why I actually do not understand this reason.
If you still disagree and want to use wired headphones instead of Bluetooth ones I would recommend:
Choose as short wire as possible to keep your device in an armband.
If you keep it on a belt use longer wires for your running headphones.
Finally, if you put your device in the pocket of your running tights you need the longest wire from three.
Anyway, this works for jogging but during a run at a high speed wires will inevitably get you annoyed, believe me. So it is up to you but I still recommend to avoid any things which can distract your focus from a run itself.
Over-the-ear vs. On-Ear vs. In-ear Headphones (Earbuds) for Running
At the first sight, it is a question of personal preference because some people love over-the-ear headphones and hate to feel something inside the ear. Over-the-ear headphones are much more comfortable in general but have their drawbacks specifically for running or jogging:
The most important disadvantage of over-the-ear headphones is their sad feature to heat your ears during a workout. Your ears become hot, you start sweating and the surface of ear cups becomes wet. Boo!
The majority of over-the-ear headphones also have a solid headband and it becomes itchy in 30-40 minutes of active use. This may not be a problem for short morning runs, though.
Over-the-ear models are not compact at all and that may cause some discomfort for regular workouts. There are some foldable models of running over-the-ear headphones but they tend to be much more expensive and still are not as small in a foldable mode as normal running earbuds.
What about on-ear headphones for running? Can you use them safely?
I normally do not recommend using of on-ear headphones for running. They have their advantages against over-the-ear and in-ear models. However, their main disadvantage kills everything: they often fell off from ears while running at a high speed and that cannot be fixed.
You can find a full description of the topic and comprehensive comparison of all three types of headphones below. The bottom line is still the same: in a general case you, need small, compact, portable, and lightweight headphones for running. Everything else is just a bonus which is why in my opinion over-the-ear and on-the-ear models are weak competitors for
Everything else is going to be just a bonus which is why over-the-ear and on-the-ear models are weak competitors to a good pair of sport earbuds.
Sound Quality of Top Running Headphones
Do not fool yourself: the sound quality even of the great running headphones is always different and worse than the sound quality of the normal audiophile models, especially, wired ones. Why? There are several obvious reasons:
Manufacturers try to make the best sport headphones as durable as possible. They just can't use materials which are suitable for the best sound quality.
The majority of good running headphones are in-ear ones. So you cannot, of course, expect the best clarity, bass, and soundstage from even the best wireless earbuds for running.
Manufacturers try to make running earbuds sweatproof and that also causes some negative effects on the sound quality.
Do You Need Noise Isolation on Headphones for Running?
In general, we try to isolate as much outside noise as possible. There are noise cancelling headphones on the market which main feature is total cancellation of (almost) all ambient noise.
However, you'd better not use noise cancelling or noise isolating headphones for running on the street. That might be dangerous because of the cars, people next to you, etc. You need to hear at least something to be on the safe side.
Of course, that is not the case for a treadmill, stadium or even a park. You can use good noise isolation earbuds for those places without any hesitation.
Should Your Running Headphones Be Water-Resistant?
Headphones for running routine usually do not need strong water resistance unless you are a triathlete and need to swim with them on. In this case, you rather need special swimming headphones or waterproof MP3 player.
Good running headphones have to be sweatproof, though. Plus, you should be prepared to meet even a heavy rain during your run fully armed. So some resistance to moisture is a must but the level of it does not have to be strong.
How to measure the level of water resistance of a particular model of headphones? Water resistance is measured with so-called IPX rating, from 1 to 8 and you can often find it in the specification; moreover, that IPX thing became a strong marketing trick nowadays and is sometimes mentioned in the description of a model.
Normally IPX 4 is more than enough for running. IPX 5-8 waterproof headphones are made for swimming or deep diving and usually cost much more. You normally do not need such a strong defense from moisture for running or jogging.
Types of Running Headphones
As I said above I would strongly recommend using of in-ear headphones for running but if you still hesitate the list of all pros & cons of all major types of headphones may be helpful to take the final decision. So here it is:
In-Ear Headphones (Earbuds/Earphones) for Running: Pros & Cons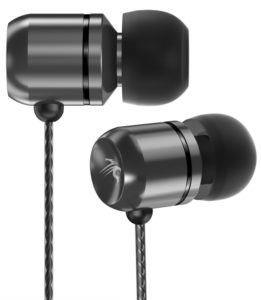 Pros
In-ear headphones (some people still call them "earphones") are extremely compact because of the small size of their drivers. If you do not need your earbuds at the moment you can simply put them in a small box and store there as much as you want. Other types of headphones need bigger and less compact storage boxes.
Earbuds are easily portable. You can put them in your pocket or keep them on a little loop on your T-shirt if you do not need them at the moment.
In-ear headphones are lightweight and much more comfortable for long running sessions. They cause less sweat and have no itchy headband as over-the-ear and on-the-ear headphones do. You can run with heavy over-the-ear headphones for 30-35 minutes but if you want to run a marathon earbuds are indispensable.
The soundstage of in-ear headphones is usually more natural because of their open nature.
Cons
Sport earbuds usually do not go deep inside your ear and do not block outside noise as good as "normal" ones or other types of headphones, especially over-the-ear models. Actually, it may be a good thing because you still need to hear what is going on next to you on the street.
As I mentioned above some people do not like to feel something inside their sensitive ear canal. You can try Comply Foam Tips or just use another model of sport headphones: they are quite different in terms of a good seal. Plus, note that running earbuds usually just touch your ear canal and this may cause more appropriate for you.
The sound of running earbuds usually has less prominent bass and the overall sound quality of them tends to be a little bit worse than any good over-the-ear model has.
On-Ear Headphones for Running: Pros & Cons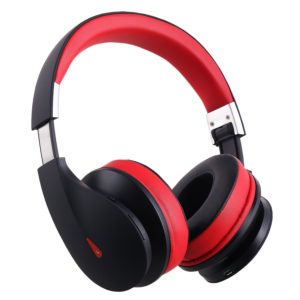 Pros
On-ear headphones are more lightweight than over-the-ear models but heavier than earbuds.
Headbands of on-ear models do not make such a pressure on your head as over-the-ear models do for the same reason.
They are also more compact and portable but still not as much as earbuds are.
On-ear models tend to provide more natural sound because they do not close off surroundings like over-the-ear (closed) ones do.
They are more comfortable than earbuds for some people who dislike severe in-ear immersion of rubber (silicon) ear tip.
Manufacturers use good leather and velour for ear pads and that is why they feel so nice on your ears.
On-ear headphones almost do not get sweaty (similar to earbuds)
Cons
They still need sufficient amount of space to be stored, much less than over-the-ear headphones but much more than earbuds.
Noise isolation is not their strong feature.
The bass is much better than you can get from any earbuds but less impressive than over-the-ear models could provide.
The least but not least: on-ear models are going to fell off from your ears much more often than over-the-ear or in-ear headphones do. That is the HUGE drawback for running and the main reason NOT to use this type of headphones for running, although, jogging with them on is almost ok.
Over-The-Ear Headphones for Running: Pros & Cons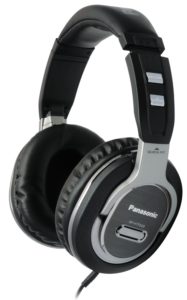 Pros
The fit of over-the-ear models is probably the best for an average runner.
Some cool features, e.g. noise cancellation, are possible almost only on this type of headphones.
The best sound quality is possible only when you use good over-the-ear headphones. Sound engineers, musicians, and true audiophiles love them.
Real noise cancellation and good noise isolation are possible only with over-the-ear headphones. However, it is not a big advantage for sportsmen because you need neither noise cancellation nor noise isolation for running as I said above.
Cons
They are the less compact and easily portable headphones from all three types.
They may be very uncomfortable for running because of their big size, heavy weight, and ability to cause a lot of sweat.
How to Use Your Running Headphones in the Right Way?
There are several tips & tricks which will help you to get 100% comfort and safety using your headphones/earbuds during long running sessions.
If ear tips fall off regularly you can easily fix this issue by using a bandana, a headband or Comply Foam Tips ("Sport" or even "Comfort" ones).
Always use the lowest volume of sound running on the streets. As I said above, full noise isolation might be dangerous for you.
Take off at least one ear bud/ear cup on crosswalks to hear cars and buses coming.
You can easily clean earbuds' meshes with cotton swabs and alcohol.
You need something to keep your phones and players: loops, little holes or pockets on your running dress. Also, you can use the special running armbands for this purpose as well. That is much more convenient than keeping a phone or a player in hand.
If you prefer over-the-ear headphones choose only headphones with microphone and controls on the wire or headband, not on an ear cup. That is much more convenient to have a full control on your headphones during a run.
Try to find models where a controller is next to an earbud. It will help avoid situations when you have to raise your arm too high just to change volume up/down or skip a track on the go.
Use the right music for your running sessions. Amateur runners rarely know that music rhythm matters in terms of the best exercise results. What does that mean? The ideal cadence for running is about 180 steps per minute. It is natural that perfect quantity of beats per minute (BPM) should be the same. You can identify the BPM of a song using a special app and choose the best running tracks on Reddit or Jog FM.