(Last Updated On: December 21, 2017)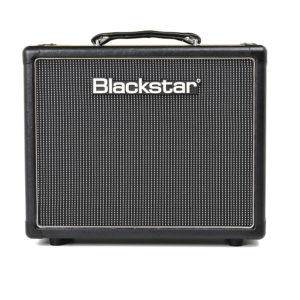 One of the most important parts of practicing is an ability to hear how your licks will sound before the gig or before you and your band enter the shed to write some new songs.
One thing that is difficult for metal musicians is that it is not easy to find an amp that you can push hard enough to get that "metal" guitar sound while keeping volumes low enough for an apartment or home.
This article is about finding that perfect practice amp. Read on to find the best practice amp for metal.
Top 3 Best Practice Amps for Metal: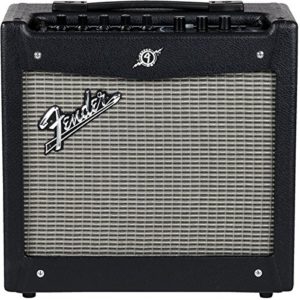 This is a good little amplifier that is made better by its ability to model 17 guitar amps. What it is not is a specialty metal amplifier, so if you are looking for an amp specifically for metal look on; if you are looking for an amp that just sounds good, you may have found your new practice amplifier for your metal music.
The Fender Mustang features 17 amp presets and an ability to edit those presets via knobs "on the fly". Additionally, it comes with the ability to utilize the amazing FUSE software system.
Fender allows you to plug this amplifier into a PC or Mac and do some pretty incredible things. For one, you can dig into the presets and really change them to your liking. Two, you can record your licks to your PC or Mac. Finally, FUSE can record you jamming along to your favorite tracks or maybe even practice over a recording of the rest of your band!
I am weary of this software system though because if you spend so much time getting your tone right on your practice amp yet cannot reproduce that tone on your gigging amp, I am not sure how much value is actually there. Take that for what it is worth.
Pros
Sounds good
Amp presets are good, some people don't like them though
FUSE software
Cons
A little complicated
Modeling capabilities may not matter if you have a different gigging amp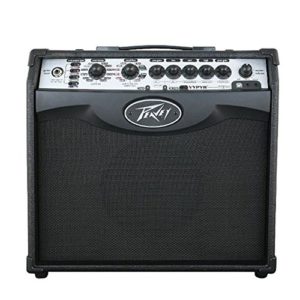 This is a "kitchen sink" practice amplifier. That is, it has everything and the kitchen sink built in. For some people, that will be invaluable. For example, if you are a multi-instrumentalist, this amp can be used for keyboards and guitars.
It also has interesting models for acoustic and bass guitar. If you play acoustic, electric and bass guitar, this is a practice amp to look at. It also features models for each instrument type.
There is something about trying to do too much that can sometimes be a hindrance rather than a help. The Vypyr can come dangerously close to having too much onboard. But, the tones it produces really can't be argued with; it sounds good.
Peavey has also created a software suite to go with this line of amplifiers that will let you record your playing and modify the amplifier presets.
One thing to note is that different size speakers sound good for the different instruments. If you are going to practice bass guitar, you pretty much need the 12″ model.
So, that means you will also be practicing the electric and acoustic guitars on that size speaker as well. To some people, this may be a big difference.
This, like the Fender, is not a metal-specific amplifier and because it tries to do so much the tones that it offers may not be the metal tone you are looking for. Test this amp out before you buy.
Pros
Sounds fine
Good for acoustic, electric and bass guitar
Lots of options
Cons
Modeling amplifiers have a lot of options
May need to get a larger model if you really want to practice bass
Jack-of-all-trades, master-of-none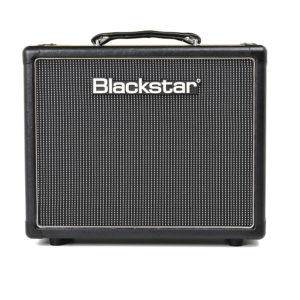 If money is no object, then this is the metal practice amp that you must buy. To put it simply, the tone from this amp is perfectly crafted for metal music.
Additionally, it is small and lightweight. On top of that, it is a tube amp and low powered but has just enough wattage to overdrive those tubes to create the perfect tone.
Unfortunately, being a tube amp this is a pricey practice amp. It clocks in at just under $500. What do you get for your money? You get a great practice amp that is also a great recording amp.
It features all-tube amplification with dual-channels (Clean and Overdrive) each with knobs that can help you fine-tune your tone. These channels are footswitchable. The amplifier also features emulated speaker output (1×12 and 4×12) meaning that it can be used for recording and with speakers and sound like a larger amp.
It rounds out the feature set with a footswitch for changing channels, a headphone output, and a series effects loop.
Overall, this is the best practice amplifier for metal.
Pros
Small and lightweight while being able to produce great, all-tube tone
can double as a good recording amplifier
dual-channels and footswitch
edgy look
Cons
How to Find the Best Practice Amps for Metal
What Type Of Amp Is Right For You?
As previously stated, it is often difficult to find amplifiers that are relatively low volume yet allow the sound to be pushed hard enough to produce the edgy tone needed for metal music.
That being said, we are looking for relatively small and relatively low power amplifiers that can be used in apartments, bedrooms, basements and keep your neighbors and family members from screaming at you.
Tube Amplifiers
This type of amplifier is sought after because of the tone that it can produce on its own. There, for some people, is no need for any further sound sculpting via pedals if the tube amplifier is good enough.
But, tube amplifiers run on the higher side price-wise even for low power amplifiers. If you are looking at tube amps, be warned that the price range may be considerably higher.
Tube amplifiers often require a lot of power to push the tubes hard enough to get them to overdrive. In this case, you will have to be discerning in what tube amp you buy for practice. You want to be able to push the tone hard enough to get the distortion and overdrive you need.
Solid-State Amplifiers
I think for the practice amp that the solid-state amp is most accessible and will allow you a lot of flexibility in the practice room. Distortion and overdrive are created mostly electronically in a solid-state amp, so you can play at lower volumes than a tube amp while getting good levels of overdrive.
Another interesting aspect of solid-state amps is their ability to sound like other amplifiers through modeling technologies that are onboard some models. This is a great addition because it is, on good solid-state amplifiers, like buying a few amplifiers in one.
This is invaluable in the practice room as the experimentation ability you will have on some amplifier models will be limitless.
What Size Amplifier Is Right For Me?
We are considering practice amplifiers so the main criteria to consider here are the size of your practice space and your proximity to people who might complain about the volumes. If you live alone in a detached house, there may be no reason for you to even consider a practice amplifier.
However, if you live with a family or in an apartment, there are quite a few considerations to have regarding the size of your amplifiers.
Speaker Size
In my opinion, the smallest practice amp that sounds good is the best. So, when considering speaker size, go smaller if possible. Smaller speakers will also require less power to drive.
Wattage
Following from the previous point, if we purchase a smaller speaker amplifier, we can get lower wattage and still drive the speaker as it was meant to be driven.
But, if we have a tube amplifier we need to make sure that there is enough wattage to overdrive those tubes. Solid-state amps do not have this consideration.
Weight
I like lightweight practice amplifiers. That opens the possibility of taking the amplifier with me and allowing me to practice when I am not at home.
Recommendation: What's the Best Practice Amp for Metal?
The best practice amp for metal is the Blackstar HT-5R, hands down. The only problem is you are going to pay for that tone. However, what you get is more than enough for practice and recording.
If you cannot stretch your budget for that amp, take a look at the Fender Mustang.