(Last Updated On: January 23, 2018)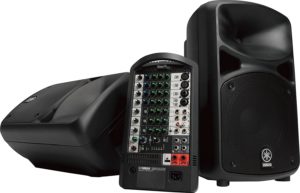 Are you looking for the best portable PA systems? You're in the right place.
A number of different people can greatly benefit from having a good public address system (PA system) or at least having a knowledge of what makes a good PA system or a bad one.

Top 8 Best Portable PA Systems: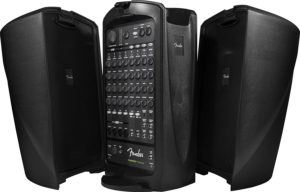 Perhaps one of the most well-known and respected portable PA systems is the Fender Passport and that reputation is not undeserved.
The Fender Passport Venue system is an interesting mix of modular all-in-one with features of a less compact setup. The Passport Venue features 10 channels of Class D amplified sound along with a few effects, a dB dial, and a number of additional features that help set it apart as one of the portable PA systems to buy.
The small, 3 unit footprint makes sure that it is compact enough to fit in the back of your car (I have fit one of these in the back of a two-door sedan!). Even though it is quite compact, it really does not skimp on features.
The Passport Venue is one of the models to get if you are playing small coffee shops, medium-sized speaking engagements or small church gatherings that need to be a little bit mobile.
There are some extra features that add a decent amount of unexpected value including a USB port for recording or playing mp3 and WAV files. If this is something that you think would benefit you, the Fender Passport Venue has it and so much more.
Pros
made by extremely reputable music manufacturer Fender
Good sound
Good amount of features considering the compact focus
Cons
Limited to gigs of 50-75 people
10 channels means probably not going to mike all of the drums and be able to mix them into the system
Somewhat limited effects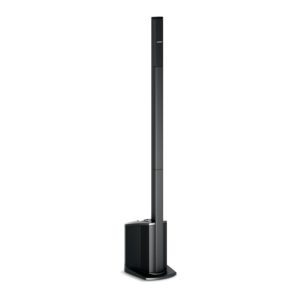 Bose is well-known for its speaker production, so what could be better than a highly compact and portable PA system created by the legendary Bose company?
I will carefully say that very few ultra-compact PA systems are quite this good with a number of caveats to follow.
Firstly, the speakers on this thing are quite good. The "Spatial Dispersion Technology" that is unique to Bose does a fairly good job at living up to its expectations, but it is not perfect and it cannot compete with larger setups in medium-sized venues.
Additionally, the two "ToneMatched" channels have presets that are tuned to vocals and acoustic guitar imposed upon them. So, this really limits the possible use-cases of the system. The Fender Passport Venue does not have these limitations and allows the operator to customize the preset settings at a much deeper level.
The major advantages of the L1 definitely come in its portability and sound quality for small venues. If you are looking for a sub 30 pound, sub $1000 portable PA system for smaller, coffee house style venues, this is definitely something to consider.
Pros
Super compact and lightweight
Decent sound quality with fair amount of power for its size
Easy to set-up
ToneMatched channels, while limiting, provide great sound for the singer-songwriter.
Cons
Limited feature set, but this comes with the territory of something ultra-compact
Some of Bose's claims (Spatial Dispersion) are not borne out by usage
ToneMatched channels sound strange for setups other than guitar/vocal, but this can be adjusted slightly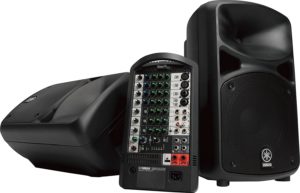 The STAGEPAS 600I can reasonably be considered Yamaha's response to the Fender Passport Venue.
Clocking in at 680 Watts, this thing has a lot of power. This amount of power means you can expect to be loud enough for venues of around 150 people. This is slightly more than what I would recommend putting the Passport Venue up against. Not only that, this thing, even in the larger configuration reviewed here, is $100 less than the Passport Venue.
The features are all similar to the Fender Passport Venue
10 channel mixer
AUX input for mp3 players and other devices
Feedback suppressor
But it does have a few things to push it a little bit beyond the Passport
High-quality FX built-in
The mixer is higher quality
Of course, I think that the speaker quality in the Fender setup is a tiny bit nicer. Most Amazon reviewers state that this setup is exactly what they needed for venues of 150 people.
If you are looking for a portable PA with a few more features than the Fender Passport Venue and a little bit lower price while sacrificing, in my opinion, speaker quality then the STAGEPAS 600I might be for you.
Pros
Loud enough for 150 person venue
Similar features to Fender Passport Venue at a lower price
High value according to most reviewers
Cons
Not as portable as the Bose L1
Speaker quality not as good as Fender Passport Venue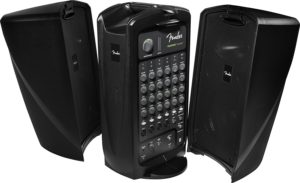 The Fender Passport Event is the youngest brother of the Passport series. As such, it features a number of the aspects that set the line apart from other portable PA systems including the quality speaker set up.
But, the Passport Event is quite small. On one hand, like the Bose L1, it is quite portable and quite powerful for being as portable as it is. On the other hand, it is nowhere near as powerful as its older brothers or the Yamaha 600I.
I can only recommend the Passport Event for the smallest venues.
Pros
Very small
Well-known Fender name
Good sound for its price
Nice feature-set for its price
Bluetooth for playing music via phones
Cons
Cannot compete with larger setups
Sound quality barely competitive against the Bose L1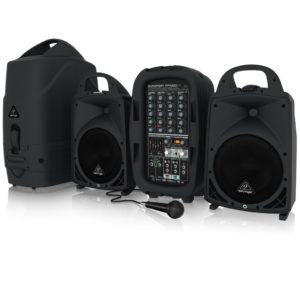 The Europort PPA500BT is very much a response to the Passport Event. It is not quite as powerful as the STAGEPAS 600I and therefore I consider it to fall nicely in the "small venue" camp.
In fact, this is quite powerful for something that will be used in small venues, so I would say that you can comfortably provide sound for about 75 people and maybe push it to a room suitable for 90-100 attendees.
The featureset here is comparable to the Event, although it does lose a point for only have 6 channels compared to the Event's 7 channel set up. There is also the major downside that you cannot connect a sub to this unit as there is no sub output. If you are planning on getting a package that you can add a subwoofer to, this is not your unit.
If you are looking for a unit that can provide comfortable volume for about 75 people, I think this is one of the higher value products on this list.
Pros
Very high value
Quite portable
Comparable to the Passport Event in most of the important respects
Cons
Lacks some of the channels found on the Passport
500 watts makes it almost too powerful for a small venue but not powerful enough for a medium-sized venue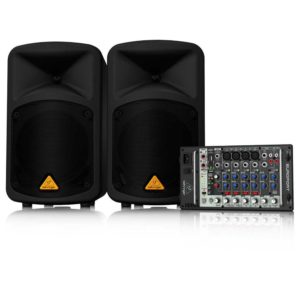 This particular offering from Behringer is very similar to the previous. The only advantage I would say is the addition of the two extra channels.
Furthermore, I prefer the looks and the setup of this unit over the PPA500BT. I am not sure if there is any reason beyond I find the looks and the build quality of this particular unit to be much higher than the PPA500BT.
On top of that, this unit is very portable and great for moving to different band mate's houses for practice and jam sessions. The 500 Watts provide more than ample power for practice and jamming.
Pros
Quite similar to the PPA500BT as far as components go, and I did not have many complaints there
Better build quality than the PPA500BT
Priced competitively
Cons
Not powerful or clear enough for medium or even larger small venues, really a practice and coffee shop PA only.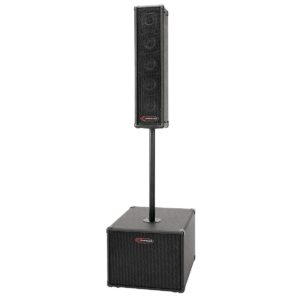 This is the only system on the list here that features a subwoofer standard on the setup. This, I think, pushes this package to the top of my list for some applications especially ones that require more bass response.
Unfortunately, there is a mixer included with this package but it really is lackluster so you would have to provide a decent one yourself. This provides some advantages. The cost of this package is quite low for what you get and leaves plenty of room to get a decent mixer and be out the door for about $600.
At this pricepoint, the whole setup will cost a little more than half of the $1000 setups on this list. Definitely, something to think about.
Pros
Good sound
Low price
Portable
SUBWOOFER INCLUDED
Cons
Bad mixer in the package
Subwoofer might be a little heavy for some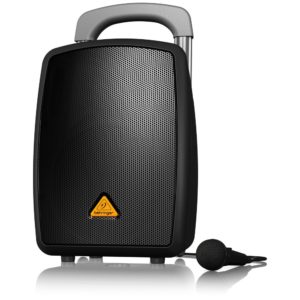 This is the most portable and the most limited option on the list. If you are looking for something to amplify your voice in a small venue, this is the option you need to go with.
If, contrarily, you are looking for something to amplify a musical performance, this is not the best option.
The manufacturer claims that this amplifier is good for audiences up to 250 people. I would caution strongly against relying on this for any audience over 50 people. 40 watts is simply not enough for 250 people.
There is a complete lack of any technical features on this device which could be either a blessing or a curse. If you purchase this device expecting high level of control over the sound, you will not get it. If you purchase this device for simple voice amplification, I think you will have made a great decision.
Pros
Most portable on the list
Simple
Cons
Maybe be too simple for some people
Very limited featureset
How to Find the Best Portable PA System
Mostly, performing musicians, public speakers, and other performers will get a lot out of owning a solid, portable PA system. But, how do you pick the best portable PA system?
There are, of course, a number of variables that go into figuring out which PA system is right for your needs. But, a good PA system should be able to easily do each of the following
Produce acoustic sounds from digital signals.
Provide mixing capabilities
Amplify signals
Produce sound through speakers
Monitoring features
While these simple tasks must be accomplished by the system, many PA systems go about doing so in very different ways that can make each system more or less portable than the other.
Pre-packaged vs. DIY vs. All-in-one
There are a number of ways that you can purchase PA systems. You can purchase an entire setup prebuilt for you in the form of a package deal. These often include components all from the same manufacturer and are pretty much guaranteed to work together. Beyond that, you can go with a modular, All-in-one system which provides a few units meant to do the work of many. Finally, you can purchase individual components yourself, customizing your setup and ensuring you get the best component for the job.
Each of these different options provides advantages and disadvantages.
Prepackaged System
Buying a prepackaged system comes with the following considerations.
Pros
Guaranteed compatibility between components
One single purchase
Uniform look
Cons
Cannot customize components until after the initial investment
May not contain the best components for the price
May be less portable than an all-in-one
All-in-one
Before buying an all-in-one you should consider these aspects.
Pros
Tend to be the most minimal and clean
Very little fuss
Offer good sound
Tend to be quite portable
Cons
Absolutely minimal customization
Focused on portability not range of options
DIY
If you want to go the DIY route, you should consider the following.
Pros
Complete control of the components in your setup
Learn a little bit more about audio setups
Can optimize your initial investment
Cons
Longer time to get up-and-running
Most amount of fuss
Must test for compatibility
Portability vs. Customization
The previous consideration of the different methods of purchasing a PA system leads me to the following question: Do you care most about the portability of your system or your ability to control and customize your sound?
Unfortunately, these two are a trade off. The most portable PA systems will feature minimal customization and sound controls while the most feature-rich systems will feature huge mixing boards and massive arrays of speakers and effects racks.
If you are a working musician and will be responsible for transporting your sound system, it probably is not in your best interest to purchase large individual components unless you also want to purchase a large trailer and a truck to pull it. On the same token, the quality of your sound does matter. So what trade-offs are you willing to make?
Going the all-in-one, super compact route has advantages in the portability world, but disadvantages in the customization and output realms. You will have minimal inputs on an all-in-one…how are you going to manage all of those drum microphones with only 3 inputs on your PA system? Things to consider.
Power Considerations
When you go to purchase a power amp for your PA system, you need to consider how much power you need and this should also inform the other components you purchase as they need to be able to handle the amount of power you are going to throw at them.
Make sure, if you go the DIY or prepackaged route that your amplifier is the proper choice for your system.
As a general rule, make sure your amp has at least double the wattage of your speakers to make sure that there is ample power to crank your speakers without distortion.
Wrap-up: What's the Best Compact PA System?
Making the determination as to which PA system is the absolute best depends very heavily on what you need it to do.
For simplicity's sake, if you are looking for a PA for speaking events, get the Behringer Europort MPA40BT-PRO.
If you are looking to amplify coffee shop gigs, the Bose L1 will suit you quite well. If you need more bass response, the Harbinger is great.
The Yamaha 600I and Passport Venue are great options for small-medium sized gigs.
Really, think about what you need your PA system to do and purchase accordingly.