(Last Updated On: December 21, 2017)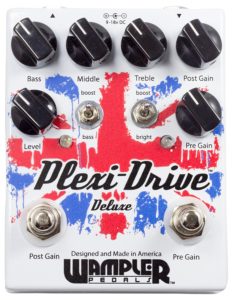 If you are searching for tones to match up with the authentic rock vibes of the Marshall era in the 60s to wow your crowds or just to wow yourself in the garage, these four pedals will emulate the distinctive tones of the Plexi-Head era without the expense and hassle of lugging a whole new set of amp heads around with you.
Top 4 Best Plexi Pedals: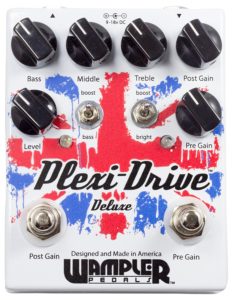 From this Plexi-Drive Pedal, you will hear the authentic Marshall sound in a small, updated package.
It offers the same range as the Wampler Plexi-Drive Standard but adds a few key features, including a pre-gain boost for mid-range overdrives, a bass switch to darken tones and a bright boost to add a higher frequency into your music.
It also has the main dials for bass, middle, and treble which can be turned to greater or lesser affect. Its post gain boost dial will saturate your circuit with a warm overdrive.
The Wampler Plexi-Drive Deluxe Guitar Effects Pedal uses high-grade film capacitors and resistors for the best sound and frequency, and offers a completely true bypass, allowing you to completely remove the pedal's sound from your music if you so choose.
It has a standard size to fit into any system, and although it is lightweight, it is also heavier than some of the others on the market.
Pricewise, it is the most expensive of those on this list, mainly because its bells and whistles allow you to perform more tones with a single pedal.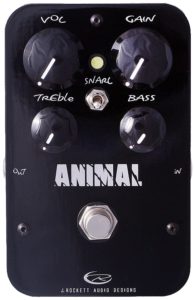 The J Rockett ANIMAL has a snarl switch that toggles back and forth from the stock Plexi mode when it is in the downward position to the Modded Plexi mode when it is in the up position, so with a simple flick of a switch you can easily move from one to the other in live play.
It offers excellent replication of the 1968 sound if that Classic Rock is what you are going for, and has a very subtle bass and treble control which are usable throughout their entire sweep.
It can go from a very loud, almost distorted volume and sound range to the blues depending on how you play with it.
Because of its snarl switch, purchasing the ANIMAL is great for those whose musical gigs call for a wide range of sounds, and its price, midway between the Wampler and the Catalinbread or Carl Martin, reflects that.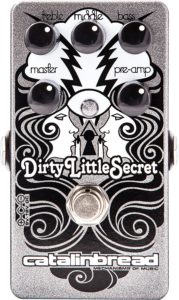 Visually, the Dirty Little Secret (DLS) Overdrive Pedal stands out for its attractive design and bold logo. The DLS is designed to be a foundation Plexi pedal, with a dual mode sound pattern for both a full wall Marshall Super Lead and a Super Bass sound and response.
You can switch between the two modes using an internal slider switch. The DLS forms the core sound for both types of music, which can then be embellished with boosts and other overdrives to capture the exact sound that you are looking for.
It has the three standard knobs: treble, middle and bass, and a pre-amp. When you purchase the DLS overdrive pedal, you essentially receive two pedals in one because of their vastly different amperage.
It is less than the ANIMAL or Wampler, mainly because unlike those two it is set up primarily to give you variations of the classical rock sound. It fits into all standard pedal holders, and its super light weight, 8 ounces, is great for on-the-go musicians.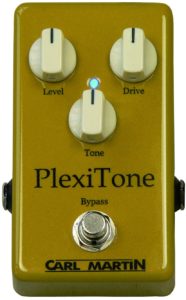 This Carl Martin version of a popular Plexi-Tone is a single channel pedal in small, pedal-board friendly housing. It has three knobs for level, drive and tone, and a bypass switch.
It has one small modification to tighten the low end and soften the high end, which makes it compatible with a wide range of amps, similar to the high gain PlexiTone channel.
With its musical set-up, those who are mainly looking at recreating the classic rock sound will have everything they need here at a good price, without paying for extras you may never use.
At just one pound, it is easy to haul around, and its dimensions fit into standard pedal holders perfectly. Its price is about level with that of the Catalinbread and is the least expensive of those on this list.
How to Choose the Best Plexi Pedal for Your Guitar
Most Plexi pedals are built and designed with the purpose of mimicking the classic Plexi-Head sound used by guitarist legends such as Jimmy Hendrix and modern day musicians such as Billy Joe Armstrong and Matthew Belamy.
While vintage Plexi-heads can be hard to find, (and harder to afford!) the Plexi pedal lets you offer up the same classic rock sound in a simple foot pedal you can easily carry around to all your shows.
Many pedals are designed just for that classic rock sound boost. So if you want the boost but are not concerned about special features and extra sound effects, then you may want to consider one of those more streamlined Plexi pedal with fewer knobs and switches to play around with.
Fewer knobs mean fewer distractions during live performance, even if they cut back on the amount of versatility and modal range you will have within your music.
Other Plexi-Drive Pedals, such as the Wampler, are meant for more in-depth tonal experimentation and hitting a wide range of sounds with a single pedal.
This comes by adding extra knobs and switches, so it may take some practice getting used to hitting the right combination during a live set.
The upside, however, is that you will be able to experiment more with different tones and overdrives, to really hit upon the mixture that is right for you.
The multiple modes and switches are also going to pay off if you perform in many different styles of music.
Rather than lugging different amp heads for country and classic rock, for example, you could have a single pedal and change genres at the flip of a switch.
Obviously, cost is going to be a factor. You can find all of the pedals listed here for less than 300 dollars but are going to pay more if you buy a Plexi pedal with additional music tones and modes than for a standard classic rock boost.
So if you are in the market for a new Plexi pedal for your rocking guitar, you will want to consider the most important features for your music and price them out accordingly.
These four Plexi pedals are the best quality out there on the market today and offer a mixture of price points, features, and designs that may or may not be the best fit for what you are looking at.