(Last Updated On: December 21, 2017)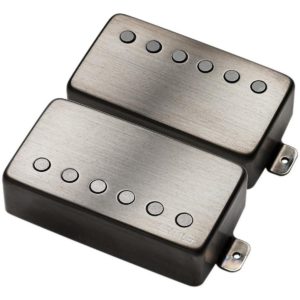 Looking for the best passive pickups for metal?
You're in the right place: we found the 4 best ones and reviewed them for you.

Top 4 Best Passive Pickups for Metal:
EMG H4 Passive Pickup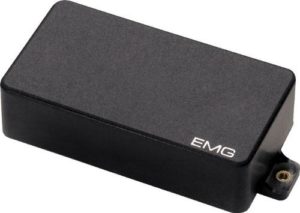 EMG is among the field's leaders for metal pickups overall, and that also includes passive models.
The H4 model is available at an affordable and fair price, operating in the form of a classic humbucker pickup.
It is the equivalent of EMG's 81 Active Pickup, but in the passive department instead.
It uses a two bar-loaded coil set and the 5-wire quick-connect output from the manufacturer that allows for many different wiring combinations.
The pickup is fully shielded, which reduces physical damage and secures minimum noise. A QuickConnect cable is also included, along with springs and a set of screws.
What makes this guy perfect for metal music is its top responsiveness, wide range, raw gain power and strong output. Simply put, it is beefy and chunky.
This one is perfect for you if you are going for a modern heavy metal or massive hard rock sound. It is definitely among the best passive picks to use for metal.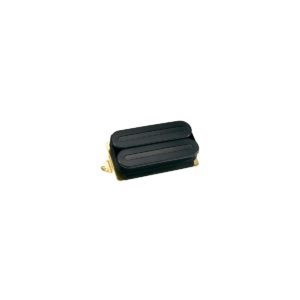 This pickup represents the people at DiMarzio very well. It boasts a very focused, articulated and precise sonic attack at the upper midrange sonic frequencies.
Higher and lower frequencies are present still to provide a well-rounded output. However, the Activator shines through the best at the middle ranges.
Basically, if you are searching for the finest passive magnet to use for classic heavy thrash metal – it is definitely a winner.
It sounds excellent in the gain-packed roaring regime. However, it also provides clean, clear and crisp notes whenever you need them.
In terms of the rest of the technical details, one important thing to note is that the D Activator X uses the same overall magnet structure and bar pole pieces that the X2N model does.
However, it is still a completely different pickup.
In order to compare the two, some of the important things to note are that this model's output voltage is slightly lower than what the X2N provides.
The tuning on the two coils allow the higher frequencies to open up while still maintaining strong mids and lows as part of the overall output.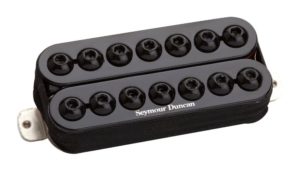 Seymour Duncan is another company that definitely deserves a mention.
Over the years they have been associated with many of metal's all-time legends, and have kept their product line fresh with a unique approach and continuous innovations.
The model we chose here to represent the metal department in fine style is the Invader series.
The passive mount pickup features extra-large pole pieces, overwound coils, three ceramic magnets and black metal covers.
Basically, if you play an 8- or 7-string guitar, these are potentially the finest passive pickups to be used for metal on our whole list.
Aside from its reasonable price tag, which is usually under $100, this pickup is quite versatile. And itt isn't just about its chug. This product provides clean notes that are free of any unwanted crackle and are crisp, which for more progressive players is ideal.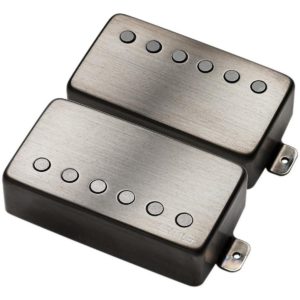 We previous discussed EMG as being one of the most prominent brands for metal. They appear on our list one more time.
We selected another product from the company's roster for the high-price category.
This pickup is also quite versatile and can cover basically any style of metal that you can imagine.
In addition to its sleek appearance, this pickup features individual bobbins and poles for an enlarged core, extra sonic clarity and percussive kind of attack.
It is ideal for rhythm guitar style of playing, along with a rich low-end response and higher output.
Designed and made in the USA, this pickup is basically our best answer to the question of "which is the best passive pickup to use with metal music?" It rocks, it roars, and will totally blow you away!
What is the Difference Between Passive and Active Pickups?
What is the difference between active and passive guitar pickups?
Both kinds of pickups make use of coils of wires. However, the difference is there much less of them on active pickups. The utilize an active preamp instead that is incorporated directly into the instrument.
That boosts the EQ, filters and signal level, and usually provides the player with complete control over the three-band equalizer. Also, separate power is needed by active pickups and a 9v battery is used that has to be replaced on a regular basis.
When it comes to specific differences in audio, active pickups are not as susceptible to background noise and have much higher output. On the other hand, passive models have much stronger dynamic ranges.
So like is so frequently the case in the music world, it comes down to being mostly a matter of taste.
What Makes A Passive Pickup The Best To Use For Metal?
Although some criteria are universal for various styles, what is required more for passive pickups used for metal music is additional sonic bite and loudness.
Those qualities will let your instrument cut through all of the mix to deliver metal's characteristic boom. In terms of other criteria, search for a rich bass section and strong mid-range punch.
The thin sound is a huge problem, since metal is all about chunky guitar chops.