(Last Updated On: January 23, 2018)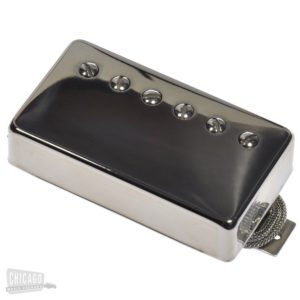 Looking for the best PAF pickups? You're in the right place!
Guitarists on a quest for a certain vintage tone may all arrive at the famous PAF-inspired pickups that dominate the vintage and authentic pickup markets. The original PAF was developed over several years of trial, error, dissection, and creation by Seth Lover, a Gibson guitar engineer.
PAF simply stands for Patent Applied For humbucker, as the original 50's PAFs were the beginning of a new area in pickups. Each original PAF was created with slightly differing qualities in areas like resistance, magnetic field, coil winding and coil balance and this appealed to legions of guitarists who'd chop and change their PAF in their tone quest.

Top 4 Best PAF Pickups:
Here are some of the best PAF humbucker pickups on the market today.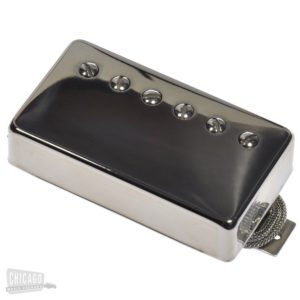 Lindy Fralin has been crafting pickups by hand for decades and using his own custom machinery, schematics and creative input. He's created some of the world's finest boutique pickups. The Lindy Fralin Pure lives up to its name as one of the PAF's purist replicas.
Based thoroughly on the original 50's Gibson PAF, this humbucker is clean and precise with a vintage tone that retains brightness and clarity. Built using remarkably similar parts and through remarkably similar processes, this humbucker is Lindy Fralin's most authentic sounding PAF-style pickup.
The Pure PAF model pickup has a relatively loud output and it doesn't break up at higher volumes. Instead, it remains well rounded and sharp but not metallic and shrill.
With specialist magnets and 42-gauge enamel wire, it packs similar components to the originals and the tone is instantly hard-hitting as vintage with an extreme dynamic quality, warmth and cleanliness. Note separation is enhanced and pick attack is accentuated nicely.
Many people cite that the Pure PAF's tone is absolutely exquisite. Balanced but sharp when pushed with tremendous note separation and tone diction. It's a real high-end pickup and the price reflects this but overall, you can't easily beat this pickup.
Strong Points:
Faithful PAF style pickup which is built by a real specialist
Sharp, warm, clean and precise tone
Handmade and tested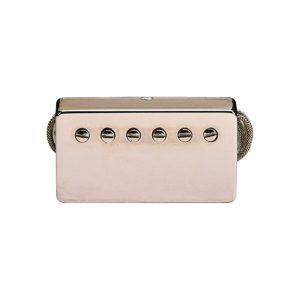 Gibson has been at the forefront of pickup engineering for half a century and amongst their huge range of high-quality offerings is the Gibson Classic Plus '57. These are installed on some higher end Les Pauls and are well known for bringing out the Les Paul's strong woody tone. Eric Clapton, the Allman Brothers and B.B King have all been known to use these pickups.
The Classic Plus is a faithful reproduction which features a couple of additional wire coils to increase its output. This is faithful to the original PAFs, some of which were given an extra couple of turns on the winding machine by accident, resulting in a different tone which is still valued today.
Many consider the Classic 57 plus to be the real center of that true Gibson sound. With special Gibson Alnico II magnets combined with special vintage wires, nickel-plated components and an array of other components which really hark to those pioneering days.
Loud and thick, the Classic 57 Plus is a true vintage PAF style pickup but with a tad more dark-edged harmonics laced with its complex tone. A common setup is to couple this with a 57 Classic, by running the Classic on the neck and the Classic Plus on the bridge. It can be quite hot and gutsy, with plenty of mid-honk and darker low-end tones that give this pickup some juice that other PAF-style pickups can't offer.
Strong Points:
Higher output than some pickups here
Dark and smooth, obviously perfect for Les Pauls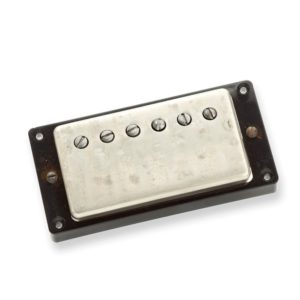 Seymour Duncan is a market leader and their vast selections now include this awesome PAF-style humbucker designed for the bridge position. They pre-age the components on this brilliantly made humbucker, providing a one-of-a-kind, hand-finished and authentic tone. The pre-aging process extends to the magnet poles and the cover, not only improving tone but also the pickup's aesthetic qualities.
This PAF replica uses an Alnico II magnet like some of the most famed originals and as a hand wound and hand finished pickup, you're guaranteed a high level of craftsmanship for the Antiquity. It features enamel-coated wire and similar nickel-silver covers to the originals. In terms of tone, it has a lovely velvety balanced and rich tone which has a characterful high-end sparkle. Truly vintage in essence and nature, Seymour Duncan puts another awesome PAF-style pickup into the market in the form of this Antiquity humbucker.
The Seymour Duncan Antiquity is mellow and balanced with a softness that sounds wondrous at quiet volumes. Slapped on a lovely guitar, this will sound as sweet as anything with a mellow yet dark edge will is a bit creamier than some other PAF-style pickups.
Strong points:
Quality PAF style pickup that holds the aces in its dark tone
Alive and vintage with a controlled essence brought by its nickel-plated cover and pre-aged components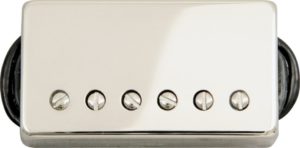 A lovely faithful PAF reproduction, this DiMarzio offering weighs in as cheaper than its competition and still undoubtedly packs a serious vintage punch for every pound or dollar it costs. It features a weaker magnetic field to give it a more natural articulation, fatness, and attack in balance and humbucker cleanliness.
Using a consistent winding technique, 42-gauge coated wires provide a tone that mirrors the originals excellently before being dipped into a custom fluid which seals the pickup coils against squeal. Deep and rich in character, it weighs in as dark and gruff. It has a truly vintage essence to an affordable PAF-style pickup.
The DiMarzio is suitably dark and moody but can handle some loud playing too. It reportedly works tremendously well when subjected to pinch harmonics and can allow a guitarist to produce some piercing tones even with its relatively low magnetism.
Strong Points:
Slightly weakened magnetic field improves natural responses
Vintage engineering really works at the price
How to Find the Best PAF Pickups
The perfect PAF is hard to define but overall, they're rich and warm with a great 3D tone that provides clarity like a single coil. Harmonically complex and awesomely open but also precise in the highs and warm in the lows, the PAF suits many styles of playing but is undoubtedly best suited towards quieter playing with lots of dynamics or a more classic rock tone, so basically, probably not extreme metal or anything like that! Also, the PAF tone is definitely dark and your guitar will play a big role in how they sound.
PAFs are great on any guitar but many cite that their enhancement of quality Les Pauls is second to none. They bring a true vintage woodiness that makes the instrument as rich as it can be from build to electronics to output. For other guitars, PAFs can transform or enhance tones either subtly or greatly. If you're interested in changing pickups then research is key as there are so many people out there changing theirs regularly.
The originals are now hard to track down in workable condition. Many of them are lovingly restored from either broken PAFs or various parts, which takes time and money. They are not cheap. Instead, pickup manufacturers including the market leaders like Seymour Duncan, Gibson and DiMarzio as well as smaller boutique brands and handmade craftspeople manufacture PAF-style or PAF replica pickups.
Manufacturers now take the best of the old and mix them with some modern durability and flexibility. New PAF-style pickups offer that same fundamentally dark and rich tone with tons of options for extra output gain, extra brightness or extra harmonic content.
Built and Materials
The original 1956 PAF pickups were engineered meticulously and so many parts were trialed, including ranges of Alnico magnets, different metal covers and different coils of wire. They were made with either a stainless steel or nickel-plated brass cover. Stainless steel and nickel-plated covers shielded these new designs from unwanted noise-producing sources – microphonics, etc. Both materials are good for their noise and electrical shielding properties, which helps them to eliminate the hum that plagued single-coil models.
PAFs were made with Alnico magnets which probably have the biggest influence on their tone. The originals were created with an array of different magnets; the result is an array of different tones, so basically, the PAF tone is up for interpretation. Another key feature was the PAF's unpotted poles. Wax potted poles reduce noise from unwanted vibration but the original PAFs remained unpotted to help them retain a characterful bite with extra harmonics.
These days, not all PAF-style pickups are unpotted and for loud play, a newly developed pseudo-potting procedure is used in replacement of the original method to help shield pickups during loud live play. Some PAF-style pickups remain unpotted, though, and this may cause adverse effects during loud live play.
Conclusion: What's the Best PAF Pickup?
PAF pickups don't suit every player but for many, they are the holy grail of vintage tone. Many old records will have made great use of these legendary pickups and such is their revered status in the guitar industry that so many PAF-styled pickups exist on the market. With such vast models on the market, it is hard to determine the best choice.
The Lindy Fralin Pure PAF model here has to tick all the boxes for a real loving creation championed by a real enthusiast. They're hand-made in true expert fashion and people really rave about them. For those who want to try PAF-style pickups and their unique offerings, the DiMarzio DP223 PAF 36th Anniversary weighs in as cheap and authentic, a real bargain style at that price.