(Last Updated On: December 21, 2017)

What are the best P90 pickups on the market at the moment?
You've been playing guitar for a while and you'd love to upgrade your instrument but to get to the top end the prices are more than a little prohibitive.It is possible to improve the sound quality dramatically just by replacing the pickup and the best
It is possible to improve the sound quality dramatically just by replacing the pickup and the best P90 pickup is an excellent choice.
Gibson started offering this pickup in the mid-1940s and it remains the most overlooked but widely-revered pickups ever made. Installing a new pickup is a surprisingly easy process that you could do yourself or get your local music shop to handle for you – an inexpensive way to get high-end audio.

Top 4 Best P90 Pickups: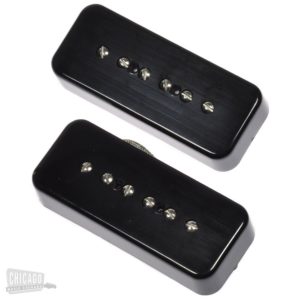 Pros
Great sound
Easy to install
Well-known and quiet without shielding
Great sound, easy to install, well-known and quiet without shielding
Cons
This classic and screaming pickup allows for a sound quality that is out of this world. Fralin is known for their solid US, hand wound, high-quality pickups and this one does not disappoint. From sleepy soul to nasty grit these pickups allow even the cheapest guitar to ring like a bell.
The pickup is known for its big, fat mid-range. With this pickup on board, you can look forward to a top end that is sharp and aggressive alongside a bottom end that is clear, present and round. Single notes are thick with a solid sustained footprint. Chords sound out with a slight compression and the note separation is fantastic. The clarity and definition with this pick-up remain strong and punchy.
The pickup has a reverse wound bridge to help with hum canceling when two pickups are on. It comes with adjustable poles and Alinco II bar magnets separated with maple.
It is available in a range of colors with a number of dogear cover options if you would like to use this pickup on a hollow bodied guitar.
While expensive these pickups will exceed your expectations for sound and crispness. They are highly recommended for players of most styles where beefy sounds need to ring out.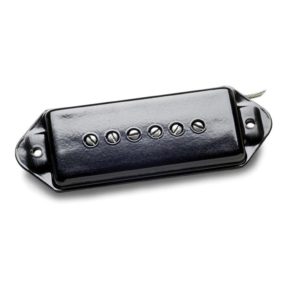 Pros
Classic sound and look at a good price
Cons
Fewer options in the look
With this pickup, you can capture the sweet, weathered single coil tone heard from a classic '52 Goldtop. This is a take on the original pickups which allowed the Gibson Les Paul to produce its most classic sound. The tone is really warm while still maintaining very impressive not definition. The mid-range gives a bright tone with a really clean sound.
With a Tubescreamer or similar thrown into the mix, there is a really intense rock and roll feel. This is not kind and gentle pickup – rather this is a midrange that grinds alongside a nice woody thump.
The bobbins are hand-fabricated with the same kind of wire and tape that were used in the original. They use specially calibrated Alinco II magnets which are attached to a precision metal spacer which transfers the magnetic field to the strings through fillister head pole pieces.
There are two colors available, black or cream, and all versions have the classic tone you would expect.
This pickup performs best with crunchy amp settings and is great to rock out with.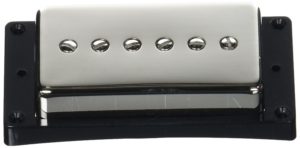 Pros
Clear and bright
Maintain definition
Great price
Cons
May be too tight and bright for some guitars or players
This is a true P90 bridge pickup but in a standard humbucker size which makes install even more straight forward. This was originally developed in the Custom Shop for Hamer Guitars and is a true single-coil P90 Soapbar. You get all of the authentic bridge position grit and growl that you'd expect from a vintage P90 soap bar. It has been wound to give you chords with lots of bright harmonics, and solos have that sharp single coil cut.
This is a very lively and punchy pickup with a slightly thinner low end than a traditional P90 but this is more than made up for with the mids and top ends which really shine. The Phat Cat is really responsive to pick attack and very touch sensitive. Chords and single notes snap and pop, making them great for fingerstyle playing, country licks or any style where clarity is the top priority. The tone is less compressed than a humbucker and the sound is nice and crisp.
This pickup also uses Alnico II magnets for more sustain and softer attacks. The metal covers provide more shielding and noise reduction than standard soap bar covers.
There are two choices of color here, black and nickel, both of which look stylish.
If you want to fingerpick along with Eddie Vedder then this pickup could well be for you.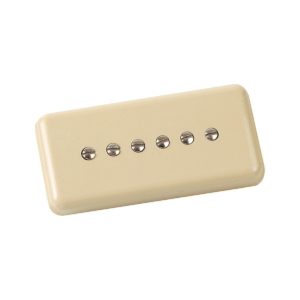 Pros
The classic look and sound.
Cons
Hard to get for non-US residents
This is the original P90. First introduced in the early 1950s, Gibson's legendary P90 single coil pickup produced a raw powerful tone that helped define the blues and rock and roll in their formative years. Today, the P90's traditional combination of high output and brilliant tone is still considered a favorite among many top musicians.
Known by such familiar nicknames as the "Soapbar" and the "Dogear," the P90 still cuts through any type of music, all while displaying amazing tonal sensitivity for everything from blues and rock to mellow jazz riffs. It's perfect as a vintage replacement and features vintage, braided two-conductor wiring. It's also fully wax potted to eliminate any chance of unwanted microphonic feedback.
This pickup uses the Alnico V magnet with provides a fat tone which is more punchy than the Alnico II variety.
These are available in a variety of colors and can be used in the bridge or neck position
What Features Should the Best P90 Pickup Have?
A P-90 pickup will have a tone which is brighter and an attack which is clearer when compared to a humbucker. It will also have mid-low range response which is beefier than a simple one-coil pickup. The sound of the best will be twangy and powerful, complementing country and even rock, while having the nostalgic hum reminding you of the 60's style single coil.
At one time, the P-90 was considered a "budget" alternative to real humbuckers. They were often found on Gibson's mid-level instruments, as well as on some Epiphone models. But times change and the P-90 has made a big time comeback. See, the P-90 is actually a single coil pickup and we now know that single coils can deliver plenty of top end response, allowing it to cut through even the densest mixes.
Many of The Beatles biggest hits were recorded using P-90 equipped guitars. But the coolest thing about the P-90 pickup is that once you roll off the highs, you can still get the smoky tones we normally associate with humbuckers. P-90s come in two styles: Soapbar (for solid body guitars) and "Dog Ear" (for hollow body guitars).
Depending on your need the range of colors and styles may be important. The level of noise canceling and the quality of chords and individual notes will be a big factor in deciding which of these to go for.
If you want to find the most popular and reliable P-90 pickups then check out our list above. I've looked at the sound that each of them produces and thought about the style of music that each is most appropriate for. The pros and cons are listed and there is my opinion at the end letting you know what I'd pick if I was only allowed to choose one.
As you'll see, the type of music you are playing is one of the major factors when trying to decide which of these you will use to alter your guitar.
Conclusion
All of these pickups provide an awesome sound and the one you pick will depend on the style of music you want to get into. I've really enjoyed exploring these and thinking about which to rock or mellow out with. If you are looking for finger picking clarity I'd suggest going with Flat Cat.
If, however, you'd rather go for the harder rock and roll style I'd suggest the Seymour Duncan Antiquity which gives the classic sound at a decent price. The best p90 pickup can be your and can transform the sound of your budget guitar at a much less substantial price tag than a completely new instrument.