(Last Updated On: December 21, 2017)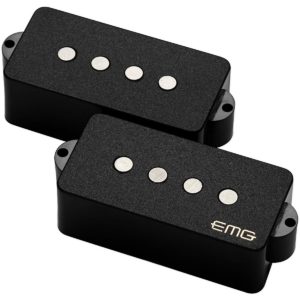 What is the best P-Bass Pickup?
Okay, you're rocking the bass and you're sick of hearing that you chose the easy route! Sick of being considered the drummers apprentice!!
It's time to get your James Jamerson on and show these guys what bass is really all about.
That's where the P Bass Pickup comes in – and in most cases factory fitted just won't cut it, when you're looking for that old-school sound.
Yes, there's lots to choose from and yes, the "best sound" is very subjective, but don't worry we've done most of the work for you! Below is a list of the best five, with detailed pros and cons, all you have to do is pick and click.
Top 5 Best P-Bass Pickups:
These are, in our humble opinion, the best P-Bass pickups on the market.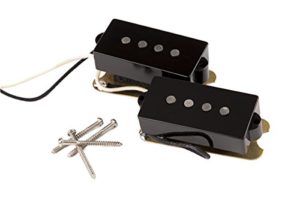 Where else would I begin? Fender is the founder of the P Bass and arguably the source of the "old school" sound most are still on the hunt for.
The Fender Custom Shop '62 P Bass Pickup dual coil gives exactly that and more, with a range that encompasses most musical genres.
Using flush mounted Alnico 5 magnets and supplied with full mounting hardware, including cloth wire covers, the Fender Custom Shop '62 P Bass Pickup is relatively easy to install with just a small amount of soldering necessary.
Once fitted you'll find that the mid-tones are especially bright, too bright for some, although simply changing a capacitor can rectify that.
Able to punch through the growls of even the most aggressive lead, the Fender Custom Shop '62 P Bass Pickup gives the low tones a rumble that would please all but the heaviest of rockers.
The pickup is very well made and feels like it really will stand the test of time. The output is a little on the low side, but hey, that's what amps are for, and the low power is offset by the excellent tone control.
Pros
Great performance with exceptional mid-range, suitable for playing everything from jazzy blues to classic rock
Well manufactured solid construction
Easy to install, although a small bit of soldering is required
Responsive tone control
Cons
 Not a huge amount of power
 Mid-range can be a little bright for some but a capacitor change can easily remedy this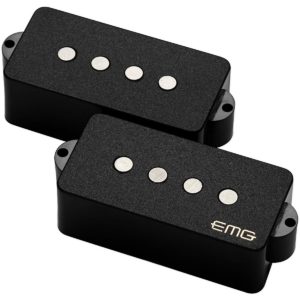 This EMG/Geezer Butler collaboration should make you sit the hell up and take notice. This is the first time Geezer has been willing to put his name to a set of pups and if they're good enough for him, then maybe we should give them a try!
Complete with Alnico 5 magnets and solderless connectors these fully shielded dual-coil pups are hard to beat. Let's just take a second here: solderless connectors have been around for a while, but don't underestimate the difference when you're installing them yourself.
Soldering is not difficult but there is a technique to learn, and burnt fingers are not fun!
With these Geezers (see what I did there) installation is simply "plug and play", although some of you may find that the pups need additional foam during install to bring them closer to the strings – top tip use the packaging they came in!
What's that? How do they sound? Pretty damn good. These bad boys can do it all from Motown to well……… Black Sabbath (of course) and everything in between.
Pros
Extremely easy installation with no soldering!
Lots of power throughout the range
Fully shielded for noise rejection
Amazing lows and fantastic mid-range
Cons
They sit low on install and may need packing with foam to sit correctly
Little pricey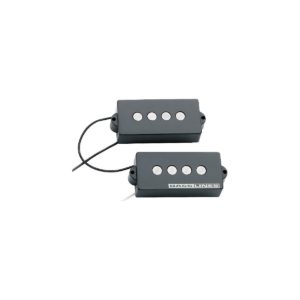 I cannot stress this enough, these pups are loud! loud! LOUD!
If it's tonal control you're looking for, then these babies have it in spades. From Jazz to punk to metal, the twist of a knob and the flick of a wrist prove that these really can do it all.
The larger diameter ¼ inch poles (hence the quarter pounder name) increase the magnetic field, which in turn expands the frequency range.
Unfortunately, the larger diameter poles also make it difficult to fit newer covers on the pups, if you want to change the standard black color.
These pickups are well priced and suited for everyone. If you play fretless; with dropped tuning and for those of you that use harmonics, the increased mid-range and huge output power make these pups a great buy.
Pros
The tone is clear, sweet and balanced but still packs a punch
Extremely loud
Good price
Very light in weight
Cons
If you are planning on swapping the covers, the poles are quite large on these pups so you may need to enlarge the cover holes to make the new covers fit
Lacks a little meat even with the high volume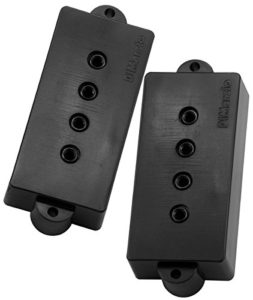 Another good pickup from DiMarzio for a decent price. The DiMarzio is a hum-cancelling, two-piece pickup that brings big, punchy sound to Fender Precision Bass-style basses.
The DiMarzio is a solid contender, especially when you are working with a budget. The low tones are good without reducing the top end but unfortunately, the mid-tones are lacking and a little disappointing. Even with additional shielding, these pups can be noisy.
Installation can be difficult, as some have found that the installation screws don't line up perfectly – although with gentle persuasion they will go in!
Having said that, the adjustable pole pieces do make it easy to ensure the same response from all four strings. The pickups are pretty good for jazz, giving a smooth vintage sound but those mid-tones really need some work!
Pros
Ideal for more smooth, deep vintage tone and jazz sound
The adjustable pole pieces make sure the response is the same across all four strings
Nice output, no muddiness even in the extreme lows with the gain cranked
Great for pick-style tone. Take the treble down for a more fat finger style
Cons
Disappointing mid-tones
Screws don't line up exactly, so drilling a new hole might be recommended
Noisy
Okay, these are so cheap they are practically giving them away! If you have a cheap-ass P bass lying around that you are thinking of giving to your son or daughter to practice on at home, then, by all means, use these pups.
They're actually not bad – if you can get them to fit! Many customers have complained that the screw holes don't line up, or that the housing is the wrong size. In short, you sometimes get what you pay for.
If you buy these, you need to know exactly what you're getting. You're getting a piece of kit that will give you a few headaches during install, that won't sound amazing but also won't sound that bad!
They won't win any prizes but they also won't get you laughed at. Which to be fair is remarkable for the price. I would love to say more but there's nothing more to say.
In fact, if you take a look at the pros and cons below you'll see that basically, they're cheap and they work but they can be a pain to install. Buyer beware!
Pros
Very cheap!
They work
Do the job, if all you want is a budget replacement set of pups for your old P bass
Cons
Lacklustre performance
Many reports of these not quite fitting, be prepared to do a lot of fiddling to get these installed
Noisy
How to Shop for the Best P Bass Pickup
Best P Bass Pickups – What's the Fuss?
Since its introduction by Leo Fender in 1951 the P Bass (P meaning "precision") has become the beating heart of any band (along with the drums) and used by every legend from Sting to the great, James Jamerson.
There are tons of models and different designs to choose from, but even the most expensive, "high end" models can be improved upon with an after-market pickup.
Choosing your own pickup enables you to develop a sound that is more uniquely you. We all have a sound in our head that we're looking to achieve and the right pickup can help make that attainable.
What is a Pickup Exactly?
A pickup is a device that fits near to the guitar's strings and emits an electric field.
When the strings move and vibrate the magnetic field is interrupted, which creates a current flow, this current is then amplified and forced into the ears of, firstly your resentful parents, and later your adoring fans!!
There are, of course, different approaches and different styles of pickup on the market today.
Choosing the right one depends on many variables, such as style of music (are you into mainstream rock or death metal) and venue (many people use different pickups for studio recording than they do for on-stage performing).
However, the most important thing for most of us is to finally hear that sound imagined in your head coming from your very own P bass.
Single Coil or Double Coil (Humbucker)
You won't be surprised to learn that a single coil pickup has one coil and a double coil pickup has two, at least I hope not.
Up until 1955 all pickups were single coil and consisted of a single wire wrapped around a coil-former. They sound amazing and to this day there are many who think single coil is the only way to go if you want that authentic "old school" sound.
Single coils, however, are not without their problems. A single piece of wire can act very much like an antenna, which can attract electrical noise, also known as "hum", which is then transmitted along with the sound of the strings.
In an effort to counteract this, an engineer at Gibson, Seth Lover, in 1995 found that by using two coils wired out of phase, he could cancel out or "buck" this hum (hence Humbucker) and offer up a much cleaner sound.
So why use a single coil? Good question.
Like I said, many people love the nostalgia of the authentic sound you get from single coil pickups, and complain that humbuckers are too "clean" or "clinical".
Ultimately it boils down to personal choice. With modern design, a good single coil can sound better and be less noisy than a poor humbucker. There are countless examples of talented guitarists who prefer the single coil to the double coil and vice versa.
Final Thoughts
The reviews above are a clear example of how products cannot be pigeon-holed. The decision here isn't between the noisy "old school" single coil and the low-power humbucker.
Modern pickups, if manufactured well and installed correctly, exceed our preconceived expectations.
Single coils, like the Seymour Duncan Quarter Pound P-Bass, can be virtually noise free and humbuckers, like the EMG Geezer Butler Signature P Bass can perform with a fantastic output.
I still believe that the choice here is fundamentally a very personal one but for me, the Best P Bass Pickup is the EMG Geezer Butler Signature P Bass Pickup.
The range on these pups is truly unrivaled and they are the only pickups that can do it all. From motown and jazz to rock and even death metal, you won't need anything else, and to top it off, they are a dream to install.
The solderless connections are fantastic and I haven't heard a single complaint.